How do you choose between two VPNs that are similarly priced and similarly well-regarded by those in the know? We settle the NordVPN vs Proton VPN debate by taking a detailed look at how they compare in everything from app design to security features.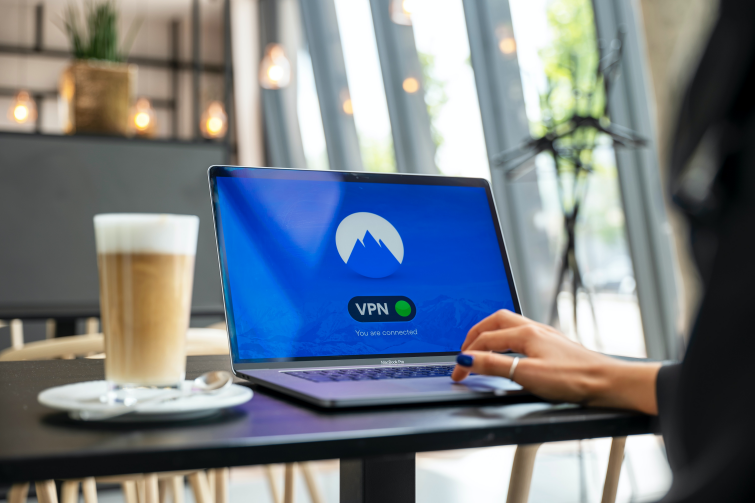 NordVPN vs Proton VPN – Which service should you choose?
As one of the biggest names in the virtual private network (VPN) market, it's perhaps not surprising that NordVPN has a little more to offer than Proton VPN.
In addition to a much larger server network, it also has faster speeds, smaller long-term subscription fees, and better access to streaming services.
That said, Proton VPN is a solid service – particularly in terms of privacy and security. The fact that it's employee-owned gives it a certain integrity, as does its dedication to protecting civil liberties online.
If you're strongly privacy focused, or already using a Proton service – such as Mail, Calendar, or Drive – and are familiar with the proton.me portal, then it might make sense to keep things neat and use the VPN too. For everyone else, we'd recommend using NordVPN.
Pricing
Trying to choose between two VPNs based on price can be difficult, particularly when there are multiple plans available.
For example, NordVPN offers three plans, with the two more expensive options including a cross-platform password manager, data breach scanner, and 1TB of encrypted cloud storage. By contrast, Proton VPN also has two plans – one of which is free.
For the sake of a fair review, we'll focus on NordVPN's standard plan and ignore Proton VPN's free plan. This reveals that the two providers aren't that dissimilarly priced.
Proton VPN's monthly subscription is $2 a month cheaper than NordVPN, and costs $9.99 a month as opposed to £12.99 a month.

However, for a yearly subscription – which includes a discount for the initial 12 months – NordVPN is the cheaper option. It costs $67.35 as opposed to Proton VPN's $71.88.
After the 12-month introductory period has ended, Proton VPN's price increases to $119.88. NordVPN also increases its price, but by an unspecified amount. It says: "After the first period, your subscription will be renewed automatically, and you will be charged then-current price valid at the time of your renewal." This is a slightly dubious tactic, particularly as the subscription auto-renews.
Both providers also offer two-year subscriptions, and both include a 24-month introductory period. NordVPN is the cheaper of the two, initially costing $99.63 compared with Proton VPN's $119.76. After the discount period is over, NordVPN is still $15.93 cheaper overall. It costs $223.83 compared with Proton VPN, which costs $239.76.
Both providers accept payment via cryptocurrency as well as the more standard debit and credit cards, including American Express. Proton VPN also allows you to pay using Paypal. All NordVPN and Proton VPN plans come with a 30-day money-back guarantee, so you can always change your mind if either service doesn't meet your expectations.
Winner: NordVPN
Performance & speed
NordVPN is significantly faster than Proton VPN. We regularly test VPN speeds using our rigorous testing methodology, and can verify that this difference is consistent. It's not that Proton VPN is slow – it isn't – it's just that NordVPN is particularly fast.
| No Value | NordVPN | ProtonVPN |
| --- | --- | --- |
| Speed | 568.0 Mbps | 490.4 Mbps |
| ProPrivacy.com SpeedTest (average) | 85.9 Mbps | 53.4 Mbps |
Although we test VPNs using the OpenVPN protocol as standards, there are yet faster protocols available. This is particularly true of providers such as NordVPN, which have created their own in-house protocols – Nordlynx in this case.
For its part, Proton VPN has done much to improve its own speeds over the years via what it calls a VPN Accelerator. This feature optimizes several processes involved in routing traffic and is particularly helpful when connecting to distant servers.
Ultimately, both VPNs are fast enough for day-to-day tasks like VoIP calls, online gaming and streaming 4K content without buffering. However, if your home broadband connection is faster than 200Mbps, then you'd be wise to opt for NordVPN.
Winner: NordVPN
Which has better features?
Both providers are similarly placed in terms of privacy features. NordVPN has approximately three times more servers than Proton VPN, though Proton VPN has servers in slightly more countries.
Split-tunneling is available with both VPNs and comes in useful if you need to use your true IP address for one task, but would prefer to keep it hidden for others.
Both services also give users the option to route traffic through multiple VPN servers or use obfuscated servers. The former provides additional security by protecting against traffic correlation attacks, while the latter enables traffic to bypass most firewalls and VPN blockingmethods. This is particularly useful in countries which try to restrict internet access.
NordVPN allows subscribers to connect up to six devices simultaneously, which is fewer than the ten possible connections with Proton VPN. However, if you need to connect more devices, both VPNs can be installed on routers. The benefit of doing this is that every device on your home network is then protected.
| No Value | NordVPN | ProtonVPN |
| --- | --- | --- |
| Simultaneous connections | 6 | 10 |
| Total servers | 5300 | 1864 |
| Number of countries | 60 countries | 67 countries |
| Split-tunneling | | |
| Kill-switch | | |
| Obfuscation (stealth) | | |
| IPv6 leak protection | | |
| WebRTC leak protection | | |
| Self-hosted DNS | | |
| Tor-over-VPN? | | |
NordVPN offers an alert service for leaked personal data found on the dark web; as well as providing protection against ads, trackers, and malware. Proton VPN also protects subscribers against online threats using DNS filtering.
For extra privacy, both NordVPN and Proton VPN allow users to connect to the Tor Network in a single click. This saves the additional effort of downloading and installing the Tor browser and then opening it every time.
Winner: Draw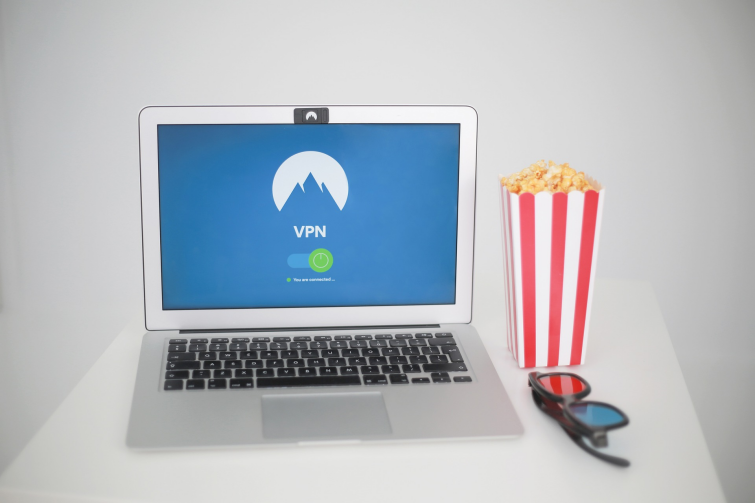 Which streaming services can they access?
The ability to access geo-restricted streaming services is an important aspect of any VPN. In this respect, both NordVPN and Proton VPN are dependable choices and work well with all of the major streaming platforms.
| No Value | NordVPN | ProtonVPN |
| --- | --- | --- |
| Netflix | | |
| iPlayer | | |
| Amazon Prime | | |
| Hulu | | |
| Disney+ | | |
It's worth noting, however, that NordVPN is better at accessing a wider range of Netflix libraries. This is primarily down to its patented SmartPlay feature. This activates a built-in Smart DNS, which switches your DNS servers whenever you try to access unavailable content.
| No Value | NordVPN | ProtonVPN |
| --- | --- | --- |
| USA | | |
| UK | | |
| Canada | | |
| Japan | | |
| France | | |
| Germany | | |
Winner: NordVPN
Torrenting
NordVPN and Proton VPN both allow torrenting – some providers don't – and offer dedicated peer-to-peer (P2P) servers for just that purpose. Neither service imposes data limits, but only Proton VPN enables port forwarding. Available on its Windows VPN app, port forwarding dramatically improves download speeds when using P2P software.
Split tunneling and kill switches help keep connections secure. The former ensures the torrent client uses a VPN tunnel, while allowing other apps to connect without it. The latter halts the flow of internet traffic if the VPN connection drops out. Both features come as standard with NordVPN and Proton VPN subscriptions.
Winner: Proton VPN
Setup & usability
Apps from NordVPN and Proton VPN are available for Windows, macOS, iOS, Android, Linux, Android TV, and Amazon Fire TV. In both cases they're easy to download, install and set up a VPN connection with.
| No Value | NordVPN | ProtonVPN |
| --- | --- | --- |
| Android | | |
| iOS | | |
| Windows | | |
| macOS | | |
| Linux | | |
| nVidia Shield | | |
| Android TV | | |
| Fire TV | | |
| Routers supported | | |
The Proton VPN graphical user interface (GUI) is a little busier – and the color scheme darker – than that of NordVPN, but it still feels intuitive to use. Having extra options immediately available will appeal to more advanced users.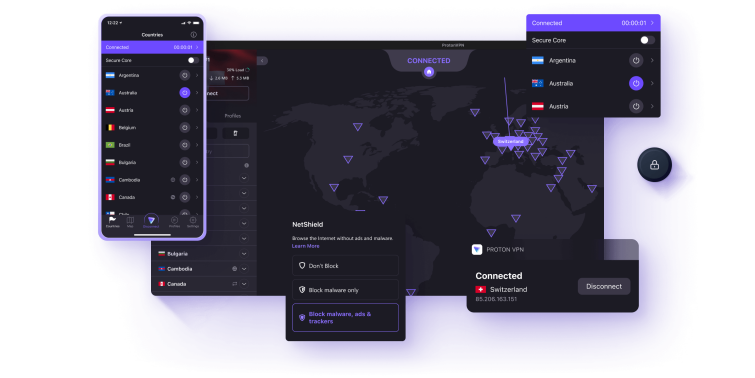 For example, you can create custom connection profiles that are accessible from the main screen: just choose the type of server, its location, and connection protocol, and then assign it a color to make it easy to see when you open the app.
Other Proton VPN features – such as the kill switch, always-on mode, ad-blocker and choice of protocol – can all be controlled using simple toggle switches.
By contrast, NordVPN favors a more minimalist approach, with the various features accessed via icons on the left hand side of the screen. The Dark Web Monitor, Meshnet, and split tunneling are all controlled using toggle switches, making it easy to try them out.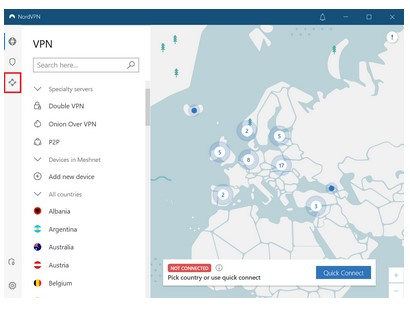 NordVPN lets you choose which server you want to connect to by clicking on a map. By contrast, Proton VPN requires you to make a selection from a drop-down menu.
Overall, NordVPN apps are friendlier, which will likely make a difference for inexperienced users.
Winner: NordVPN
Security
NordVPN and Proton VPN are notable for their commitment to security, offering cutting-edge encryption and the latest in server technology.
Proton VPN software is all open source, which means it can be externally checked for security issues. The provider has also undertaken commissioned audits, which are published online. Similarly, NordVPN has completed several application security audits and offers a bug bounty for those able to find security flaws.
NordVPN and Proton VPN both allow connections using the OpenVPN, IKEv2, and WireGuard protocols. NordVPN additionally has its own proprietary protocol, as well as supporting PPTP and L2TP/IPSec. However, to be fair, Proton VPN states that it intentionally doesn't support PPTP and L2TP/IPSec as the protocols' known vulnerabilities fail to meet its security standards.
| No Value | NordVPN | ProtonVPN |
| --- | --- | --- |
| PPTP | | |
| L2TP/IPSec | | |
| SSTP | | |
| IKEv2 | | |
| OpenVPN | | |
| WireGuard | | |
Both providers run diskless – also known as RAM-only – servers, which aren't able to store data or configurations on site. NordVPN is also slowly moving toward complete ownership of its server network which, it says, will mean complete control of each server's configuration and security.
For its part, Proton VPN owns 100+ servers that form part of its Secure Core program. Secure Core routes network traffic through servers in privacy-friendly countries for enhanced privacy and security. The servers are housed in high-security data centers in Switzerland, Iceland and Sweden.
| No Value | NordVPN | ProtonVPN |
| --- | --- | --- |
| AES-256 | | |
| RSA-4096 | | |
| Independently audited? | | |
| Bare-metal servers? | | |
While connected to NordVPN, users' internet traffic is protected using 256-bit AES channel encryption, in conjunction with SHA384 authentication and a 3072-bit DHE-RSA key exchange. Proton VPN users are similarly protected, though with a stronger, 4096-bit key exchange.
What matters is that the encryption used by both providers is considered essentially uncrackable. Both providers also offer DNS and IPv6 leak protection as standard.
Winner: Draw
Privacy
Proton is incorporated and headquartered in Switzerland. This means all user data is protected by strict Swiss privacy laws and Swiss neutrality. NordVPN is also incorporated in a country with no data retention laws; namely, Panama.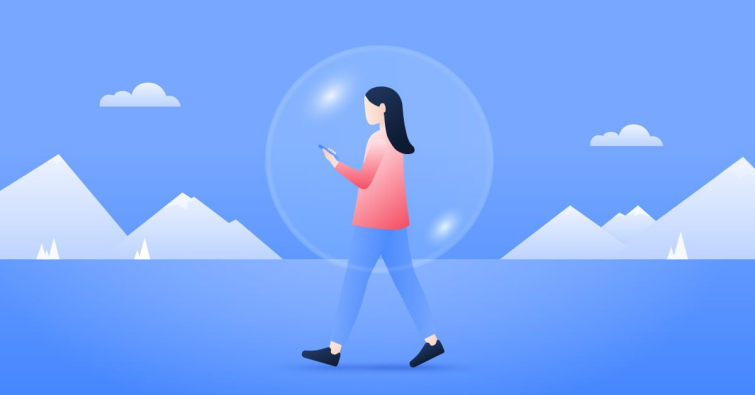 Both providers adhere to a no-logs policy, which means they don't store any personally identifiable information. In any event, both of their server networks are RAM-only, which means their memory is wiped after every reboot.
You can sign up to either provider using cryptocurrency if you want to maximize your privacy. Proton VPN also runs a website on the secure Tor network if you'd prefer to sign up there.
Winner: Draw
Customer support
If you're having a problem with a VPN, it makes all the difference if you can quickly get hold of someone to help find a solution. In this respect, NordVPN is the better provider as it has a live chat function – though the hours in which this operates aren't entirely clear.
By contrast, Proton VPN support relies on a contact form, which can be a slower process. In practice, we received a response within a few hours, though it can take up to 24. Similar timeframes apply to questions submitted via the NordVPN contact form.
| No Value | NordVPN | ProtonVPN |
| --- | --- | --- |
| Money-back guarantee | | |
| Live chat | | |
Both providers have a variety of guides, tutorials, and FAQs on their websites. However, as NordVPN has invested more time in bulking up each of these sections, there's a wider range of information to explore.
If you're unsure about committing to a subscription, both providers offer 30-day money-back guarantees. Proton VPN also has a free plan, which enables you to experience its core privacy and anti-censorship features, but limits connections to servers in three locations.
Winner: NordVPN
Conclusion
While both providers are seemingly dedicated to improving online privacy and internet freedom, NordVPN is the larger company – possibly due to a more aggressive approach to advertising and expansion.
Whatever the reason, its size means it's able to provide a service that's just that bit more comprehensive. It has more servers, faster connection speeds, better access to streaming services, and is cheaper for long-term subscriptions.
That said, Proton VPN has more grassroots integrity. The company is employee-owned, semi-publicly funded, and has a solid reputation among journalists and activists. If you're already using one of the suite of Proton products, then that should be enough to swing the balance in favor of using Proton VPN too.
Ultimately, the choice between the two depends on exactly why you want a VPN. If it's just day-to-day use, then NordVPN is the better choice for most people. Those more concerned with privacy will probably be happier with Proton VPN.
Overall winner: NordVPN
If you're considering alternative VPNs, visit our other vs pages to see how NordVPN fares against different providers.
Image credit: Fathromi Ramdlon from Pixabay