Brave browser is a privacy-focused browser based on Google's open-source Chromium code. If you use Brave browser, then you almost certainly care about your online privacy, and probably already know why using a VPN add-on is the perfect (and necessary) complement to it.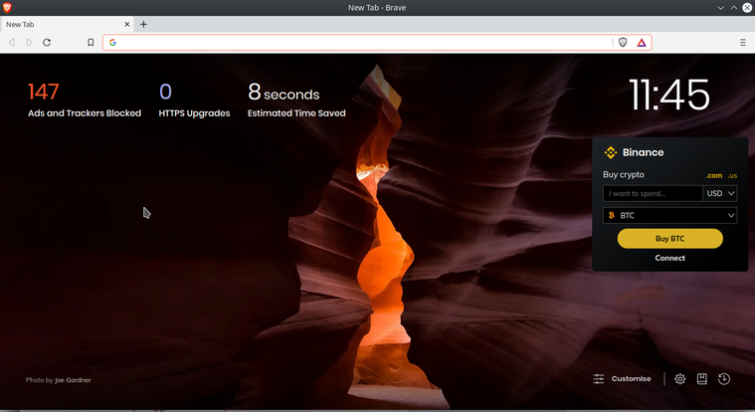 Brave is built with privacy firmly in mind. It features a built-in ad-blocker, tracking protection, a script blocker, and HTTPS-Everywhere style functionality (where it forces a secure HTTPS connection whenever such is possible).
The browser also allows you to block all cookies or just cross-site ones, and features one-click anti-fingerprinting and WebRTC leak protection. The latter is particularly relevant here, as the main reason WebRTC leak protection exists is to prevent your real IP address from becoming exposed when using a VPN. We will, therefore, discuss it in more depth later in this article.
All of which is great, but none of it hides your unique internet (IP) address from websites you visit, or hides which websites you visit from your internet provider (ISP). That's what a VPN is for.
The best VPNs for Brave browser at a glance
Here's our quick rundown of the best VPNs for Brawe browser. If you're looking for more in-depth summaries, check out the sections below.
TEST WINNER ExpressVPN
NordVPN
Surfshark
Private Internet Access
CyberGhost VPN
Website
ExpressVPN
NordVPN
Surfshark
Private Internet Access
CyberGhost VPN
Ranking for Brave Browser
1
2
3
4
5
Performance
10

9

9

8

7

Reliability
9

8

8

8

7

Free trial
Total servers
3000

5300

3200

3386

9723

Payment
PayPal
Visa/MasterCard
Amex
Cryptocurrency

PayPal
Visa/MasterCard
Amex
Cryptocurrency

PayPal
Visa/MasterCard
Amex
Cryptocurrency

PayPal
Visa/MasterCard
Amex
Cryptocurrency

PayPal
Visa/MasterCard
Amex
Cryptocurrency

Unblocks:
Netflix
iPlayer
Disney+
Amazon Prime
Hulu

Netflix
iPlayer
Disney+
Amazon Prime
Hulu

Netflix
iPlayer
Disney+
Amazon Prime
Hulu

Netflix
iPlayer
Disney+
Amazon Prime
Hulu

Netflix
iPlayer
Disney+
Amazon Prime
Hulu

Supported platforms
Windows
macOS
iOS
Android

Windows
macOS
iOS
Android

Windows
macOS
iOS
Android

Windows
macOS
iOS
Android

Windows
macOS
iOS
Android

The best VPNs for Brave browser, in-depth analysis
Below we have listed the best VPNs for Brave browser. These services provide browser add ons and even better they have highly secure VPN software that routes all of the data from your computer through an encrypted tunnel. If you need more information about any of the services listed below, check out our detailed VPN reviews.
How does a VPN work with Brave browser?
A Virtual Private Network (VPN) connects your device to a VPN server run by a commercial VPN service. This connection is encrypted, and VPN services typically run VPN servers located in many locations around the world. This means that when you open Brave browser, your web habits are kept private and secure with strong encryption protocols.

This setup sounds deceptively simple. In reality, it makes VPNs the Swiss Army knives of internet tools. Check out our what is a VPN and how does it work guide for more information about how VPN services work.
Advantages of using a VPN for Brave Browser?
Since you use Brave Browser, we're going to assume that online privacy is a high priority for you. A VPN complements Brave's privacy features in the following ways:
It hides your real IP address from websites you visit in the Brave browser. All they see is the IP address of the VPN server. Logging visitor's IP address is the most basic and most revealing form of tracking that websites perform. Brave's built-in anti-tracking features complement this by helping to prevent subtler forms of tracking, such as preventing browser fingerprinting and leaving third party cookies in your browser's cookie cache.
It prevents your ISP from knowing which websites you visit, since all it can see is that you have connected to an IP address belonging to a VPN server.
It encrypts your traffic, so your ISP also can't see any data that passes between your device and the VPN server.
Defeating censorship. Many people that live under authoritarian regimes rely on VPNs to access the open internet without getting into trouble, but VPNs will also unblock sites censored on copyright grounds, defeat "child locks" put into place by college dorms and landlords, and open up social media sites blocked by your boss.
It prevents untargeted mass surveillance, which is important given that most government mass surveillance programs simply harvest the logs kept by ISPs.
It protects your public WiFi sessions. The widespread use of HTTPS to project websites means that criminal WiFi hackers haven't gone away entirely, but are much less of a threat than they once were when using public WiFi hotspots. But what about the people running the WiFi hotspot? Many "free" WiFi hotspots are commercial enterprises that harvest your browsing habits and sell them to advertising and analytics companies. As with your ISP, a VPN keeps your browsing sessions private.
Watching Netflix. Netflix customers in the United States enjoy a much larger catalog of titles than customers elsewhere. With a VPN you can access this catalog using any regional Netflix account. You can also access other regional Netflix content (provider dependant) plus that of a bunch of other popular streaming services (such the BBC's excellent iPlayer).
You can torrent safely. Since the VPN server hides your IP address from other peers and hides what you download from your ISP, it is completely safe to torrent. VPNs are also very handy for unblocking censored torrent sites.
If you use Brave without a VPN, then websites can see who you are, and your ISP can see every website you visit on the internet. All of which makes the privacy benefits of using Brave in the first place rather redundant.
Set up Brave browser's built-in WebRTC leak protection
WebRTC is a feature of HTML5 that provides high-quality voice and video communication inside all modern browser windows. This, of course, includes Brave.
Unfortunately, it can cause problems for VPN users. In order to achieve seamless browser-to-browser communication through obstacles (such as firewalls), WebRTC broadcasts your real IP address to STUN servers.
These keep a list of both your public IP addresses and their real IP addresses, which it hands over to anyone on a simple STUN request.
The usual solution is to install a browser extension that disables WebRTC, but Brave comes with built-in WebRTC leak protection.
Method 1
This is the preferred method at the time of writing, as an update to Shields is in the pipeline to fix an issue with Method 2 (described below).
In Brave, go to Settings > Shields > Fingerprinting Protection and select Block all Fingerprints from the drop-down menu.
Method 2
This method should work. At the time of writing, there seems to be a problem with it, but the issue is known, and Brave is working on a fix.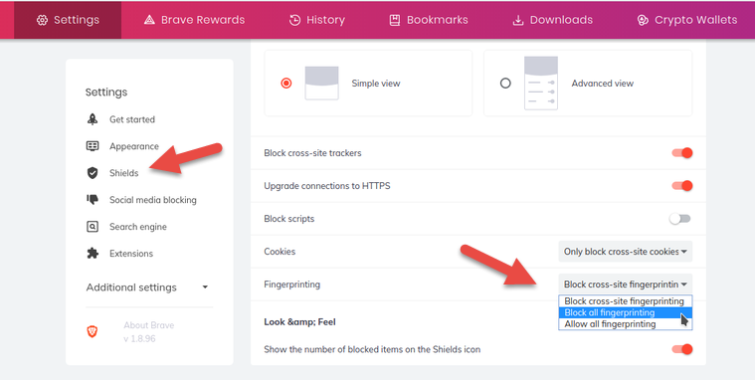 Go to Settings > Additional Settings > Privacy and Security > WebRTC IP Handling Policy and select Disable non-proxied UDP.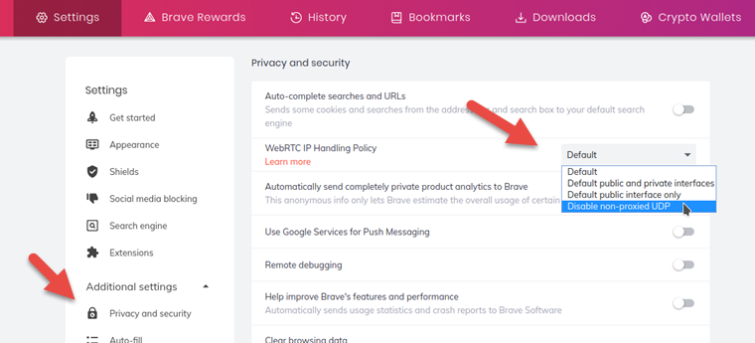 Brave browser VPN extensions
Many VPN services offer Chrome extensions, and, since Brave is based on Chromium, it is easy to add Chrome extensions to Brave directly from the Chrome Web Store. So you can use most Chrome VPN extensions in your Brave browser.

The only thing to note is that while you may find using a Chrome VPN extension in Brave convenient, many of the additional features offered by these extensions, such as WebRTC leak protection and DNS-based ad-blocking, are already built-in to Brave.
Stay secure on Puffin browser
If you use Puffin browser and want to stay secure and private while browsing the web, then you need a VPN. Check out our best VPNs for Puffin browser page for a list of services that will keep you secure and enable you to unblock websites currently restricted in your location.