By using a VPN for eMule, you can hide your activity from prying eyes and unblock it if your internet service provider (ISP) restricts P2P traffic on its network.
eMule is a peer-to-peer (P2P) file-sharing program for Windows. In principle, it works much like a BitTorrent client, meaning it is just as important to use a VPN with eMule as it is when torrenting. VPNs encrypt the data going to and from your device which drastically improves your privacy online and when using eMule.
In this article, we list the best VPNs for eMule and give you some tips on how to fix low ID and use port forwarding in the P2P app.
Disclaimer:
ProPrivacy neither encourages nor condones the torrenting of illegal and copyrighted content with eMule. Downloading copyrighted material will likely incur legal prosecution.
What are the best VPNs for eMule?
Our experts have listed the best VPNs for eMule below. If you need more information about any of the services in our best eMule VPN list, scroll below this list and check out our detailed in-depth of each VPN.
All the eMule VPN services listed above have the following features to ensure that you get the most out of your VPN:
Fast servers
Strong privacy features
Allow P2P downloading on their servers
Offers Split tunneling
The best eMule VPN services – In-depth analysis
We take a closer look at the best VPNs for eMule below. If you need any more information about the services in the list, check out our detailed VPN reviews.
What is a VPN for eMule?
A Virtual Private Network (VPN) is an online privacy service that allows you to hide your real life location and IP address, get around geoblocks and other forms of censorship, and appear to be in another country to access services such as US Netflix and BBC iPlayer.
It will also protect you from hackers when using public Wi-Fi networks, and when using P2P file sharing networks such as eMule.
For more information on VPNs in general, please check out our VPNs for Beginners guide.
What is eMule
If you don't know already, eMule is a peer-to-peer (P2P) file sharing program for Windows. In principle, it works much like a BitTorrent client, meaning it shares the same pros and cons as torrenting. Given the risks involved, it's important you only use eMule when connected to a VPN.
Why do I need a VPN for eMule?
eMule is a peer-to-peer file sharing application, so files are shared among other eMule users. And when files are shared among other users, you can see who they are and they can see who you are via IP address. It's how file sharing works!
A VPN hides who you are from other eMule users because the VPN server sits between you and the internet. Other eMule users will, therefore, see the unique IP address of the VPN server instead of your real one.
A VPN will also hide what you download from your internet provider (ISP) because all data traveling between your PC and the VPN server is securely encrypted, which means if your ISP implement traffic shaping, they will not be able to see exactly what you are doing online. This means they cannot throttle your connection for P2P usage. If you value privacy when downloading with eMule, you should therefore always use a VPN.
What is Low ID and Port-Forwarding?
Even more so than with BitTorrent, eMule requires that you have open UDP and TCP ports to work at its best. If the open ports are not accessible from the internet, this results in what is termed low ID. You can still share files with low ID, but downloads will be much slower than if you have high ID.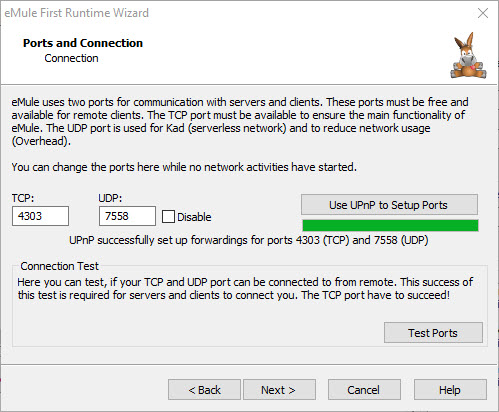 Many VPN services use NAT firewalls to help protect their users from external threats, but a NAT firewall will block access to open ports on your PC, and thus result in low ID.
Some VPN services offer port forwarding, which effectively opens a hole in the NAT firewall so that connections can be routed to an open port on your computer. But eMule does not play ball very well with any modern firewall, including the built-in Windows Defender firewall. Thanks to UPnP it can usually automatically configure to work with most firewalls, but if a NAT firewall is also running, this is beyond its capabilities.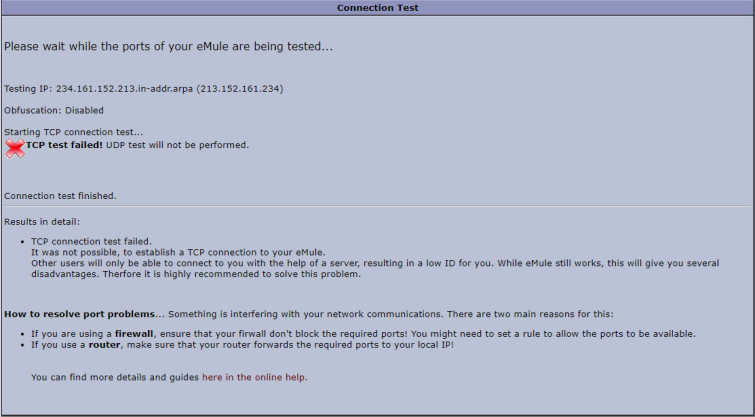 So, to run eMule with high ID while protected by a VPN you must:
a) Use a VPN which offers port forwarding, and

b) Disable your firewall.
Disabling your firewall is not as bad as it sounds, as the NAT firewall should help protect you against most external threats. That said, it is hardly ideal.
How to Port Forward Through a VPN with eMule
Select port numbers for eMule. Go to Options -> Connection -> Client Port. Pick any TCP and UDP ports numbers you like (eMule doesn't care) and make a note of them. Make sure that "Use UPnP to Setup Ports" is not enabled.

Open the ports in your VPN's NAT firewall. This process will depend on which VPN provider you use. There may be an option in the client software, but more commonly it can be found in the web-based user console. This is the case with AirVPN shown below.

Open the TCP and UDP ports that you chose in eMule.

Disable your firewall. If using the default Windows firewall, go to Settings -> Update & Security -> Windows Defender -> Open Windows Defender Security Centre -> Firewall & network protection -> and disable the firewall on all networks.
Return to the eMule connection panel (step 1) and click "Test Ports." A web page will open which tests to see if ports used by eMule can be reached from the web.

Hopefully, you will see something like the above!
Check out our what is NAT guide for more information about what it is and how it works.
Consider using an alternative to eMule
I am aware that this is a page dedicated to using eMule, and that die-hard fans may be disgruntled at the suggestion, but you should consider using a BitTorrent client instead.
Many eMule servers are riddled with malware and spyware. To a certain extent, this is true of BitTorrent too, but this is can be mitigated by using private torrent sites which vet torrents. Indeed, even when using public torrent sites, other users' feedback can be very good at verifying which downloads work well and are malware free.
Besides this, although eMule is still updated, the last full stable release (0.50a) was in 2010. That's twelve full years ago, and eMule is seriously showing its age! That said, dedicated eMulers are still updating the software unofficially well into 2023 for security and usability support.
It is a simple fact that modern BitTorrent clients are much leaner, meaner, and easier to use than eMule. BitTorrent also performs much better even when no open ports are available (Low ID), and port forwarding with a VPN does not require you to disable your firewall.
Best eMule VPN – Conclusion
Thanks to its peer-to-peer nature, downloading via eMule is anything but private. Using a VPN, though, makes it private. So, it's a bit of a no-brainer, really.

From $6.67/month
The best VPN for eMule. It has servers in every region and great security features, as well as a 30-day money-back guarantee!
ProPrivacy TrustScore:

10 out of 10

Simultaneous connections

5

Server locations

160

Free trial

No

From $2.11/month
The most secure VPN for eMule. With a no-logs policy and torrenting features, and a 30-day money-back guarantee.
ProPrivacy TrustScore:

9.9 out of 10

Simultaneous connections

Unlimited

Server locations

84

Free trial

No

From $2.00/month
A brilliant eMule VPN and great value for money. It has great privacy and security features and a 30-day money-back guarantee!
ProPrivacy TrustScore:

9.8 out of 10

Simultaneous connections

10

Server locations

200

Free trial

No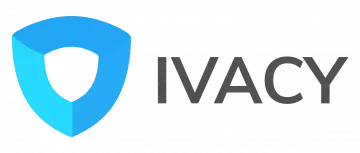 From $1.19/month
The cheapest VPN for eMule. It's fast, super secure, and low ID won't be an issue. Try the 7-day free trial!
ProPrivacy TrustScore:

9.7 out of 10

Simultaneous connections

10

Server locations

100

Free trial

No

From $0.00/month
A great all-round eMule VPN. It has a stealth Guard feature which is handy for eMule users, and a 30-day money-back guarantee.
ProPrivacy TrustScore:

9.6 out of 10

Server locations

75

Free trial

Yes

Simultaneous connections

10