All over the world, many people are highly interested in getting an Australian IP address. Some want to watch geo-restricted TV feeds of the Australian Open tennis. Other Australians are studying or living abroad and want to be able to watch geo-restricted streams of their favorite TV shows. Even when Australians go on holiday, they are unable to access internet banking and other Australian services due to geo-restriction notices. With a VPN service, you can get around these issues by getting an Australian IP address: No matter where you are in the world!
VPNs allow anybody to gain access to geo-restricted websites, anywhere that the VPN company has servers. In addition, the best VPN service providers offer military grade encryption to keep your data secure. The result is that you can watch geo-restricted content without the worry that your ISP, government, or landlord seeing what you are doing.
In this guide, we will demonstrate just how easy it is to unblock restricted Australian websites. With a VPN service, you can very easily spoof your IP address into Australia!
How to get an Australian IP address; step by step
Subscribe to one of the world-class VPNs in this guide. For getting an Australian IP we highly recommend ExpressVPN . However, to give you plenty of options we have put 5 outstanding VPNs in this guide for you to choose from.
Go to the website to download and install the VPN's client software.
Connect to a VPN server located in Australia
Navigate to the Australian website that you want to unblock.
Enjoy complete, unrestricted access to as many Australian websites as you like! Thanks to your VPN's Australian IP address.
Best VPN for a Australian IP address: Side by Side comparison
Get an IP address for Australia Summary
Choose a VPN service and Download the Client Software
Once you have decided which of the VPN's above you prefer for getting an Australian IP address, it is time to download the client software. The VPN software can be downloaded for all popular platforms and will download quickly. Installation is also quick and easy. Plus, with our favorite - ExpressVPN - you may install the client on up to three devices.
If you pay for your VPN month by month, it will be more costly. With that in mind, if you can afford it (and plan on using your VPN all year round) it is best to pay for a year at a time.
After you have subscribed and selected a payment plan, you will be invited to download the VPN's client software. Please ensure that you choose the right download option for the platform you are running.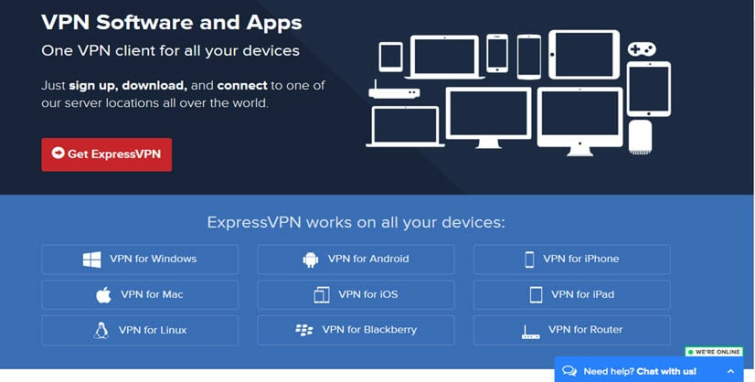 Select OpenVPN protocol from your VPN's settings
Now that you have subscribed to one of the world-class VPNs in our guide (and downloaded the client), it is time to select your encryption. Here at ProPrivacy our favorite encryption protocol is OpenVPN. OpenVPN is a highly secure - military grade - VPN encryption protocol that will keep you private and secure as you surf the web. For this reason, we urge you to select it in your VPN's settings at this stage.
As you probably know, streaming geo-blocked content can be in breach of copyright restrictions and you could be prosecuted. While here at ProPrivacy.com we can't possibly condone any illegal activities, it is also true that we are aware that many VPN users do use their VPN to watch copyrighted content.
We must remind you that if you chose to do so, you do it at your own risk! However, with OpenVPN's robust encryption - even if you choose to view copyrighted material - you will be secure. Due to your VPN's encryption (and no usage logs policy) it is very hard for anyone to have any idea what you are doing online. Your Internet data is obfuscated from your ISP, the government, and anyone else trying to snoop in on you. The result is that not even the websites that you visit will be able to tell who you are.
Connect to one of your VPN's servers in Australia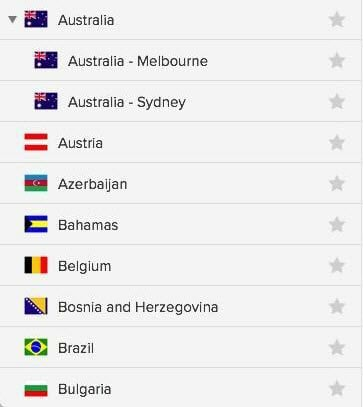 Now that you have selected OpenVPN in your VPN's client software's settings, you are ready to connect to an Australian server.
To connect, all you must do is choose an Australian IP server in the VPN's software. Please ensure you choose the fastest Australian server available from the list. The best server is normally higher in the list, so select that one to get the best connection speeds available to you. Now that you have located the fastest Australian VPN server - click connect. Voila! You now have bonafide Australian IP address, and can VPN into Australia anytime you want.
Go to any Australian Website you want!
Now that your VPN is properly installed (and you have connected to an Australian server) you can go and visit any Australian site you want. Furthermore, you can access any site - in any location - that your VPN has a server! ExpressVPN has servers in 78 countries and you can unblock websites in any one of them!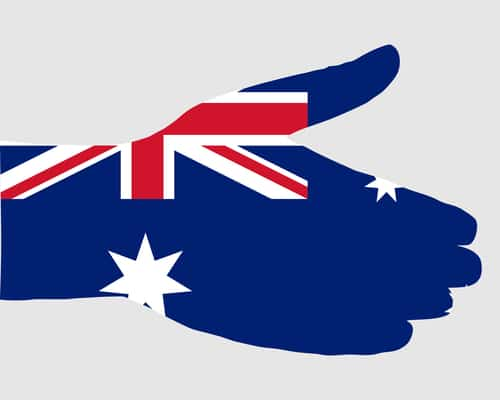 All the VPNs that we have chosen for this guide are recognized world leaders in the VPN industry. They all provide industry-standard security, privacy, and the most superior Internet anonymity available in 2016. The result is that you will be able to visit any Australian (or other) website that you are interested in.
Just connect to the Australian (or other nation's server) and navigate to the website you want to unblock. Your VPN will make it seem like you are really in the country - IP address and all - allowing you to access the website with no problems.
Considerations for getting an Australian IP address
When getting an Australian IP address from abroad there are a few things that you must consider.
Overall, there are more than 800 VPN providers on the market. Most of those services are truly awful in every way - with sluggish servers and insecure encryption and privacy policies.
How do I know which VPN to choose?
When spoofing your IP address to Australia to unblock geo-restricted content you will want to be highly secure. The VPNs in this guide have all been selected because they provide their users with the top levels of security available in 2016.
When selecting a VPN for acquiring an IP address in Australia you need both outstanding VPN servers and a solid privacy policy. You also require VPN servers that are uber-fast for watching videos in HD.
All of the VPNs in our guide are trusted and highly subscribed services with excellent privacy policies and outstanding encryption options. They also have the best VPN networks around for getting an Australian IP address
VPN into Australia - Conclusion
In this guide, we have described how to get an Australian IP address. Our most recommended VPN for getting an IP address within Australia is ExpressVPN. However, to remain impartial and to give you plenty of choices we have also reviewed four other world-class VPN services. These VPNs also provide risk-free trial periods so that you can test your favorite VPN to make sure it works well for getting you an Australian IP address. You may have search VPN Australia free, however, it is important to note that although there are free VPNs out there they don't match the performance or security of the VPNs listed above.
Although we do recommend ExpressVPN in 2016, all the VPNs in this article do an awesome job of unblocking Australian websites. In addition, they all provide a trial period or money-back guarantee of some kind. In addition, all the VPN providers we have presented have brilliant server networks that provide fast speeds in all locations.
As for security, encryption is our recommended protocol - OpenVPN - with all of the VPNs in this guide. These VPNS are also well-known services that we trust to keep you secure and that have been tested year after year by our team here at ProPrivacy.com.
So relax and take another look through this guide. We are confident that everything has been taken care of so that all you need to do is choose one of the optimum VPNs and follow our step-by-step guide. You will have an Australian IP address in no time!
Get an Australian IP Summary