Pricing
Pricing depends on the country that the proxy is based, with reductions for buying large blocks of proxies at once and/or buying them for greater lengths of time. The base cost shown below is for 1 proxy for 1 week, with discounts of up to 40% available for bulk purchases.
For example, if you purchase 100 proxies for 12 months - you will get a 27% discount. 15% discount for the quantity, and 12% discount for the rental period.

IPv6 proxies are much cheaper than IPv4 proxies, starting at just $0.16 per month. This is because there are a lot of them, while the new standard remains poorly supported.
Proxy-Seller also offers mobile proxies from a selection of Ukranian telecoms operators at a cost of $70 per month.
You can purchase with your debit or credit card, PayPal, BitCoin, or PerfectMoney. A refund is only available for 24-hours, although Proxy-Seller says that it if there are any technical issues with a proxy, then it can be replaced.
Features
All proxies are exclusive

IPv4 proxies from 16 countries, 100 networks, and 300 subnets

IPv6 proxies from 8 countries

Mobile proxies from Ukraine

24/7 technical support

Support for HTTP, HTTPS, and SOCKS connections

Handy web console control panel
Proxies are available from a selection of European countries, Kazakhstan, the United States, and Canada.
Privacy and security
Jurisdiction
Proxy-Seller is based in Ukraine. The ongoing crisis as tensions mount with Russia has not been kind on internet freedoms in Ukraine, but we think this is unlikely to affect users of this service.
Logs
Visitors to Proxy-Seller can expect the usual web tracking performed by most sites these days. Account information (including payment records) are also kept on file. Proxy-Seller makes no mention of whether it logs what you get up to online, but since it only leases the proxies itself, it is unlikely to have access to this kind of information, anyway.
It is possible (even likely) that the individual networks that supply the proxies keep some kind of logs. And unlike VPN companies, these data centers have no commitment to maintaining your privacy. If the police come a-knocking at their door, they will hand over your real IP address.
In all fairness, though, if you are looking for robust privacy then you should be using a VPN service, not a proxy. It's not fair to criticize a company for failing to provide something it never claimed to, so this issue is just something to be aware of.
Technical security
If you use the proxy to connect to a website (or other internet resources) that uses HTTPS, then your connection will be secured using HTTPS. If not, then data will be sent in plaintext HTTP. But most websites these days use HTTPS.
Support and customer service
The website provides good setup guides for almost all major platforms and browsers (although despite Internet Explorer being present and correct, there doesn't appear to be a guide for Microsoft Edge).
In addition to these, an "articles and news" section provides supplemental guides for a large range of other programs and platforms. However, we should point out that using a proxy with Tor browser is not recommended practice if maximum anonymity is your goal.
If you need further help, then 24/7 live chat is available. Now, we have no idea how our experience compares to the typical, but when two proxies failed to unblock US Netflix despite being advertised as capable, we were curtly informed that "The proxies work. Do you require any further assistance?" with no actual solution to our problem.
Does Proxy-Seller unblock Netflix?
No. The proxies we were issued specifically for the purpose of accessing US Netflix allowed us to sign-in to the website, but when we tried to play a video, Netflix displayed a "Proxy detected" warning instead.
After issuing a second proxy which failed to resolve the issue, Proxy-Seller shut down the conversation (see above). We can only assume similar issues may other streaming services but haven't tested them.
IP leaks
Proxy-Seller did much better on our IP leak tests. We detected no IPv6 leaks, WebRTC leaks (IPv4 or IPv6), or DNS leaks (IPv4 or IPv6). Which is good.
Ease of use
Proxy-Seller makes it very easy to purchase new proxies, and it is always clear how much they cost.
You can also purchase proxies for a specific "goal," such as accessing a specific social network or online gaming service.

If you have special requirements, you can discuss them with the 24/7 live chat support staff. Just be aware of our experience with Netflix, as Proxy-Seller considers its side of the bargain complete if you can access a website, regardless of any additional problems you may encounter after that.
The beating heart of Proxy-Seller is a list of the IP addresses of proxies you have purchased. These can be configured in many programs, including all browsers and BitTorrent clients, or at the system level on all major platforms.

In Windows, for example go to Settings -> Network & Internet -> Proxy -> Manual proxy setup.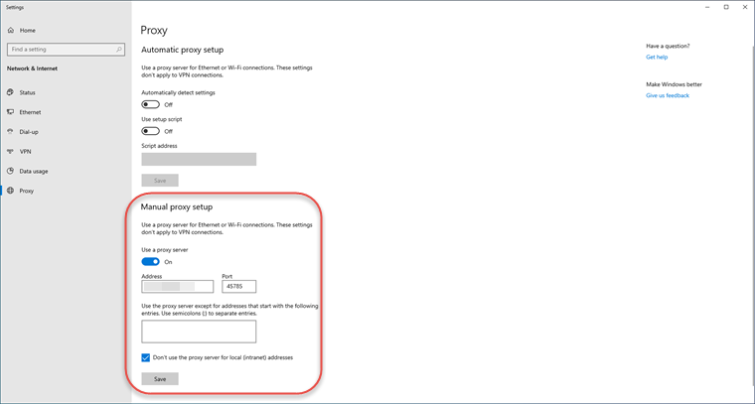 As already noted, guides are available for a wide range of programs and platforms. You can manage your proxies by filtering the list in various ways, or you can download it as a CSV or XLS file for easy inclusion in your automated process.
Final thoughts
Proxy-Seller offers a simple-to-use and reasonably priced service that mostly does exactly what it says on the tin. If you need proxies for personal use or in bulk, then we think few people will have any complaints about the service.
Our Netflix experience introduced a sour note. This wasn't necessarily due to the proxies failing to unblock US Netflix, but because of Proxy-Seller's total refusal to deal with the situation. A 24-hour refund window, however, does mean that you can request your money back if you experience any problems accessing the content you want with the proxies provided.
0 User Reviews
Leave a Review
Thanks for your review!