What is Noonlight, exactly?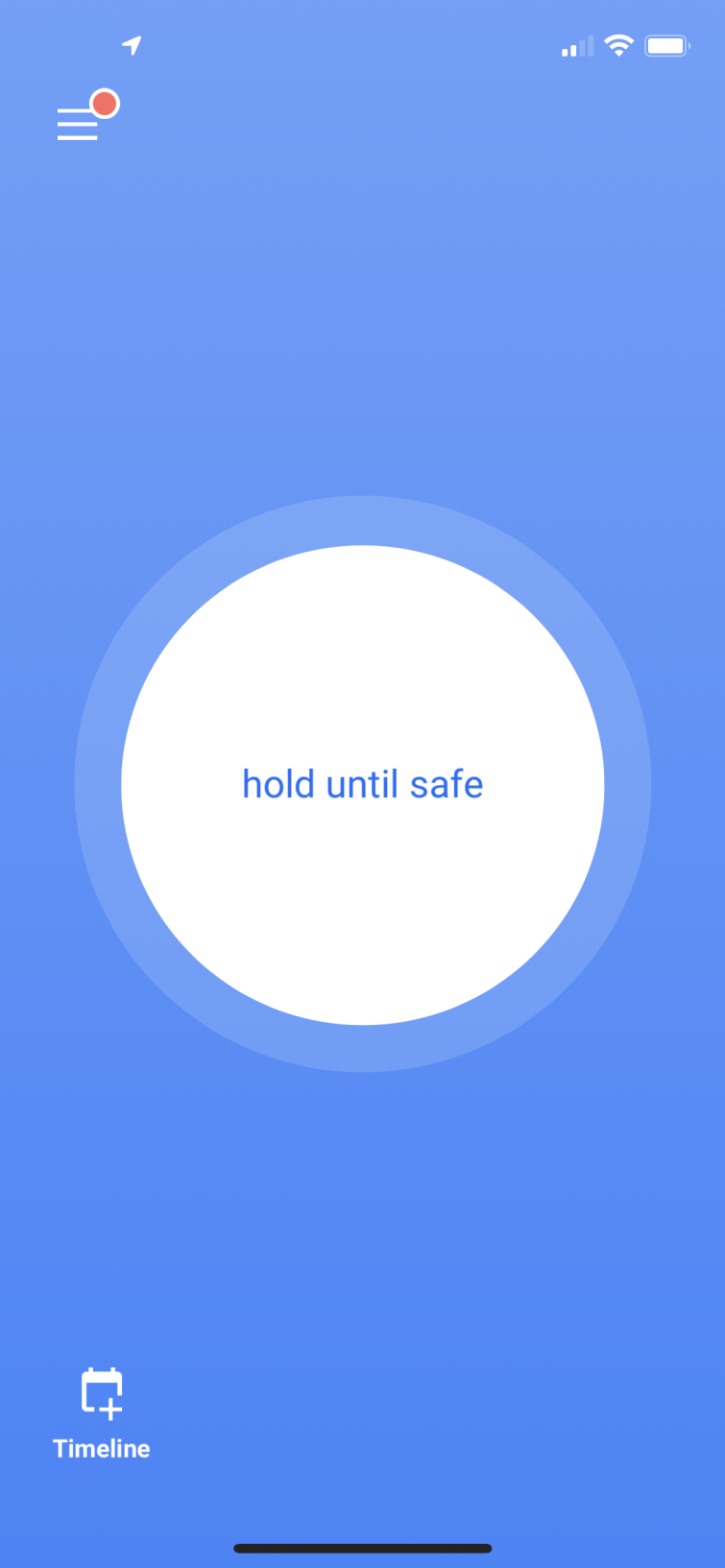 It's an app! And a handy one, too. Essentially, Noonlight can help you feel much safer if you're out when it's dark, commuting, or meeting up with someone new. The Noonlight team puts it like this:
Our mission is simple; to protect and comfort people so they can live freely.
It's the kind of statement that's admirable… but also disheartening, seeing as I'd much rather live in a world where these kinds of apps don't need to exist. Unfortunately, plenty of women, people of color, and LGBT individuals routinely feel unsafe when stepping outside of their homes.
Noonlight tackles this by allowing you to contact a friendly team of dispatchers if you're in danger. You'll also be able to save time in the event of an emergency by instantly sharing your location details with the police, minimizing response times.
Only in America...
Whilst Noonlight is packed with even more features (keep reading to learn more!) and compatibility with various smart devices, it's important to note that the app currently does not work outside of the USA.
Pricing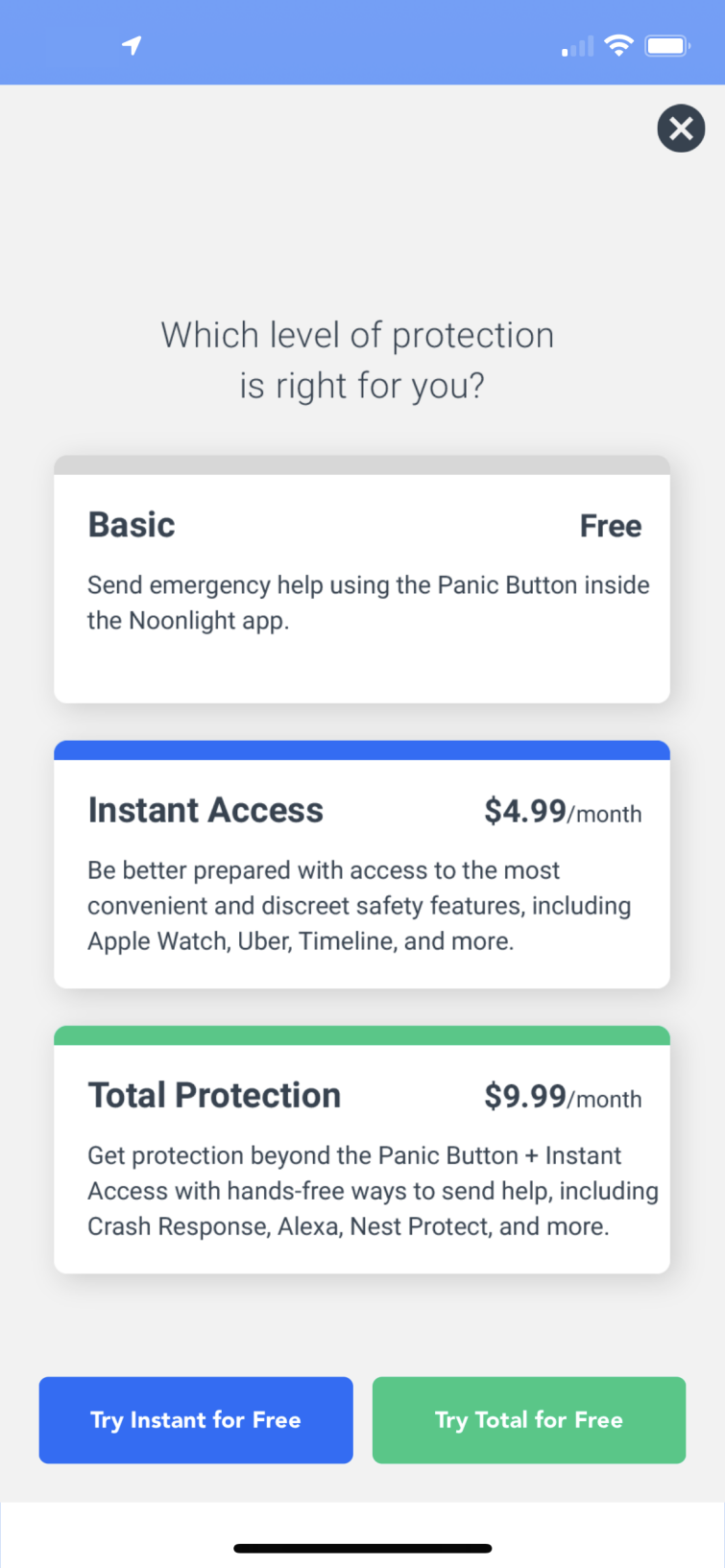 Okay, so here's the good news – you can use Noonlight without paying a penny! The free Noonlight plan is pretty impressive. You'll have access to the Noonlight button, the Timeline feature, Safety Network, and Advance Profile. Unfortunately, Android users will only be able to use the Noonlight button.
For $5 per month, the Instant Access tier includes an iOS widget, Apple Watch app, and syncing abilities with your Uber and Lyft accounts… as well as all the features available via the free plan!
Noonlight's Total Protection subscription costs $10 per month, includes both the free and Instant Access perks, and introduces Noonlight's Crash Response and Alexa skill, as well as Google Home services.
iPhone (almost) exclusive
Once again, only iPhone users will be able to check out the Instant Access and Total Protection tiers – which is disappointing if you're an Android user.
Features
Whether you opt for a paid subscription or go for the free version, Noonlight comes with some pretty handy features! Let's check them out.
Noonlight button
This big button is one of the first things you'll see when you explore the app. It's not scary to use – not like a glaring panic button – and you'll even get to take it for a test run. Essentially, you can press this button whenever you feel unsafe. Press and hold it, and then you'll have 10 seconds after releasing the button to input your PIN-code and let the app know you're A-OK.
Alternatively, don't enter your pin if you're in danger. You can also trigger an emergency response immediately by tapping the button and not entering your PIN at all. Either way, a Noonlight dispatcher will reach out to you, via text and phone call, and can alert the authorities (and pass along your location details) if need be.
Timeline
This handy little feature acts sort of like a virtual diary. You can create new notes about anything causing you distress – like someone lurking outside of your place or work, or any plans you have to meet with someone new. This information will be passed along to a dispatcher (and potentially the authorities) if you hit the Noonlight button later. I like this, as those small details can make all the difference in an emergency situation, and the Timeline is also a great way to keep the app informed about any activities outside your usual routine.
Safety network
Obviously, you'll want your friends and family to know about any emergency situations you're involved in. The Safety Network allows you to add those key contacts to the app. They'll be able to check in on you (if you don't return home on time, for example), and if you don't respond to the check-in, the app can pinpoint your location to determine where you are and dispatch aid if necessary.
In addition to these three key features, I really like that you can add medical details to the Noonlight app – again, this info could be vital in an emergency, and you may not always be able to provide it yourself. Noonlight can even connect to your Apple Health app to make the process that much easier. In fact, Noonlight can connect with an impressive amount of other apps and devices, including:
Apple Watch
Alexa
Google Home
TASER Pulse+
Uber
Lyft
Tinder
Noonlight can also connect to the smart devices in your home. This is pretty cool, and could make all the difference in a situation where you can't trigger the Noonlight button yourself – like if there's a fire! In this case, Noonlight would be able to detect the danger via your smart fire alarm and dispatch aid to your location, immediately.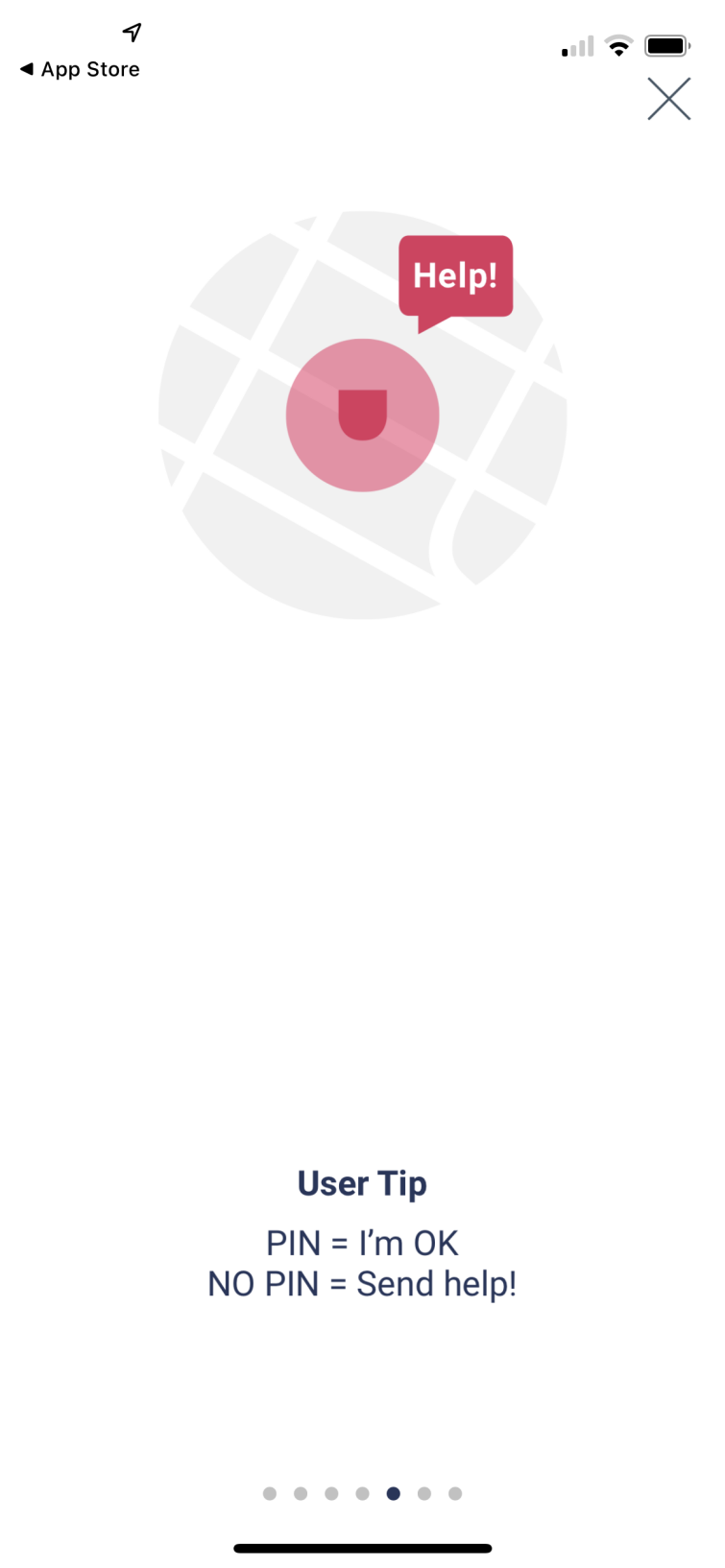 Digging into the data
There's no getting around the fact that Noonlight needs to collect and keep some of your data in order to alert dispatchers and authorities about any dangerous situations, right? This information includes things like your GPS location, IP address, name and date of birth, contact details, and more. The Noonlight team has a very clear privacy policy, fortunately:
We will disclose your information and location to public-safety or other responders as part of an active alarm to get you help, as required by law, or if you ask us to do so.
Noonlight claims that the app may record your phone calls if you're put in touch with the emergency services, too.
I mentioned earlier that it's possible to provide Noonlight with some medical data… but that's entirely optional! If you do choose to share that information, you're giving Noonlight permission to share it in turn with emergency responders. And that's the point. In the event of an emergency or accident, the app will be able to share pertinent details with first responders, like ambulance or police teams.
All in all, I think the Noonlight privacy policy is clear and reasonable. The app isn't a game or a way to kill time – it's a security tool, and in order to get the most out of it, you do need to share some personal details.
Final thoughts
I honestly think that Noonlight is one of the best security apps I've seen around. I like how discreet it is, how easy it is to use, and the fact that it's free. You can benefit from some really comprehensive safety measures without paying a penny!
More seriously, calling 911 isn't always an option for us, and that's where Noonlight excels. In an emergency situation, we might not be able to talk on the phone or have all the right details about where we are, and sometimes we might not know for sure if we're in danger.
Noonlight accounts for all of those things and gives people an easier way to reach out to a team of dispatchers. Then, if the situation does require police intervention, you can rest assured that the authorities will have your exact location in an instant.
Noonlight is a simple, versatile tool that I think could do so much to reassure anyone – women, people of color, and LGBT folks – that help is only ever a click away.
0 User Reviews
Leave a Review
Thanks for your review!