How does Bright Data work?
Although Bright Data has received a lot of bad press in the past due to being a "sister company" to Hola VPN, it is worth noting that Bright Data and Hola were separated in 2017 when Bright Data was acquired by EMK capital.
In the past, Bright Data's business model has caused a great deal of controversy. And, despite the fact that Bright Data is now no longer connected to Hola, the firm still offers the same services to both consumers and businesses as it used to. It is these services that caused the controversy in the first place.
Bright Data's network allows for consumers' IP addresses to be used for traffic throughput by its businesses clients when the consumer's device is not being used and is connected to WiFi. This is the exact same service that Bright Data operated in connection with Hola - which makes it problematic whether Hola is involved or not.
In addition to Hola VPN users' IPs, app developers can incorporate the open source Bright Data SDK into their own apps. This allows them to monetize their apps without the need to include intrusive ads or to sell their users' data. Users instead opt-in, consenting to their devices becoming exit nodes in the Bright Data P2P network.
Pricing and plans
Pricing is, frankly, too complicated to cover in any detail here, based on which kind of IPs you want (data center, static residential, residential, or mobile), throughput each month in GB, the number of static IPs required, and your minimum monthly commitment.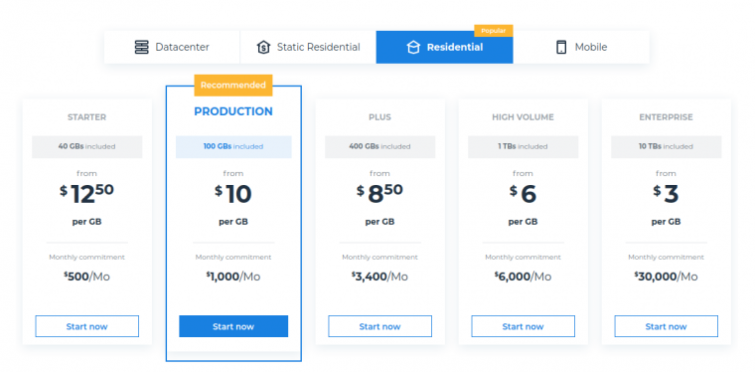 Of the four kinds of proxy network on offer, data center IPs are the cheapest, and mobile IPs are the most expensive. Static residential IPs have the same base cost as dynamic residential IPs, except each static IP costs an additional $0.50 USD.
Static residential IPs are real IP addresses that have been leased from ISPs and therefore appear to be real IPs.
Everything is very configurable, however, allowing you to mix and match IP types and associated plans as best meets your business' needs.
The web console makes it very easy to keep track of your spending, so there shouldn't be any nasty surprises in store when billing is due. Bright Data also provides a handy pricing calculator to help you estimate costs before committing to a plan.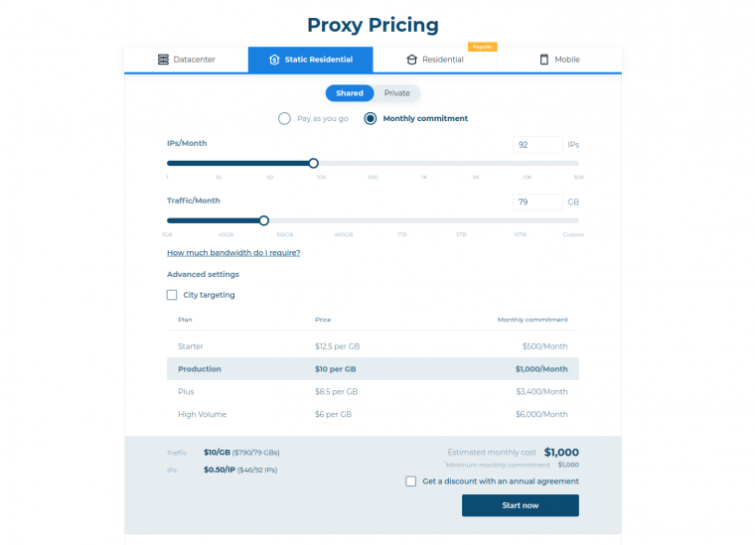 A 7-day free trial is available for residential IPs. It has to be said that Bright Data's pricing distinctly sits on the higher of the market and is likely beyond the reach of many SMBs.
Features
750,000+ data center IPs
85,000+ static residential IPs
40 million+ P2P residential IPs
7 million+ P2P mobile IPs
IPs available all over the world
Shared or exclusive IPs
Can specify IPs by country or by city
Web console dashboard
Open source proxy manager
The Unblocker
Chrome extension
API
Shared or Exclusive IPs
All four proxy networks allow for shared IPs, which are shared among many users, or exclusive IPs, which are used only by you for your target site. These exclusive IPs come with a "cooling period," which guarantees that those IPs have not been used for a target site for a specified number of days before purchasing.
Open source proxy manager
The Bright Data Proxy Manager (LPM) is available for Windows, macOS, Linux, and as a cross-platform Docker package. It allows you to create proxies, to which you can attach your (or a third party) crawler or bot for scraping.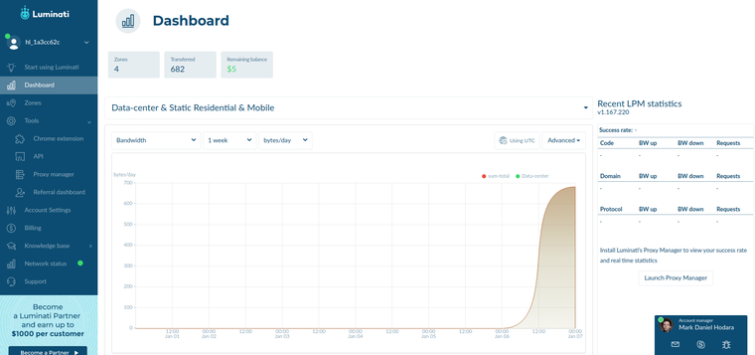 The most notable feature is Waterfall routing, where requests are passed through the data-center network first, then to the residential networks if that fails, and then to the mobile network. This maximizes success rates while keeping costs to a minimum.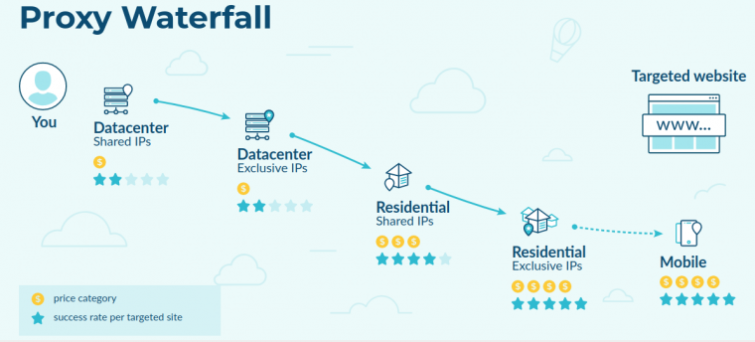 While we found the affiliate link tester useful with its ability to verify ads by choosing a relevant IP type and target destination, the tool has since been replaced with Bright Data's Data Collection Platform. We cannot verify the company's claims here, but it boasts 100% accuracy with its results while simplifying its advanced proxy network down to a simple API request.
The Unblocker
The use of P2P IPs belonging to real people hugely reduces the chances that a website will block you. In the event that it does, Bright Data guarantees that a simple URL request results in a 100% success rate.
This is thanks to its Unblocker technology, which uses IP rotation, fingerprint imitation, IP priming, cookie management, and other techniques to ensure that websites are always unblocked.
Chrome extension
A Chrome extension allows you to surf the internet using your Bright Data proxy addresses. From within the web console, you can rotate networks and easily deploy user agent spoofing.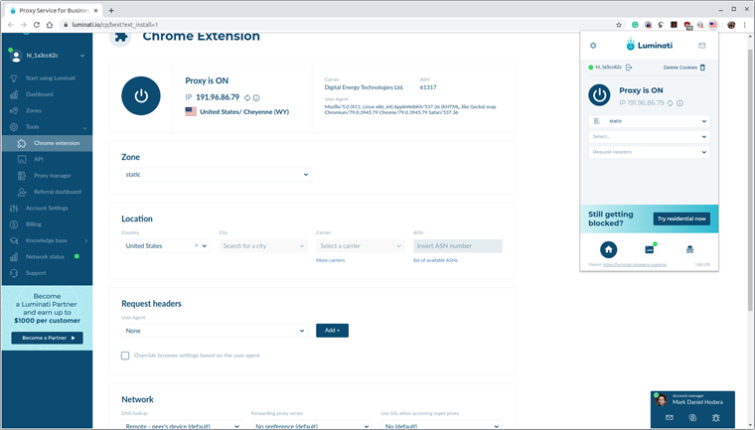 Judging from comments on the Chrome Store, many people use the Bright Data Chrome extension as a free proxy add-on for personal use, but we found (paid) activation of residential IPs was required to access US Netflix.
We are pleased to note, though, that we detected no IPv6, DNS (IPv4 or IPv6) or WebRTC (IPv4 or IPv6) leaks when using the Chrome proxy extension.
API
As already noted, an open source API is available for those utilizing the proxy network. Developers can integrate it into their apps in order to turn devices into Bright Data exit nodes.
The SDK only works when a peer has opted-in to the network, the device is idle, the device is connected to WiFi, and there is sufficient battery power.
Customer support
The Bright Data website provides extensive documentation and help files, a lengthy FAQ, and a large catalog of tutorial videos.
In addition to this, when you sign-up, you are assigned a personal account manager who can provide you with one-on-one assistance via email or Skype. There is also 24/7 email and Skype assistance available from the web interface.
As a result, I think it's fair to say support for Bright Data customers is great.
Privacy and security
Jurisdiction
Bright Data is an Israeli company. Israel has very strong data protection laws that strictly and specifically limit the government's ability to spy on personal data.
But it is also a close ally of the NSA, and Israel is known for the robustness of its cyber defense operations, and for its cooperation with the NSA in its mass surveillance operations. So who knows?
It should be said, though, that such privacy considerations will likely matter more to Hola VPN (and other SDK) users than companies using the Bright Data business IP network.
Controversy
In 2015, a huge amount of controversy was generated when 8Chan owner, Fredrick Brennan, published a damning investigation showing that Hola VPN was "selling" its users' IPs to Bright Data (it later became clear that both Hola VPN and Bright Data are owned by the same person).
Despite protestations of innocence from Hola co-founder Ofer Vilenski (who quickly updated the company's FAQ in response to the furor), expert opinion was almost unanimous in condemning Hola and Bright Data for a business model often referred to as being a botnet.
Most of the criticism centered on their failure to adequately inform Hola customers that they were becoming part of a peer-to-peer network by using the service. But it didn't end there, as concerns also expressed the possibility of exposing Hola VPN users to malware spread through the network, and of Hola VPN users being held liable for the actions of other network users who used their IP address as an exit node.
The situation was not helped by the fact that Brennan initiated his investigation following a DDoS attack on 8Chan, which originated from Hola/Bright Data IPs, or that TrendMicro "also found a link to the former KlikVip actors and websites with traffic routed through Bright Data."
"Ethical usage"
Bright Data has responded to such criticisms by introducing a raft of "ethical" measures aimed at improving transparency and reducing the chance for misuse. The SDK, for example, requires full and explicit consent from users, who may opt-out at any time.
The SDK also collects no personal data from end-users, as it "only interested in the IP addresses themselves." IPs are not resold (beyond sharing Hola VPN IPs with the Bright Data network).
Bright Data claims to carefully vet its clients, who are required to share their national ID and sign a compliance statement. Dedicated compliance officers investigate claims of abuse and supplement automated monitoring for suspicious behavior with manual checks.
This all sounds encouraging, but we are interested to note that we encountered no mention of Hola VPN anywhere on the Bright Data website. The Hola VPN website is more forthcoming, however.
Technical security
Customers can secure requests to Bright Data's "super proxies" (load-balancing servers) using HTTPS, but this is optional. "The communication protocol is encrypted by using a proprietary algorithm," but to be honest, we have no idea what this actually means.
Bright Data has confirmed that it does go to the authorities when it catches abuse, however, there is still nothing to prevent Hola VPN and other Bright Data SDK users from being held responsible for the actions of other users who abuse their IP address. We have also not seen anything that acknowledges concerns over malware being spread through the P2P network.
As with jurisdiction, though, any such concerns primarily affect P2P end-users, rather Bright Data business customers.
Ease of Use
Proxies are managed through the web console Dashboard.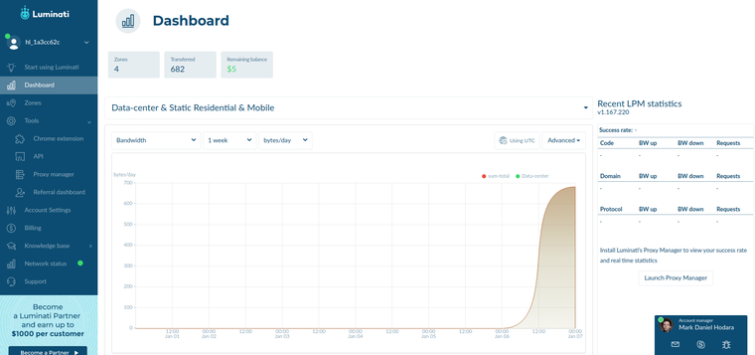 The Dashboard is complex, but provides fine-grained control over your proxies (and associated spending), while providing all the information you need in a fairly easy-to-understand manner.
Final thoughts
Bright Data is expensive, perhaps even prohibitively so for many. But this is in large part justified, as it does provide an unparalleled business proxy service.
This is not only in terms of the sheer number of IPs on offer (hundreds of millions) but in terms of its singular peer-to-peer approach to obtaining residential and mobile IPs. Each such IP is a genuine IP belonging to a real individual, making them much more effective than the traditional data center IPs offered by most business IPPNs.
Bright Data also provides a powerful and sophisticated array of tools that allow customers to maximize benefit from using the service and backs this up with superb customer assistance and support.
In many ways, Bright Data is, therefore, no-brainer for businesses that can afford it, as it will undoubtedly benefit your business.
Other than price, the only real issue is whether you are comfortable with Bright Data's business model. Those philosophically opposed to the entire notion of a P2P proxy ("voluntary botnet") are unlikely to change their minds, but Bright Data has made large strides forward in terms of transparency and user-consent.
0 User Reviews
Leave a Review
Thanks for your review!