StartpPage.com is a search engine that respects your privacy. It has recently relaunched, making this already excellent service even better.
What is StartPage.com?
StartPage is a Netherlands-based search engine. It leverages Google search results, but proxies all searches so that Google does not know made who made them. It can even proxy your connection to web pages you visit, a feature that has been greatly improved in the recent update.
StartPage.com makes money from ads and affiliate links, but these are untargeted, clearly marked, and not mixed in with the real search returns.
You can see an older overview of StartPage.com in our best private search engines guide.
So what's new?
Modern look and feel
One of our earlier criticisms of StartPage was that it was "not as pretty or user-friendly as DuckDuckGo." It now has a great looking, modern, easy-to-use, user interface.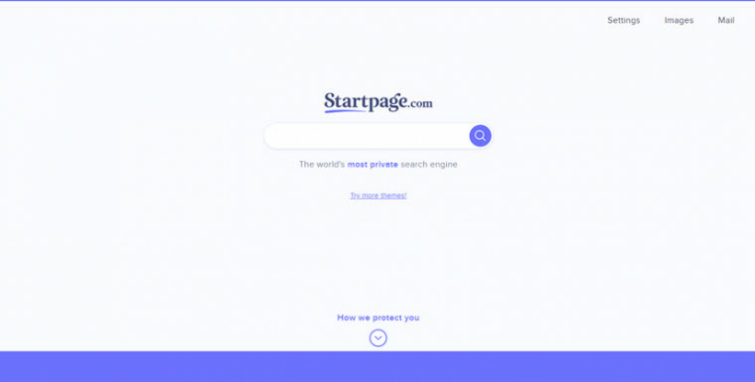 Results are clearly laid-out, and ads are clearly marked as such and appear only at the top of each result page.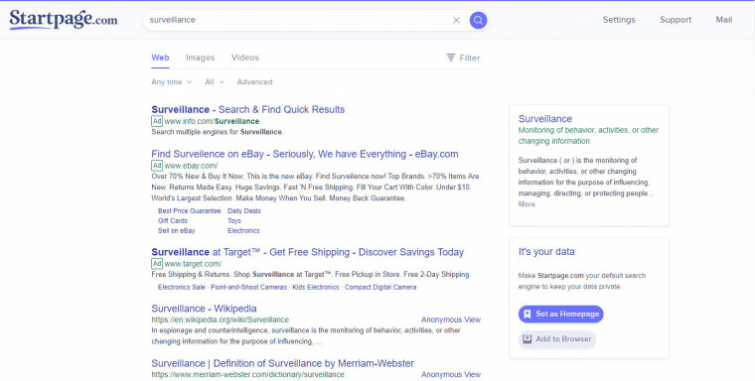 For those who like to tinker, StartPage offers a number of themes.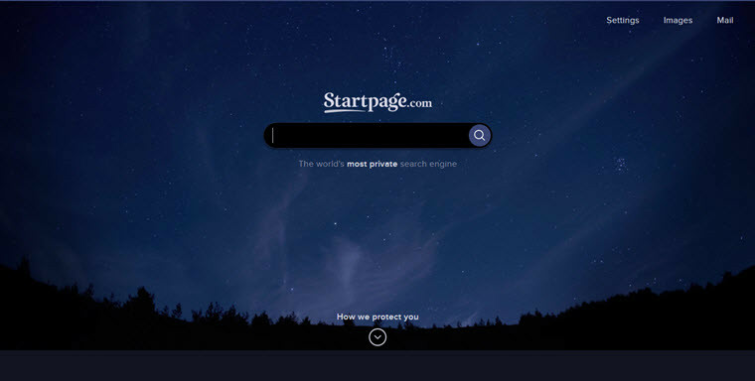 Images can be sorted by size, color and type (JPG, PNG, or GIF). One feature that we miss in our line of work is Google's ability to filter images by usage rights, but this is of little concern to most users.
Video and web/picture family filters are enabled by default in the options menu. Clicking on a video will send you to the hosting webpage (for example on YouTube).
This is good, because playing a video within the search results page requires a direct connection to the hosting site, allowing that site to identify you by your IP address (and possibly other means).
Of course, clicking on any link to a web page will expose your real IP address (if not using a VPN to hide it) and your browser to other forms of tracking. Unless…
Anonymous View Proxy
One of the best things about StartPage.com has always been its proxy feature. If you select this option, then a proxy server run by StartPage sits between your computer and the website.
This prevents the website from knowing your true IP address (much like a VPN), and from being able to use sneaky web tracking and fingerprinting technologies to identify and track you.
The new Anonymous View proxy feature greatly improves on this, mainly thanks to the way it handles JavaScript.
The problem with traditional web proxies is that they either allow JavaScript on the proxied pages, which presents a major privacy risk, or they disable it, which breaks many web pages which rely on JavaScript for their functionality.
With Anonymous View, "instead of disabling JavaScript, the StartPage.com proxy uses advanced, unique technology to allow almost all JavaScript, while rewriting and 'redefining' JavaScript primitives to protect your privacy… JavaScript functions are rewritten and redefined—so they work, but with privacy safeguards to protect your personal information."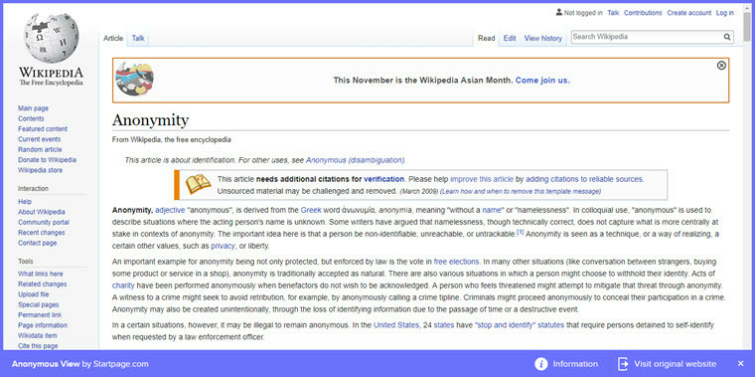 This is great, and generally works well. It has to be noted, though, that the occasional page refused to load at all for us when viewed in Anonymous View. We were also disappointed to see that YouTube pages only partially loaded, preventing us from being able to watch any videos anonymously.
StartPage.com has told us that it is working on this issue, and hopes that it will be fixed by the time this article is published.
Privacy not anonymity
As with a VPN, your internet activity is proxied through StartPage's servers, meaning that StartPage will know who you are and where you go on the internet.
In fact, it knows more about what you do than a VPN company because it proxies, and can see every webpage you visit. A VPN provider can only see what you do on non-HTTPS pages. As Startpage knows this, then you are not anonymous.
StartPage has a very robust privacy policy and mitigates the danger of being able to see HTTPS-protected pages by disabling logins. Just be aware that, as with almost all online services, a certain level of trust is required.
Conclusion
StartPage is a great privacy search engine, which has just gotten better. It now looks good, and "Anonymous View" continues to be a killer feature that now breaks even fewer websites. A privacy win.
If you are serious about privacy and security, check out our most secure VPN services page.