The 2019 Consumer Electronics Show (CES) is set to kick off on Tuesday, January 8th in Las Vegas, Nevada. The four-day conference is heralded as "the world's gathering place for all those who thrive on the business of consumer technologies."
According to the CES website, over 180 thousand are expected to attend the conference, and over 4 thousand companies are expected to exhibit. The conference features presentations and exhibits from small tech startups to the world's leading tech companies, including the likes of Google and Amazon.
One notable tech company not on the docket this year, however, is Apple. Though Apple doesn't traditionally participate in CES, that doesn't mean the tech giant is not making its presence felt in Vegas. Taking direct aim at Google and Amazon, Apple plastered a 14-story tall advertisement on the side of a Marriott hotel (Ironic, considering their own recent issues with privacy) directly across the street from the Las Vegas Convention Center lauding the iPhone's superior security capabilities. "What happens on your iPhone, stays on your iPhone", the billboard reads, a play on the iconic Vegas saying, "What happens in Vegas, stays in Vegas."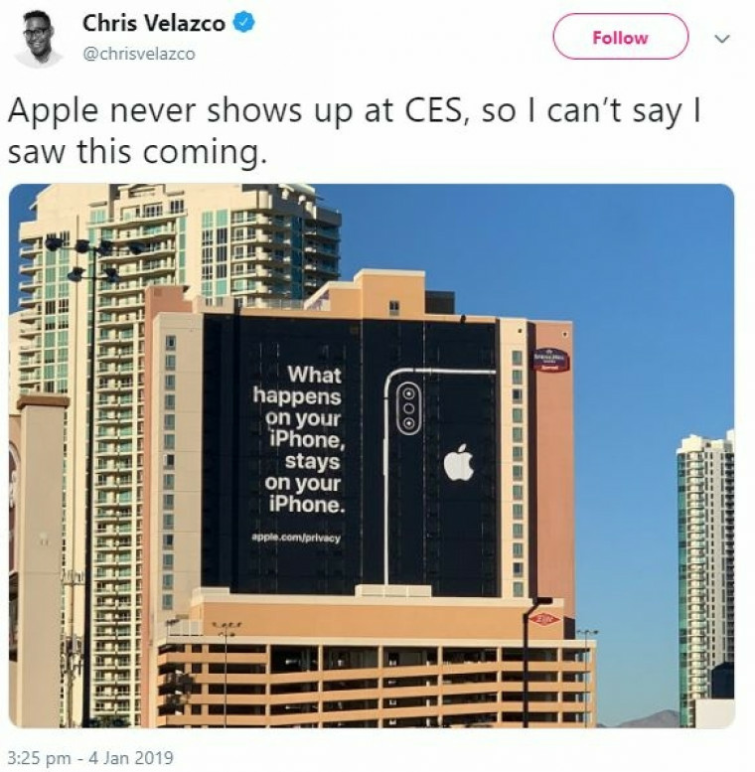 The billboard is a not-so-subtle jab at some of Apple's fiercest competitors like Google and Amazon who have had their fair share of privacy-related issues recently. Just this past June, Google had to answer to a flaw in its Home app that could allow a potential hacker to pinpoint a user's location within a range of a mere 10 meters. More recently, it was discovered that over 52 million Google+ users' personal data was exposed to developers, prompting the company to bring forward the planned shutdown of its unpopular social network. Amazon also had trouble on the privacy-front last year when one of its popular Alexa-enabled devices malfunctioned and inadvertently sent an Oregon woman's private conversation with her family to a random contact in Seattle.
Though both Amazon and Google claim to have their users' privacy at the top of their respective priority lists, embarrassing blunders like these suggest both companies still have some work to do if they want to regain consumer trust in their products in terms of how they secure sensitive user data. Apple products are generally regarded as much more secure than their rivals' counterparts, and the company typically isn't prone to the same data leaks and security shortfalls as Google and Amazon. Apple's marketing department decided to highlight this and make a splash with its cheeky at an event the company isn't even attending.
The advertisement is simple but delivers a powerful message that Apple values the privacy of its users. In addition to the witty slogan, the billboard includes a link to Apple's privacy page, where anyone can find in-depth information as to how Apple works to protect user data. One of the claims made on the page states, "Your personal data belongs to you, not others. Whether you're taking a photo, asking Siri a question, or getting directions, you can do it knowing that Apple doesn't gather your personal information to sell to advertisers or other organizations." Apple's competitors, on the other hand, often use aggregated data from their users to make money off advertisements.
Apple's CES advertisement and overall take on user privacy are refreshing at a time when so many big tech companies are stumbling and bumbling their way through one privacy issue after another.
If you are interested in taking your iPhone security to the next level, consider downloading a VPN app. The best VPNs for iPhone will encrypt all of your online data and communications on your phone, and give you that essential extra layer of security whenever you use your iPhone to access the internet.