Euro 2020 final takes place on at 8pm GMT on Sunday 11th July, and millions of football fans will be tuning in not just in Europe, but all over the world. We've seen some fantastic performances throughout the tournament and England have reached their first major final since 1966.
The tournament is being aired exclusively on pay-TV services in a lot of non-European countries like Australia and the USA. In many European nations, however, you can watch the whole tournament on free-to-air TV.
If you're a football supporter from Europe now living somewhere else – or you're just a passionate fan of the sport who loves the Euros – this can be really frustrating. But with a virtual private network (A.K.A. a VPN), you'll be able to access a high-definition European stream in English, French, Spanish, or Portuguese that is completely free to air. We show you how to watch England vs Italy live and free below!
How to watch England vs Italy
A VPN is a must-have piece of kit if you want to access a high-quality, free England vs Italy stream. VPN services spoof your location so you appear to be somewhere else, allowing you to access geo-restricted service based in another country that is showing Euro 2020 for free. This same method should work for all the streaming services we list in this article!
Let's say you live in the UAE, but you don't want to pay for a beIN Sports subscription and, if possible, you'd prefer a stream with English commentary because English is your first language. With a VPN like ExpressVPN, it doesn't really matter where you are in the world – you'll be able to connect to the ITV and The BBC and stream the final. Simply follow the steps below to watch Euro 2020 football from anywhere.
Sign up for an ExpressVPN account.
Download the software and install it on your device.
Connect to one of ExpressVPN's servers in the United Kingdom.
Navigate to the ITV or The BBC's live TV page (you may need to create an account).
Start streaming the Euro 2020 final in high definition!
As you can see from the image below, ExpressVPN has servers in several locations in the UK – similar to its coverage in other European countries. They also offer a 30-day no-questions-asked money-back guarantee.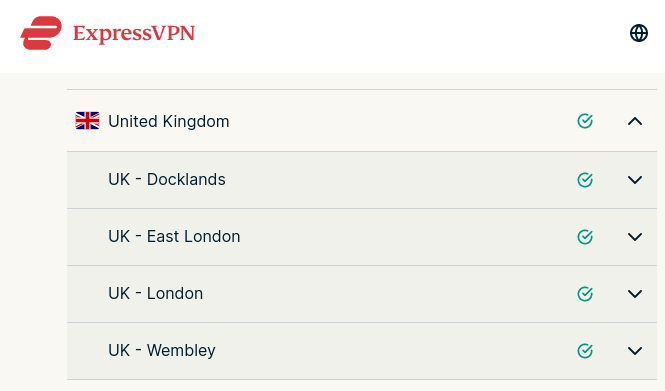 You don't need to sign up to check its server locations, so head over to the website to double-check they have servers where you need them. They've even got one in Wembley if you want to keep with the footballing theme!
The best ways to stream Euro 2020 final
Below is a list of the best streams to watch England vs Italy on. Using a VPN will allow you to unblock these channels from anywhere in the world and ExpressVPN has high-speed servers in all of these countries so you can stream the match HD. All of these channels are legal, High Definition, and completely free-to-air.
Channel (country)
Commentary language
Additional streaming information
BBC iPlayer (UK)
English
Splitting games with competitor ITV (both channels are showing the final simultaneously). Will show England & Wales' first games.
ITV Hub (UK)

English
Splitting games with competitor BBC (both channels are showing the final simultaneously). Has first Semi-final pick.
RTÉ Player (IRL)

English
Showing all of Euro 2020 live on both RTÉ2 and RTÉ Player with the exception of final group games which kick off simultaneously. These fixtures will be split between RTÉ or RTÉ Player.
S4C (WAL)

Welsh
S4C can be watched live through BBC iPlayer or this website. The channel is scheduled to show all Wales' games with Welsh commentary.
M6 (FRA)

French
Splitting 23 out of 51 games with TF1. It will show 12 games total. Has the first choice of quarter-final.
TF1 (FRA)

French
Splitting 23 out of 51 games with M6. It will show 11 games in total. Has the first choice of semi-final and more France games.
Mediaset
Spain (ESP)

Spanish
The free-to-air broadcasting group will be showing all 51 games of the championships.
TVI (POR)

Portuguese
Agreed sub-licensing deal with Sport TV Portugal to show 22 games, including all of Portugal's fixtures.
RAI (ITA)

Italian
Italian free-to-air broadcaster RAI has secured a licensing deal with Sky Italia with 27 matches, including all of Italy's games.
TRT (TUR)

Turkish
National broadcaster TRT is the primary rights holder for Euro 2020 in Turkey.
Remember, if you live outside of the countries these channels are based in, you will need a VPN to access them. Otherwise, you will be blocked from entering.
How will a VPN unblock England vs Italy
VPNs are the only piece of tech you need to watch the Euro 2020 final online and for free. A VPN – which stands for 'Virtual Private Network' – will reroute all of your internet traffic to a private server, which it has to pass through before it reaches the internet.
Websites you visit after connecting to one of your VPN provider's servers will see the IP address of the server instead of your device's true IP, giving you an enhanced level of privacy and security when you go online. This also means you can circumvent geo-restrictions websites enforce based on information from IP addresses. You can, with a VPN, find legitimate channels and sites in different countries showing the Euros and watch them for free without being blocked.
For streaming the Euro final, we recommend ExpressVPN. This provider has thousands of servers worldwide in countries that have tonnes of content worth unblocking, including free-to-air channels showing the Euros in places like the United Kingdom and Italy.
ExpressVPN is notorious for being able to unblock the most popular streaming sites and content and uses TrustedServer technology to ensure that no logs of your activity are kept. So whatever you want to watch – be it sports, TV shows or movies – ExpressVPN has you covered.
How VPNs will help you find the right commentary
All the streams we've mentioned above are good quality, legitimate and safe ways to watch Italy vs England. That means your next consideration will likely be the commentary language you'd prefer alongside the match.
If you're a football fan, you'll know how integral commentary is to enjoying the beautiful game when you're watching from home. The most legendary moments in football history are often tied to historic pieces of commentary, perfectly describing the glory, despair, and emotion of it all. With a VPN, you can access streams from across the world, so you can find the commentary team – and traditions – that you grew up listening to.
If you're one of the thousands of British people living in Spain and South America, for example, you'll probably be able to get hold of a good stream of the Euros – but it's unlikely the commentary will be in English. But even if you're somewhere like the US, for example, where the commentary would be English, you might still want that BBC or ITV commentary team that'll make you feel right at home. A VPN makes all this possible, so if you have commentary preferences, it'll be a worthwhile purchase – just make ensure you go for one like ExpressVPN, which can unblock loads of channels!
Regions with no real free-to-air options
In Europe, there's always massive pressure on the Euros to be free to air, which is why even pay-tv channels like Sport TV Portugal sub-license their rights to channels like TVI.
But in many countries outside of Europe, the rights to show the games are held exclusively by pay-TV/cable channels. This means you'll have to pay a hefty subscription fee to watch it.
| | |
| --- | --- |
| Country | Additional streaming information |
| Australia | Euro 2020 will be shown exclusively on Optus Sport, a paid subscription service that operates a number of different sports channels in the country. |
| United States | Euro 2020 will be shown on ESPN (Eng. lang) and TUDN Univision (Span. lang), which are both pay-tv services that often come as part of cable TV packages. |
| Mexico | Residents of Mexico will need a Sky Mexico subscription to watch Euro 2020 in the country. SKy Mexico will also be showing the competition in other Central American countries like the Dominican Republic and Honduras. |
| UAE | Qatari subscription service beIN Sports is the only way to watch the Euros in the UAE, as it is in many other Middle Eastern countries. |
| New Zealand | People who live in New Zealand will need a Sky New Zealand subscription to watch Euro 2020 in the country. |
| Saudi Arabia | Qatari subscription service beIN Sports is the only way to watch the Euros in the Gulf state. |
| Israel | Pay-tv network Charlton has the right to show Euro 2020 in the country. |
Why you should Avoid Illegal streaming sites for Euro 2020
Since the rise of pay-tv subscription platforms, it's an unfortunate reality that an increasing number of sports fans have been turning to illegal streaming sites to watch football. However, here at ProPrivacy we strongly recommend you avoid illegal streaming sites for a number of reasons.
Last year, The Industry Trust found that 29% of people who stream movies and sport on illegal websites saw their devices infected with malware. Illegal sites that take subscription payments are also hotbeds for fraudulent activity. Aside from the threat of malware, other problems with illegal streaming include:
Delays, latency, and buffering
All-round poor picture quality, often blurry
'Zoomed in' streams where the scoreboard/minutes aren't visible
Streams suddenly dropping during matches
Irritating ad overlays and pop-ups
Limited choice of commentary language
Case study: Mobdro
Mobdro, described in the media as 'the world's largest illegal streaming platform' was an app that allowed users to illegally stream Premier League and La Liga games. Over 43 million people downloaded it before it was shut down this year.
Shortly beforehand, a researcher at the Digital Citizen's Alliance – who were looking into the app – found that it directly downloaded malware onto the device they were using to investigate it.
Is using a VPN to stream England vs Italy legal?
One of the first questions people often ask about VPNs is whether they're legal to download and use, and a surprising percentage seem to think they are. Unless you live in one of the few countries around the world that ban VPN usage or accessing geo-restricted content (Russia, China etc.) I can assure you right now that using a VPN to stream Euro 2020 is completely legal. Around one-quarter of all internet users globally now use a VPN when they head online.
As aforementioned, excluding countries where VPN usage is completely banned, using a VPN to watch the European Championships in the ways described in this article is completely above board, safe and legal. If you live in a country like the United States, for example, you won't be getting any worrying knocks at the door for watching a bit of football. However, VPN usage is against the terms of service on many websites, especially ones that show live, sought-after content, but it's important to remember that this isn't illegal. You aren't pirating or stealing content, so you're not actually breaking any laws.
You might have heard before that domain owners are able to identify IP addresses that belong to VPN providers and then block them from accessing their sites. This is true – sites do indeed do that, and some bigger streaming platforms like Netflix are quite good at it too – but this isn't a problem for providers like ExpressVPN. They can unblock anything, and sites like BBC iPlayer or ITV Hub are no match for its IP-blocking powers.
Watch the Euros final online for free thanks to the 30-day money-back guarantee
Euro 2020 runs from June 11 to July 11 – which is exactly 30 days long. This is extremely convenient, as basically all premium, paid-for VPN services (including ExpressVPN) offer a 30-day money-back guarantee.
This means you can download your VPN software, install it, use it for 30-days, and then claim your refund back – essentially mean you can watch the entirety of Euro 2020 online for free, only incurring a temporary cost which will be reimbursed back to you once the tournament ends.
The ExpressVPN Free Trial Hack!

You can experience ExpressVPN's fully featured service without limitation… for free!
If you need A VPN for Euro 2020, why not test ExpressVPN premium service? Simply purchase a subscription using the button below and take advantage of the no-nonsense money-back-guarantee. Enjoy the free VPN trial for 30 days, and when you cancel, you will receive a complete refund! Check out our ExpressVPN refund page for more details about how to get your money back after the 30-day period.
The reason so many VPNs offer this admirable condition on their service is that most people find VPNs really useful after using them. Even the most expensive services are worth the money. Think how many people pay for one, single regional Netflix library. it's double, or even triple the monthly price of most VPN services. But with a VPN, you can access hundreds of Netflix libraries from around the world, by simply connecting to different servers across the globe.

ExpressVPN
Discount Coupon
Save 49% off ExpressVPN
With this coupon
Save 49% off if you choose to upgrade to ExpressVPNs premium plan!
Euro 2020: the final
And then there were two. England and Italy are the last teams standing in Euro 2020 and are scheduled to battle it out this Sunday for continental supremacy.
Even England fans will admit that Italy have looked like the most threatening, well-rounded team at the tournament. Their unbeaten record now extends to 33 games, with a sturdy, experienced defense complimented by an energetic offensive line led by some of the world's best attackers. Despite their dominance during this tournament, Italy were given the runaround by Spain for large portions of their semi-final and conceded a late goal to take the game to extra time and onto penalties. During the game, Italy did show that should they can adapt to new challenges in real-time with terrifying ease, and still looked like a potent attacking force when playing on the counter-attack. On balance, the Italians are favorites to win the match.
England were also taken to extra time in their semi-final but managed to escape spot-kicks thanks to a Harry Kane penalty midway through the extra half hour. In a similar way to Italy, they were faced with serious questions for perhaps the first time in the tournament, with Mikkel Damsgaard soring a sumptuous free-kick to put Denmark 1-0 ahead. England replied shortly after, however, with Bukayo Saka slotting the ball into intended target Raheem Sterling only to see it turned into the Danish net by centre back Simon Kjaer. There were some hairy moments for the Three Lions, who weren't helped by Jordan Pickford's subpar kicking, but standout performances form Raheem Sterling, Kalvin Phillips and Kyle Walker ensured England progressed to their first major tournament final in 55 long years.
Euro 2020: Full fixture list and dates
(All times shown in Central European Time (CET))
Group Stage
| | | | |
| --- | --- | --- | --- |
| Date | Fixture | Group | Time & city |
| Friday 11 June | Turkey vs Italy | A | 21:00, Rome |
| Saturday 12 June | Wales vs Switzerland | A | 15:00, Baku |
| Saturday 12 June | Denmark vs Finland | B | 18:00, Copenhagen |
| Saturday 12 June | Belgium vs Russia | B | 21:00, St Petersburg |
| Sunday 13 June | England vs Croatia | D | 15:00, London |
| Sunday 13 June | Austria v N. Macedonia | C | 18:00, Bucharest |
| Sunday 13 June | Netherlands v Ukraine | C | 21:00, Amsterdam |
| Monday 14 June | Scotland v Czechia | D | 15:00, Glasgow |
| Monday 14 June | Poland v Slovakia | E | 18:00, St Petersburg |
| Monday 14 June | Spain v Sweden | E | 21:00, Seville |
| Tuesday 15 June | Hungary v Portugal | F | 18:00, Budapest |
| Tuesday 15 June | France v Germany | F | 21:00, Munich |
| Wednesday 16 June | Finland v Russia | B | 15:00, St Petersburg |
| Wednesday 16 June | Turkey v Wales | A | 18:00, Baku |
| Wednesday 16 June | Italy v Switzerland | A | 21:00, Rome |
| Thursday 17 June | Ukraine v N. Macedonia | C | 15:00, Bucharest |
| Thursday 17 June | Denmark v Belgium | B | 18:00, Copenhagen |
| Thursday 17 June | Netherlands v Austria | C | 21:00, Amsterdam |
| Friday 18 June | Sweden v Slovakia | E | 15:00, St Petersburg |
| Friday 18 June | Croatia v Czechia | D | 18:00, Glasgow |
| Friday 18 June | England v Scotland | D | 21:00, London |
| Saturday 19 June | Hungary v France | F | 15:00, Budapest |
| Saturday 19 June | Portugal v Germany | F | 18:00, Munich |
| Saturday 19 June | Spain vs Poland | E | 21:00, Seville |
| Sunday 20 June | Italy v Wales | A | 18:00, Rome |
| Sunday 20 June | Switzerland v Turkey | A | 18:00, Baku |
| Monday 21 June | N. Macedonia v Netherl | C | 18:00, Amsterdam |
| Monday 21 June | Ukraine v Austria | C | 18:00, Bucharest |
| Monday 21 June | Russia v Denmark | B | 21:00, Copenhagen |
| Monday 21 June | Finland vs Belgium | B | 21:00, St Petersburg |
| Tuesday 22 June | Czechia vs England | D | 21:00, London |
| Tuesday 22 June | Croatia v Scotland | D | 21:00, Glasgow |
| Wednesday 23 June | Slovakia vs Spain | E | 18:00, Seville |
| Wednesday 23 June | Sweden vs Poland | E | 18:00, St Petersburg |
| Wednesday 23 June | Germany v Hungary | F | 21:00, Munich |
| Wednesday 23 June | Portugal v France | F | 21:00, Budapest |
First knockout Phase
Date
Fixtures
Stage
Time & city
Saturday 26 June
1. 2A v 2B
2. 1A v 2C
Round-of-16
18:00, Amsterdam
21:00, London
Sunday 27 June
3. 1C v 3 (D/E/F)
4. 1B v 3 (A/D/E/F)
Round-of-16
18:00, Budapest
21:00, Seville
Monday 28 June
5. 2D vs 2E
6. 1F v 3 (A/B/C)
Round-of-16
18:00, Copenhagen
21:00, Bucharest
Tuesday 29 June
7. 1D v 2F
8. 1E v 3 (A/B/C/D)
Round-of-16
18:00, London
21:00, Glasgow
Quarters, Semis and Final
| | | | |
| --- | --- | --- | --- |
| Date | Fixtures | Stage | Time & city |
| Friday 2 July | 1. Winner 6 v Winner 5 | Q-final | 18:00, St. P'burg |
| Friday 2 July | 2. Winner 4 v Winner 2 | Q-final | 21:00, Munich |
| Saturday 3 July | 3. Winner 3 v Winner 1 | Q-final | 18:00, Baku |
| Saturday 3 July | 4. Winner 8 v Winner 7 | Q-final | 21:00, Rome |
| Tuesday 6 July | 1. Winner QF1 v Winner QF2 | Semi-final | 21:00, London |
| Wednesday 7 July | 2. Winner QF3 v Winner QF4 | Semi-final | 21:00, London |
| Sunday 11 July | Winner SF1 v Winner SF2 | Final | 21:00, London |