If you are on the hunt for a reliable VPN service, you have probably already come to the realization that ExpressVPN and IPVanish are market leading services. These VPN providers each have a wide range of features, and they are an excellent choice for unblocking content and gaining privacy online.
Although both these services provide excellent apps and a high-level of service, we understand that choosing between them can be quite hard. That is why we have created this Express VS IPVanish article. This article will allow anybody to compare these two prominent VPN services – to find out which is the best overall.
Quick answer
If you are in a rush and want to know exactly which service won in this head-to-head battle, we have provided that information in this section.
For detailed analysis about how we came to our decision, you can scroll down to check each service side-by-side. We have devised a number of important categories that will allow you to see exactly why one of the providers came out on top.
Admittedly, both services were found to be outstanding – and either service will provide watertight online privacy and vastly improved levels of online freedom. However, in the end, it is clear that ExpressVPN is the best service overall.
ExpressVPN has more server locations, it provides faster connections speeds, and it is more reliable when it comes to unblocking geo-restricted services from around the globe.

ExpressVPN
Discount Coupon
Get 49%
off now
Comes with an additional 3 months
IPVanish
Discount Coupon
Save 70%
with this coupon
Exclusive to ProPrivacy readers
Pricing
Cost is a factor that can be compared in a pretty black and white manner. However, as with most things, when it comes to VPN services – you usually get what you pay for. There are dozens of cheap VPNs on the market, and those services often fail to provide even the most basic VPN features required to gain online privacy. This can make opting for a cheap VPN (solely due to its price) an extremely foolish pursuit.
The good news is that both IPVanish and ExpressVPN are market-leading services. These VPNs have everything you need to use the internet with complete privacy – both at home and when using public WiFi. They are also trusted services that we feel comfortable recommending.
With that said, it is clear that IPVanish is slightly lacking when compared to ExpressVPN. And, it is fair to say that the slightly higher costs you incur with ExpressVPN does equate to a higher level of service. Despite this, we have elected to judge this category on price alone.
At its cheapest (thanks to the exclusive offer you will receive by following our link), IPVanish can be purchased for just $3.25 per month. That is an extremely competitive price point.
ExpressVPN will cost you $6.67 per month – for the same one-year subscription plan. This is double the cost, and it does seem hard to claim that ExpressVPN is twice as good as IPVanish. With that in mind, IPVanish can be considered exceptionally good value for money.
Winner: IPVanish
Features
| No Value | ExpressVPN | IPVanish |
| --- | --- | --- |
| Simultaneous connections | 5 | 1000 |
| Total servers | 3000 | 2000 |
| Server locations | 160 | 75 |
| Split-tunneling | | |
Both of these VPNs have a varied and advanced feature set, which you would expect from market-leading providers of this kind. In addition, they both provide those vital VPN features right across their ecosystem of apps.
Perhaps the biggest difference between these services is that ExpressVPN has more server locations to pick from (a total of 94 countries – compared to just 75 with IPVanish). In our opinion this increases how versatile and useful ExpressVPN is, particularly for unblocking geo-restricted or censored content.
In addition, ExpressVPN will provide faster speeds, which increases how useful the service can be. Unfortunately, neither service provides port forwarding. However, they do both have obfuscation and a kill-switch.
Split tunneling is available with IPVanish on Android and FireOS. With ExpressVPN, on the other hand, split tunneling is available for Windows and macOS users only – so please pick the right service for your needs if split tunneling is a feature that you specifically require.
Winner: ExpressVPN
Routers Supported
| No Value | ExpressVPN | IPVanish |
| --- | --- | --- |
| Router support | | |
| DD-WRT | | |
| Tomato | | |
| pfSense | | |
| OpenWRT | | |
| AsusWRT | | |
Both IPVanish and ExpressVPN can be installed directly onto a router. This ensures that all the devices in your home are automatically protected by the VPN connection. This is great for people who have games consoles, IoT devices, smart TVs, or any other internet connected device that it is hard to install a VPN onto directly.
As you can see from the table above, both VPNs can be set up on a wide range of VPN-ready routers. And, you can buy a pre-flashed router that will work with either VPN service from FlashRouters.com. However, Express VPN has better resources for setting up their VPN on a larger variety of routers.
ExpressVPN has also gone out of its way to set up detailed guides for both flashing routers and setting them up to work with the VPN, which is why we consider ExpressVPN a better option when it comes to router compatibility.
Winner: ExpressVPN
Unblocking
| No Value | ExpressVPN | IPVanish |
| --- | --- | --- |
| Netflix | | |
| iPlayer | | |
| Amazon Prime | | |
| Hulu | | |
| Disney+ | | |
In addition to watertight privacy and security, for a VPN to be truly useful to be truly useful it must be able to unblock large amounts of international websites and content.
As you can see in the table above, IPVanish and ExpressVPN are both known to unblock many different international services. However, in our experience, ExpressVPN is by far the best service for unblocking content from around the globe. Not only does it have more servers in more locations, but it also manages to consistently unblock more sought-after services – such as BBC iPlayer, NBC, YouTube TV, and many more.
Netflix libraries
| No Value | ExpressVPN | IPVanish |
| --- | --- | --- |
| USA | | |
| UK | | |
| Canada | | |
| Japan | | |
| France | | |
| Germany | | |
Although IPVanish can provide access to Netflix US, it does not cater for a wide range of international Netflix catalogs. This makes ExpressVPN a better option for Netflix subscribers because it can unblock a total of 24 catalogs.
Winner: ExpressVPN
Torrenting
| No Value | ExpressVPN | IPVanish |
| --- | --- | --- |
| Port selection | | |
| Port-forwarding | | |
| Kill-switch | | |
| Obfuscation (stealth) | | |
| Torrenting allowed? | | |
Being able to download from torrent repositories without being monitored by your government is one of the great advantages of a VPN. and, due to the fact that IPVanish is based in the US (and could, theoretically, be served a gag order and warrant) it seems fair to say that ExpressVPN is a better option, overall.
On the other hand, IPVanish is a no-logs provider, and it has a clear track record of providing privacy for torrenters around the world. It also has a kill-switch and XOR obfuscation – and it provides a large choice of servers that are clearly-marked as P2P ready. Thus, in reality, either service can be considered a reliable VPN for Torrenting.
Finally, it is worth noting that neither service provides port forwarding, so if your torrent client requires this particular feature – you will need to shop elsewhere.
Winner: ExpressVPN
Setup & Usability
Setting up and using a VPN is far easier when the VPN provider has custom apps for all popular platforms. The good news is that both Express and IPVanish have apps for Windows, macOS, Android, and iOS. In addition, both services provide clear setup guides for Linux.
The setup guides provided by both these services make it easy to set up the VPN on any platform – and thanks to the live chat support you get with these providers – you can get help setting up the VPN if you need it.
Looking on their websites reveals that both VPNs have guides for using this VPN on Amazon Fire, Chromebooks, routers, and smart TVs. Again, this makes both these services very similar in terms of both setup and usage. However, we found ExpressVPN to have apps that were a little more stable and reliable.
While we did find IPVanish to generally be superb in terms of User Experience, we would tend to opt for ExpressVPN due to its fast connection speeds, and excellent page loading times – which does make the VPN experience feel a little more streamlined when using ExpressVPN.
We also tend to enjoy the interface slightly more with ExpressVPN, though this is extremely subjective and you may feel differently. Finally, it is worth noting that with IPVanish the kill-switch is only available on Windows and macOS – whereas with Express, it is available on Windows, Mac, Linux, Android, and routers (bot not iOS).
Winner: ExpressVPN
Mobile features
Both IPVanish and ExpressVPN have an extremely similar feature set on mobile devices. However, a built-in kill-switch is available on ExpressVPN for Android, which makes it slightly better than IPVanish (which must be setup manually using the native Android kill-switch). Neither IPVanish nor ExpressVPN have a kill-switch available on iOS, so they are even on this front.
Obfuscation is available inside the IPVanish Android and iOS clients. With ExpressVPN, stealth is a feature that is always turned on by default as long as you select the 'Automatic' setting for protocol. However, ExpressVPN is not willing to actually tell anybody how it implements its obfuscation, which may be enough to put some people off trusting it (IPVanish claims to use XOR).
Overall, both services are extremely similar on mobile devices.
Winner: It's a draw
Performance & Speed
Both IPVanish and ExpressVPN are considered fast VPNs, and it seems fair to say that both of these services run on networks that are ideal for streaming in HD, gaming, engaging in video conferencing and VoIP calls, and for downloading content via torrents.
However, while both services are exceptionally fast when compared to industry averages, our test results reveal that ExpressVPN provides slightly faster speeds than IPVanish.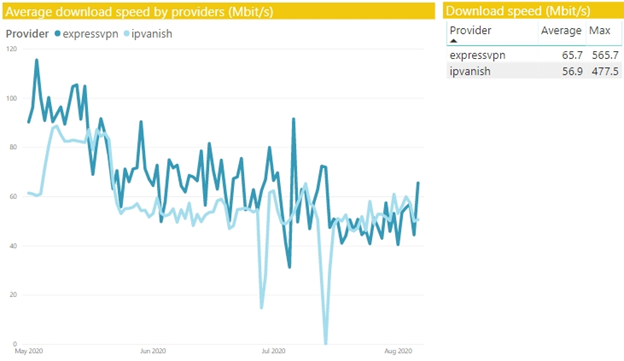 With that said, both services are extremely quick, and both services will provide an outstanding experience.
Winner: ExpressVPN
Security
The technical security and encryption implementation provided by a VPN can make or break the service – and will decide whether it is safe against hackers and government intelligence agencies.
With this in mind, what encryption is available within the apps – as well as what other advanced security and privacy features can be used – will decide which service is better for privacy and data security purposes. So, how do these services compare?
| No Value | ExpressVPN | IPVanish |
| --- | --- | --- |
| Obfuscation (stealth) | | |
| IPv6 leak protection | | |
| WebRTC leak protection | | |
| PPTP | | |
| L2TP/IPSec | | |
| SSTP | | |
| IKEv2 | | |
| OpenVPN | | |
| AES-256 | | |
| RSA-2048 | | |
| RSA-4096 | | |
| Bare-metal servers? | | |
| Self-hosted DNS | | |
The table above reveals that both VPNs provide access to bare metal servers in most locations. However, ExpressVPN does use virtual servers (with SmartDNS routing used to provide IP addresses in some countries).
Both services provide obfuscation. However, the XOR obfuscation provided by IPVanish is considered slightly more robust in our opinion. Both VPNs ensure that DNS requests are proxied to their own servers, which is by far the most secure way of handling DNS requests.
Each service provides OpenVPN with a strong AES 256 cipher, which is great. In addition, both services provide Perfect Forward Secrecy by leveraging Elliptic Curve Diffie Hellman (DHE-2048) on top of the TLS handshake. And, both services implement HMAC SHA-256 for data authentication. This means that the encryption is robust with both of these providers.
Winner: It's a draw
Privacy
| No Value | ExpressVPN | IPVanish |
| --- | --- | --- |
| Jurisdiction | British Virgin Islands | USA |
| Independently audited? | | |
| User details required for sign up? | | |
| Anonymous payment options? | | |
Logging Policy
Where privacy is concerned, it is vital to look closely not only at the individual policies published by each VPN provider – but also at the jurisdiction each provider is based in. This is because VPN providers can potentially be forced to comply with local laws, and this could result in the company being forced to provide data about its users to the authorities with a warrant.
The good news is that both of these VPNs have a strict no-logs policy. This means that they never store any connection logs next to a user's IP address, and they never keep any logs pertaining to what their users have done while connected to the VPN. This ensures that even if they are served a warrant, they will have nothing to hand over to the local authorities.
However, it is worth noting that IPVanish is a US-based provider. This means that it could technically be served a gag order and a warrant that forces it to start logging, or to at the very least provide access to a server in real time. This makes the US a less-than-ideal location for a VPN to be based.
In addition to being based in the British Virgin Islands (which is a much safer jurisdiction) ExpressVPN has endured a full third party audit of its infrastructure and logging policies. This means that the veracity of its claims have been independently verified, and the VPN can be trusted.
Want to pay anonymously?
ExpressVPN accepts Bitcoin payments for added anonymity!
Unfortunately, however, IPVanish does not.
Winner: ExpressVPN
Customer service
| No Value | ExpressVPN | IPVanish |
| --- | --- | --- |
| Free trial | No | No |
| Money-back guarantee | | |
| 24-hour support | | |
| Live chat | | |
| Money-back guarantee length | 30 days | 30 days |
Where customer service is concerned, each of these services are well above average. They both provide live chat support on their website, which easily allows users to ask questions and to seek help at any time of day. In addition, both providers have plenty of guides, FAQs, and other helpful resources on their websites. Though, admittedly, ExpressVPN does appear to have a more comprehensive choice of guides.
If you don't want to hang around chatting to a live support agent, you can send off an email, and both services will get back to you within 24 hours. And, if you are on the fence about either services, you can trial them risk free because they both provide a 30-day money-back guarantee. What's more, both services honor the money-back guarantee even if you only purchase a one-month subscription, which is rare.
Winner: It's a draw
Conclusion
In this article, we have compared two of the most popular VPN providers to find out which is the best. After carefully reviewing all the criteria, it is our opinion that ExpressVPN is the winner.
Admittedly, both services are fantastic, and we do encourage prospective subscribers to try these services themselves (that is, after all, why they provide a risk-free money-back guarantee).
However, due to the fact that it won in 7 out of 11 categories, we must conclude that ExpressVPN is the better service for most people's needs.
Outright Winner: ExpressVPN