Most Macs these days have modest-sized SSD drives, so it usually isn't long before we need to start deleting files and apps in order to make room for the ones we actually need. And even if you have acres of local disk space, it is important to back up your data to prevent loss. In this article we list the 6 best cloud storage backups for Mac users.

We are ProPrivacy! Unlike other websites, we only recommend Mac cloud storage solutions that respect your privacy. In practice, this means all cloud storage services provide secure client-side end-to-end encryption. This means that you encrypt and decrypt your files on your own devices rather than trusting a potentially unreliable third party to do it for you. The services below offer upto 5GB of free cloud backup storage as well, so you can secure your data free of charge.
Indeed, even if you trust a third party (why would you?), if it holds the private encryption keys to your data then it can get hacked or be forced to hand the keys to an agency such as the NSA.
So, what are the best Cloud storage for Mac solutions that respect your privacy? Read on!
1. Tresorit
Tresorit offers 5GB free, has built-in end-to-end encryption, and it's easy to use.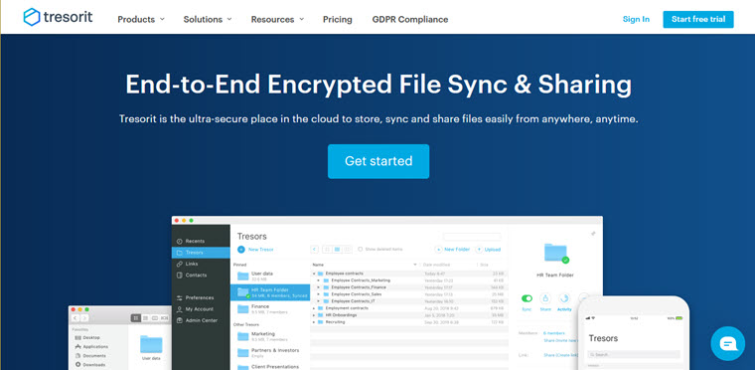 Pros
"No knowledge" cloud sync and share
Based in Switzerland
Strong e2ee encryption
File versioning
Selective sync
Cons
Not open source
No offline-only storage
Tresorit is a Swiss cloud storage provider known for its dedication to privacy. A "no knowledge" service, Tresorit uses robust end-to-end encryption to ensure that even it cannot access your data. Tresorit provides strong cross-platform support for Windows, Linux, and of course, macOS.
Apps are available for iOS and Android, but these do not automatically sync folders from mobile devices.
Files are encrypted client-side using an AES-256-CFB cipher with an HMAC SHA-512 for integrity authentication. Encryption key exchanges are secured using RSA-4096. Tresorit supports file versioning for Pro and Business users, although if a file is deleted entirely from the sync folder then it will also be deleted server-side.
Tresorit is in many ways a more privacy-focused version of iCloud – it's great for syncing and sharing files, but is not so useful for freeing up space on your Mac. It does offer a selective sync feature for folders, however, so if you upload files from another computer then you do not need to sync the entire contents of your Tresorit folder to your Mac.
If you would like more information about this service read our Tresorit review.
2. Sync.com
Sync.com offer users 5GB of storage for free and it has fantastic security features!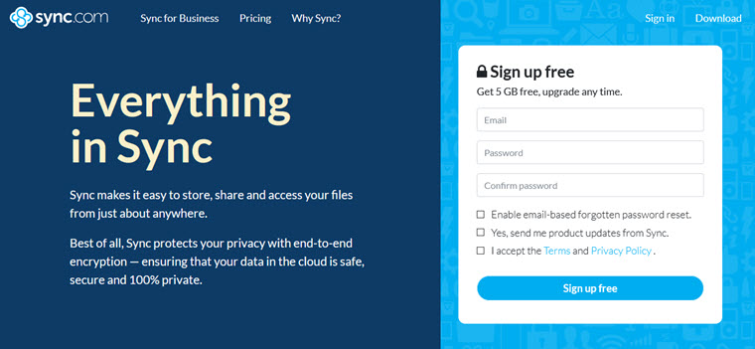 Pros
"No knowledge" cloud sync and sharing
Strong e2e encryption
File versioning
Vault feature allows uploading files without syncing to all devices
Cons
No open source
Based in Canada (a key Five Eyes member)
Mobile camera upload feature rather clumsy
Sync.com is a zero-knowledge cloud storage service based in Canada. Mac users are well served by its cross-platform support for all the usual suspects, although we are disappointed that it provides no support for Linux other than via its web portal.
As is to be expected from this kind of service, Sync.com fully supports file versioning, secure password-protected link sharing, and folder sharing. It will also happily upload photos and videos from your phone to your Cloud account, although we did find the lack of granular control over this process a little frustrating.
Most importantly for users wanting to free up some space on their Macs, Sync.com's Vault feature allows you to upload files only to the cloud. A local version of the file remains on the original device it was uploaded from, but it is not automatically synced to other devices unless you specifically opt to Sync offline.
Data is end-to-end encrypted using an AES-256-GCM cipher which is secured with an RSA-2048 private key and your password. This is great, but the fact that Sync.com is a closed source product from a company based in a Five Eyes surveillance partner country does worry us a bit.
Reader our Sync.com review for more information about their service.
3. SpiderOak One
SpiderOak is a very secure service, it offers a 21-day free trial of its premium service and it supports the following Mac OS versions; Mavericks-Sierra, Mojave, High Sierra only.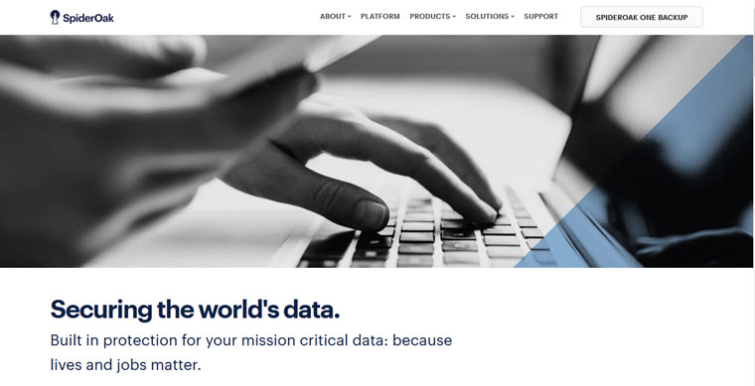 Pros
"No knowledge" cloud sync and sharing
Strong e2e encryption (apps only, not in the browser)
File versioning
Deleted Items bin allows online-only storage of files
Cons
Not open source
Based in the US
Mobile apps are limited
Recommended by NSA whistleblower Edward Snowden, SpiderOak is arguably the highest-profile privacy-focused cloud storage provider out there. It uses strong end-to-end encryption in its apps (using an AES-256-CFB cipher and HMAC SHA-256 hash authentication), although its web interface requires handing over your primary encryption key to SpiderOak's servers.
Cross-platform desktop support for macOS, Windows, and Linux is strong, although the functionality of its iOS and Android apps is disappointingly limited. SpiderOak One offers good file versioning and file-sharing options, but its stand-out feature is that files deleted locally in your sync folder are not automatically deleted online.
They are instead backed-up to a special Deleted Items bin where they can be recovered at any time. These files are stored indefinitely, although they do count against your storage limit (you can, of course, free up space by Emptying the bin, after which files cannot be recovered).
Although perhaps not its intended purpose, this feature allows you to save disk space by deleting files locally but retaining them online for later recovery.
Our main concern with SpiderOak is that its apps are not open source, a problem compounded by SpiderOak being a US company and therefore subject to fearsome NSA-style domestic surveillance.
See our SpiderOak review if you would like to know more details about this service.
4. Nextcloud
Nextcloud is a self-hosted cloud storage service which makes it extra secure, however, you will need the technical knowledge to set it up.
Pros
Open source self-hosted cloud software
File versioning
Deleted Items bin allows online-only storage of files
Selective sync
Cons
E2e encryption is in "testing" phase
Requires some technical chops to get the best out of it
Although all the above services offer client-side end-to-end encryption, they are also all closed source products. This means that the need for trust is not entirely removed. Those out there who do not trust anybody (and why the hell should you?) can create their own Cloud backup and sync service using the open-source Nextcloud software.
Setting up a fully hosted Nextcloud account using one of its partner Cloud storage services is insanely easy, but those serious about privacy will want to self-host on their own hardware or on server space they have total control over.
Server-side encryption (AES-128-GCM with HMAC SHA1 authentication for key derivation) is optional, however, and is currently listed as being in the "alpha" or "testing" phase despite being strongly recommenced in all the Nextcloud documentation.
Nextcloud has a bin feature which by default has a time and size limit which limits its usefulness for online-only storage. But hey, the whole point of Nextcloud is that you are in charge! Account admins can remove any such restrictions, allowing you to use this feature to backup deleted folders to the Cloud.
You can also save disk space by configuring the Mac client to only sync selected folders. If you want to know more about this service, see our NextCloud review.
5. Dropbox + VeraCrypt
Dropbox offers 2GB of space for free, VeraCyrpt is also a free open source service so that is highly secure.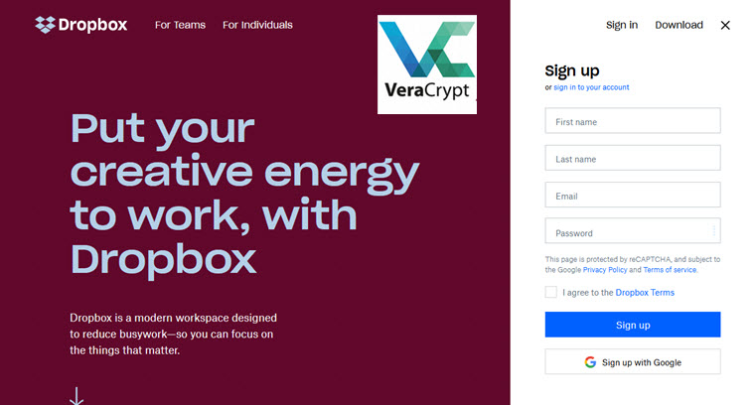 Pros
Very fully featured cloud storage service
Smart Sync allows easy online-only storage
It also makes viewing and managing online files in Finder as easy as local files
VeraCrypt provides robust e2e encryption
Cons
Dropbox on its own is not good for privacy
Combining with VeraCrypt solves this problem, but does not make sharing and collaborating on files easy
Dropbox is not a secure or privacy-friendly Cloud provider by any means, but its new Smart Sync feature is a doozy if you need to free up some disk space on your Mac. Smart Sync allows you to upload files so they are stored online only.
It also super-charges selected syncing because files and folders which are not stored locally are still displayed in Finder using placeholder icons. This allows you to search and manage online-only files as if they were stored locally, and to seamlessly download and open them just like local files.
Microsoft OneDrive and Google Drive offer a similar feature, but in our view, Dropbox provides the slickest and most seamless implementation of the idea. None of these services are privacy-friendly, however, so we strongly recommend only using them after you have encrypted files locally before uploading them to the Cloud.
One of the easiest ways of doing this is to create a VeraCrypt container inside your Dropbox (etc.) folder. In this way, all files placed in the mounted container will be encrypted before being uploaded to Dropbox, and decrypted locally for viewing.
6. Apple iCloud
iCloud is a popular cloud storage service for Mac users, they offer 5GB and 200GB for students.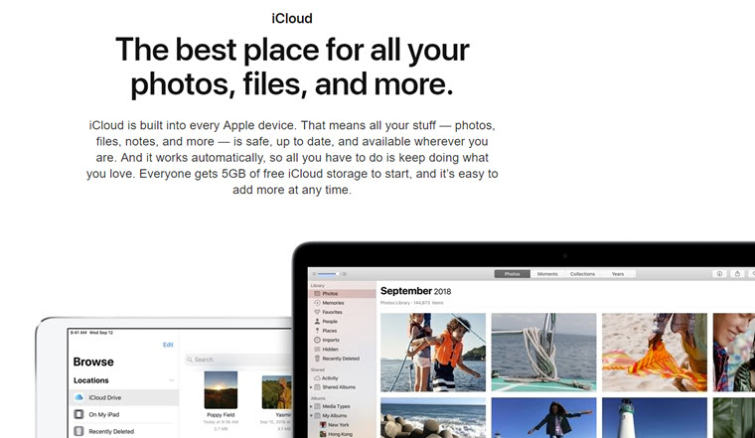 Pros
Seamless integration with macOS
Files can be offloaded online to save disk space
Cons
No e2e encryption possible
So it's a matter of just trusting Apple
And despite its PR, there is no very compelling reason to do this
Apple is quite aggressive at pushing users towards its own cloud storage solution, iCloud, and many Mac users quite understandably simply go with the flow. This is in many ways no bad thing because iCloud's integration with macOS Sierra and later makes its Store in iCloud and Optimize Storage features incredibly easy to use.
Store in iCloud allows you to move all files, photos, and messages to online-only storage, while Optimize Storage saves space by automatically removing iTunes movies and TV shows once they have been watched.
For just saving disk space, iCloud is hard to beat. The reason it is last on this list, though, is that there is no easy way to end-to-end encrypt your files before they are stored on Apple's servers. Indeed, the lack of granular control over which files are uploaded means that you cannot encrypt them on a file-by-file basis before they are stored in iCloud.
Apple has over the last few carefully cultivated a reputation for protecting its users' privacy, but it should be remembered that it is a US company subject to National security Letters (with accompanying gag orders) and the like. It also fully cooperated with the NSA is its PRISM mass surveillance program.
iCloud also lacks a key feature found in most third-party Mac cloud storage solutions: file versioning. This stores multiple past versions of files so that they can be recovered at a later point. This is crucial for recovering files which have become corrupted or infected with malware such as ransomware, but can also be a lifesaver if you wish to revert changes to your documents.
Final Thoughts
It is a shame that no privacy-focused cloud service we are aware of provides anywhere near as good support for offloading files to the cloud as those from Apple, Dropbox, Microsoft, and Google. In the future, we hope this might change. Nextcloud allows you to jury-rig a solution, but it has to be said this is rather clumsy.
The privacy issues with using Dropbox, OneDrive or Google Drive can be heavily mitigated against by encrypting files yourself before uploading them using software such as VeraCrypt, but this does introduce its own nuisances. Such is the price of privacy.
iCloud itself remains the easiest way to save disk space by storing your files online-only, but we will never be comfortable recommending a product from a US company with a track record for helping its government spy on its customers.