The best way to get into a truly festive mood is to enjoy a good, old-fashioned Christmas movie. Seeing the lights, the snowfall, decorated trees, and listening to beautifully sung Christmas carols can be hypnotizing – especially with a mug of home-made mulled wine!
In this guide, we show you where to watch our favorite Christmas movies!
Finding popular Christmas movies online is pretty easy, particularly if you have a VPN! To help you out, we have pinpointed a list of the best seasonal films with information about where to watch each movie online.
The Muppet Christmas Carol

This family comedy is the perfect Christmas movie for anybody who wants to enjoy a reworking of Charles Dickens' most famous novella A Christmas Carol. It sees the Muppets telling the story of Ebeneezer Scrooge, a miserly old man who despises Christmas and must face his inner demons to become a better person and save his soul from eternal damnation. An amusing adaptation that is well worth a watch!
Available to stream on Disney+ in the USA and the UK
If you live somewhere that doesn't currently have Disney+, you can use a VPN for Disney+. A VPN will allow you to pretend to be in the US so you can enjoy the movie.
The Polar Express
This Robert Zemeckis classic may not be every film critic's favorite Christmas movie, but it is a wonderful family film to watch during the holidays. The movie tells the story of a boy who travels to the North Pole on a train called the Polar Express. On that journey, he learns about bravery and friendship, which are the true meaning of Christmas!
If you already have a valid US cable subscription, you can easily log in to stream The Polar Express on AMC. And, if you are outside of the USA you can use a VPN to unblock the service.
You can also pay for an online subscription to AMC+ if you are not a US cable subscriber, which will let you stream the movie from anywhere! Best of all AMC+ can be purchased for a month for just $0.99 via your Amazon Prime account (as long as you connect to a VPN server in the USA).
In addition, AMC+, Sling TV, and Philo all have a 7-day trial, which means that you can use a VPN to stream The Polar Express for free if you want to!
National Lampoon's Christmas Vacation
Christmas Vacation sees Chevy Chase starring in the best National Lampoon's film ever. From start to finish this Christmas movie has everything you need to enjoy a night on the sofa. The film centers around the Griswold family as they enjoy the holiday season in their family home.
Of course, with Chevy involved things are bound to get crazy! One of the funniest Christmas movies of all time. Don't forget to watch out for a young Juliet Lewis starring as Chevy and Beverly D'Angelo's daughter!
Available to stream on AMC+ and Amazon Prime Video with AMC+
If you live outside of the USA and you want to stream this Christmas Comedy, you can use a VPN to stream it on Amazon Prime for just $0.99 because AMC is available at a special introductory price for the first month!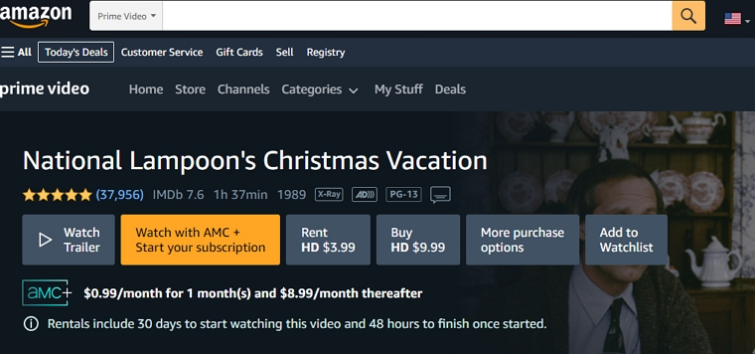 Dr. Seuss' The Grinch
This adaptation of the Christmas classic is a must-watch for anybody who loves a hilarious Christmas comedy. The heartwarming tale is always a good way to jolt-up your festive spirit, no matter which version you watch. However, this version from 2017 has been getting a lot of love this year!
If you happen to live in a country where Dr. Seuss' The Grinch is not available simply follow the link above to find out where to stream the film using a VPN!
Groundhog Day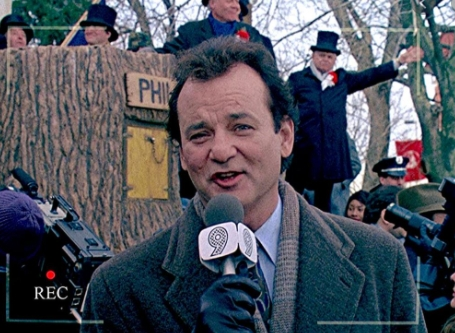 Few films manage to encapsulate the Christmas spirit and a hearty belly-laugh quite in the way that Groundhog Day does. This movie, which stars Bill Murray as a weatherman is one of the funniest and best Christmas movies of all time. It tells the story of a man stuck in a time warp where he must re-live the same day again and again until he learns to change his nasty ways. The film, which is set in a blizzard always helps to make your house feel extra cozy and warm!
If you have a Netflix subscription, but are living somewhere that isn't showing Groundhog Day on Netflix, simply use a VPN to connect to a server in the UK, Mexico, India, or Canada to stream the movie for free.
The Nightmare Before Christmas
This superb animated comedy from 1993 is directed by Tim Burton and it is a must-watch for anybody who wants something quirky and yet highly-festive to watch. In the movie, Jack Skellington – the king of Halloween Town – accidentally stumbles on Christmas Town. After falling in love with the festive spirit he tries to bring Christmas back with him, causing plenty of laughs and confusion! A Christmas classic that is full of excellent, original songs.
Available to stream on Disney+
Miracle on 34th Street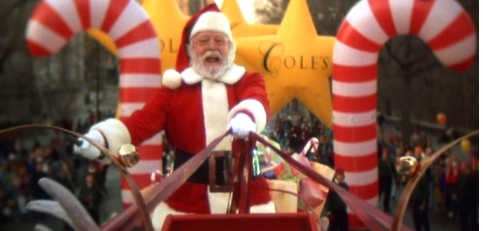 Miracle on 34th Street is the story of a lawyer and a little girl who must work to prove that an old man claiming to be Santa Claus in the real deal.
After hiring a gentleman called Kris Kringle to work as the in-store Father Christmas at Macy's, six-year-old Susan Walker starts to become less skeptical about whether Santa is real. A classic Xmas movie from 1994, that is actually a remake of a movie from the 1940s!
Available to stream on Disney+
The Christmas Chronicles: Part Two
This comedy-adventure is as high-octane and thrilling and Christmas movies ever come. The plot sees a naughty elf that has turned human attempting to ruin Christmas for everybody. In order to save Christmas, a 'true believer' who is angry at her mother for taking her to the tropics to celebrate Xmas with her new partner runs away and ends up in the north pole. A superb watch for the entire family, starring Kurt Russel as the man in red himself.
If you happen to live in a country where The Christmas Chronicles and the Christmas Chronicles: Part Two are not available on Netflix – follow the link above to find out how you can use a VPN to stream both movies for free!
Die Hard
This Bruce Willis classic always comes out at Christmas. It is the story of an NYPD officer who attempts to save his wife and several other people who have been taken hostage by German terrorists during a Christmas party at the Nakatomi Plaza in Los Angeles. The high paced action film is an iconic Christmas movie that is ideal for those who want a bit more of a thrill.
And if you get through die Hard and are still eager for more, you can use a VPN to stream Die Hard 2, Die Hard: With a Vengeance, Die Hard 4.0, and A Good Day to Die Hard.
Last Christmas
This 2019 Xmas movie is written by Oscar-winning writer Emma Thompson. The rom-com tells the story of Kate, an aspiring singer who works year-round as an elf in a Christmas shop. It is the perfect romantic Xmas movie for those in search of something new that they may not have seen before.
Available on HBO Go and Hulu (with a HBO add on)
Ice Age: A Mammoth Christmas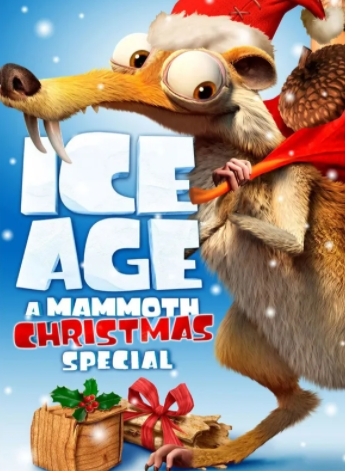 This short animated Christmas movie is perfect if you need to amuse the kids for a quick half-hour at some point on Christmas day. So if you need some peace to get the pudding ready, or the chocolate has gone to their heads and you need to give them something to do before you go on a nice family Christmas walk – this is the ideal thing to put on.
Home Alone
This is one of the most iconic Xmas movies of all time. It stars Macaulay Culkin as Kevin McAllister – an eight-year-old accidentally abandoned by his family in his family home over Christmas. As his family frantically races back from France where they have gone on holiday, Kevin must fight off an invasion by burglars. A fast-paced comedy that is full of marvelous moments.
Available to stream on Disney+
The Santa Clause
This superb Tim Allen film is liked by 93% of people who watch it according to Google! That makes it an excellent Christmas movie to watch this year in our book. The plot revolves around Scott Calvin a man who must help Santa with a Christmas crisis. To get away with it, Scott must somehow keep his suspicious ex-wife from finding out.
Available to stream on Disney+
Gremlins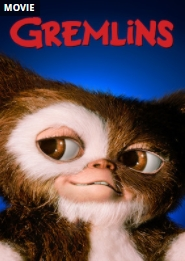 This fantasy adventure may not instantly jump to mind as a Christmas movie, but it is actually one of the most-watched films every Christmas! The film revolves around Billy who is given a new pet by his Dad at Christmas.
The mysterious pet comes with some very specific rules including never to get Gizmo wet, and never to feed him after midnight. As every parent knows, caring for any pet is difficult enough without these tricky extras! A brilliant Xmas movie that is perfect for streaming on the night of Christmas eve.
If you are a Netflix subscriber who doesn't live in Belgium, France, Greece, Italy, Portugal, Spain, Sweden ,or Switzerland – you can easily use a VPN to stream Gremlins with your existing account. Follow the link above to find out more.
Elf
This Will Ferrell movie is one of the funniest Christmas movies on the list. In the movie, Ferrel plays the part of Buddy the elf – a full-size human elf that is completely different from all the other elves in the North Pole.
After having an existential crisis caused by his obvious inability to be like the other elves, Buddy embarks on an adventure to find his real father in the Big Apple. On his journey, he finds romance and a brand new life!
Anybody with a Netflix subscription living in the USA, the UK, Canada, or anywhere else that isn't currently showing Elf can easily unblock the movie by using a VPN. Simply click on the link above to find out how.
The Holiday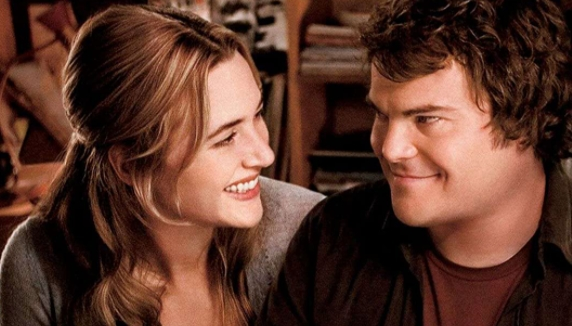 This romantic comedy is a film about two women who decide to swap homes over Christmas to escape their relationship woes. In doing so, a wealthy woman from Los Angeles ends up in a snowy British cottage, and a Londoner finds herself in a huge American mansion. During the film, stars Kate Winslet and Cameron Diaz inevitably fall victims to Christmas cupid as they find love in the most unlikely of ways.
A California Christmas
Directed by Shaun Paul Piccinino, this new Christmas movie is one that you might not have seen before. It tells the story of Joseph, the rich son of a real estate baron power couple. Handsome Joseph gets a job at a ranch where he attempts to trick a hardworking farmer girl to sell her family's land before Christmas. The rom-com takes a turn when Joseph starts to fall for Callie forcing him to admit that his malevolent intentions to win her back from another suitor.
A Belle for Christmas
This heartwarming Xmas movie is perfect for pet lovers! It tells the story of two young children who must save their family's puppy from their dad's new girlfriend who wants to get rid.
A Very Harold and Kumar Christmas
This Christmas film is a stoner comedy ideal for those looking for something a little silly. In the movie, Harold is asked to take care of r a Christmas tree by his father-in-law, but he and his ex-roommate Kumar end up completely trashing it. The two must then embark on a stoned adventure to get hold of a replacement tree.
A Russell Peters Christmas
Russell Peters is arguably one of the greatest stand-up comedians in the world. In this Xmas special (which admittedly is not a movie – but we included it anyway because it is amazing!) Russell will make you cackle as he blasts through his parody of a 70s-inspired variety TV show. Perfect if you want a proper laugh.
Bad Santa 2
Following the success of Bad Santa, this sequel sees Billy Bob Thornton return to the silver screen as Willie Soke – an alcoholic thief hell-bent on robbing a charity on Christmas eve. The crude film isn't to everybody's taste and it is certainly not your classic Xmas movie, but if you're a fan of black comedies and Billie Bob, then this film might be the late-night Xmas movie that you have been looking for.
How to unblock Christmas movies with a VPN
There are literally hundreds of Christmas movies available on streaming platforms like Netflix, BBC iPlayer, ITV Hub, Hulu, Disney+, Amazon Prime Video, HBO Go, and Sling TV.
Unfortunately, geo-restrictions mean that you can't necessarily watch all that content from where you live. The good news is that you can easily use a VPN to pretend to be in a different country, which will instantly unblock that content by making it seem like you live overseas.
Using a VPN to unblock more content is easy, and it doesn't need to cost a thing because you can try any of the world's leading VPNs by making use of their money-back guarantee. As a result, you can stream any Christmas movies you like.
Subscribe to one of the recommended VPNs below.
Download and install the VPN software onto your device.
Log in and connect to a VPN server in the country where the Christmas move is available
Start watching your favorite Christmas films!
Recommended VPNs for streaming Xmas movies
Below we have included our recommended VPNs for streaming Christmas movies. To find out more about these providers please visit our Best VPNs comparison article.
Free VPN hack for the holidays
If you want to watch more Christmas movies this year, the best way is to stream them or torrent them online with a VPN. We understand that if you have never used a VPN before you may be skeptical about how they work.
VPNs are one of the best online tools you can get, and once you have a subscription – and realize how much extra content you can access with it – you will never look back.
If you haven't got the money to spare right now, that is understandable. The good news is that you don't need to miss out on Xmas movies over the holidays.