Have you noticed there are way more ads on mobile websites and streaming apps these days? If you're fed up, and you're using an Android – you're in luck! There are some great Android ad-blockers that will stop ads, pop-ups, and tracking across every website and app on your device.
But installing an ad-blocker on Android isn't as easy as on your laptop. You can't always just install a browser extension and forget about it. Some ad-blockers need standalone apps and browsers to work correctly.
We've tested all of the most popular ad-blockers for Android and found the five best for every user. Each one removes ads, blocks tracking, boosts your privacy, and improves your device's performance.
What's the best ad-blocker for Android? Our top 5 picks
If you're in a rush, here are the five top ad-blockers for Android:
Total Adblock - The #1 Android ad-blocker. Blocks virtually all ads, pop-ups, and tracking, including on streaming sites.
AdLock - The best budget ad-blocker for Android. Blocks every kind of ad, and offers excellent customization.
AdGuard - Lightweight and easy to use. Catches websites and apps trying to bypass your ad-blocker.
Adblock Plus - One of the oldest ad-blockers and still one of the most popular. Open-source and customizable.
Firefox Focus - Privacy-focused Android browser that does much more than just block ads.
Why are these the best ad-blockers for Android in 2023?
We tested every ad-blocker thoroughly and confirmed that it met strict criteria. You can use the same standards when deciding which is best for you. Here's what to look for:
Blocks every kind of ad, including on streaming and free video websites
Has a free version
Good value paid versions
Offers plenty of customization
Blocks targeted ad and social media tracking
Doesn't drain your device's battery too much
Compatible with Android browsers (e.g., Chrome and Firefox)
The best ad-blockers for Android: an in-depth analysis
Now that we know how to pick an Android ad-blocker, let's take a closer look at the five best, and why they made our list.

Total Adblock is the best Android ad-blocker. The free version blocks every type of ad, while the premium version provides a comprehensive cybersecurity solution (including antivirus).
Pricing

Premium: Block Unlimited Ads + FREE Total AV: $2.42/mth

70% OFF

Free: $0/mth

Pros

Blocks every kind of ad (incl. Youtube and other free streaming sites)
Stops website and social media tracking
Works with every popular Android browser
Easy to use
Premium plan includes TotalAV antivirus

Cons

Premium plan only available on an annual subscription
Lots of pop-up ads selling upgrades on free plan
Total Adblock removes every kind of online ad from your browser: banners, pop-ups, pre-roll video ads, and much more. It also stops websites from tracking you, including popular e-commerce and social media sites. The result is a more private, more enjoyable, and safer mobile internet experience. By blocking ads, you significantly reduce the risk from spam and malware.

The browser extension is lightweight, so it doesn't impact your Android's battery or performance. In fact, Total Adblock can boost your device's speed and performance. Ads and pop-ups significantly slow down your device and consume a lot of data. By blocking them, you'll improve the speed of your browser, reduce the amount of bandwidth needed, and cut down on the resources required to run it (battery and CPU).

TotalAV, an award-winning antivirus, developed total Adblock. If you sign up for the premium plan, you get TotalAV's complete antivirus package for free! This gives you access to various industry-leading security tools, including data encryption, malware protection, and much more).

BEST AD-BLOCKER FOR ANDROID: Total Adblock blocks every kind of ad and intrusive tracker, while the premium plan adds award-winning antivirus, malware detection, and more. The premium plan includes a seven-day trial and 30-day money-back guarantee.

AdLock is a budget-friendly ad-blocker that works with Android browsers and apps, offers extensive customization, and bypasses anti-ad-blocker tools.
Pricing

60 months: $1.05/mth

70% OFF

12 months: $2.28/mth

35% OFF

1 month: $3.5/mth

Pros

Works with browsers and apps
Low-cost plans
Highly customizable
Up to five devices on a single plan
Monitors for spam and malicious links

Cons

Battery-intensive
Installation is not user-friendly
Browser extension is less effective than apps
AdLock is a standalone app that blocks ads on every major Android browser and popular apps such as TikTok, YouTube, and Twitch. Installation is easy, and you can use it on up to five devices simultaneously. So, you can have AdLock running on your phone, tablet, and laptop all at once – and never see an online ad again!

You can also set AdLock to do much more than block ads. The app stops every kind of invasive tracking by advertisers. It also has a set of filters that block different types of apps and websites from connecting to the internet. This reduces the risk of malware infecting your device and the amount of data you use.

AdLock also monitors websites and apps for viruses, phishing attacks, and other common scams and alerts you if it finds any.

There's no free plan for AdLock's Android app, but we think the amount of features, filters, and protection it offers is well worth the (very small) investment.

BEST BUDGET OPTION: AdLock's premium plan is the best value on this list, packed with extra features to keep you ad-free and safe online. Includes a 30-day money-back guarantee.

AdGuard is an incredibly customizable, open-source ad-blocker that works on both browsers and apps, and gives you more control than any ad-blocker on this list.
Pricing

Free extensions: $0/mth
1 yr personal license/3 devices: $29.88/mth
lifetime personal license/3 devices: $59.99/mth
1 yr family license/9 devices: $65.88/mth
lifetime family license/9 devices: $129.99/mth

Pros

Plenty of filters and customization options
Blocks every kind of ad
Works on free streaming sites
Manual blocking available
Available as an app or browser extension

Cons

The app is buggy and sometimes freezes
Apps require a subscription
AdGuard gives you unrivaled control over your ad filters. You can automatically block every ad on your browser(s) and apps, configure everything manually, or do a mix of both. You can even create DNS filters that encrypt your data and block ads at their source.

Stealth Mode is another cool feature that enhances Adlock's basic ad-block and anti-tracker tools by blocking every kind of internet cookie, hiding your IP address, and much more. The result is a much more private, more secure mobile internet experience.

AdGuard's free version is available for one device, with basic functions that hide every ad on your device. The premium plan covers up to nine devices and includes every tool and feature mentioned here (plus many more).

MOST CUSTOMIZABLE: AdGuard is the most feature-rich ad-blocker on this list, with a huge range of filters and manual configurations at your fingertips. Paid plan includes a seven-day free trial and 60-day money-back guarantee.
4. Adblock Plus

Adblock Plus is one of the oldest ad-blocking browser extensions available. It remains a reliable, popular choice for Android, thanks to its simple, easy-to-use apps that block every kind of ad.
Pros

Easy to use
Highly customizable
Easy to whitelist websites
Open-source
Excellent free plan

Cons

Less effective ad blocking than some competitors
Not compatible with some Android browsers
Adblock Plus blocks banner ads, pop-ups, tracking, and other common annoyances on your phone or tablet's web browser. You can also customize it to allow specific types of ads or to whitelist websites where you're happy to display some ads (so they can generate revenue, for example).

Transparency fans will appreciate that Adblock Plus is completely open-source and has a huge user community that regularly contributes to its development and debugging. You can review its code or ask the community questions about its effectiveness and privacy credentials.

However, it has some limitations compared to newer ad-blockers on this list. For one, it's only available on Android as a browser extension, as it won't block ads and tracking on apps like TikTok or Facebook. It's also not compatible with some less popular Android browsers.

But if you need a basic, free ad-blocker that's completely open-source, it's an excellent choice!

COMPLETELY OPEN-SOURCE: Adblock Plus has been around since 2006 and remains popular for its free, open-source ad-blocking apps – including Android!
5. Firefox Focus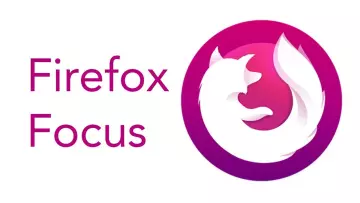 Firefox Focus is an open-source, 100% free Android browser built for complete privacy. It blocks every kind of ad and tracking, deletes your browsing data, and much more.
Pros

All your data and downloads from a session are deleted when you close the browser
Easy to use, with a minimalist design and simple setup
Blocks all types of ads, trackers, and analytics
Supports multiple languages
Syncs with Firefox browsers on other devices to share preferences and bookmarks
Optimized for mobile – fast and resource-light.

Cons

Limited features compared to Chrome and other big browsers
Doesn't support many plugins and extensions
Limited customer support
Compatibility issues with some websites
Firefox Focus was developed by Mozilla, the same organization behind the Firefox desktop browser. It was built as a privacy-focused alternative to Chrome and other popular browsers that depend on letting websites inundate you with ads, while also harvesting your data.

As such, Firefox Focus goes beyond just blocking ads. By default, it doesn't allow any form of tracking. It also automatically deletes all browsing activities, data, and downloads every time you close the browser (you can change these settings if needed). And it syncs with any Firefox browsers you use on other devices, such as a Windows PC or Macbook laptop.

While we support everything Mozilla and Firefox do for online privacy, we have to admit that Firefox Focus has some issues. It doesn't have the same advanced features you'll be used to on Chrome or Safari. It also struggles with video streaming on some sites, and doesn't have a library of plugins and extensions to enhance it or make up for its shortcomings.

But, try it out for yourself – it's completely free! – and decide if it meets your needs.

AD-BLOCKING BROWSER: Firefox Focus goes beyond just blocking ads and tracking, to provide the most private browsing experience possible. It's 100% free and open-source.
Ad-blocker for Android FAQs
What is an ad-blocker?
An ad-blocker is a software tool or browser extension that blocks ads from appearing on a website or mobile app.
Ad-blockers use a combination of techniques to block ads, including:
Blacklists containing domains known for serving ads, which are subsequently blocked.
"Expression matching" programs that identify and block code or scripts matching patterns associated with ads.
Adding rules to your browser's built-in content blocker.
Using JavaScript to modify web pages.
In addition to blocking ads, the best ad-blockers also block tracking scripts and other types of online tracking used for creating micro-targeted ads.
However, it's worth noting that some websites may detect the presence of an ad-blocker and prevent the user from accessing their content until the ad-blocker is disabled. In this case, you need an ad-blocker that is easy to customize and allows one-click website whitelisting, such as Total Adblock.
Why do you need an ad-blocker?
The benefits of using an ad-blocker on your Android include:
Fewer ads: Of course, this goes without saying. Ad blockers automatically block ads across all kinds of websites.
Better browsing experience: Fewer ads mean websites are easier to read and access (fewer pop-ups), videos are more pleasant to watch, and much more.
Less tracking and targeting: The best ad-blockers also stop websites and apps from tracking your online activity to target you with ads.
Improved security: Ad-blockers strengthen your security by blocking malicious and spammy ads with malware embedded in them.
Faster page load times: By reducing ads, web pages load much faster.
Reduced data use: Your web browser will also use less data by running fewer programs every time you open a web page.
Longer lasting battery: Your web browser will use less battery and CPU if ad programs are blocked.
Better accessibility: Ads make web browsers difficult for people with cognitive or visual impairments to use. Blocking them improves the accessibility of individual websites.
Do ad-blockers work on Android?
Yes, ad-blockers work on Android devices. But you need an ad-blocker that has apps for the Android operating system (OS) or extensions that work on Android web browsers.
Total Adblock's Android app blocks every kind of ad on your browser and Android apps – including banner ads, pop-ups, video ads, and much more. It also stops websites and social media apps from tracking you online and targeting you with intrusive ads.
Alternatively, you could use a privacy-focused Android browser like Firefox Focus that comes with an ad blocker and anti-tracking tools built in. While blocking ads on your browser will significantly boost your privacy, it won't impact apps.
Of course, for maximum privacy, you could combine a standalone ad-blocker and a privacy-focused web browser – guaranteeing no one can track you or target you with too many ads.
How to choose the right ad-blocker for your Android device
Aside from just blocking all (or most) ads on your Android device, there are a few other criteria to consider when picking an ad-blocker. Here are a few factors we review every ad-blocker against that you should also think about:
Doesn't only block banner ads: The best ad-blockers also remove pre-roll ads before videos (on Youtube, for example), pop-ups, and every other type of annoying internet advert.
Also blocks tracking: The ad-blockers on this list also stop websites and apps from tracking your online activity and using this to profit from you.
Good value: Most ad-blockers offer a free version to test it out, and a paid version with simple, low-cost subscriptions. Don't pay more than a few dollars a month.
Customization: Your ad-blocker should give you lots of control over its settings, including whitelisting specific websites, and types of tracking.
Doesn't drain your battery: Whether you're using an app or browser extension, any good ad-blocker should only have a minimal impact on your device's battery life and performance.
Doesn't constantly upsell you: We don't recommend any ad-blocker that bombards you with ads for its paid subscriptions.
How to install an ad-blocker on Android
1. Ad-blocker Android Apps
The best Android ad-blocker apps are easy to download and install. Pick one from our list and follow these instructions:
Download the app from the Google Play store. We recommend Total Adblock.
Open the app and configure it for your device.
Restart your browser and any apps that are running.
You're finished!
The ad-blocker app should now be running in the background, blocking any ad or tracking programs from running on your device.
2. Ad-blocker browser extensions
Most major Android browsers – including Chrome and Firefox – allow you to install extensions. To install an ad-blocker browser extension, do the following:
Download the browser extension from Google Play Store. We recommend AdLock or Adguard.
Install it on your device.
Open your Android browser and tap the three-dot menu icon in the top-right corner.
From the dropdown menu, select "Extensions" or "Add-ons" (depending on your browser).
Find the ad-blocker extension in the list of available extensions and tap the toggle switch to enable it.
Close and restart your browser to ensure the ad-blocker is running on any pages you already had open.
3. Ad-blocker VPNs
The best VPNs for Android include built-in ad-blockers and only take five minutes to set up. Just follow these simple steps:
Sign up to a VPN with a built-in ad-blocker. We recommend NordVPN.
Install the VPN on your Android device.
Set your configurations, including turning the ad-blocker on.
Connect the VPN's secure servers.
That's it!
Not only will all ads be blocked on your device, but your data will be encrypted, and your location, identity, and internet activity will be hidden.
4. Ad-blocker antiviruses
There are great Android antivirus apps that include ad-blockers as part of their package. They're easy to set up and keep running in the background as you use your device. Follow these steps:
Sign up to an Android antivirus that includes a built-in ad-blocker. We recommend VIPRE antivirus.
Install the antivirus on your device.
Turn on the ad-blocker and other cybersecurity settings.
You're finished!
The antivirus will block annoying and malicious ads, viruses, and much more – providing a complete internet security solution.
Conclusion
Picking the right ad-blocker for your Android phone or tablet will make a huge difference. You'll be spared the neverending stream of ads that have ruined the modern mobile internet. Websites won't be able to track your online activity to manipulate you into buying their products. And your device will run more smoothly.
But picking the wrong ad-blocker could result in even more stress and frustration, not to mention wasted time and money (on subscription fees).
So, use this guide to find the right one for your Android device and enjoy an ad-free internet experience once again.