Pricing
VPNCity offers four different subscription plans that only differ in length, rewarding users that commit for a longer period with a cheaper overall price. The rest of the VPN features remain the same, no matter which plan you opt for. The only exception is the number of simultaneous connections that are permitted on each payment plan.
The great news is that all ProPrivacy readers that click through and purchase a subscription can use the special discount code to lower the price even further. Our exclusive code is:
Get 20% off by using the code unlock20
A single month plan is the most expensive and will cost you $9.95. This allows the subscriber to connect up to 6 simultaneous devices. This is neither an expensive nor cheap plan, sitting around the average mark. The allowance of six connections is pretty good, and will certainly be enough for most people with a lot of devices, and probably even small families. However, bear in mind that we did encounter problems using the VPN from various IP addresses in close succession (more on this later).
A six-month plan costs $35.94 which is the equivalent of $5.99 per month. This allows users to connect on up to eight simultaneous devices. This can generally be considered pretty good value for money when compared to other services on the market.
A one-year subscription plan costs $47.88, which is the equivalent of $3.99 per month. This allows subscribers to connect on up to 10 devices simultaneously.
Finally, for consumers who prefer to make the highest savings possible, a two-year subscription costs just $71.76. This makes the VPN just $2.99 per month - which definitely puts VPNCity in the "cheap VPN" category. What's more, 2-year subscribers can install and use the VPN on up to 12 devices simultaneously - making this the ideal subscription for slightly larger families.
Overall, we are impressed with the pricing structure, which can definitely be considered competitive. We also like that users who refer three friends can get three years of VPN use for across 12 simultaneous devices, which is a pretty mind blowing deal.
Money-back Guarantee
All of our approved VPNs come with a hassle-free money-back guarantee. Should you purchase one of the recommended VPNs via ProPrivacy.com and struggle to get a refund, contact us and we will do our very best to help you get your money back.
A money-back guarantee is available on all subscriptions, including the single month plan. This allows all users to test the VPN and request a refund. Providing the full 30-day money-back guarantee, even on the single month plan, is pretty out of the ordinary.
Finally, users can opt to pay with a credit or debit card, including VISA, Mastercard, Discovery and AMEX. PayPal and AliPay are also accepted. Cryptocurrency payments via Bitcoin, Litecoin, and Ethereum are also accepted for those who prefer paying with added anonymity. Those payments are handled by Coingate.
Does VPNCity unblock Netflix?
| | |
| --- | --- |
| Netflix | |
| iPlayer | |
| Amazon Prime | |
| Hulu | |
| Disney+ | |
Whether a VPN can access sought after streams is always an excellent way to determine how good it is at unblocking content around the globe. Most VPN users are interested in accessing Netflix US, and with VPNCity, you will easily be able to bolster your Netflix catalog to watch more shows and movies than ever before.
Besides unblocking US Netflix, VPNCity has a specialist server in the UK, specifically set up to access Netflix UK. This is great. However, if you require access to other Netflix locations (such as Canada, which has a decent catalog), you will need to look elsewhere.
In addition, VPNCity provides access to BBC iPlayer, Hulu, Amazon Prime, Showtime, and Disney+. As a result, we can happily confirm that VPNCity is a VPN that is well suited to unblocking streaming content. If this is an important requirement for you, VPNCity has you covered.
Speed and Performance
At ProPrivacy, we test consumer-facing VPNs regularly using our speed test methodology. This allows us to give more reliable results.
To keep things fair between each VPN provider, we only test VPNs using OpenVPN connections using servers based in Hong Kong, the UK, the USA, and Australia. This allows us to get both local and long distance averages for each server. Finally, we test for maximum speeds by testing the UK server with a local UK speed test server, and combine the two speeds to form a weighted average.
As you can see, VPNCity falls in a tight range with other premium VPNs on the market. The VPN has average download times of 87.6 Mbps (when testing on our super-fast Gigabit server). These are lightning fast speeds that will permit subscribers to do data intensive tasks such as streaming in HD, downloading via BitTorrent, video conferencing, and gaming.
We checked the recent averages for the previous week and found it to be slightly slower at 64.16 Mbps - these are still impressive speeds that put VPNCity in the top 20 fastest VPNs in the world. Yes, there are faster VPNs on the market, but these speeds put VPNCity in the top part of the market.
Admittedly, the speeds you get at home will depend on the internet connection you pay for (and a VPN will always slow your internet connection down a little because of the encryption and the added routing). However, we thoroughly tested this VPN by streaming on Netflix US (from the UK) and found that it worked without buffering, meaning VPNCity is ideally suited to most people's needs.
Leak tests
To ensure that this VPN is working correctly, we tested it for IP leaks, DNS leaks, and WebRTC leaks. If detected, these kinds of leaks destroy your privacy, meaning that the VPN is not concealing your browsing habits from your ISP or the government. Leaks can also mean that the VPN is failing to conceal your real location from the websites you visit.
We tested VPNCity using our proprietary leak test system. Our system thoroughly tests the VPN connection for every kind of leak mentioned above. It is also worth mentioning that we tested on an IPv6 connection, and we checked for both IPv4 and IPv6 leaks.
On Windows, the IP address changed without issue, and even our IPv6 address changed to the country that we connected to. This is a rarity because most VPNs simply block IPv6 in the client. However, while testing with IPv6 enabled, the client suffered DNS leaks on both servers we tested (Vienna and Stockholm).
This DNS leak means that our ISP can see exactly which websites we visit while connected over IPv6. This is a problem because it means VPNCity is not providing privacy unless you disable IPv6 manually. Below, you can see the results we encountered when connected to the Vienna server.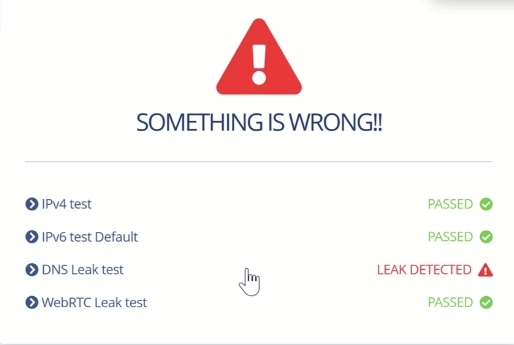 Next, we tested on an IPv4 connection, and were happy to find that it did not suffer from any leaks. This means that as long as you remember to disable IPv6 manually in Windows, you can use this VPN securely. It's not ideal, but certainly a workaround that will work for any subscribers who have an IPv6 connection.
Finally, we checked for leaks on macOS and found that it suffers from no IPV4, IPV6, DNS, or WebRTC leaks. This is great news, and means that the macOS client can 100% be trusted for privacy purposes. On the other hand, this is the client that does not have a kill switch. So if you intend on torrenting, you may want to look elsewhere.
Ease of Use
Windows client
The Windows VPNCity client is a nice-looking application that instantly makes it obvious where everything is. For beginners, the VPN comes ready to work right out of the box, with OpenVPN encryption set to UDP by default. This is great news for people who just want to select a location and connect.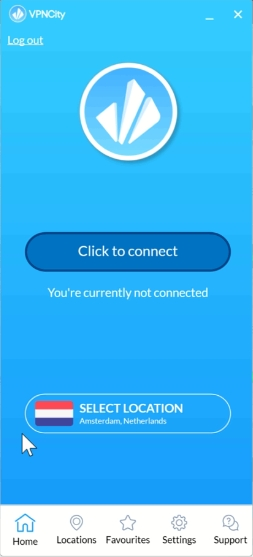 For users who want more privacy, or who have problems maintaining a stable connection using the default settings, the option is there possible to switch to OpenVPN TCP. Users can also alter which port they connect with, including ports:
1194
623
2635
6928
7721
9332 (IPv4) only
Besides OpenVPN, VPNCity provides the option to connect using SoftEther. This is an extremely reliable open source VPN protocol that has a strong resistance to firewalls. For this reason, it is offered as a method of getting around VPN restrictions in countries like China. We like that VPNCity stays away from outdated protocols like PPTP and that instead opts to provide these much more suitable protocols.
The Windows client comes with a kill switch. However, that is an app-level reactive kill switch and not a system-wide feature. This means that the kill switch will cut your internet if the VPN connection drops out. However, if the VPN should crash for some reason, you will leak unencrypted data to your ISP.
Admittedly, the VPN never crashed while we were using it, and we have no reason to believe it is buggy and crashes. However, a system level kill switch is still the preferred kind, nowadays. It is also worth mentioning that there is no auto-connect feature to re-establish the internet and the VPN connection if the kill switch becomes engaged. However, users can opt to have the VPN load and connect when they start up Windows.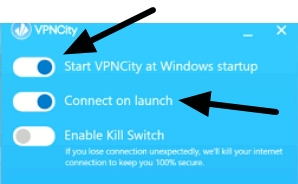 One thing worth mentioning, is that connecting seemed to take a fairly long time. We were left waiting between 15 and 18 seconds each time we wanted to connect. Not a deal breaker, but worth bearing in mind.
In terms of connection speeds this client works excellently, and we had no trouble streaming YouTube videos in HD. We also like that the client turns green when a connection is established, which makes it easy for users to know exactly what is going on.
Mac client
The Mac client is very similar to the Windows version, however, the main screen shows you a lot more information. This includes a list of all the available server locations, and the ping for each server. This is a nice touch that allows you to see exactly which servers might provide faster connections.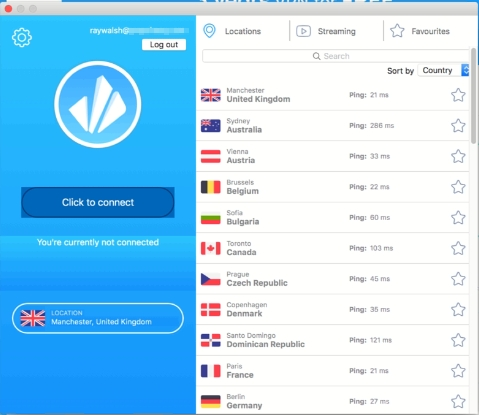 A quick look in settings reveals that Mac users can opt between either OpenVPN or IKEv2 encryption. As is the case on Windows, users can opt for either OpenVPN UDP or OpenVPN TCP. Users can also pick which port they want to use.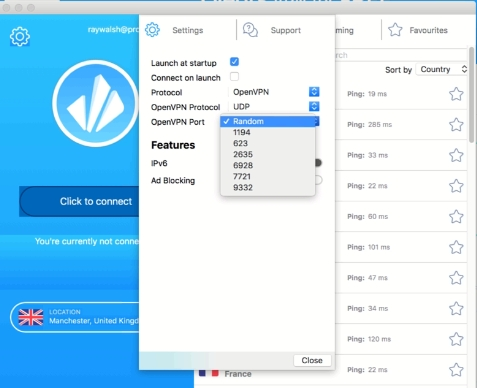 Sadly, there is no option to connect TCP over 443 on either platforms, which would be nice for those who want to disguise their VPN traffic as regular HTTPS.
One notable deficiency with the macOS client is that it does not have a kill switch. This is a real shame and means that anybody in need of privacy for torrenting will need to shop elsewhere.
For subscribers who want to stream Netflix, CBS, iPlayer, or HBO, a streaming tab provides access to servers especially set up for this purpose. However, beyond that, the client has no other features. So, if you were hoping for split tunneling, DNS leak protection, port forwarding, obfuscation, or other premium VPN features, then you will need to get a subscription with a different VPN provider.
This is as bare bones as it gets, and while it might suit some people at the cheaper rates, there are better services out there at a similar cost.
VPNCity for iOS
The iOS client is a simple and easy-to-use VPN client. However, it is very low on features. Encryption is provided either using IKEv2 or OpenVPN. This came as a surprise because their live chat agent told us that the iOS client only has IKEv2. Users can opt to connect using either OpenVPN UDP or TCP. However, the VPN comes set to IKEv2 by default. IKEv2 is a secure standard that should provide ample privacy, and you are free to use either protocol without concerns.
iOS users also get access to servers in all 33 countries around the world, and it is possible to access the specialist streaming servers. Unfortunately, the ping for each server is not displayed in this client.
For those who want to torrent, it is worth noting that this client has no kill switch, which means that it is not ideally suited. On the other hand, a kill switch is a rarity on an iOS VPN client anyway - so it is a little hard to criticize VPNCity on this front.
On the plus side, it does have a built in adblocking feature that can be toggled on within the settings. We turned this on and navigated to a few sites that serve a lot of ads and found it to work without issues. This is a really nice touch that can really help users to gain a better experience online.
Overall, we found it to be a good client that is easy to use and suitable for beginners.
VPNCity for Android
The Android client for VPNCity is a friendly mobile client that comes set to OpenVPN by default. Android users can opt between OpenVPN UDP and OpenVPN TCP across a variety of different ports. However, beyond this there are no other features. You will not find a kill switch, or any other common VPN features.
As is the case on iOS, however, the client does have IPv6 compatibility and an adblock feature, which can dramatically improve your browsing experience in any popular browser. This is great if you want to save on data on your mobile plan. All in all, we found this client to be fast to connect and good for doing data intensive tasks.
We connected to the server in the Netherlands and found it to connect almost instantly, much quicker than its Windows counterpart. Connecting to the US Netflix server also worked without problems, and we suffered no buffering while streaming.
We had a quick speed test online to see what we were achieving and found that we got speeds of 25 Mbs (testing on a 50Mbps internet connection). That is an average speed that will definitely allow you to stream in HD. This is great, and shows that this client is ideal for accessing extra content on a mobile device.
Privacy and Security
| | |
| --- | --- |
| PPTP | |
| L2TP/IPSec | |
| SSTP | |
| IKEv2 | |
| OpenVPN | |
Jurisdiction
Hong Kong is generally considered a good place for a VPN to be based, because the country has strong data protection laws. In addition, it does not implement any mandatory data retention directives.
Being in Hong Kong also puts the firm out of reach of invasive and overreaching jurisdictions, such as the US and the UK.
Logging Policy
We checked the privacy policy to ensure that it does not contain anything suspicious. We found it to be a solid policy that promises to keep no usage logs or connection logs: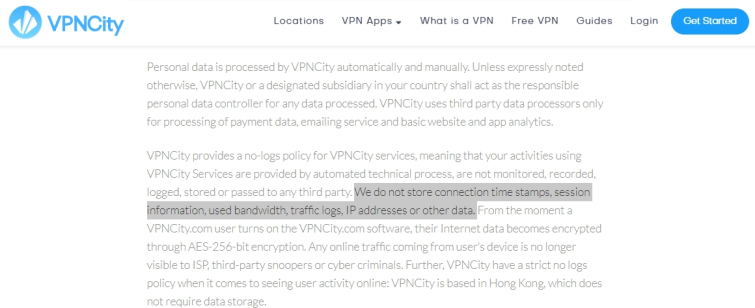 However, casual use of VPNCity across various IP addresses (in the office and at home) caused us to receive a message within the app that said:
Your IP has been blocked for multiple failed API attempts. Please try again in 5 minutes.
This message confused us, because we had only attempted to login once from the IP in question. Waiting five minutes did not let us log in. This raised our suspicion that VPNCity does not permit users to use the app from various IP addresses in short succession. That must mean that VPNCity is using IP addresses to monitor where users connect from.
After waiting a while, it became obvious that we could do nothing to bypass the IP block. We acted like any other customer would, and contacted live chat support. Their agent could see our IP address on their live chat system and was able to use it to access our account and lift the block (without us providing our name or email address). This appears to reveal that IPs can be linked to individual accounts by VPNCity staff.
The live chat agent was also honest enough to tell us it saves all the previous chats that users have on their live chat system next to their IP address. Users who provide their email address before starting the live chat (most people will probably not think to lie) will have their name and email address (which is tied to their account) stored next to their IP address.
This reveals a few things. VPNCity can access individual accounts using only an IP address. VPNCity is monitoring user IP addresses to see where they connect from (in order to enforce their blocks). The live chat agent even went so far as to agree with this diagnosis: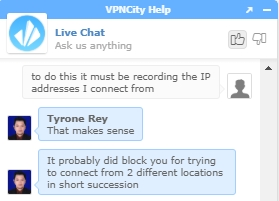 Privacy advocates may be happy to see that the VPN enforces a warrant canary. This should allow users to know whether the firm has been served a warrant that would compromise its privacy and security on the platform. However, warrant canaries are not foolproof. After all, the firm might not necessarily use the warrant canary even if it is secretly served a warrant, meaning there is an element of trust involved.
To conclude, this VPN raises some concerns over the collection and use of IP addresses. Although it promises to keep zero-logs, we know that IP addresses are being used to implement blocks, and can be used by support agents to lift blocks on individual accounts.
None of this is ideal. However, it is worth mentioning that we have no evidence that VPNCity is collecting usage logs or connection time stamps when users connect to specific VPNCity IP addresses. Thus, the logs we discovered do not necessarily permit for a time correlation attack.
Ultimately, whether you feel it is safe to use VPNCity will come down to your own personal threat model.
Encryption
As is always the case when performing a VPN provider review, we contacted VPNCity to find out how they implement OpenVPN encryption on their platform. This data is essential information that all users need to know to find out the level of privacy and security they are receiving when connecting to the VPN. Without this data, it is extremely hard to know whether the encryption tunnel created by the VPNCity client is adequately protected against hackers.
Unfortunately, VPNCity refused to give us this important data.
As a result, we were forced to download the OpenVPN config file to look inside it for client side encryption details. This is better than nothing and gives us a bit of the picture to appraise. Looking in the .ovpn files allowed us to see that VPNCity implements the following:
Data channel: Cipher: AES-256-CBC - Authentication: HMAC SHA1
Control Channel: RSA-4069 encryption for the TLS key exchange
This information shows us that the data channel cipher is robust. HMAC SHA-1 for authentication is also secure (and is what default OpenVPN uses).
The RSA handshake on the control channel appears to be robust. However, without details about the cipher and the authentication method, it is impossible to know if it is secure. We are also unable to comment on whether this VPN implements Perfect Forward Secrecy for future proofing the security of the key exchange.
In conclusion, it is very hard to evaluate the strength of the OpenVPN encryption provided by VPNCity confidently. However, from the limited information collected from the config file, we can see that the implementation is secure. Despite this, trusting VPNCity's implementation of OpenVPN without all the details is something of a leap of faith.
Customer care
| | |
| --- | --- |
| Kill-switch | |
| Obfuscation (stealth) | |
| IPv6 leak protection | |
VPNCity is a service that offers 24/7 live chat, and while this is an excellent resource in theory, the reality is quite different. We spoke to a number of different live chat agents and when faced with questions about encryption and other technical details about the service, they could not answer our question and instead asked us to email support.
This shows that live chat support agents are primarily there to deal with setup questions rather than nitty-gritty details. This is a shame and reveals that VPNCity could do more to train those employees.
The website itself is easy to navigate, and it has some useful setup guides for getting the VPN working on various platforms. It also has set up guides for using shadowsocks, for setting up the VPN on mobile devices, and for using the VPN on an Amazon Fire TV Stick. Unfortunately, the VPN does not provide guides for setting up the VPN on a router, and the support agents told us they do not support any kind of router in any official capacity (Tomato, DD-WRT, or otherwise).
We also noticed that the website is very short on important information about the implementation of encryption. This is not unusual, as many VPN providers fail to provide this information on their websites clearly. However, the very best providers do and this is always something we like to check.
At the end of the day, details about the level of encryption should be something to shout about from the rooftops, if security is well implemented. It is also fair to say that the VPNCity website has some glaring errors, or perhaps even some blatant lies. We will let you be the judge of that.
According to one of its blog posts regarding what a kill switch can do, VPNCity states the following:

Those claims are completely bogus. A VPN does not protect users against phishing, data leaks, abuse of data on social media, or hacking attempts and account takeovers. Enabling a kill switch does not magically make a VPN do those things either.
Protection against those kinds of online dangers are very specific features provided by the best antivirus applications, and VPNCity does not provide those features in any of its clients. A kill switch is there to cut your internet connection should the VPN connection drop out, ensuring you do not leak any unencrypted data to your ISP.
A kill switch is an excellent and useful VPN feature that many people require and it is very sad to see the VPN lying about what it is for, with such blatant disregard to the facts.
Final Thoughts
VPNCity is an easy-to-use VPN that is a bit of a mixed bag. If you require access to more streams and added security while using WiFi hotspots, this service will provide what you need. However, power users looking for a VPN that can protect their privacy while torrenting will need to stick to torrenting on Windows-only, because VPNCity does not have a kill switch on any other platform.
The adblocker available on the mobile clients works really well and is a nice touch that improves your browsing experience. However, please remember you can get a free, dedicated adblocker anyway.
With a two-year subscription, users can connect with up to 12 devices. However, we encountered a lot of problems when trying to connect from various IP addresses. This could cause problems when you are attempting to use the VPN on public WiFi, because the only way to fix the blocks is to talk to live chat support (which is a real pain).
In addition, this VPN is extremely low on features within the clients, meaning it does not provide the best value for money. A Windows user might be fine with this VPN, but overall we must recommend that you look elsewhere - because there are similarly priced VPNs on the market that do not raise privacy concerns, do not constantly require you to contact live chat to unblock your IP, and have clearly published OpenVPN implementation data.
Sure, you can access Netflix US using VPNCity, and it is cheap if you subscribe for 2 years (and better yet using our exclusive discount code). This option may be a good choice depending on your needs. However, for people looking for a well rounded VPN service that does not cost the earth, we generally recommend looking at our favorite cheap VPNs.
0 User Reviews
Leave a Review
Thanks for your review!