Price
VeePN conforms with the rest of the VPN industry when it comes to subscription plans. All the plans provide access to the same level of service and features – so you don't need to wade through various plans to decide which one has the right features for you.
Instead, customers pick from subscription packages of various lengths, with discounts given to those who decide to commit for a longer period of time. This is standard practice across all its major competitors.

As you can see in the image above, a one-month plan will set you back $10.99. This is an average price that compares similarly with competing services on the market, but we do not consider it cheap.
Paying yearly will cost you $69.99, which reduces the cost of a subscription to $5.83 per month. This is a little cheaper than services like NordVPN ($6.99) and ExpressVPN ($6.67). That said, you can do better with a service like CyberGhost VPN, which charges $3.99.
Where VeePN really comes into its own, is if you decide to commit for 5 years. This might seem like an extraordinarily long time to commit to a VPN provider, because consumers often look forward to their subscription ending so that they can shop around again.
That said, the cost of $99.99 for 5 years works out at just $1.67 per month, which represents excellent value for money (as long as you don't become disillusioned and decide to go elsewhere).
The good news is that you can trial the VPN risk-free. Anybody who subscribes for a month can change their mind within the first 14 days and get their money back. And a 30-day money-back guarantee is offered to all customers who purchase a one or five-year account.
Payment options
When it comes to checking out, VeePN can compete with the best VPNs on the market. It gives you the option to pay by credit or debit card, including American Express. And accepts PayPal for those who want to pay with the most convenience.
It has also partnered with PaymentWall, which allows people to pay with more obscure, international payment options. Finally, you can choose to pay with various cryptocurrencies if you want to (Bitcoin, Litecoin, Ethereum, and Ripple). This allows you to pay with added anonymity if you prefer.
Does VeePN unblock Netflix?
Many consumers want a VPN to bypass geo-restrictions. As a result, they can unblock additional Netflix regions or stream American and British TV.
Unfortunately, many VPNs struggle when providing access to these services, because those streaming providers have blocked their servers to prevent geo-spoofing.
The good news is that some VPNs can get around the blocks imposed by leading streaming platforms, so as long as you stick to the best VPNs for Netflix you will always be ok.
VeePN claims to access every Netflix region apart from Great Britain, Germany, France, and Japan. I didn't test this claim, but I did try to access Netflix US. I connected to the Nevada server and failed to access Netflix US (Netflix wouldn't even load and gave me an error code).
Next, I tried the New York and California servers and again failed. I contacted the support, and they told me that it should work on all servers. This in my experience is completely false as I was unable to even load Netflix nevermind check to see if I was able to watch US-only shows and movies. Thus I cannot recommend this VPN for streaming Netflix.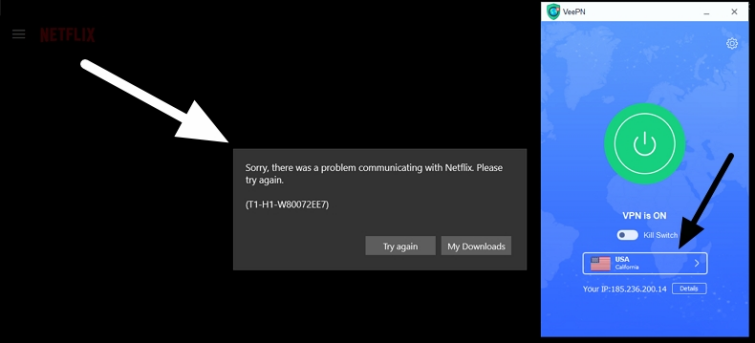 Next, I tested accessing the UK's BBC iPlayer while connected to the VPN. Unfortunately, I was unable to access the player on the London, Gloucestershire, or Manchester servers.
What's more, I was not particularly impressed that the customer support agent told me: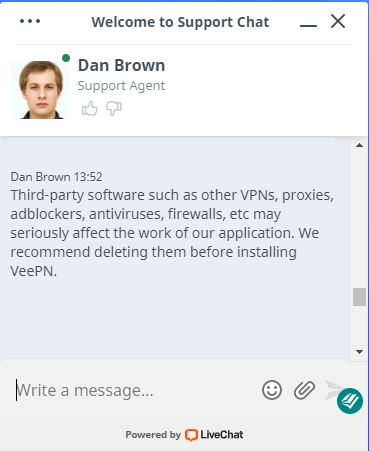 Recommending that people remove their important antivirus in order to make VeePN work seems like terrible advice. There is no reason why you shouldn't be able to use a good antivirus and a VPN at the same time, and the advice should be to fix any firewall rules that are preventing the VPN from functioning.
I disabled my antivirus temporarily, and this still did not work. In a last-ditch effort, the agent then told me to try TCP and then Shadowsocks, but this did not allow me to watch Netflix in the app either.
As you can see, I did not have a good experience when unblocking streaming services using this VPN, and for this reason, I cannot recommend it to anybody who wants to unblock more content online
Features
| | |
| --- | --- |
| Server locations | 50 |
| Total servers | 2500 |
| Simultaneous connections | 10 |
| Routers supported | |
| Split-tunneling | |
VeePN is a well-rounded service that has apps for all popular platforms (Windows, macOS, iOS, Android). Despite being relatively new, it's a service that provides a wealth of useful features. Below, we have included a list of all the most important features we discovered while reviewing it:
WireGuard
No IP, DNS or WebRTC leaks
Based in Panama
No usage logs
Good speeds
As you can see in the image above, VeePN performs in range with some of the world's leading VPN brands. Average download speeds of 44.3 Mbps make this a fast service capable of streaming in HD.
Overall, these are great speed test results that mean this VPN can be recommended for data-intensive tasks like video conferencing and gaming.
Leak tests
As is always the case, we tested this VPN for IP and DNS leaks. These kinds of leaks can betray your privacy, and result in your ISP detecting your web browsing habits despite the VPN being connected. It can also permit the websites you visit to detect your real location.
A VPN that suffers from leaks will give you a false sense of security every time it connects, which is why it is so important to know that it is not leaking.
We conducted our leak checks to look for DNS, IP, and WebRTC leaks. We conducted the tests on an IPv4 connection on a Windows machine. We found the VPN to produce only one IP, In France (connected to its Strasbourg server). There were no WebRTC leaks, and only one DNS address also in France. This means that the VPN is working correctly, which is great news.
As is always the case, we strongly recommend that you test the VPN yourself on your system to ensure that the service is working the same for you. To do so, you can use our dedicated VPN leak test tool.
The good thing about a VPN money-back guarantee is that you get some time to run these checks yourself on your own system (whether that be an IPv6 connection or on the Mac client, for example).
Privacy and security
VeePN is based in Panama, a location that is considered excellent for a privacy service to be located because it does not enforce any mandatory data retention directives that might put your data at risk.
In addition, Panama is not a location with ties to overreaching countries such as the UK or the US, and it does not have a sophisticated intelligence agency to worry about.
All in all, this makes Panama a great location for a VPN to be based. It also means that you can trust the service to provide the no-logs service it advertises, which is good.
Logging policy
We checked VeePN's privacy policy to see exactly what the provider does with its subscribers' data. Analyzing the policy allows us to see whether the VPN is truly a no-logs service (or whether it is actually hoovering up some connection logs that you need to know about).
The first thing to note is that VeePN promises not to store any usage logs that could identify and track what the user does online. This makes it seem like the service is zero-logs, however, in reality, the level of data it collects means that we cannot consider it genuinely no-logs.
The policy says that it will collect some device-level identifiers, which can be used to track you around the web. This includes advertising IDs (Apple Identifier for Advertising and Google Advertising ID).
In addition, the service states that it will collect both your IP address and connection logs (which includes connection timestamp and session duration). While these connection logs do not directly reveal what the user did online, they can (when paired with the IP address) be used to mount a time-correlation attack.
This kind of attack is highly targeted and is usually only carried out by law enforcement when there has been a serious crime. That aside, it can allow investigators to link a suspected IP address to a VPN server at a specific time when a crime was committed. This means that it is technically possible to figure out what a user did while connected to the VPN.
It is also worth noting that the VPN provides device-level identifiers and location data (including an IP address) to third-party analysis and marketing companies; including Facebook analytics and Google analytics. This is far from ideal for a service that is supposed to provide watertight privacy.
Overall, something thoroughly disappointed us with the level of data collected from users, and the sharing that takes place. Particularly the sharing of an IP address, which is tied to the user's account. As a result, we cannot feel confident recommending this VPN for privacy purposes.
Technical security
VeePN provides a number of encryption options for its users. OpenVPN TCP and OpenVPN UDP are both available, and you can connect using that secure VPN encryption either using its custom apps or via the official third-party OpenVPN app if you prefer.
The VPN also provides IKEv2 connections, WireGuard, and Shadowsocks for those who need obfuscation to bypass firewalls. These are all secure options that provide high levels of privacy and data security to their users. VeePN informed us that it uses the following implementation:
Cipher: AES-256-CBC
Authorization: SHA512
Handshake: TLSv1.2 DHE + RSA: TLS-DHE-RSA-WITH-AES-256-GCM-SHA384
Perfect Forward Secrecy is provided by a DHE-2048 key exchange.
Ease of use
Setup
Getting an account with VeePN is extremely easy, all you must do is to head over to its website and pay for your preferred subscription period. Following that, provide an email address and your payment information.
Once the payment has been authorized, you will receive an email with your login details and will log in to the website to access the download page. Here you will be able to pick the version that you want.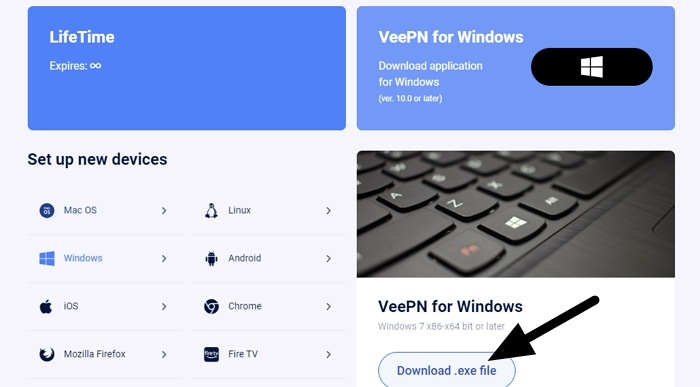 The download will only take a few minutes and following that you will be able to install it. Depending on which system you use, you may need to restart your computer to finish the installation process. However, the installation process is easy and only requires minimal space.
The Windows app
We tested the Windows app to see how it fares when compared to other leading services. Look-wise, we found it to be pleasing to the eye from the moment you first launch it. Logging in with our credentials worked without was no issue, and from there we were able to start connecting right away.
The VPN provides you with a suggested "optimal connection", this is the server that can provide the fastest possible speeds. Despite being in the UK, for us, the server with the best ping was Strasbourg in France.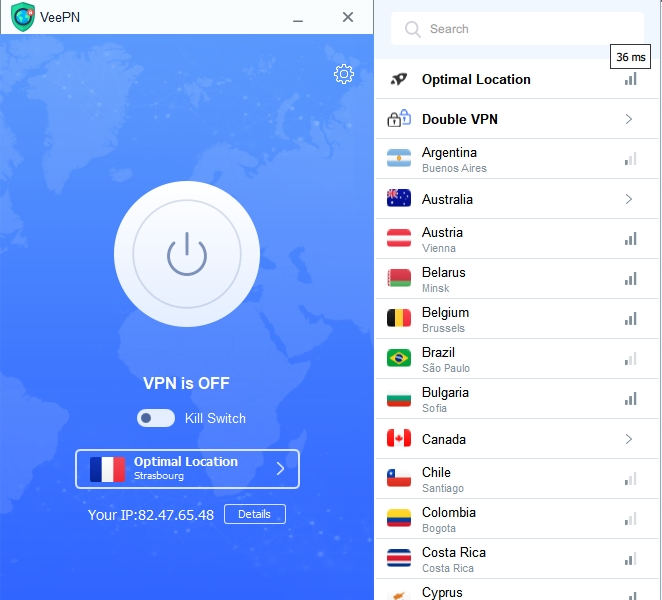 Clicking on the setting icon brings up a large number of options. While these might seem daunting to a VPN beginner, the number of choices available instantly impressed us.
Users have the option to launch it at startup, and they can set each network to have rules. For example, you can set your home Wi-Fi network to only connect when you ask it to, but for a public Wi-Fi network you connect to regularly to always require the VPN to connect automatically, for example. This is great for ensuring you get the level of protection you need wherever you go.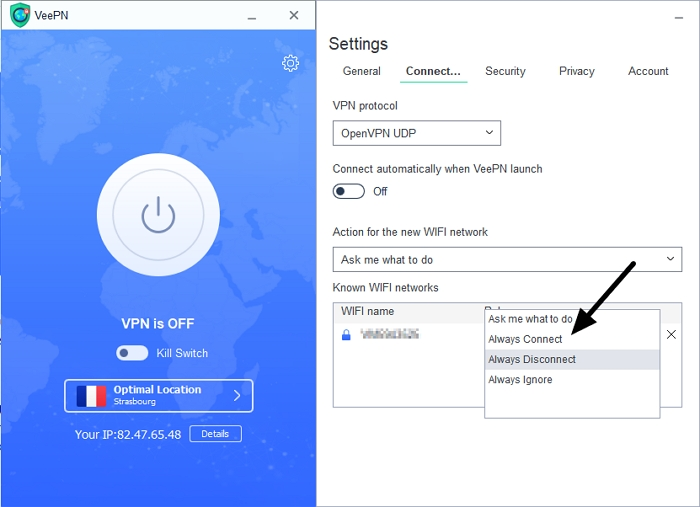 Above the Known Wi-Fi networks options, you can pick from a number of different encryption protocols.
The VPN comes set to OpenVPN UDP by default, which is ideal for most people's needs (as it is best for gaining privacy and for tasks like streaming. However, it is excellent to see OpenVPN TCP, WireGuard, Shadowsocks, and IKEv2 available to users who need them.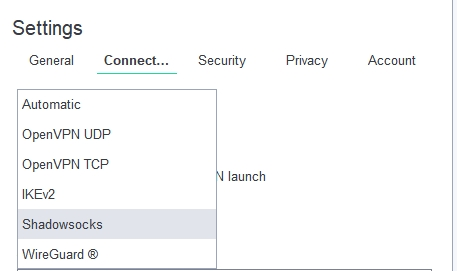 The option to connect using Shadowsocks encryption is ideal for people in places like China, where it is necessary to use obfuscation to bypass firewalls that block VPN traffic.
Finally, the Connection tab also allows you to set the VPN to connect automatically when you launch the VPN. This is a pleasant feature for ensuring you don't accidentally forget to connect and assume you are gaining privacy when you aren't!
Clicking the Security tab allows you to toggle the DNS leak protection on and off. It comes set to "on" by default and we strongly recommend that you leave it this way. It is not clear whether it is IPv4 and IPv6 leak protection in the app, and for this reason, we would suspect it is IPv4 only. If you have an IPv6 connection, either test it for leaks yourself or revert back to IPv4 to be sure you never experience leaks, would be our advice.
For those who prefer to use a custom DNS resolution service, the option is there to enter your preferred DNS. For most people, however, it will be better to leave VeePN handling those DNS requests via its own servers. Still, it's nice that the option is there for users who prefer to use OpenDNS, OpenNIC, DNSWatch, or Quad9 DNS, for example.
The Privacy tab gives you the option to turn on DNS-based tracking protection, an ad blocker, and malicious website protection. This is a useful addition, that only high-end VPN services are offering. And it is great for subscribers that they can get this extra protection if they want to when they connect to their VPN.
MacOS
I did not have a Mac available to me at the time of writing this review, and for this reason, I could not test the Mac client. I did, however, communicate with the company and was assured that the client is the same as that on Windows. Thus it should have a choice of protocols, a kill-switch, and all the other important features.
The mobile Apps
VeePN has apps for both Android and iOS. We decided to take both for a test run to see how each looks.
iOS
The first thing I noticed is that the iOS version is called VPN Master by VeePN, this seems like a weird choice. I would imagine that maintaining a clean VeePN brand throughout would be a much better option, and this definitely creates confusion for the user, who may not be sure that they are getting the right client.
Once signed into the client, I found it to be extremely well designed. The service comes set to IKEv2 by default, but users can easily change to OpenVPN UDP or OpenVPN TCP if they want to. I was also happy to see the NetGuard feature that blocks ads, trackers, and malware on this version of the VPN.
A Wi-Fi auto-protect feature can be used to ensure that the VPN is always asked to connect when you join a new Wi-Fi network, and the user can whitelist networks that they do not wish to connect to automatically if they want to.
Unfortunately, I could not find a kill-switch in the iOS version, and it is worth noting that you cannot connect using Shadowsocks or WireGuard on iOS for now.
Overall, however, we found the iOS version to be both easy to understand and easy to use, making it a good option for beginners who don't need any advanced features.
Android
As with the iOS ap, the Android app is branded peculiarly. The service is called Best VPN for Android by VeePN, a name that seems unnecessary and confusing for consumers looking for VeePN. I can't help thinking that calling all of its products VeePN would to promote stronger brand identity.
Tha app itself is very similar to the version for iOS. This is good and means that there is a good level of homogeneity throughout its apps. That makes it easy for users to use the service on all their devices without needing to learn to use each in a different manner.
That said, the first thing you will notice when you open Settings in Android is that it has more features than its iOS counterpart. Users get a kill-switch, which ensures they never lead data out of the VPN tunnel. In addition, users can select from OpenVPN UDP, OpenVPN TCP, IKEv2, Shadowsocks, and WireGuard. Thus this client provides a lot more options when it comes to encryption.
I was also impressed to find Split tunneling available on the Android client, which allows you to exclude particular Android apps from the VPN tunnel if you wish.
Perhaps the only drawback, is that you do not get the NetGuard feature on Android, meaning that you will not be able to select to block ads, trackers, and malicious sites.
One thing I did notice, is that the Android app comes set to choose your encryption protocol automatically, and it is impossible to tell which it will use by default. For this reason, we generally recommend that you switch it manually to OpenVPN UDP (or whichever protocol you prefer).
Overall, I found the client to be a pleasure to use, and it seems fair to say that this is an extremely well-rounded Android VPN client that is suitable for both beginners and those looking for an Android VPN with plenty of options. I tested it while streaming, and found it to work without buffering even when streaming high-quality content, which is great news.
Linux
Although I admittedly did not opt to test this VPN on Linux, it is worth mentioning that the download page for Linux users is misleading.
Anybody on Linux will need to download .ovpn files to set up the connection manually using a third party client. There is nothing wrong with this, and the VPN does have guides for setting up a Linux connection via CLI.
Customer Service
The website has a support portal that allows you to access guides and FAQs designed to address common issues and permit users to set up the VPN on various platforms.
In my opinion, the guides looked pretty decent, with images to help users understand each step. However, the resources on the website are fairly limited on the whole. That said, it does have live chat support, so you should be able to get help most of the time.
I decided to give the live chat support a test run by asking some simple questions. First, we asked when the company was first launched and the operative did eventually give us the right answer.
Next, I asked about the Linux client to see if the support agent would know what kind of client interface it provides. The agent could point us to a setup guide that revealed it is not a GUI client. This was handled swiftly and without issues.
Next, I moved onto a few trickier questions, and it is fair to say that the agent struggled. I found that VeePN has only trained its agents to deal with a limited set of questions. When pushed out of their comfort zone, they quickly point to other information rather than answering the questions you ask.
Overall, we always value VPNs that have live chat support because this allows users to get the help they need, however, it is worth noting that the level of support with VeePN seems limited when compared to the very best services on the market.
Final thoughts
VeePN is a service that seems to tick a lot of boxes. It has a decent amount of VPN features and suffered no leaks that might affect your privacy. This makes it a good service for gaining online privacy and for ensuring that you aren't tracked and monitored when using public Wi-Fi.
The apps are easy to use, and I was pleased with the kill-switch you get on the majority of platforms. This makes the VPN a reasonable option for torrenting. Unfortunately, however, the privacy policy states that connection logs will be stored alongside user IPs, which results in the potential for a time-correlation attack. This makes the VPN unsuitable to people who require stringent privacy from their VPN.
Unfortunately, I also found it impossible to stream Netflix and BBC iPlayer with this VPN, which is something you can do with many leading competitors in its price range. The choice of servers in 50 locations is pretty good, but you can get a wider choice for less money if you want to.
Finally, I found the support to be a bit limited. The agent tried very hard and was very polite. However, he did seem to lack some direct knowledge of the VPN, which is not his fault but that of his employer, who should offer him better training.
Admittedly, it is good that you get live chat support, and I was later informed that you can have requests elevated to a member of the tech team if you ask to escalate via email. Fair to say that there are much, much worse services out there when it comes to support.
Overall, I have to say that the VPN is not bad. However, there are better services available on the market and I wouldn't personally pay for this VPN over something like PrivateVPN, VPN Area, ExpressVPN, NordVPN, Surfshark or CyberGhost VPN. Thus, ultimately, I must conclude that you are probably better off shopping elsewhere.
0 User Reviews
Leave a Review
Thanks for your review!