Alternative Choices for You
Features
SmartVPN legal registration is based in Morocco (which has similar DRD laws to the EU), under the aptly named Anonymous company moniker. There are 15 total servers to choose from in the Premium plan, spanning 13 locations mainly in Europe, one each in the US, Canada, Japan, and Singapore. The coverage is then somewhat sparse for those living in or traveling through much of Africa, South America, and Australia - though updates are forthcoming with new Brazilian, Irish, Lithuanian, [South] Korean, and Australian (in addition to some mystery servers), scheduled by next week's end.
Unfortunately, you may only have one device connected to the VPN at a time, though that may soon change with the release of bespoke mobile clients for Android and iOS. Visit SmartVPN using the link below, or keep reading for some thoughts on security.
Speed and Performance
Speeds were consistently great across all servers in informal testing, and the numbers backed the anecdotal performance impressions up. Speeds averaged in the 15 Mbps range downstream for both UK and German connections. US speeds were surprisingly excellent as well - despite the large distance geographically - averaging in the 12 Mbps range downstream.
No DNS leaks, IP leaks, or WebRTC leaks, were discovered during this SmartVPN review. That being said, it's always good to check up on things yourself by using ipleak.net
Pricing and Plans
SmartVPN offers three plans varying both in price and the features contained within. For this review, we'll be focusing on the Premium Plan, as the server limitations (DE,NL) in the Basic plan might make it geographically unappealing for many users not in close proximity to these countries, or those with unblocking-focused needs. The price increase from $3 to $6 per month isn't too steep of an increase for more server locations. You may also opt for the altogether pricier $13 per month option, if you'd like a dedicated IP, though this does mitigate your anonymity somewhat - leaving you vulnerable to an end-to-end timing attack.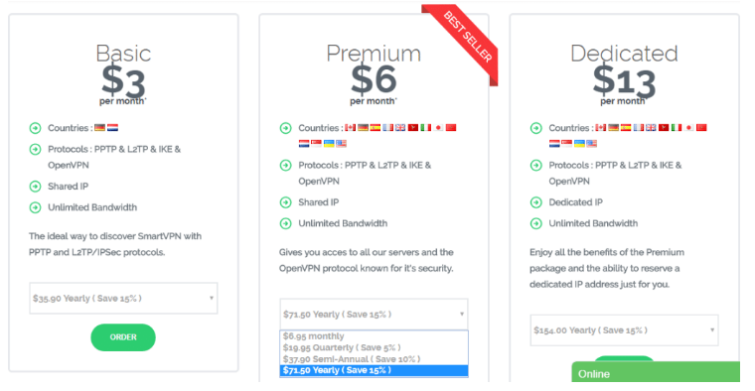 Every plan gives you a choice of the major encryption protocols, which we'll discuss in more detail below, suffice it to say OpenVPN should be your pick in the overwhelming majority of cases. There are also discounts in direct proportion to the length of your commitment, increasing in 5% discounts, as shown in the image above. You can save 5% for quarterly registration, 10% for semi-annual, and 15% if you enjoy the service and would like to commit for a year. You may pay with any major credit card, PayPal, or even by Bitcoin through bitpay to more fully preserve your anonymity. There's also a 7-day money-back guarantee with some caveats partially reproduced below.
"All the refunds made beyond the period of 7 days window purchase shall be considered in the lone discretion of SmartVPN, only when the subscriber sworn to demonstrate the unavailability of the service or that the same was used during the subscription period or that many reasonable efforts were made to contact to the SmartVPN to resolve the problem."
Meaning, SmartVPN has to not work on your devices before and after contacting SmartVPN support, as convoluted as the prospect may appear to some. However, even Bitcoin payments get refunded - as all others - in USD. Not a bad deal, as most providers don't offer Bitcoin refunds.
There's also a Fidelity (referral) plan in place in which you potentially gain a form of credit towards free service for every friend who signs up on your advice, and per your own subscription renewal.
Privacy and Security
Security, unfortunately, amounts to a mixed bag, if only because we've not received a reply as to exactly what encryption methods are used, other than possibly the default OpenVPN package 256 bit AES as listed on the website protocols section - but there isn't anything else to say but pure speculation until SmartVPN's design team cares to comment.
It would also be nice to clarify the images above and below regarding logging, as it's clear that connection logging does take place, but how long exactly they're stored for is somewhat of a mystery. Ideally, there would be no connection logs moving forward, but it isn't exactly uncommon practice in the industry.
There is always some element of faith on your part, that SmartVPN - or any other VPN prover, for that matter - won't compromise your data and hand you over. Being a relatively new service, there isn't much more to comment on the matter than what you see above, and in the balance of this article.
Ease of Use
SmartVPN's website is Spartan, but efficient, and is certainly no eyesore to look at. There's a handy tool for converting currency from Euros to Dollars to GBP. Links to service features, support, and the blog section are clearly laid out.
Meanwhile, the bottom banner has social media links and the server information page, as well as a running twitter feed in the bottom right-hand corner.
The blog has a few useful posts on unblocking and security information for businesses. It looks like a promising source of infosec content moving forward.
Support
Support comes in two forms, LiveChat, and ticket-based. The support agents answered my questions to the best of their abilities if a bit abruptly at times. On the other hand, nuanced questions were redirected to ticket support and took several days to respond (still no word as of this writing, as discussed earlier in the 'Security' portion above).
The FAQ section isn't too informative, but it does manage to address simple questions. It would be nice to see a much more expanded FAQ area in the future, but that tends to come with time.
The Process
Signing Up
Signing up includes adding your name and email address, billing information - or not, depending on if you use Bitcoin -and then following the setup instructions in the Client area to get started.
The SmartVPN Windows VPN client
The bespoke SmartVPN Windows client isn't flawless yet, but what's in place is quite good, if not exactly mind-blowing from a visual point of view. You simply select your server and hit connect to engage the VPN connection - disconnect to disable it. There isn't any killswitch on offer yet, but DNS protection looks good (not visible, but baked in), as discussed in the section below. You may choose to auto-connect at startup, or utilize the brand new 'Smart Connect' feature, to connect to the optimal VPN port.
Other Platforms
SmartVPN is currently available on Windows, OSX, Linux, Android, and iOS, though there's only a dedicated client for OSX (or the aforementioned Windows app discussed above).
Final Thoughts
SmartVPN has some of the best raw speeds around, with reliable connections to boot. Unfortunately, some concerns about encryption do pose an unsettling feeling, as does the lack of any trial or refund policies. Use the link below to give SmartVPN a try.
1 User Reviews
Leave a Review
Thanks for your review!