Pricing
Pricing for SiteLock VPN starts at $9.99 USD per month, with reductions for longer-term purchases. Purchasing a 2-year plan, for example, works out to a 40% reduction in the monthly price.
There is no free trial, although users may request a refund for up to 30 days after purchase. Any refund is at SiteLock's discretion only, however, with the implication being that it will only issue one if there is an actual problem with the service.
Features
34 locations in 20 countries*
No logs
OpenVPN and IKEv2 encryption
GDPR compliant
DNS leak protection
Connect to "5+ devices"
Scramble obfuscation (Windows & Android)
Kill switch (Windows only)
To be honest, we are sure what 5+ devices means, but we assume you can connect at least 5 devices to the service at once.
Servers
The website boasts "1000+ servers in 40+ locations," but we counted 34 locations in 20 countries. There was no breakdown of how many servers were housed in each location, making it difficult to verify these claims.
Scramble obfuscation
OpenVPN Scramble uses the XOR encryption algorithm to hide OpenVPN traffic, so it doesn't look like VPN traffic. It is effective against many deep packet inspection (DPI) techniques and is good at bypassing even sophisticated VPN blocks. For more information, please see our XOR Obfuscation guide.
Privacy and security
Jurisdiction
SiteLock is based in the United States. The US has no mandatory data retention laws, but as Edward Snowden's NSA revelations showed us, its security services operate mass surveillance operations, the scale and scope of which are, frankly, shocking.
Snowden's revelations and the infamous Lavabit incident show that US security services make a particular point of targeting US technology companies that claim to offer their customers privacy, using everything from National Security Letters (with accompanying gag orders) to strong-arm tactics to ensure cooperation.
Logs
The SiteLock privacy policy, as published on the website, only addresses information it collects through its website (quite a lot), with no mention of what data is collected when using its VPN service. It says, though, that it believes it only keeps GDPR-complaint data on EU residents.
Fortunately, a lengthy privacy policy is displayed alongside the terms of service during installation. It's a shame that this positioned in a place that most people will just click through, but it is more forthcoming and reassuring:
"SiteLock guarantees a strict no-logs policy for VPN Services, meaning that your activities using VPN Services are provided by automated technical process, are not monitored, recorded, logged, stored or passed to any third party. We do not store connection time stamps, session information, used bandwidth, traffic logs, IP addresses or other data."
Technical security
The Windows app uses IKEv2 by default, but also offers OpenVPN. The Mac app uses IKEv2 and the Android app uses OpenVPN. The iOS app uses IVEv2 by default, but also offers L2TP/IPsec.
We reached out to SiteLock for more detailed about its encryption and it told us that OpenVPN is implemented as follows:
Data Channel: AES-256-CBC Cipher. Data authentication is achieved using CBC.

Control Channel: AES-256-CBC Auth with RSA or DSS handshake encryption and SHA-256 data authentication. Perfect Forward Secrecy is implemented using Diffie-Hellman ephemeral session keys during the handshake when connecting via IKEv2 or OpenVPN.
This is well implemented OpenVPN encryption that we can definitely recommend for privacy and security purposes, which is great.
It is also worth noting that this VPN uses bare-metal servers exclusively, which is good in terms of security. The firm also told us that its servers are setup as follows: "Initial configuration of management ports (IPMI) is typically handled by data center staff and the systems are turned over to our deployment team for operating system deployment and VPN configuration." This is good news and demonstrates that the VPN servers are being setup in a technically secure manner.
Customer support
24/7 customer support is supposedly available via email (contact form) or phone. A toll-free number is available for US-residents, but international customers need to dial into a California phone number. We opted to contact SiteLock using the contact form, and some two months weeks later have yet to receive a reply...
The website itself focuses entirely on SiteLock's website protection products and offers almost no information regarding its VPN product. Even the main VPN sales page provides only the sketchiest amount of information about the product it is aiming to sell.
Speed and security performance
Speed
SiteLock declined to respond to our request for the files necessary files we need to include it in our ongoing speed test system (despite requesting this review!). To give us a very rough idea of its speed performance, we therefore did multiple tests using speedtest.net.
Our tests were performed on a wired internet connection from the UK using the IKEv2 protocol. Because speedtest.net didn't return any ping results, we also ran some test on ping-test.com.
No VPN (control)


Connected to London VPN server


Connected to New York VPN server


These results are surprising given that New York is a lot further away from us than London is! And it just goes to show how much difference the server network a provider leverages make (the US servers we tested were run by IPVanish/StackPath).
We should note that IKEv2 is often faster than OpenVPN, which we use for our standard VPN speed tests.
IP leaks
In Windows and macOS, we detected no IP leaks of any kind. This includes regular IPv6 leaks, WebRTC leaks (IPv4 and IPv6) and DNS leaks (also IPv4 and IPv6). We cannot test mobile devices for IPv6 issues at the time of writing, but there were no IP leaks detected in Android or iOS on an IPv4 connection.
Does SiteLock VPN unblock Netflix?
Both the US Netflix and BBC iPlayer websites threw up somewhat unusual errors when we tried to unblock them using SiteLock VPN, but the bottom line was that neither of them allowed us to watch content.
Ease of use
Apps are available for Windows, macOS, Android and iOS/iPadOS. A PDF with install instructions is available, although this is not usually needed. There is no support at all for Linux, routers, or other third-party VPN apps.
Windows
We have seen prettier apps, but SiteLock VPN for Windows does its job efficiently.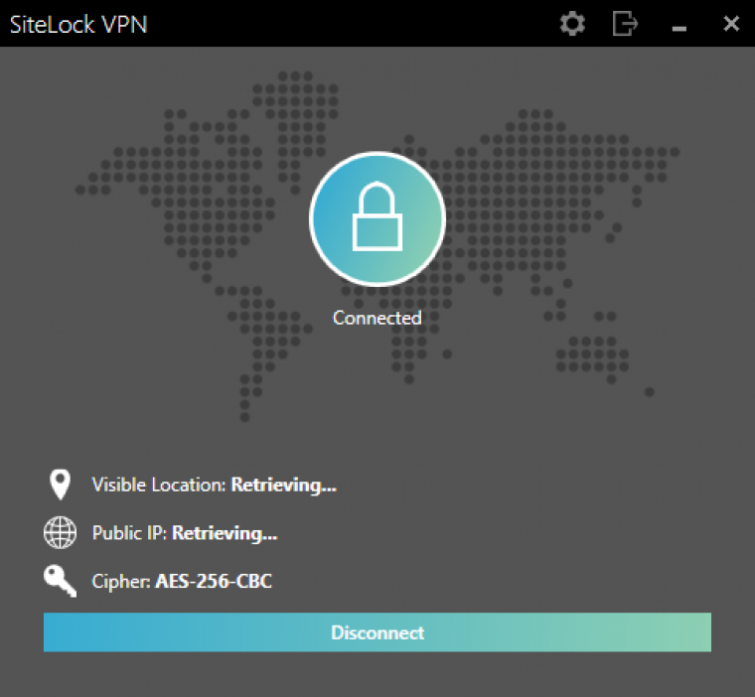 The server list includes load information to help you pick a fast server for the location you want.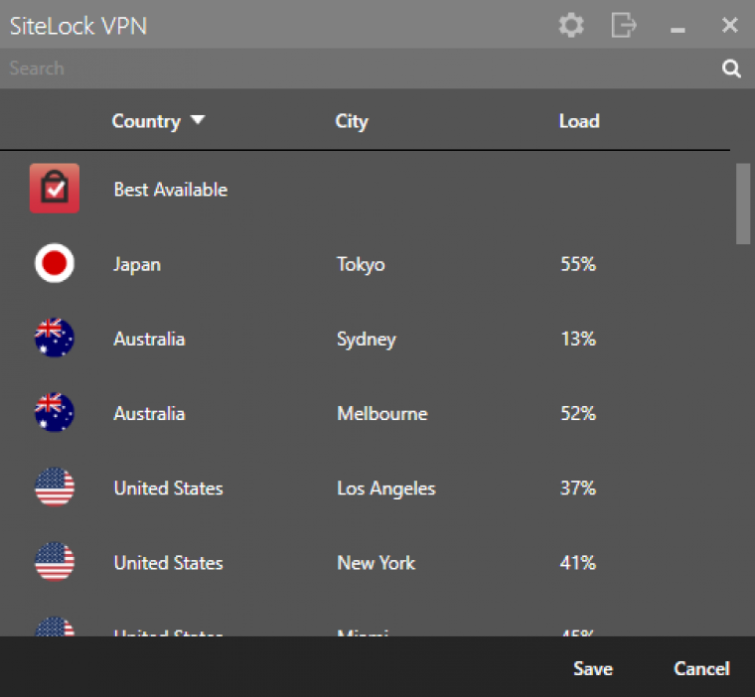 The Windows app uses IKEv2 by default, but also offers the option to use OpenVPN (UDP or TCP). Running OpenVPN is TCP mode (presumably over port 443) provides some obfuscation, but if that's what you require then the handy Scramble option is likely to be far more effective.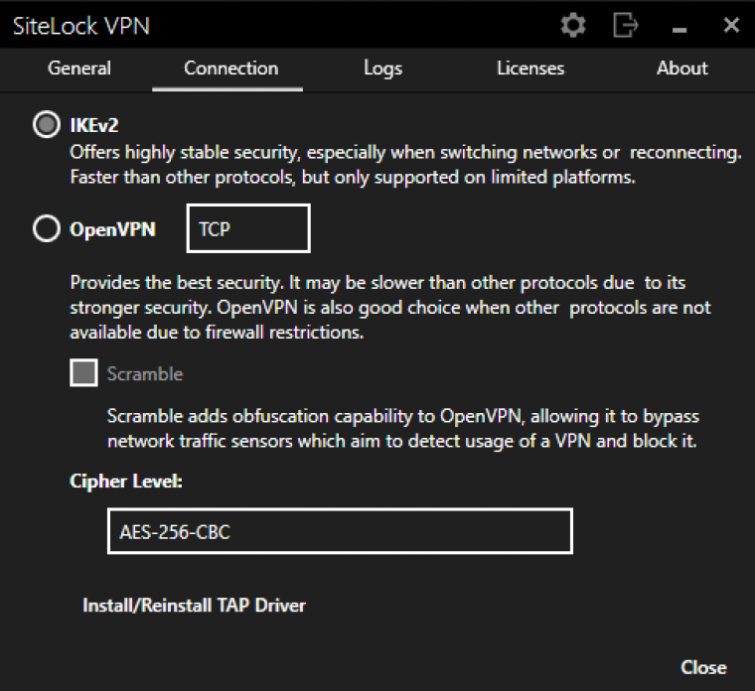 There is a kill switch setting (not enabled by default) which will cut your internet connection if the VPN drops out.
This worked well in our tests, but force-crashing the OpenVPN Daemon broke the kill switch.This means the app uses its own firewall rules, rather than changing the Windows system firewall rules, and the kill switch feature may not work following a major software crash.
macOS
The macOS app looks very similar to the Windows one, but uses the IKEv2 VPN protocol only. This means there is no Scramble option. The Mac app also has no kill switch.
The mobile apps
iOS/iPadOS and Android apps look similar to each other. The iOS app uses IKEv2 by default, but also supports L2TP/IPsec. The Android app uses OpenVPN (TCP or UDP) instead and features OpenVPN Scramble.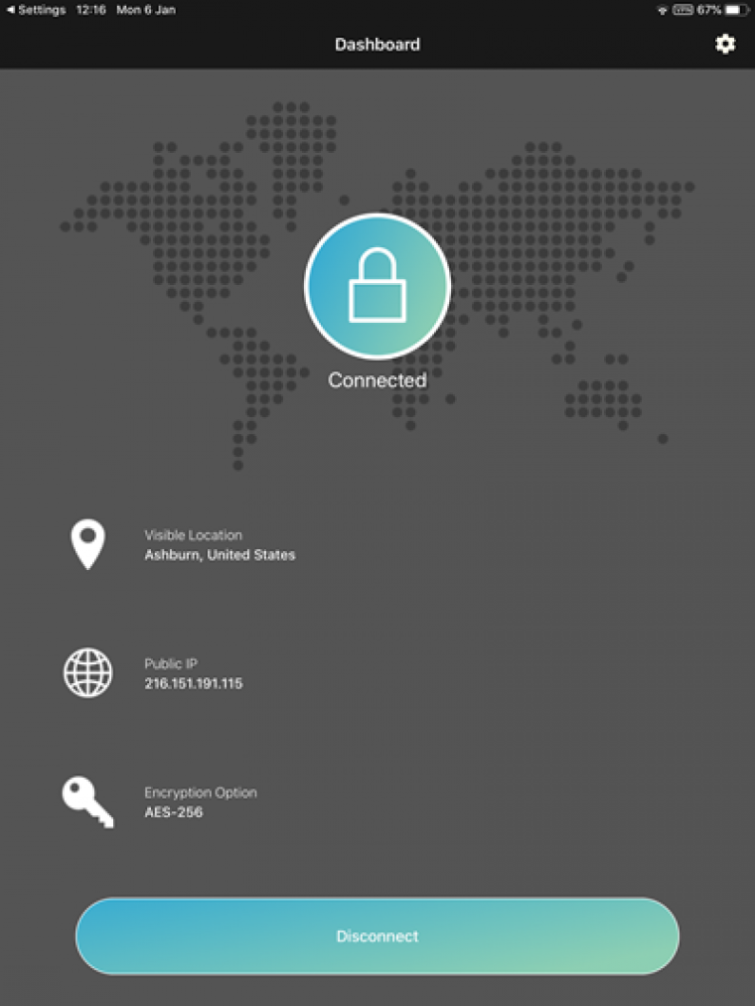 Neither app features a kill switch as far as we can tell, although Android 7+ itself has a built-in kill switch that works with any VPN app.
Final thoughts
Our initial impressions of SiteLock VPN were not very positive. It is a pricey product when compared to many of its competitors, with a short feature list. That very little information is available before purchasing the product (for which there is no trial) did little to improve the situation.
Aftercare is important when purchasing a VPN, leaving us deeply unimpressed that we never received a reply from customer support when we emailed the provider. We can only presume the situation is better if you contact support via phone, but this is a pricey option for those living outside the US.
We were surprised when the VPN was in action, however. SiteLock cannot help being a US company, but it's no logs privacy policy for VPN users is excellent. Also excellent is the fact that we detected no IP leaks of any kind on any platform (although we think the macOS app, at least, should have a kill switch like the Windows one does).
Speed performance is variable, depending as much on the quality of the server network used as distance to the VPN location. But when connected to servers in the US, results were impressive.
SiteLock VPN is a new addition to the SiteLock suite of services, and its launch feels more than a little premature. That said, with the basics as nailed down as they are, we felt this service might have some promise if it can get its act together.
0 User Reviews
Leave a Review
Thanks for your review!