Features
| | |
| --- | --- |
| Server locations | 44 |
| Simultaneous connections | 10 |
| Routers supported | |
| Split-tunneling | |
Privado takes a simple approach to its service – focusing on providing an excellent VPN (but not really much else besides that). Unfortunately, Privado is slim pickings in terms of features, offering a pretty standard set:
Automatic start and connect functions to protect you as soon as you switch your device on
Kill-switch technology to cut your internet connection should you accidentally disconnect from the VPN – protecting data leaks
IP and DNS leak protection to ensure your data doesn't inadvertently fall into the wrong hands.
SOCKS5 proxy scrambling for increased privacy and security when torrenting
There's not really much to shout home about by way of advanced privacy functions. There's no split-tunneling, no ad/malware-blocking, nor any dark-web scanning that we see from some of the best VPN services. But that doesn't mean it's a bad VPN – it just means that it doesn't go above and beyond the function of a VPN, which is what we're seeing from the leading services.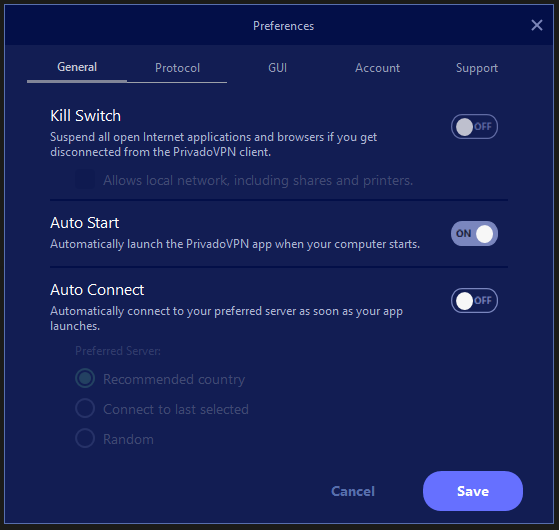 Freemium service
The highlight of Privado, for me, was the indefinite free plan you can use to get a taste of the service. It's a very generous offering, compared to a lot of other free services, and doesn't change its privacy policy for free users either.
Unblocking capability
Using the premium version of Privado, I was able to unblock the following services' international catalogs:
| | |
| --- | --- |
| Netflix | |
| iPlayer | |
| Amazon Prime | |
| Hulu | |
| Disney+ | |
Speed and performance
After connecting to Privado, I ran a speed test through Ookla to see what sort of download/upload speeds I could expect. I tested the service on my home PC and broadband, using a cat 6e ethernet connection to my computer on a fiber-optic 73Mbps TalkTalk subscription:

Free server speed
After putting the premium version through its paces, I decided to give the free version a crack. It's worth noting here that most free VPN providers limit the speed of their free servers... but not Privado – I couldn't believe the speeds I got with the free server!

These are incredible speeds, and worthy of a top 10 placement on our daily speed tests. I'm sure you're already confused why the free server was faster than the premium one, and the answer is simple: congestion. The number of people using a server will determine how congested it is – the more congestion, the slower the server. Even still, these speeds are fast enough for gaming online, streaming your favorite films, and other data-intensive tasks, all without slowing you down.
Supported platforms
Privado offers a range of apps covering the majority of popular platforms (including Windows, Mac, iOS, and Android). Fortunately, it's easy enough to get set up, simply:
Sign up on the website.
Download and install the app.
Log in with your details.
Connect to a server.
Go!

Yes, it's really that easy! What's more, the apps offer a simple and easy-to-use interface that still gives plenty of control. The consistency across all Privado apps make them effortless to use, regardless of the platforms you've installed them on.
Want a closer look?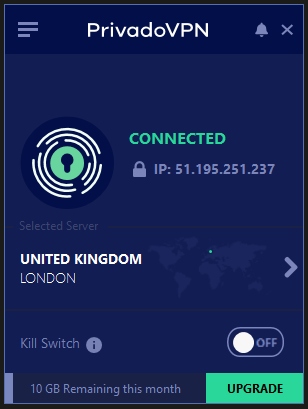 Windows
The Windows app appears as a little box in the corner of your screen. It's pretty self-explanatory and intuitive, and you can locate and connect to different locations with its search bar. Clicking on the menu at the top brings up a list of options, including "dock to tray", which lets you stick it in the bottom of your screen, out of the way – handy when you don't want a big clunky VPN app taking up real estate on your monitor.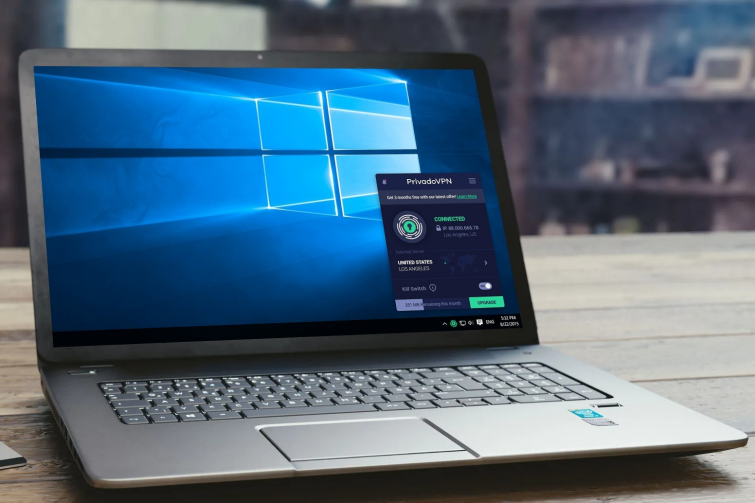 MacOS
The MacOS app runs very much akin to the Windows version, with the usual unintrusive design and convenient layout. It's just as sleek as the devices it's running on and offers much the same functionality.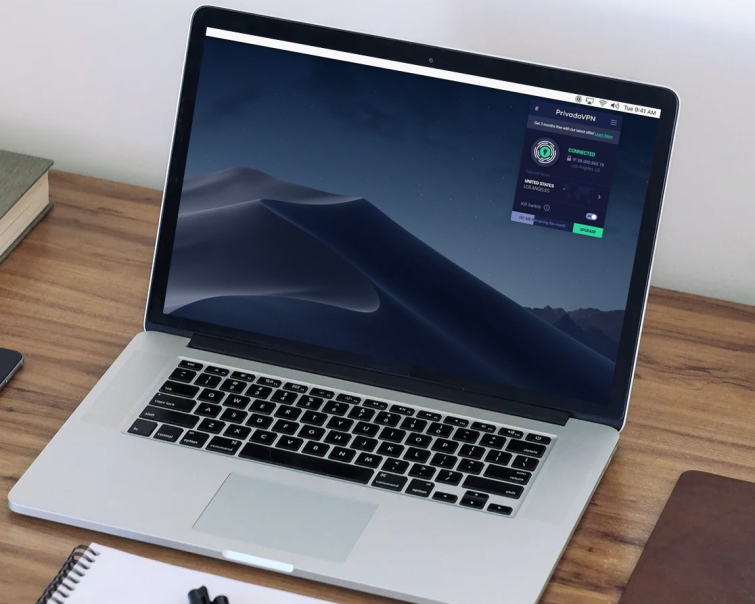 Android and iOS
The mobile software for Privado follows the same simple design layout as the desktop versions. It's a sleek and intuitive platform that's easy-to-use for beginners, and also offers a one-touch connect function, so you can connect instantly! There's a lot to love about a simple concept and design – it cuts out any unnecessary fluff, and reminds you that the app is here to do one thing, and one thing only: encrypt your data.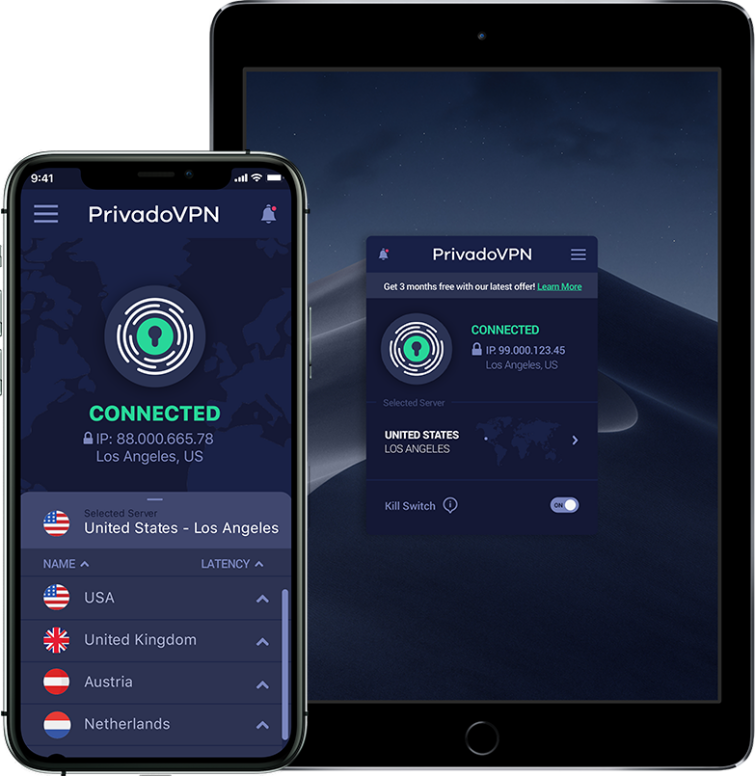 Privacy and Security
Privado is based in Zug, Switzerland. Once hailed as a privacy haven, Swiss legislation has worried privacy purists in recent years, with the BÜPF as one such example – forcing the once-heralded ProtonMail to hand over user data. While this legislation doesn't affect VPNs (because they're not considered as being within the field of telecommunications), it serves as a stark reminder that invasive monitoring legislation remains on Swiss doorsteps. For now, Switzerland is still a safe place for VPN companies to be based, but we're continuing to monitor Swiss legislation.
Protocols
Users only have IKEv2 and OpenVPN protocols to choose from on the app, but this isn't necessarily a bad thing – these are two of the most secure and battle-hardened protocols on the market, and Privado clearly isn't wasting its time with anything that's lesser. With the OpenVPN option, you get control over TCP/UDP protocols – letting you choose between a faster VPN and one that prevents errors and corruption during downloads. You can even choose which port you want to connect to, so you can run TCP over port 443 for rudimentary obfuscation (VPN cloaking).
Privado even introduced a new WireGuard implementation to its repertoire earlier this month, letting users benefit form the latest encryption protocol to enter the industry. Add to that a SOCKS5 proxy and XOR obfuscation algorithms for OpenVPN, and you're set for a pretty secure VPN tunnel... depending on how Privado implements its OpenVPN encryption.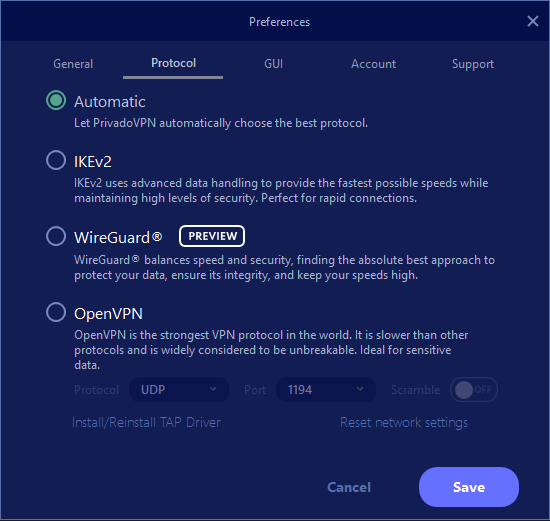 OpenVPN implementation
OpenVPN is our recommended encryption protocol. It's been setting the bar for security for the last 20 years, and when it's implemented correctly, it's nigh unbreakable. In order to gauge the security of Privado, I asked their customer service a few questions about how it implements OpenVPN encryption (our recommended encryption protocol, and the industry standard for the last 20 years).
What encryption does Privado use for OpenVPN data and control channels?
In a nutshell, encryption is TLS 1.2 standard. You can see in the proposals we send (AES_CBC_256/HMAC_SHA1_96/NO_EXT_SEQ).
This is a bit worrying as TLS 1.2 is outdated, and we would expect a provider to be operating to TLS 1.3 – which is faster, more secure, and has been the standard since 2018. On top of that, SHA1 authentication is susceptible to collision attacks that can break it open, leaving users vulnerable in the event of a cyberattack.
Does Privado offer Perfect Forward Secrecy (if so, how)?
Yes, via a Diffie-Hellman exchange with a unique key per session, and a key renegotiation for existing sessions.
Ephemeral Diffie-Hellman exchanges are a secure method for implementing PFS, so this doesn't raise any red flags, and it certainly makes the implementation more secure.

Leaks
In order to test the encryption offered by Privado, I ran it through our VPN leak testing tool. It's worth noting that, while Privado does offer IP and DNS leak protection, it doesn't offer WebRTC leak protection. Regardless, you'll be happy to know it passed our leak test with flying colors!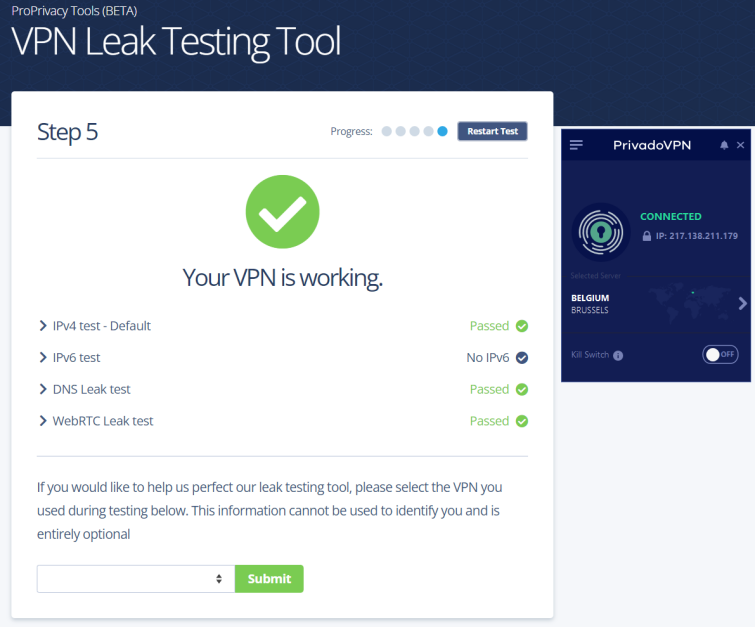 What about the free version?
I'm sure you're wondering whether there was any disparity between the free and paid versions, so I tested the free version as well – just to be sure there was no difference between the two, and I'm happy to report that there were no leaks of any kind.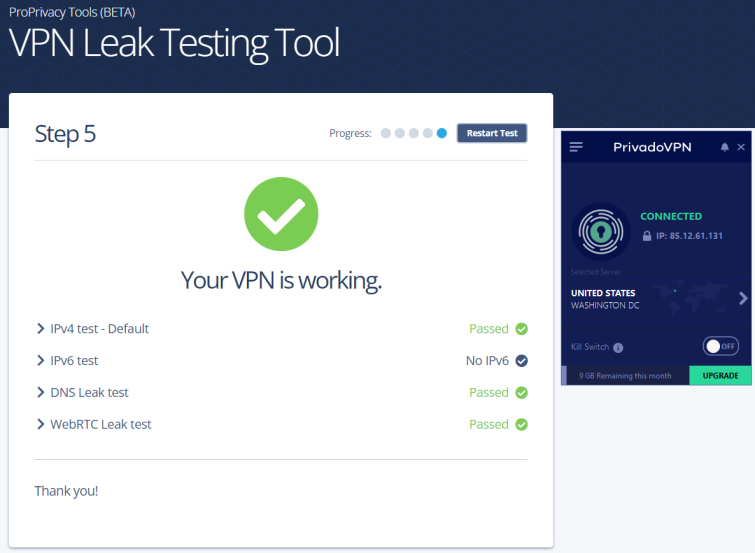 Privacy policy
All in all, Privado offers a clear and concise privacy policy that's easy to navigate and doesn't throw up any red flags. It even offers a handy summary of its policy, claiming that they:
Do not store any data about what any specific user browsed or accessed through a PrivadoVPN connection.
Are not able to connect activity originating from an IP address from its VPN servers to activity conducted by an individual user.
Encrypt all data over its VPN connections, and do not inspect or record the contents of what you are viewing, browsing or doing through the PrivadoVPN connections.
Ensure that they never log browsing history, traffic destination, data content, IP addresses, or DNS queries.
Will never sell your data to any third parties.
Logs
Privado certainly fits the bill as a no-logs VPN, and we're pretty content that, as long as they're living up to the expectations set out in their own privacy policy, users can have peace-of-mind when it comes to the sanctity of their data.
Privado free version policy changes:
Fortunately, not much changes with the free version. However, Privado is forced to measure bandwidth so that it can cap your data to 10GB every 30 days.
The total sum of data transferred is not identifiable for a user's behavior. We measure bandwidth utilized in order to improve our services. We do not log any data sent over the connections.
Customer service
To test Privado's customer service, I reached out through their live chat with a few queries. Unfortunately, the support person was clearly just there to sell the VPN, and didn't try to understand my question before sending me a scripted response. The good news, however, was that they were quick to respond, and after realizing they couldn't answer my question, they instantly created a technical support ticket for my query, and were very apologetic when the ticket just refused to generate an acknowledgement email. These things happen, and it didn't skew my perception of the level of service I received.
The technical support team took about 5 and a half days to get back to me, which isn't ideal if you're in a hurry, but the info I got back was clear and concise and answered all of my questions in an orderly manner. Overall, I think the customer support is friendly, quick to pass you on to the right people, and answered my questions individually.
Price
Given the features and service on offer from Privado, I think its premium service is overpriced and underperforming. For only a fraction more, you could get ExpressVPN or, for less money, get NordVPN – two of the best VPNs in the industry.
Payment options
Privado accepts the following payment options:
Paypal
American Express
Visa
Discover
Mastercard
It recommends paying for the service with Bitcoin for "maximum security", but doesn't yet offer the payment option on its site...
Who doesn't love free stuff?
As with all the best free VPNs, Privado's free plan is a teaser of the premium service, designed to entice people into committing to a premium subscription. Privado's free plan offers a strong insight into the VPN's premium service. It's perfect for people who need the robust security of a VPN without the cost of a top-tier service.
Final thoughts
Privado is a really mixed bag. On the one hand, is an absolutely brilliant free VPN, with great speeds, plenty of data allowance, and servers that can unblock the American Netflix library. As a free VPN, it's definitely among the top ones on the market – it's simple, easy to use, and does exactly what it says on the tin.
On the other hand, Privado is an overpriced and underperforming premium VPN service that charges more than most of the leading providers, without offering even half of the same functionality. It's got a long way to go before it can justify $4.99/month, but it's clear that Privado wants to make a bold statement from the off, and wants to build the reputation and brand of its premium service by luring users in with its amazing freemium plan.
While the OpenVPN implementation is indeed a red flag, the service should still meet most day-to-day users' needs (if you're after a VPN to watch Netflix on – I just wouldn't recommend it for anyone in need of serious privacy and security).
If you want a free VPN, Privado is a strong contender. But as far as premium services go, you're better off looking elsewhere: you can get better encryption and a wider array of features for less with other leading providers.
0 User Reviews
Leave a Review
Thanks for your review!