Pricing
Hidden24 is a VPN provider with three different subscription plans. These plans only differ in that they provide customers who subscribe for a longer period of time with a discount. If you are dead set on purchasing this service, even after reading our review, know that you cannot change your mind as Hidden24 doesn't offer any refunds or money-back guarantees.
A single month will cost you $5.99 and will let you connect to the VPN using just one device. This is true of all subscription plans - with Hidden24 you may only connect one device at a time. This is a massive downside of the service, because most VPN providers let you connect between five and 10 devices to their servers with a single subscription.
Paying $16.47 will allow you to use the VPN for three months. This works out at 5.49 per month. - which would not be massively expensive if this VPN provided the kind of features that other premium VPNs have.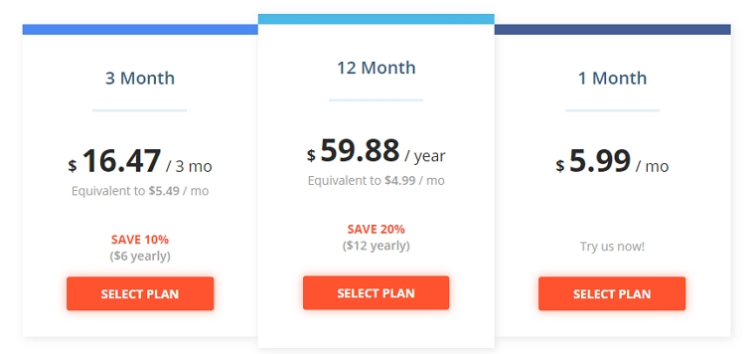 Finally, subscribers can opt to get the biggest discount by subscribing for a year. This reduces the cost to $4.99 per month - payable in a single yearly installment of $59.88.
When it comes to paying, subscribers can either use a credit or debit card. All the most popular options are accepted including VISA, Mastercard, AMEX, Discover, and JCB. Unfortunately, Hidden24 does not accept PayPal payments or cryptocurrencies. Bank transfer and cash in the post are also unavailable options with this VPN provider - so you will have to provide your card details to subscribe.
Please remember
Hidden24 states on its website that it does not offer any refunds. It claims that it "cannot – and should not – log any user activity in the system" and, therefore, has "no way of knowing if a user have activated the service or not" to implement a money-back guarantee.
Hidden24 is a relatively unknown VPN with a smaller client base. Smaller VPN providers often slip by unnoticed without getting blocked by major streaming services. Luckily, with Hidden24 this is the case. The US server could access Netflix US without issues, and we were able to watch US-only shows like New Girl without getting a proxy warning.
Next, we connected to the UK server and tested BBC iPlayer, and again; we could stream BBC One without problems. This is good news and means that anybody using this VPN can access these sought after streams.
However, at a minimum cost of $5 per month, it is worth mentioning that there are cheaper VPNs on the market that will give you the same unblocking capabilities (and much better privacy levels).
Speed and Performance
We normally test VPNs using our scientific VPN speed test system. We test VPNs three times a day using specially setup gigabit servers in four locations around the globe. We always test using OpenVPN to make those tests fair for all VPNs (and because OpenVPN is the best protocol for fast speeds and robust security).
Unfortunately, Hidden24 does not provide OpenVPN for its users. As a result, we cannot test Hidden24 connection speeds with our test servers. Instead, we had to use an online speed test tool to determine the speeds you are likely to endure.
The good news is that L2TP/IPsec is a fast protocol. In theory, that means that you should not take too much of a hit when connected to Hidden24's servers. To conduct our speed tests, we used speedtest.net; a service that from our experience is pretty reliable. To begin with, we tested on a BT Fon connection with download speeds of 9 Mbps.
The result? Connected to the US server, we experienced download speeds of 8 Mbps. This is an excellent real-world result that saw a pretty negligible drop in speeds.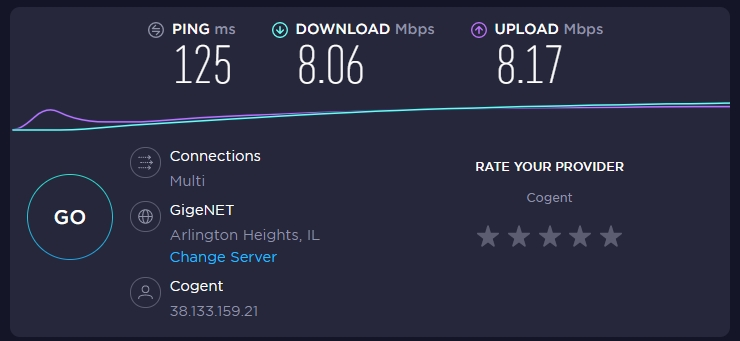 The test also revealed that Hidden24 rents its US server from Cogent Communications. This rules out the notion that Hidden24 is running its own network of servers.
We tried streaming on Netflix for a while and we did not experience any buffering issues.
On the UK server, the VPN fared almost exactly the same. Ping was much lower, which is to be expected because we are testing from the UK. Download speeds remained in the 8 Mbps range. This shows that users can expect to experience a reduction in their regular internet speeds of just 10%. This is good.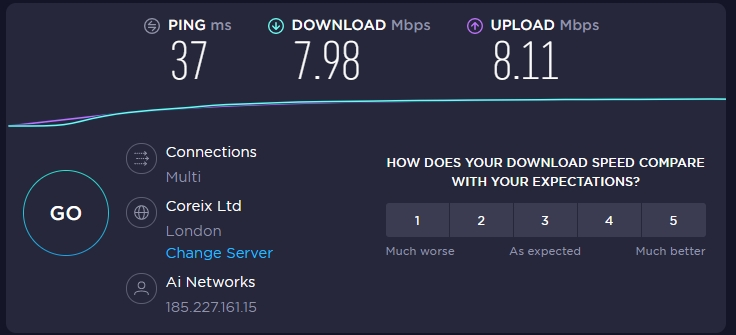 Finally, we tested the VPN's connection speeds on a faster 55 Mbps Sky connection. Attached to the US server, Hidden24 reduced our speeds by a half to 23.82 Mbps.
This showed that the VPN may be topping out at around 25 Mbps - and may mean that people with a faster internet connections experience a larger drop in performance. The good news is that speeds of around 25 Mbps are still good enough for streaming in HD, gaming, and doing VoIP calls.
Leak tests
To ensure that Hidden24 VPN is providing the privacy and security it is supposed to, we checked the VPN for leaks. We found the VPN to suffer from IPv6 leaks and DNS leaks when IPv6 was enabled.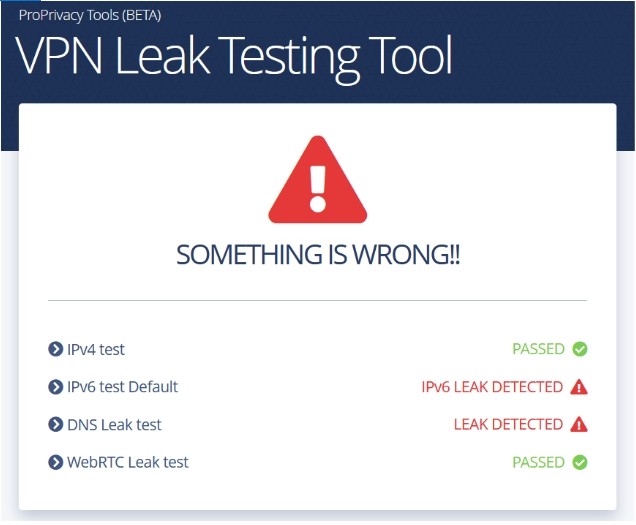 Admittedly, the VPN does recommend that IPv6 should be disabled. For this reason, we reverted back to IPv4 and tested again. During our tests we found it to suffer no IPv4 leaks. We also discovered no DNS leaks that would allow our ISP to see what we were doing online.
All the DNS addresses were located in the USA (we tested using Hidden24's US server) and none of those DNS addresses belonged to our ISP. This is good news.
However, our tests did reveal that Hidden24 is using Google DNS to resolve its DNS requests. This is far from ideal and is only secure if Hidden24 is proxying those requests before sending them to Google.
Unfortunately, we cannot possibly confirm this one way or the other, and for this reason we recommend that you subscribe to a VPN that resolves DNS requests with its own servers. This ensures that your privacy is not being invaded by any third parties (such as Google) that can detect your IP address has requested to visit particular websites.
Features
L2TP or PPTP connections only
No custom clients (manually setup connections only)
Servers in 7 countries (United Kingdom, USA, Germany, France, Italy, Spain, and Sweden)
One connection permitted per account only
Privacy
| | |
| --- | --- |
| Kill-switch | |
| Obfuscation (stealth) | |
| IPv6 leak protection | |
| WebRTC leak protection | |
On paper, Sweden is an acceptable place for a VPN to be based. It is a stable and neutral democracy with no mandatory data retention directives that would force VPNs to store logs. Admittedly, Sweden was previously revealed to be engaging in some secret dealings with FIVE EYES countries - which is far from ideal.
Despite this, several highly reputable VPNs (Mullvad and PrivateVPN, for example) are based in Sweden, and those VPNs have never had any problems with the authorities. This puts Hidden24 in good company as far as we are concerned, and we do consider Sweden a good base of operations.
Importantly, our systems are built in such a way that not even our own IT-staff can see what our customers do in our systems. This sets us apart from our competitors.
What Hidden 24 is referring to is a zero-logs policy, which is something that many excellent VPNs have. Thus, the VPN provider is being misleading when it claims that this sets it apart from its competitors. A VPN that is misleading is never a good sign, because you have to trust your VPN service to do the things it claims. So, can you trust Hidden24 VPN?
We searched Hidden24's website for a privacy policy. Unbelievably, the VPN has not published a policy on its website. This makes it impossible to deduce how this VPN is actually treating user data. As a result, we cannot confirm that this VPN retains zero logs, or even that Hidden24 is GDPR compliant.
The lack of a privacy policy becomes even more problematic when you consider the ownership and control of the VPN. Hidden 24 claims it was founded "by a group of independent journalists." However, the VPN makes no attempt to verify those claims or to assert who those journalists are. We tried, and we could find no evidence that the VPN was started by do-good journalists. It might have been, but we have our doubts.
A little research allowed us to discover that Hidden24 is owned by a Swedish startup called Yayabee. That small Swedish company is directed by Fredrik Bernsel, a businessman who controls an advertising company based in London called Ministry of Marketing. While this isn't damning, it is never comforting to see a VPN company controlled by persons with an interest in making money from data.
Hidden24 also falsely claims that "Unlike all the cloud VPN services, Hidden24 is installed directly into the hardware of your choice, so you don't have to worry about cloud security breaches. This makes them the safest VPN on the market!" This is a confusing statement that makes no sense.
What Hidden24 appears to be referring to is manually configuring an OS's built-in (software) VPN client. This is in no way more secure than connecting manually with any other VPN on the market, and all VPNs provide this option for their users.
In fact, because it lacks useful client-based features such as a kill switch and DNS leak protection, Hidden24 must be considered less secure than the majority of its competitors. Thus, Hidden24's security is completely dependent on the kind of encryption it provides, and on this front it is less secure than the vast majority of VPNs because it does not provide OpenVPN.
What we meant was on the server side. Our VPN on the server side is running on special hardware, customised for just VPN. We do not use Linux servers, and therefore not software running on Linux servers. That is what I meant by "hardware only" - only on the server side.
Unfortunately, this explanation does not help to clarify the situation, because it isn't actually possible to run a server without software. Thus, we must conclude that there is nothing special about Hidden24's server side implementation.
We were also disappointed by Hidden24's statements on its website about the VPN providing anonymity. VPNs provide online privacy not anonymity and anybody who requires anonymity must use a service like Tor rather than a VPN.
Overall, we must conclude that the privacy levels provided by Hidden24 are a complete unknown. We encourage the provider to publish a GDPR compliant privacy policy that legally explains what it does with data. This will allow consumers to better decide.
Encryption
Hidden24 is a VPN that provides just two encryption protocols for its users. These are PPTP and L2TP/IPsec. Of the two, we urge you to stick to L2TP, as this is vastly more secure than PPTP - which is now considered deprecated for privacy purposes.
Hidden24's implementation of L2TP is managed with a pre-shared key. L2TP with a pre-shared key is not actually considered secure because it could lead to a connection being compromised by a man-in-the-middle (MiTM) attack (where the victim is redirected to a fake server). This security problem is compounded by the fact that L2TP is believed to have been cracked by the NSA (according to documents provided by the whistleblower Edward Snowden).
Admittedly, it is hard to criticize Hidden24 for implementing L2TP/IPsec with a pre-shared key, because that is how all VPNs do it. On the other hand, L2TP/IPsec with a pre-shared key is the most secure encryption choice available on Hidden24, while competitors offer much more secure OpenVPN or IKEv2 options.
As a result, we criticize Hidden24 for not providing any truly robust connection options for their users and must conclude that anybody with a desire for a secure VPN shops elsewhere.
Ease of Use
Hidden24's website is minimal and is largely about selling subscriptions. It does this by overstating the level of service it provides and by hoodwinking users into believing they will receive 'anonymity' rather than digital privacy. Although subtle, this is a very real difference that the best VPN providers understand.
Luckily, the Hidden24 website has some saving graces. The setup guide is well written and easy to follow. This means that even the most tech-illiterate users should be able to get the VPN up and running. And its Blog section has some cool features regarding privacy and security issues.
However, please remember this VPN does not have custom apps for Windows, macOS, iOS, or Android. As a result, you have to set the VPN up manually on every platform.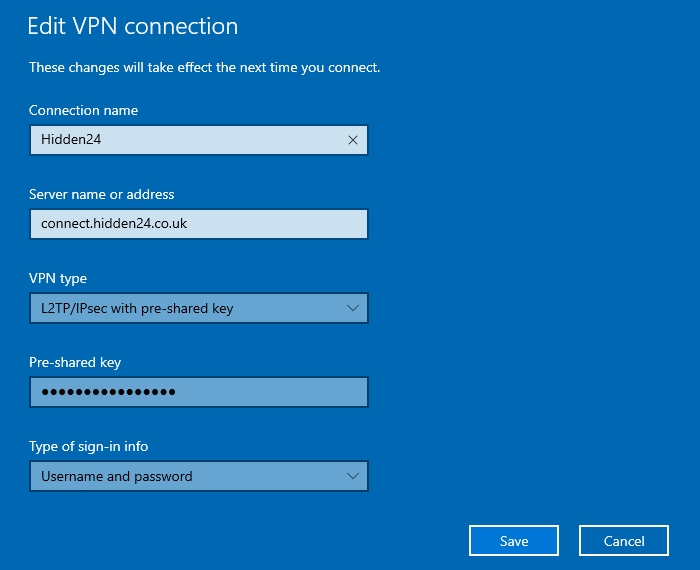 The manual nature of setting up a Hidden24 connection also means that you have to faff-around when connecting to different servers. Thus, ease of use and convenience are not baked into this service.
In addition, the lack of custom clients means that you do not get access to premium VPN security features such as DNS leak protection, a kill switch, obfuscated servers, split tunneling, or port forwarding.
If you desire these kinds of features, we strongly recommend that you stick to a VPN with a well-developed VPN application.
Final thoughts
Hidden24 is an overpriced VPN that lacks too many features to make it advisable. This VPN simply does not compete with premium VPNs on the market, many of which cost less. The lack of a privacy policy is concerning; making it impossible to evaluate this VPN. And the mistakes and misleading comments on the Hidden24 website strip away what little confidence in the VPN you might have.
The lack of OpenVPN encryption is a massive shame, because this is by far the most trusted protocol nowadays. And, no matter which way you look at it, IKEv2 would be a much better option for the average user - even if OpenVPN had to be omitted for some reason.
Hidden24's ability to access sought after services like BBC iPlayer and Netflix US is perhaps its only saving grace. However, there are plenty of zero-logs VPNs on the market with excellent custom applications that will let you access those services - while also gaining much higher levels of privacy. And don't forget that most of those VPNs have upwards of 60 server locations to connect to, all available at the click of a finger.
To conclude, we recommend that every consumer looking for a VPN shops elsewhere. Advising anybody to use this VPN would be highly inappropriate when there are so many better options on the market that offer more robust services at either a similar or cheaper cost and include a free trial or money-back guarantee.
0 User Reviews
Leave a Review
Thanks for your review!