Alternative Choices for You
Features
FrootVPN is based in Sweden, which is a country that is part of the "Fourteen Eyes" network. These 14 countries have various agreements to collect and share intelligence amongst each other. This isn't ideal if you are looking for complete privacy on the web, but I'll touch on this later on in the review.
I'll also note in this FrootVPN review that the provider did initially begin as a free service, only transitioning into a paid service when operating expenses and the user base became too much to handle.
FrootVPN has 36 servers in 19 countries, with 12 of these located in Sweden. There is a nice mix of locations available, including Russia, Brazil, and Israel.
Purchasing a FrootVPN plan gives you up to three simultaneous connections to the service, or you can simply configure your router for FrootVPN and never worry about all of your devices being protected.
Pricing and Plans
It might be an understatement to say that FrootVPN has a straightforward pricing strategy. There is one plan available, with the price determined by the length of subscription. A single month of FrootVPN costs $4.99, while three months drops down to $3.99 ($11.97 total). A full year subscription will cost you $2.99 a month ($35.88 total). This FrootVPN review looks at what you get for your money.
I noted during my FrootVPN review that the provider is one of the cheapest VPNs out there, as going any lower in price will probably give you a free VPN! It is also nice to see that FrootVPN doesn't have auto-renewal on by default, a feature that can lead to a lot of frustration.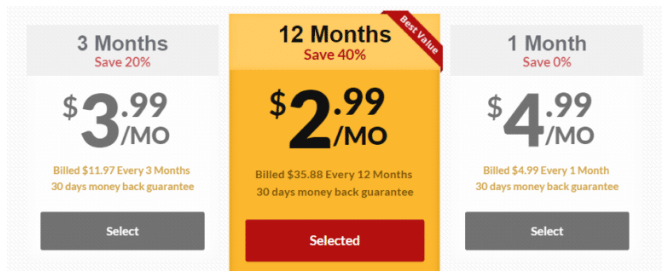 If you do sign up to FrootVPN, you have the security of a 30-day money-back guarantee if you are unsatisfied with the service.
FrootVPN accepts all major credit cards as well as Paypal. Bitcoin payment is also possible through BitPay, giving customers an additional level of anonymity.
Speed and Performance
When it comes to reviewing VPN services, speed is perhaps of the most important test. It is worth noting that OpenVPN can result in slower speeds, something I kept in mind when testing FrootVPN.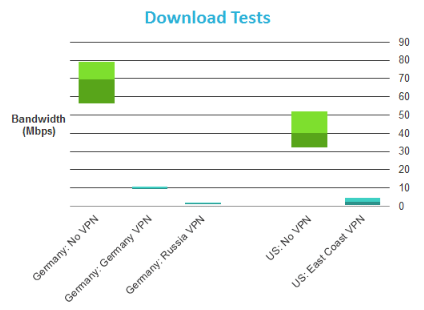 The graphs show highest, lowest and average speeds for each server and location. See our full speed test explanation for more detail.
Unfortunately, I wasn't able to establish a connection to the FrootVPN servers in the UK or France. Additionally, speeds across the board were poor, even when taking OpenVPN's slower speeds into consideration.
As part of my speed tests, I also ran some IP and DNS leak tests to see if FrootVPN leaks any of this information through the service. I was happy to see there were no leaks with FrootVPN, but I would recommend checking this for yourself using ipleak.net or a similar test.
Test Your VPN For Leaks
Since writing this article, we have created our own VPN leak test. Our test is 100% accurate, and is the easiest to use on the internet.
Security and Privacy
VPN protocols supported by FrootVPN include OpenVPN, PPTP, and L2TP. I was happy to see OpenVPN being recommended by FrootVPN, even if there was a slight drop off in performance as a result.
As I mentioned earlier in this FrootVPN review, it is a Swedish company and is subject to the Fourteen Eyes data retention and sharing agreements. Sweden isn't as terrible for privacy as the US or the UK, but the possibility of your data being shared amongst the 14 countries is not ideal when looking for complete privacy. You can read more about the Fourteen Eyes group here.
FrootVPN runs AES-256-CBC encryption in combination with an SHA-384 hash and 2048-bit key. There is also support for TLS 1.1+ through Perfect Forward Secrecy, which further shows that FrootVPN cares about protecting customer data.
FrootVPN claims to keep a strict no-logging policy in place. While I'm sure that FrootVPN does everything possible to stay true to this, being located in Sweden does subject it to various "Fourteen Eyes" agreements.
P2P activity is allowed on all of FrootVPN's servers. I would recommend checking the server list first, however, and selecting a location with a low server load.
Ease of Use
FrootVPN has a visually pleasing website with lots of helpful information easily accessible. The client area also allows you to view the server list and manage account settings. There is also a nice blog with regular posts concerning industry news and tips regarding the VPN service.
Unfortunately, there is a fair amount of poor English scattered across the website (as you can see in the screenshot below). I've experienced this with other providers before and it is quite disappointing to see, considering the global reach of a VPN service.
FrootVPN's "Privacy Policy" and "Terms and Conditions" pages also leave much to be desired. The text is barely visible, which when considering the importance of these pages is highly suspect.
Support
When it comes to customer support, FrootVPN has a ticket system supplemented with an FAQ and some troubleshooting guides, depending on your platform. There is also a live chat service, although this is only available during FrootVPN's regular business hours.
I submitted a test ticket on a weekday morning to see the answer quality and how fast I could get a response. I received a satisfactory answer less than 24 hours later.
FrootVPN also maintains active profiles on Facebook, Twitter, and Google Plus. If you are comfortable using these platforms, you can also send messages to these profiles if you need answers in a pinch.
The Process
Signing Up
Signing up to FrootVPN is completely painless. All you need is an email address and password to get started. The website advertises being able to complete the sign-up process in less than ten seconds.
The Windows client
As I mentioned earlier in this FrootVPN review, the provider does not have a software client, meaning you will have to set up everything manually on your device.
This method is tedious and makes switching servers a time-consuming event. Those without a technical background might find themselves in trouble should any problems arise.
I downloaded the necessary configuration files and tried out FrootVPN for myself. After running into some initial issues, I was surprised by how quick the whole process was. After downloading the configuration files from the FrootVPN user area, you simply have to add the files to the OpenVPN client, enter your credentials, and you are all set!
Other Platforms
As a result of the support for OpenVPN, FrootVPN is available for nearly every platform imaginable. The only obstacle here is having to do all the manual configuration yourself, which might be frustrating for those who aren't tech-savvy.
For this FrootVPN review, I tried out setting up the service on my iPhone with iOS 9.3.5. Set-up was easy, with the process being even quicker than setting up FrootVPN on Windows. All you need to do is e-mail the OpenVPN config files to yourself and open it on your iPhone. Enter your FrootVPN credentials and you are all set!
Final Thoughts
If you are looking for a highly affordable VPN and have an understanding of how to set up a VPN manually, FrootVPN might just be the right service for you. Solid encryption, lots of locations, and features like Bitcoin payment and Perfect Forward Secrecy all contribute to FrootVPN being a solid VPN.
There are some concerns regarding speeds and service availability, although this might have just been a temporary issue at the time this review was written. Try out FrootVPN for yourself and take advantage of the 30-day money-back guarantee to find out if the service is right for you. Hit the link below to get started!
0 User Reviews
Leave a Review
Thanks for your review!