Alternative Choices for You
AceVPN makes some bold statements. For example, they claim on their website to be the "lowest cost VPN service provider," a claim hard to quantify, and certainly incorrect if you choose their "ultimate" service.
There are some minor "plus points." The support department replies to emails at hyperspeed and there's plenty to play with. Where AceVPN really falls down, however, is in ease of use; there's simply too much information for novices to take in - and the performance we experienced probably isn't enough to tempt the techies either.
Packages & Pricing
AceVPN offer two key packages, named "Premium" and "Ultimate."
What is not immediately apparent is how the two packages differ, especially given the large disparity between the two prices. The "free" Unblock TV service (smart DNS), which is in fact included with both packages, adds to the initial confusion.
Getting to the facts required us to go to the "Compare VPN" page, which provided us with tables comparing each of the services and the un-named "competition." These comparison charts, spread over five separate tabs, gave us a lot of information to digest, and we couldn't help thinking there must be a clearer way to present the information.
Regardless, we eventually ascertained that the main differences (aside from the price) were as follows:
1. The Premium service is limited to 50GB of bandwidth per month, while the Ultimate service is unlimited.
2. The Ultimate service gives customers access to VPN servers in 13 countries. The cheaper Premium service only provides access to servers in the UK, USA and France.
3. Only the more expensive Ultimate service is permitted for use for peer-to-peer file-sharing or torrent use.
As with many services, the price reduces based on the length of your chosen commitment package, albeit without the high level of reduction for an annual subscription that many other providers offer. Prices for the Premium service are below: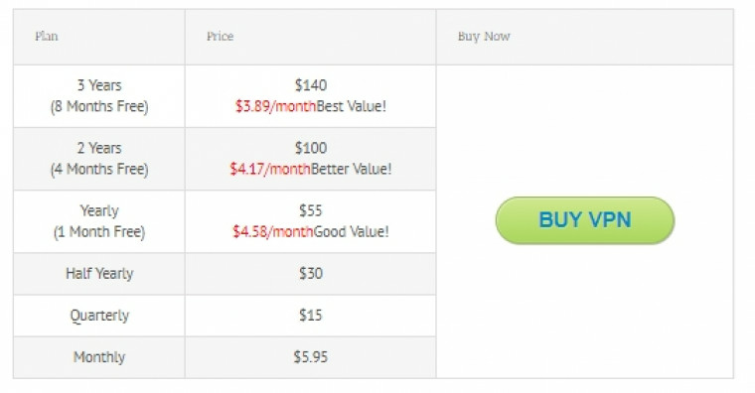 Prices for the Ultimate service are below: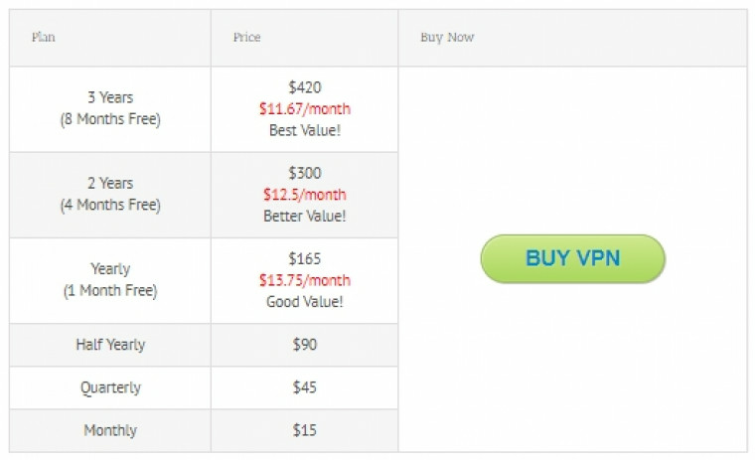 A total price of $55 for an annual Premium subscription does place AceVPN at the low end of average in terms of cost. The Ultimate service, however, at $165 per year, is far from the "lowest cost service" mentioned on the home page.
While AceVPN don't offer any kind of free trial, they do advertise a seven-day money-back guarantee.
Customer Service
AceVPN encourage their customers to use their support forum for technical queries, in the interests of building up a detailed knowledge base "for the benefit of the community."
We were initially concerned at the lack of support options. However, we sent a test query to the email address provided, and were very impressed to receive a response in less than two minutes.
Even so, it's worth pointing out that although our experience was good, there is hardly a wealth of support options here. The use of a forum community for support is another reason to see AceVPN as a service for the enthusiast and not one for the novice.
We were unable to find a phone number for telephone support.
Security and Privacy
While all the information about AceVPN is rather dense and heavy on text, this did mean we found it easy to find the key details about protocols. AceVPN offers support for PPTP, L2TP and OpenVPN. We weren't able to ascertain the encryption level but a query to the support department revealed that AceVPN supports both 128 and 256-bit encryption.
When it comes to privacy, AceVPN state that they do not monitor service usage or "spy on their users." However, they do not make clear whether they maintain logs and say that they "reserve the right to notify law enforcement agencies," if they suspect their service is being used illegally.
On this basis, if, for whatever reason, you would prefer a service that doesn't maintain any logs, you should probably look elsewhere.
The process
Registering
We decided to sign up to the Premium service on a monthly subscription in order to test out the service.
We found the signup process rather convoluted, with recalculations of the price based on the commitment period.
Once we had added our choice to our "basket," we were then prompted to register with the payment provider, before being redirected to PayPal to conclude the transaction. A Google checkout option was also available.
Immediately after finishing our PayPal transaction we received the usual selection of receipts and welcome emails and were told we may have to wait up to 30 minutes before the servers would accept our newly-provided login details.
While we had no major problems with the signup procedure, we had certainly enjoyed smoother experiences elsewhere.
Installation and Configuration
Once our account was set up, we accessed the "Install Guides" section of the Knowledge Base to ascertain how to get the service up and running on our test machine, a MacBook Pro running OS X 10.8 Mountain Lion.
Here, things started to get tricky. For a start, we could see that a non-technical user wouldn't know which of the links to click on. As techies, we knew that Tunnelblick is a third-party client for OpenVPN. We had a quick look at the setup instructions for it, to see how they faired. To be frank, the instructions are far from user-friendly.
Even for us, clicking on the link to download Tunnelblick led to us being told that the software doesn't fully support Mountain Lion, and that we should use a beta version.We were not prepared to play around with beta software to get a "paid for" service working, so we clicked the "Back" button, and instead looked at the L2TP setup instructions.
This was a little simpler and, thankfully, used our Mac's built-in VPN capabilities. We began to use the screenshots to guide us through the process.
Sadly this documentation left something to be desired as well. In the fourth step, a seemingly simple instruction to "Input Server Address and your Acevpn vpn account username," left us wondering where to find the server addresses.
Ten minutes later, we were starting to get annoyed. We had searched the main site and knowledge base for "servers" and "server addresses," checked back on our welcome emails, and even looked at the iOS instructions for the addresses. The iOS instructions said we'd find them in the configuration file. The link to it diverted us to the members area. Then, the file we downloaded was an archive (.zip) file, which in turn contained a load of OpenVPN config files.

All we wanted was the information we needed to complete AceVPN's instructions, but instead we had a plethora of open browser tabs and an air of frustration around the office.
We finally found a server name within the Windows instructions.
We also found the instruction to use an IP address if the server name is "blocked in your country." As previously stated, we had been unable to find the server's IP address details, but we did find a forum post where someone stated that the support department had provided them with one. We fired off an email to request this.
The server name we found allowed us to proceed a little further through the instructions. Then we arrived at more confusing instructions.
Instructing us to "input Google or OpenDNS IP addresses" is all very well, but the provider neglected to tell us what these are or where to find them. As techies, we knew what to put in here, but these IP addresses are hardly likely to be known by the average consumer. By now, we were starting to wonder whether AceVPN were actually trying to make it difficult to get the service properly configured!
Anyway, with the settings finally input, we were able to connect. We did an IP address lookup and found we now had an IP based in the USA. We were able to browse to a US-specific streaming media site and access content.
Thanks to AceVPN's super-quick support department, we also now had an answer to our request for a server list. Unfortunately, the support team simply sent the same archive file we had been able to access from the members area, with a vague suggestion to "open the files using TextEdit" to gain the server details for other countries. This seemed unnecessarily obstructive - why could they not simply supply us with the information?
The "Unblock TV" Service
AceVPN include "Unblock TV" with their VPN packages. This, essentially, is an alternative way of viewing streaming media content such as "catch-up" TV services, without having to connect to the VPN.
Instead, you change your computer's DNS settings so that requests to access these region-locked sites are rerouted to hide your location. AceVPN supply a list of services that this solution works with.
Testing Unblock TV was another process that raised our frustration levels. Clicking "Get Unblock TV now" took us back to the initial order page; following the instructions required us to go to the members area and take note of IP addresses to complete the setup; the whole process required us to reboot our Mac.
While the service worked, we were again frustrated by how unnecessarily complex the setup process was.
Connection Speeds and reliability
We decided to keep things simple with our speed testing.
As usual, we used the Speedtest.net website to gain a benchmark download speed for our test Internet connection:
We then connected to the AceVPN service via L2TP and ran the test again.
The results were extremely disappointing - being connected to AceVPN resulted in our download speed being reduced by more than half.
In fairness, we should point out that AceVPN's performance may be better whilst connected via OpenVPN, but the almost impenetrable instructions combined with the fact that the company use third-party connectivity software that was not yet "ready" for our Mac at the time of writing meant we didn't get to put this to the test.
Compatibility
AceVPN offer plenty of compatibility options. Mobile users can get this VPN for Android, iOS and Windows phones. It is important to note that the iPhone VPN app does not support OpenVPN, you will need to download a thrid party app, such as Tunnelblick, in order to use this encryption protocol. VPNArea also offer a VPN for Windows, Mac and Linux although the Linux VPN client doesn't have a GUI.
Based on our experience on the Mac VPN, we wouldn't count on any of these platforms being particularly easy to configure. However, enthusiasts and techies would probably manage it.
Customer Area
AceVPN's customer area offers a fairly standard range of functionality. It shows your VPN username and password (which differs from your account username and password), and the status of your subscription. In our case, as we had chosen the Premium subscription, we also had the option of upgrading to the Ultimate package.
The customer area also provides the ability to download the aforementioned "config files" and control settings related to the Unblock TV service.
Conclusion
We liked
Wide compatibility list that may appeal to enthusiasts
Very rapid answers to support queries
We weren't so sure about
Long-winded sign-up procedure
Unclear usage logging policy
We hated
Poor performance
Some of the least user-friendly setup instructions we have seen
Lack of clear access to server details
Highly frustrating configuration experience
At several points during our review, we wondered if we were being unduly harsh on AceVPN. As techies, we were able to fill in the gaps in the information provided, and the service clearly sets out to be widely compatible with a range of devices.
However, we have to consider how the whole potential spectrum of users would get on with each service we look at, and we experienced enough frustration as techies to know that non-technical users (on Macs, at least) would struggle with the configuration - perhaps to the point of giving up.
If our performance figures had been impressive, we would have been able to give a cautious recommendation for AceVPN, but only for true IT enthusiasts. With performance being below-average as well, we're left with little good to say. Someone at AceVPN really needs to look at the service from a user perspective and make some improvements.
0 User Reviews
Leave a Review - Step 1
Leave a Review - Step 2
Please tell us in more detail about this product
Leave a Review - Step 3
Thanks for your review!