One of the greatest things about the internet age is that no matter where we are in the world, we are never more than a few clicks away from our loved ones. When traveling abroad, public WiFi hotspots are an easy and cost-effective way to get online and communicate with friends and family back home. Unfortunately, using the free WiFi in airports, hotels, coffee shops - or anywhere else - is not as safe as many of us think.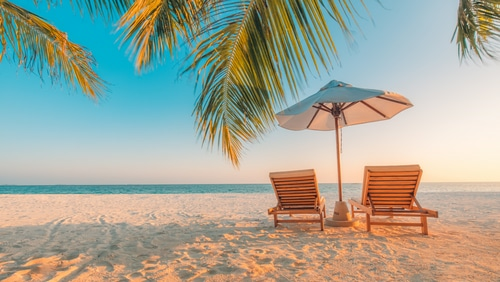 Cybercriminals are launching increasingly sophisticated attacks. A popular method used by hackers is to create a fake WiFi hotspot in a place where you would expect to find it. The hacker cleverly labels the network to make it seem official. This 'evil twin' technique makes it very hard to know whether you are connecting to an official hotspot or one that belongs to a hacker.
The good news is that tourists can protect themselves using a Virtual Private Network (VPN). What's more, anybody can get 77% off a VPN subscription right now by clicking on the following link to NordVPN.
Traveling through time
The infographic below shows how the things people take with them on vacation has changed over the years... Don't forget your 21st century essential a VPN! Scroll down for more information!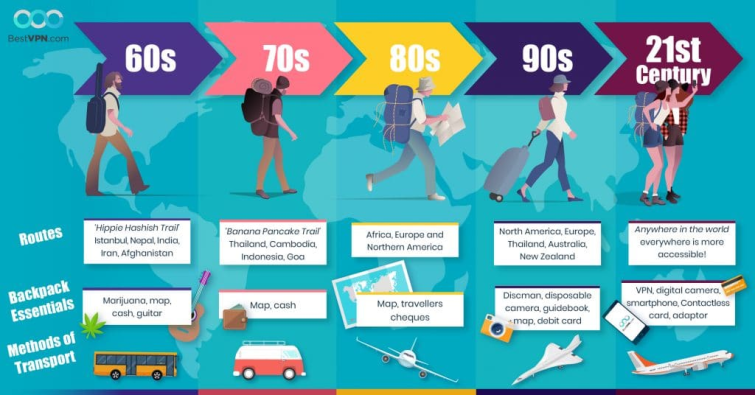 Stay secure on vacation with a VPN for travel
If you do accidentally connect to WiFi that belongs to a cybercriminal, they can potentially see everything you do online. They will also be able to steal any data that you input - such as your login credentials, passwords, private information, and PayPal or credit card details. They can view files that you download, photos that you upload and redirect you to sites containing malware.
The only way to be sure that your data stays secure while you travel is to use a VPN. A VPN securely encrypts all of your data before it travels to the internet via the WiFi hotspot. That VPN encryption securely scrambles your data so that hackers cannot steal anything from you.
Unblock content abroad
The great thing about using a VPN for traveling is that it doesn't just protect you from hackers. It also lets you pretend to be back home so that you can access geo-restricted services.
For example, with a VPN, you can watch Netflix or access your online banking. You can also login to locally blocked services such as Facebook or Twitter.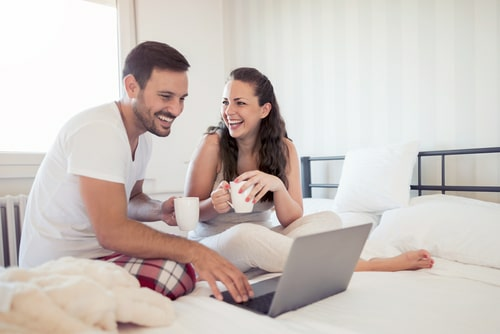 In addition, you can avoid terrible local TV, and, instead, watch geo-restricted TV streams from back home. For example, an Aussie traveling to the UK can pretend to be back in Australia to watch Ten. A British holidaymaker in Spain can watch BBC iPlayer. And a US citizen on vacation in Greece can watch US Netflix or ESPN. Check out our VPN for Greece page if you want more information about using a VPN In the country.
In fact, using a VPN you can pretend to be anywhere in the world - and you can unblock any online service... Digital globe-trotting from the comfort of your hotel room!
What content can I unblock?
When you travel overseas, all geo-restricted services from back home are automatically blocked. This is because those services are supposed to be unavailable to foreigners. In addition, some countries are very strict and censor a number of online services. By using our VPN guides, you can quickly and easily find out what popular services are blocked around the world.
The best VPNs for travel?
If you want to protect your digital privacy and gain security for you and your family while on vacation - there are a few VPNs that are absolutely ideal:
ExpressVPN is regarded as the crème de la crème of VPNs. It is fast, secure, available for all platforms, and has a no quibbles 30-day money back guarantee so that you can test the service and get your money back if you don't wish to continue!
NordVPN has strong encryption and security settings. It provides fast speeds for streaming all your favorite shows while you are away. It is an absolute bargain at just $2.75 per month (if you purchase a yearly subscription). Remember they do have a 30-do money back guarantee. So, if you decide you don't want it all year; you can get a refund.
ibVPN (Invisible Browsing VPN) is another service that is well liked by all our reviewers here at ProPrivacy.com. It is fast, has plenty of servers, and will provide you with the security you need while you are away. Best of all ibVPN currently has a special summer deal that brings the price of the VPN down to a very competitive $2.42 per month.
For more VPNs for travel see our 5 best VPN services for traveling guide.
Travel Competition
Image credits: icemanphotos/Shutterstock.com, Ivanko80/Shutterstock.com