The big hitters in the world of VPNs provide a consistently high-end service that can be hard for the smaller players to compete with. But while it's always tempting to go with the more familiar names, could it be worth taking a chance on a lesser-known provider? We enter into the Hotspot Shield vs Betternet debate and find out which of them deserve your consideration.
Hotspot Shield vs Betternet – Which service should you choose?
We'd recommend Hotspot Shield over Betternet. It has a well-stocked server network, decent speeds, and excellent access to a range of streaming platforms. By contrast, Betternet is underwhelming: it's slow, lacking in features, and useless for streaming.
Pricing
Of the two providers, Hotspot Shield offers the best value for money, thanks to a three-year subscription costing the equivalent of $2.99 a month. For other subscription lengths, both providers are priced equally.
It's worth mentioning that both Betternet and Hotspot Shield have free versions alongside their premium, subscription-only versions. We cover the best free VPNs elsewhere, so we'll focus our attention on the paid-for versions in this review.
| | | | | |
| --- | --- | --- | --- | --- |
| | Seven days | One month | One year | Three years |
| Hotspot Shield | Free | $12.99 | $95.88 annually/ $7.99 per month | $107.64 triennially/ $2.99 per month |
| Betternet | Free | $12.99 | $95.88 annually/ $7.99 per month | n/a |
Relatively unusually, both the Betternet and Hotspot Shield premium services come with a free seven-day trial. This lets you work out whether it's worth upgrading from the free versions. Note, however, that you'll need to give both providers your card details to take advantage of the free trial. If you don't subsequently cancel within seven days, you'll be charged the monthly subscription fee which, incidentally, is the most expensive.
If you do want to subscribe, both Hotspot Shield and Betternet charge $12.99 for a rolling monthly subscription and $7.99 per month for an annual subscription. Hotspot Shield also offers a three-year contract which is the best value of all, costing just $107.64 every three years.
Both providers offer generous 45-day money-back guarantees, so you can try them out risk-free. Neither provider accepts cryptocurrency, so you'll need a card – or Paypal account for Hotspot Shield – to initially sign up.
Winner: Hotspot Shield
Performance & speed
Speed is a key indicator of any VPN's worth: too slow, and users get frustrated – sometimes to the point of reverting to a normal connection. This, unfortunately, is likely for anyone using Betternet. Its own website gives an example speed for its premium service of 16.67 Mbps. This is fairly sluggish and more akin to the speeds you might expect from a free VPN.
| No Value | Hotspot Shield | Betternet |
| --- | --- | --- |
| ProPrivacy.com SpeedTest (average) | 48 Mbps | 18.8 Mbps |
By contrast, Hotspot Shield is much faster – making it a good choice for those hoping to stream HD content and game online.
Winner: Hotspot Shield
Which has better features?
Both providers offer the basic features we'd expect to see from any paid-for service. However, there's a lot of inconsistency between apps, with some from Betternet offering no features at all.
| No Value | Hotspot Shield | Betternet |
| --- | --- | --- |
| Simultaneous connections | 5 | 10 |
| Total servers | 1800 | |
| Number of countries | 80 countries | |
| Split-tunneling | | |
| Kill-switch | | |
| Obfuscation (stealth) | | |
| Self-hosted DNS | | |
| Tor-over-VPN? | | |
Hotspot Shield has some 1,800+ servers spread across 80+ countries. This makes it easy to find a server that is relatively near and not too heavily loaded. Betternet doesn't say how many servers it has, choosing instead to list 81 virtual locations. We tried to get a server count from Betternet, but there's no information on its website and it was cagey in response to emailed enquiries.
Both providers offer split tunneling – though only on some of their apps. For Hotspot Shield, the feature is available on Windows and Android. For Betternet, it's available on its Android, Windows, and iOS apps. In both cases, the feature allows users to choose which apps or websites they'd like to connect via a regular ISP connection rather than using the VPN tunnel.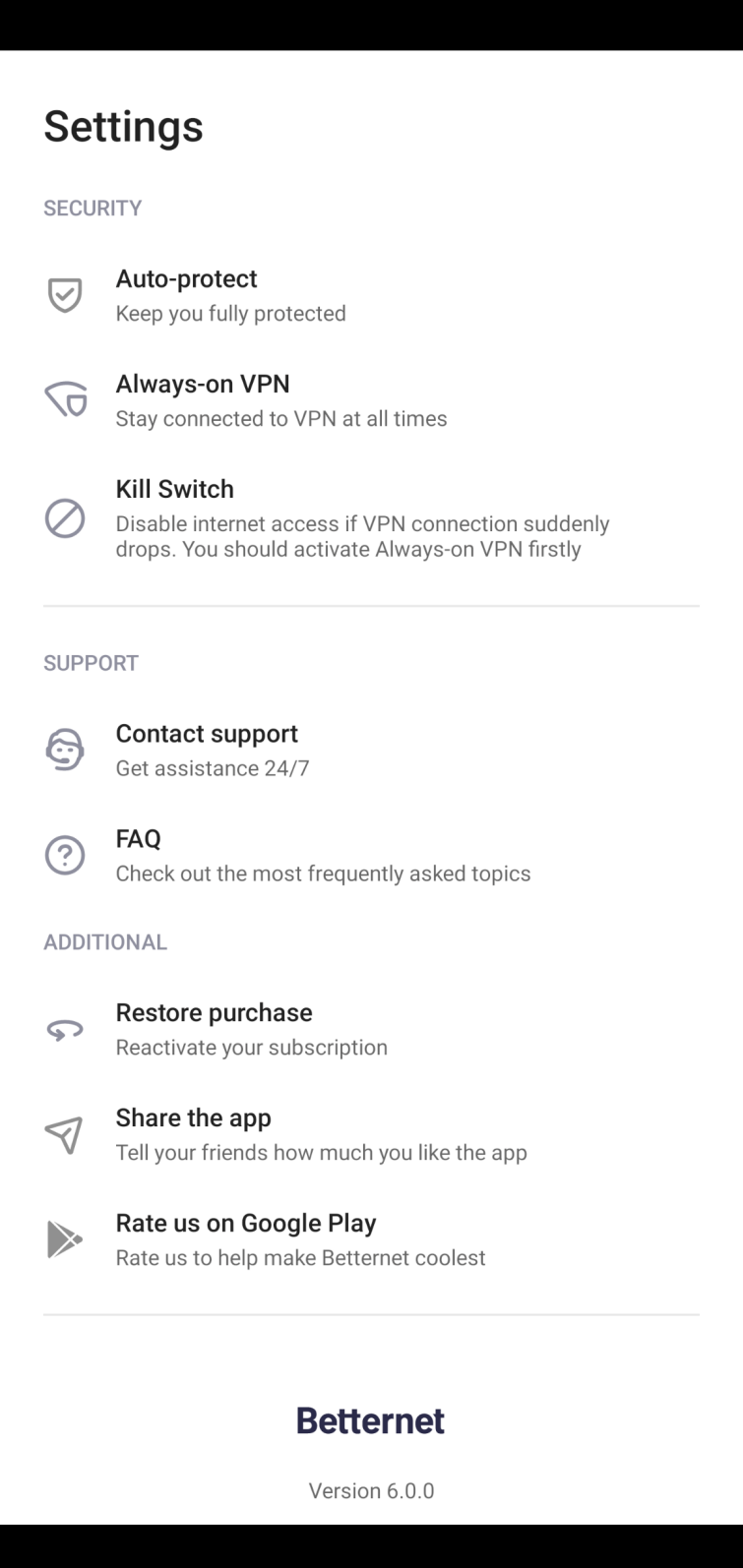 Hotspot Shield and Betternet both have kill-switches for their Android, iOS, and Windows apps. A kill-switch prevents your data from being exposed if the VPN connection drops out.
Both providers also have an auto-protect feature that connects you to the VPN automatically whenever you connect to an unsecured public WiFi network. Unfortunately, this feature is only available in the Windows app for both providers – it would be far more useful in the Android or iOS apps.
All Hotspot Shield apps come with built-in DNS leak protection, and they all also allow you to switch between protocols – though the choice is either Catapult Hydra or IKEv2. The latter is better for mobile devices.
Where Betternet outdoes Hotspot Shield is in the number of permitted simultaneous connections. Betternet allows 10, while Hotspot Shield restricts subscribers to five.
Neither provider has options for port forwarding, multi-hop servers or obfuscation. This makes them less than ideal for P2P file sharers or those living in countries where internet use is restricted.
Winner: Hotspot Shield
Which streaming services can they access?
Many people use VPNs to access geo-restricted content from streaming services. The VPN providers know this and make wild promises in their marketing material. Unfortunately, very few actually work with the big names.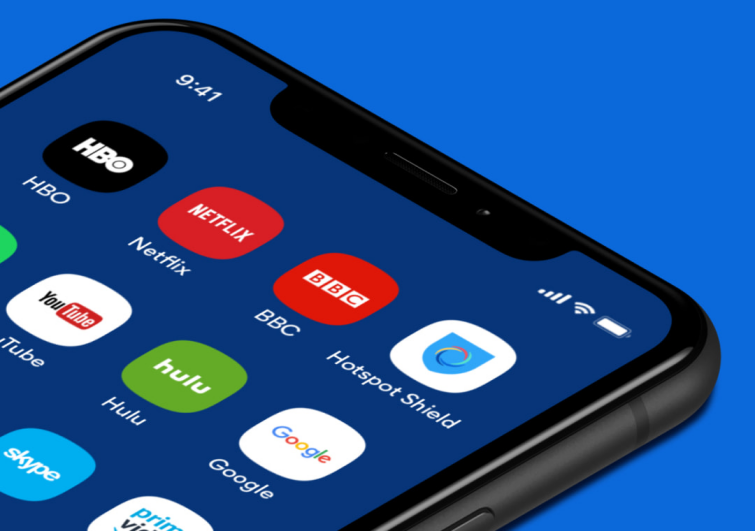 Betternet didn't work with any of the platforms we tried. That included Netflix, BBC iPlayer, Disney+, Hulu, and Amazon Prime Video. By contrast, Hotspot Shield performed reliably well – as the table below demonstrates.
| No Value | Hotspot Shield | Betternet |
| --- | --- | --- |
| Netflix | | |
| iPlayer | | |
| Amazon Prime | | |
| Hulu | | |
| Disney+ | | |
Hotspot Shield's main limitation is in the number of Netflix libraries it can access. It only worked with US Netflix in our tests, though this is the one most users will want to access anyway.
| No Value | Hotspot Shield | Betternet |
| --- | --- | --- |
| USA | | |
| UK | | |
| Canada | | |
| Japan | | |
| France | | |
| Germany | | |
In all, Hotspot Shield is a solid option for accessing geo-locked content.
Winner: Hotspot Shield
Torrenting
Torrenting is permitted by both providers. While they don't offer dedicated servers, they do allow unlimited bandwidth and the use of shared IP addresses. Your connection is kept secure using a combination of split tunneling and kill-switches – though, as mentioned previously, these aren't available on all apps.
Neither provider offers port forwarding, which many consider essential for efficient file sharing. If you're interested in P2P file sharing, see our guide on the best VPNs for torrenting.
Winner: Draw
Setup & usability
With so much choice in the VPN market, users are easily able to switch providers if they find a particular service difficult to use. Both Hotspot Shield and Betternet are easy to use, though that's primarily because they're fairly basic.
Both providers have dedicated apps for Android, Windows, iOS, and macOS. They also offer free browser extensions for Firefox and Chrome. In addition, Hotspot Shield has an app for Linux and one that can be used with smart TVs.
Hotspot Shield can also be installed on compatible routers i.e. those running DD-WRT, FreshTomato, Asuswrt, and Merlin firmware. The benefit of installing a VPN on your router is that it protects all of the devices on your home network – even those that don't normally support VPNs.
Router installation is also useful in that it only counts as a single device connection against your allocated limit. In the case of Hotspot Shield, this would mean you still had four connections left to play with after installation.
| No Value | Hotspot Shield | Betternet |
| --- | --- | --- |
| Android | | |
| iOS | | |
| Windows | | |
| macOS | | |
| Linux | | |
| nVidia Shield | | |
| Android TV | | |
| Fire TV | | |
| Routers supported | | |
Betternet apps vary widely in how they perform. The best that can be said about the macOS app is that it's easy to use. Once open, the only option you have is enabling start on launch.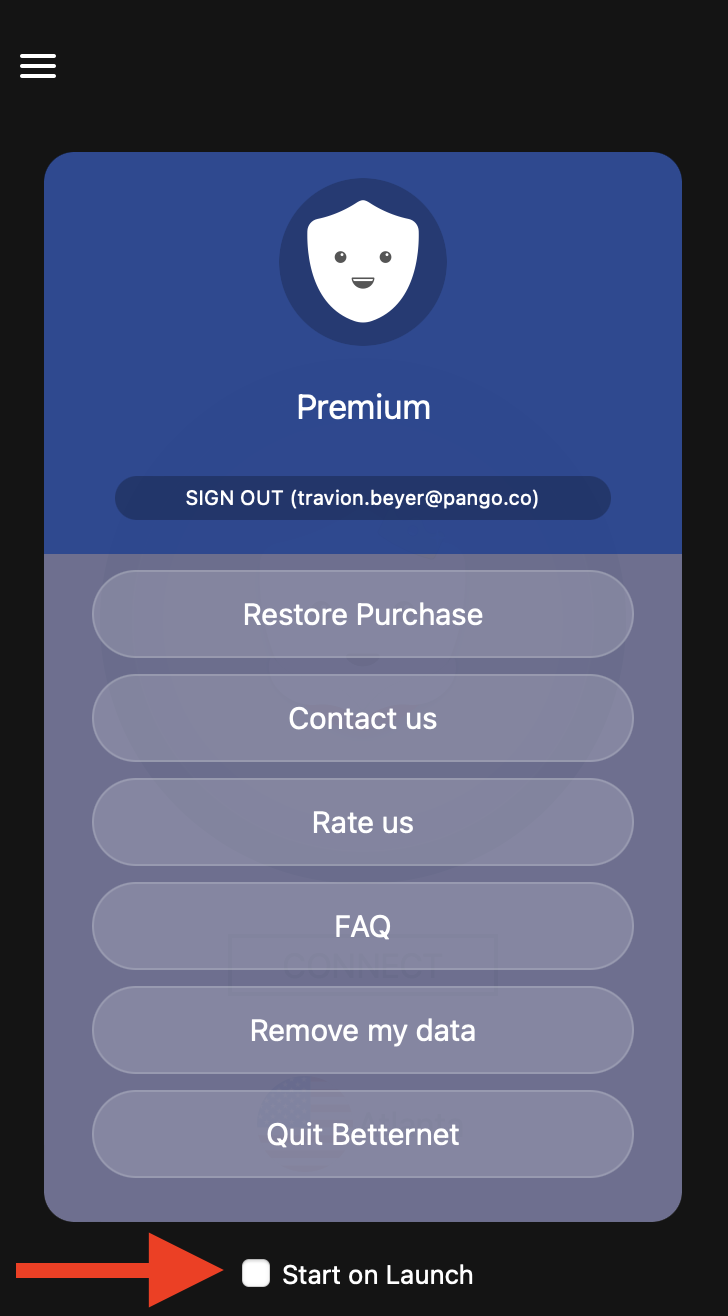 The iOS, Windows, and Android apps are better, though there's little in there for advanced users to play with.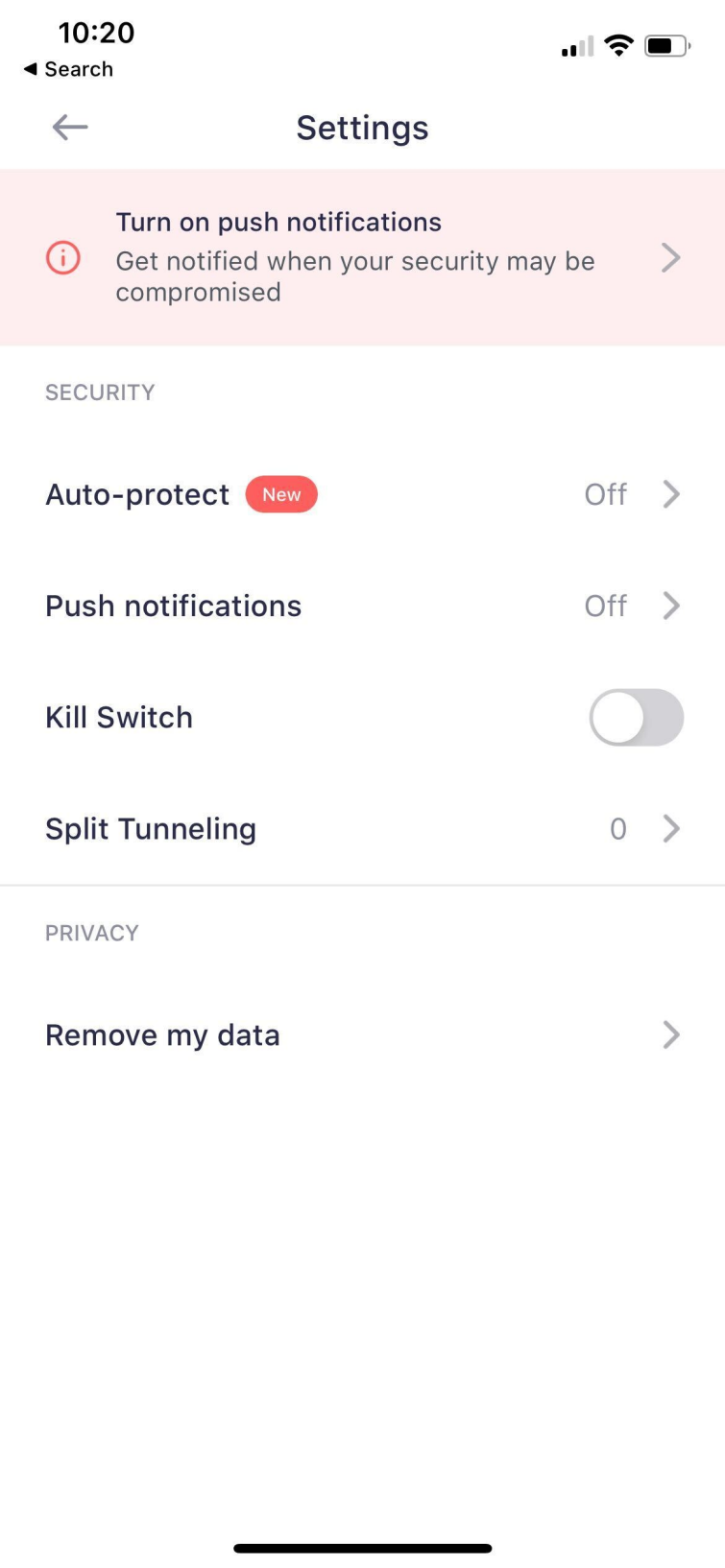 Hotspot Shield apps have more to offer from the outset. The server list contains recommendations for specific tasks such as gaming or streaming, and the app's settings allow you to choose between protocols, enable leak protection, and select specific apps and websites to always protect.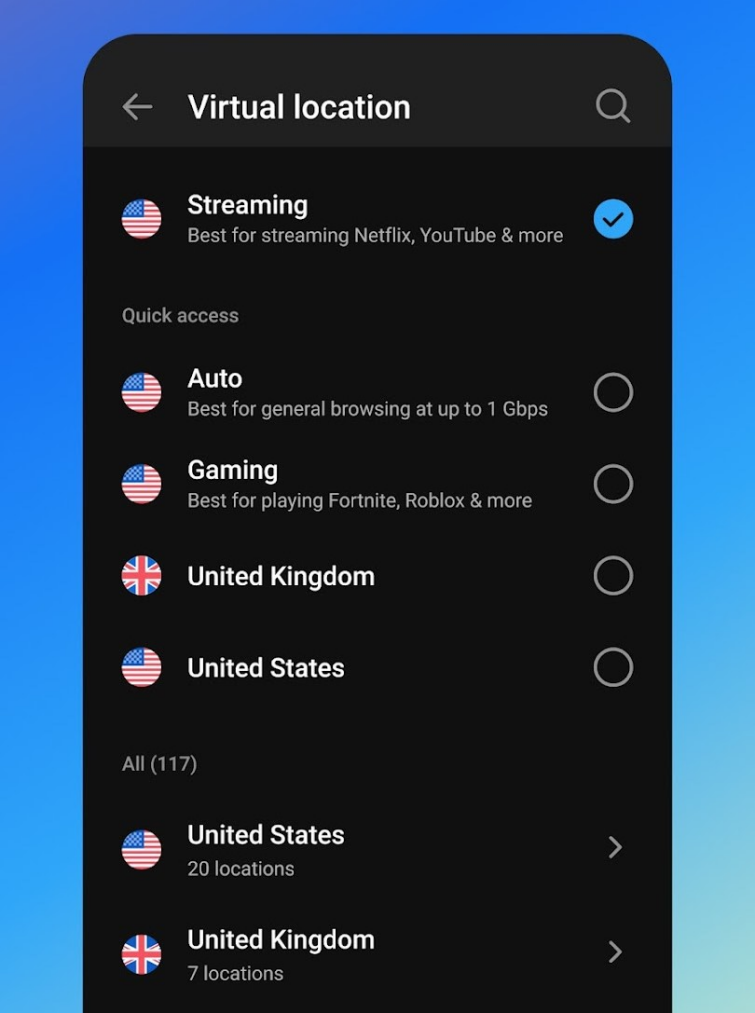 In both cases, the apps are easy to download, install, and open. Their respective GUIs are clean and functional, if a little uninspiring.
Winner: Hotspot Shield
Security
The protocol of choice for both providers is Catapult Hydra, which is a tweaked version of OpenVPN developed by Hotspot Shield's parent company, AnchorFree. This protocol, say Hotspot Shield, uses AES-128 bit encryption together with 2048 DHE-RSA keys. However, this claim can't be verified as there's no third-party audit available and its code is not Open Source.
| No Value | Hotspot Shield |
| --- | --- |
| PPTP | |
| L2TP/IPSec | |
| SSTP | |
| IKEv2 | |
| OpenVPN | |
| WireGuard | |
In our tests, Betternet apps were free from IPv4 and DNS leaks. However, they did leak IPv6 addresses, which is a fairly major problem. Betternet's browser extensions were worse still, with the Chrome proxy browser suffering from DNS and WebRTC leaks, and the Firefox proxy browser not even concealing users' IP addresses.
While Hotspot Shield doesn't guarantee protection against WebRTC or IPv6 leaks, we didn't find any during tests.
Winner: Hotspot Shield
Privacy
Both providers have some work to do regarding their approach to user privacy.
Hotspot Shield claims to be a no-logs provider, while also recording the duration of sessions, device hashes, and the domains accessed by users – though these latter logs are said to be anonymized.
Most concerning of all, it collects users' IP addresses, which it says is necessary for protection against fraud; advertising; and finding the nearest servers. Given that Hotspot Shield is located in the US, this high level of record-keeping is particularly concerning.
Betternet doesn't even try to claim to be a no-logs provider. It logs incoming IP addresses, which it says are encrypted and deleted at the end of the session. It also logs the domains accessed by users; device information and hashes; bandwidth consumed, and the duration of sessions. As Betternet is based in Canada – a member of the 5 Eyes intelligence-gathering alliance, this storage of data is a threat to user privacy.
Winner: Draw
Customer support
Decent customer support is essential if providers want to hold onto their customers long-term. Overall, Hotspot Shield is preferable in this regard, with better response times and a far more detailed website.
Given its subscription prices, we would expect Betternet to offer 24/7 live chat. Instead, users must direct questions to a bot, with promises of an emailed response from an agent if it struggles to provide assistance. If you want to skip the bot, you can email questions directly via an online form.
However, in practice, Betternet agents weren't able to answer our questions coherently. Answers were evasive and contradictory, which gave me little reassurance they would be able to help subscribers with any technical difficulty.
The Betternet website itself is light on details, though you can extract some useful information by digging through its help pages. These include sections related to each of its apps as well as a section answering some questions.
By contrast, the support package from Hotspot Shield is easier to navigate and more professional generally. There's a searchable knowledge center, dedicated sections for each app, a list of articles for troubleshooting and additional help for questions relating to users' accounts, devices, and payment information. Subscribers can also email Hotspot Shield directly or use the 24/7 live chat function.
Conclusion
Hotspot Shield is undoubtedly the better provider. It's faster, has a far larger server network, provides excellent access to streaming services, and is ultimately cheaper. It has some work to do with its privacy policy but, then again, so does Betternet.
For its part, Betternet feels poorly thought out. Its apps are inconsistent – as is its website. While it appears cognisant of what people want – advertising the ability to "unlock content worldwide" and provide "ultra-fast streaming" – it seems unable to deliver it. This wouldn't be so bad if it wasn't charging so much. To put it into perspective, a Betternet subscription is the same price as that of the best VPNs on the market.
To be fair, Hotspot Shield's prices are essentially the same. It, however, is a little more able to justify them.
Overall winner: Hotspot Shield
If you're considering alternative VPNs, visit our other vs pages to see how Betternet fares against other providers.
Image credit: Arek Socha from Pixabay