Illegal streaming has become the scourge of the sports industry, and football is one of the worst sports affected. From the Premier League to the World Cup, the biggest football games are being pirated en masse every year.
ProPrivacy has tracked the increase in search uplift for specific key terms over the first weekend of Euro 2023, which shows that people are trying to find unofficial streams of the tournament all over the world.
Euro 2023: the data from the first weekend
The first three days of fixtures were watched by millions all over the world, and there was no shortage of fans attempting to locate free streams through their search engines.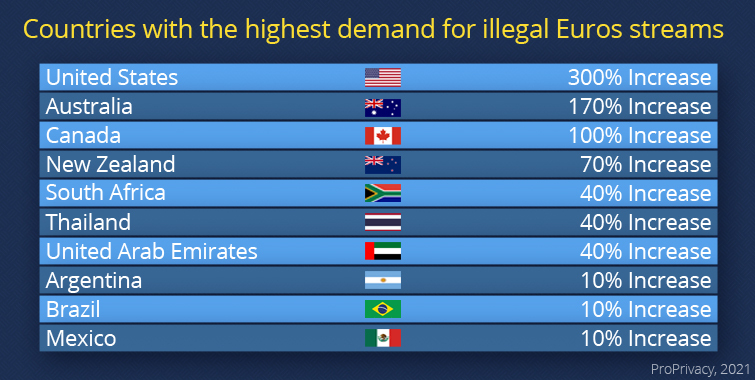 The United States posted a 300% increase in search uplift for relevant terms, for instance, representing the biggest increase across the countries we tracked.
Australia also saw a very significant increase at 170%, whilst Canada and New Zealand saw 100% and 70% increases respectively. Other countries that saw 40% increases included the UAE, South Africa, and Thailand.
Mexico, Argentina, and Brazil saw comparatively less of an increase, with only a small rise in search uplift.
Interestingly, a number of these countries that posted significant increases - such as Australia and the US - have large British expat communities, and both Wales and England played over the weekend.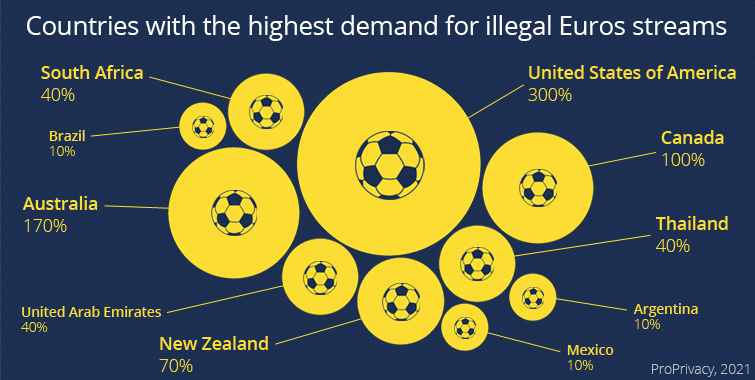 These results are concerning because so many of the sites that claim to provide free streams of major football games are full of malware, and users are putting themselves in harm's way when they visit them. The prevalence of malware in these types of sites is discussed in more detail later on in this report.
Our methodology
We have selected 10 keywords - as well as a number of other relevant terms and phrases - and charted the approximate percentage increase in search uplift for them during the first weekend of fixtures.
This allows us to determine the comparative increase in demand for non-official, free streams in a selection of countries including the UAE, Australia, New Zealand, and the United States.
Terms like 'free' have been selected because a person searching for a free stream of an event that requires some sort of subscription in their region – which is the case in all the countries we have looked at – is likely to end up on a website linking to or broadcasting illegal/pirated streams of the games.
Illegally streaming sports: the field of research
It was reported just two years ago that the Premier League, one of the most valuable sports leagues in the world, was losing around £1 million in sponsorship to illegal streams every time a game is played. Considering these heavy losses for the sports industry, the research landscape – or at least what is publicly available – is smaller than one might expect.
One problem, for instance, is that it's hard to compile reliable data on exactly how many people are tuning into pirate websites – unsurprisingly, they don't keep a count of viewers in the same way TV channels do.
As the Digital TV Europe Industry Survey 2023 admits, "Statistics about global piracy are hard to verify, given that these are based on surveys about an illegal activity". There's also an inclination amongst some reports to not distinguish between 'illegal streaming' and 'illegal sports streaming', as well as between individual sports that are pirated.
Research conducted this year by Infront Lab, however, revealed that football is the most popular sport to be streamed illegally, accounting for 27.4% of illicit downloads and views. By way of comparison, tennis accounts for 10.5% and motorsports 8.5%.
How do people access pirated sports content?
There are three methods that individuals use to access illegal sports content. Obviously, this isn't fully exhaustive – there will undoubtedly be new methods emerging all the time – but these are considered the main routes taken to access content illegally.
IPTV boxes are one means used to pirate sports content. Some of these boxes, like Kodi Boxes, come pre-loaded with dodgy websites and software, whilst others require you to load them on yourself. This is increasingly popular in the US; the Digital Citizens Alliance found in late 2019 that 13% of Americans have a set-top box that helps them access some sort of pirated content, whilst other reports have put the figure even higher. Apps like the recently shut down Mobdro are another way fans access pirated sports content.
Social media has become a lucrative way for pirate streaming platforms to advertise their content, usually in the form of links. It's also hard to police what goes on in private groups on platforms like Facebook, so many links go unreported and aren't removed. There are also examples of fans using the live-streaming functions of sites like Facebook to broadcast games to millions of people through the platforms themselves. There used to be an infamous thread on Reddit that provided links to streams too, but it was taken down two years ago.
Some websites serve as streaming aggregators, providing a list of links to illegal streams on a page. These pages, as well as the streaming pages they link to, run adverts to turn a profit, many of which feature recognized brands. Aggregators often have multiple links to different pages all showing the same game and are full of overlays and pop-ups.
Has the pandemic caused a rise in illegal streaming?
The European Parliamentary Research Service concluded in their European added value assessment, published in December 2020, that:
During the pandemic era, there has been a material increase in the consumption of online content, including sports content, accompanied by a material increase in digital sports piracy.
During the last year, video technology provider Synamedia has looked at different aspects of illegal sports streaming across three white papers and several blog posts. One of their key findings from the start of the pandemic was the sharp rise in new, illicit streaming domains during the first half of 2020. The graph below details how over 40,000 new sites were registered between February and April.
Credit: Synamedia (June 2020)
What's more, when live football returned in places like Germany and the United Kingdom in May and June of 2020, there were significantly more people watching pirated streams than had been doing so in February and early March 2020:
Credit: Synamedia (June 2020)
In the United Kingdom, roughly two million people streamed football illegally during 2020, prompting Federation Against Copyright Theft CEO Kieron Sharp to reveal that "In May, our scanning team removed more than double the volume of film links and illegal streams [that were live] in April, compared to February."
SportsBusiness reported in November 2020 that The EFL – the body that oversees the three tiers of professional football in England that exist underneath the Premier League – said the number of illegal streams broadcasting its content had 'surged' during lockdown, and that they had detected over 7,000 individual streams doing so.
The illegal streaming app Mobdro that was mentioned earlier on, dubbed 'the world's largest piracy app', was finally shut down in March 2023 after a year of fans being barred from stadiums but sport continuing. Considered the largest pirate streaming app in the world, according to reports, 43 million were using the app worldwide by the time it was shut down.
Why do so many people stream football illegally?
The rise of subscription and pay-TV services is often blamed for driving fans towards pirating sports content, particularly in sports like football where these fees are particularly expensive.
However, that's far from the full picture. One global survey of 6,000 fans from various locations conducted by data research and analytics firm Ampere Analysis for Synamedia's 'Charting Global Sports Piracy' report found that 51% of sports fans surveyed watched pirated content, but that 89% of them also had some sort of OTT or pay-TV subscription to watch sport alongside the content they accessed illegally.
The report also remarks on how some of the more passionate, sports-obsessed fans choose to 'top-up' legitimate subscriptions by pirating content. This happens when a subscription they have purchased only pertains to a selection of games in a league season rather than all of them, or if they want to watch an occasional, major sporting event like the FIFA World Cup.
Other fans, according to the same report, believe sports clubs and franchises have enough money, so dislike paying for it at all. These factors aren't the only ones that drive fans towards illegal streaming but go some way to illustrating the broad spectrum of justifications invoked by those who turn to pirated sports content.
For many, it's a force of habit.
There are other interesting behavioral factors that play into why people stream sports illegally. AUC Student Ruba Sayed surveyed 460 young Egyptians between the ages of 18-30 as part of a 2019 study that focused on pirate streaming at the 2018 FIFA World Cup. 67.8% of respondents either 'strongly agreed' or just 'agreed' that streaming content from pirated sources was a force of habit, whilst 48.7% of those surveyed either 'strongly agreed' or 'agreed' with the sentiment that pirating content was not actually a crime.
Although the low cost of pirate sources and expensiveness of subscription TV channels also ranked highly, in 2023, illegal streaming is simply part and parcel of how many fans watch the game – even if you're Neymar Jr., one of the richest footballers in the world. For others, the ease of access and the fact it doesn't really 'feel' like any laws are being broken play a role.
What does the law say about illegal streaming?
So many people illegally stream and download TV shows, movies, and live sports broadcasts that governments across the globe don't typically prosecute people for gaining access, rather, they instead go after those supplying the streams, the ones actually distributing the pirated content.
One issue that makes it difficult to penalize users streaming live sports events through illegal means with regard to intellectual property and copyright laws is that there's not actually a copy being made of anything, so existing copyright laws haven't always mapped neatly onto it in a legal sense. It's just a live stream, not a reproduction. This is why, in US law, the practice has historically been treated as a 'misdemeanor' as opposed to the illegal distribution of movies online for instance, which is classed as a felony.
However, at the end of last year, the US Congress passed the 'Consolidated Appropriations Act of 2023'. Within that legislative omnibus, the Protecting Lawful Streaming Act of 2020 permits law enforcement to dish out criminal penalties for people who "willfully and for commercial advantage or private financial gain, illegally stream copyrighted material", according to the US Patents and Trademark Office. Under the new law, the Department of Justice can criminally charge providers of illegal streams, but it still doesn't give them the right to go after those watching them.
In Europe, just a few weeks ago, EU lawmakers called for the amendment of copyright and intellectual property laws, demanding they be extended to live broadcasts. However, the European lawmakers were quick to clarify this had not criminalized access, rather just distribution. The bloc did criminalize the sale of IPTV boxes designed to obtain media that infringes on copyright laws back in 2017, but that came with a caveat that 'temporary acts' like live-streaming were exempt.
What are the dangers of streaming football illegally?
The primary dangers of streaming football illegally for the user, then, don't center around the legalities and the threat of persecution. The real problem facing users who visit illegal streaming sites is malware. Cybersecurity firm Webroot recently analyzed a number of illegal sports streaming websites and found that 92% contained some sort of malicious content.
The threat is getting worse, too. Research conducted by The Industry Trust towards the end of 2020 revealed that those "who illegally download or stream TV, Film and Sports content are at a higher risk than ever of suffering a host of negative personal and financial consequences", with 29% of people who illegally accessed content online were infected with a virus, malware or ransomware, 14% more than last year. 31% also said they were exposed to 'inappropriate content' during visits to such sites.
When the Digital Citizens Alliance had a closer look at Mobdro – the huge piracy app mentioned earlier on in this report – two years before it was shut down, "malware within the app forwarded the researcher's Wi-Fi network name and password to a server that appeared to be in Indonesia". That same report references "discussions where pirate operators negotiate with threat actors on the price of malware installations" observed by cybersecurity firms investigating the issue on the dark web.
There's also the issue of tracking. In 2019, two Stanford University students evaluated the tracking capabilities of a number of popular illegal sports streaming sites and compared them to legitimate sports sites. They concluded that "the legitimate sites make significantly fewer requests to known tracking domains than the worst illegal websites". They also clicked on several 'download now' links that purported to be for browser extensions, but found that:
These extensions often had the ability to read users entire browsing history, and to read and modify data on all websites users might visit.
Will Euro 2020 be the most illegally streamed football Tournament Ever?
It seems that thousands of people across the globe streaming Euro 2020 illegally. Factors that suggest so include:
The rise of digital piracy and sports piracy across the board during the pandemic.
Evidence that even the most dedicated sports fans often illegally stream occasional, major sporting events.
The fact that subscription and pay-TV channels hold the exclusive rights to show the games in regions like the Middle East and the USA.
The volume of new, illicit website domains that have been created since the start of the pandemic.
The results of ProPrivacy's analysis of the increase in search uplift of certain key terms during the first round of Euro 2023 fixtures.
How to watch the Euros safely and legally
There is one way to watch the Euros safely and legally without forking out a subscription fee to a channel. VPNs – or Virtual Private Networks – let you spoof your location by rerouting all your traffic through a private server. Any websites you visit can only see the IP address of the server you are connected to, rather than your laptop, computer, or mobile phone's. This means websites will struggle to block you from watching content based on your true location.
So, all you have to do to avoid paying for a new channel or service is to find a country where a national, free-to-air broadcaster is showing the games, – like the BBC in the United Kingdom – connect to a VPN server in that country, and then you'll accessing the channel itself, which wouldn't be available in your country without a VPN.
What's more, most VPN providers offer 30-day money-back guarantees, meaning you can claim a refund after 30 days. This is how long Euro 2023 will last – to the day – so technically, you can watch the Euros for free if you take advantage of this. For more information on how to use a VPN to access European Championships games and Euro 2023 fixture information, click the link below.