Pricing
Troop Messenger Premium costs $1 USD per team member per month, with the more fully featured Enterprise version coming in at $5 per user per month. A self-hosting option also costs $5 per user per month. Premium accounts are limited to 150GB storage, while Enterprise accounts come with 1 TB storage.
No discounts are available for longer-term purchases, but a generous 30-day free trial (no card required) of the Enterprise plan is available with unlimited team members. You can also schedule a free 1:1 demo of the product with Troop Messenger advisors.
Payment can be made via card or PayPal.
Features
Troop Messenger offers a very extensive feature list, the highlights of which include:
Instant Messaging
Group messaging
Video and voice chats
Advanced message search and filtering
Cross-platform
"Orange Members"
Self-hosted option
24/7 live chat support
Instant messaging
At its core, Troop Messenger is an instant messaging platform that enables you to easily text, voice, or video chat with other members of your team. The messaging client is filled to the brim with features, including file sharing (with previews for a wide range of image and video formats), emoticons, canned responses, and "breakouts" (inviting new team members to join a chat).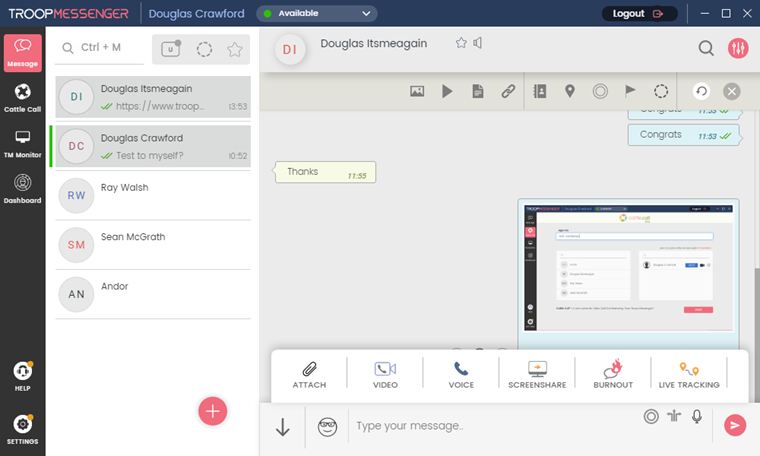 Enterprise users enjoy extra perks such as the ability to mark messages as "respond later," screen sharing, and live location tracking. "Burnout" is an interesting feature that allows users to have a private one-to-one chat for the duration of a predetermined timer.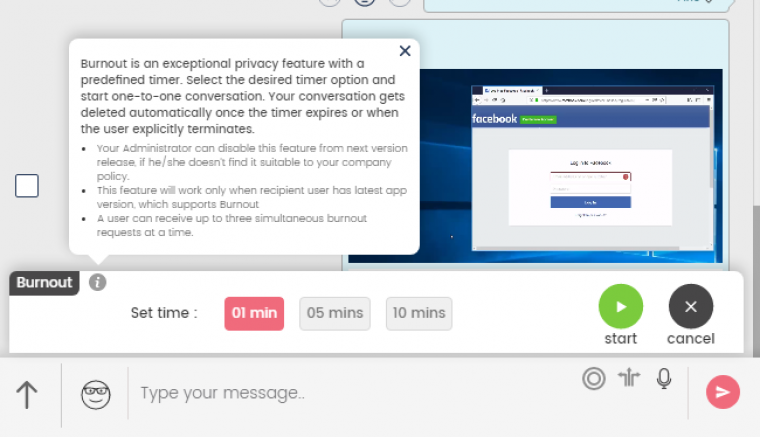 This goes a fair way towards mitigating against TM monitoring by your Administrator (discussed in the Privacy section below), but it can be disabled by authoritarian Administrators.
Group messaging
Troop Messenger allows you to create messaging groups comprising any number of team members and/or "Orange Members." A new feature is "Cattle call," which allows you to quickly set up a video conference call with up to six other users.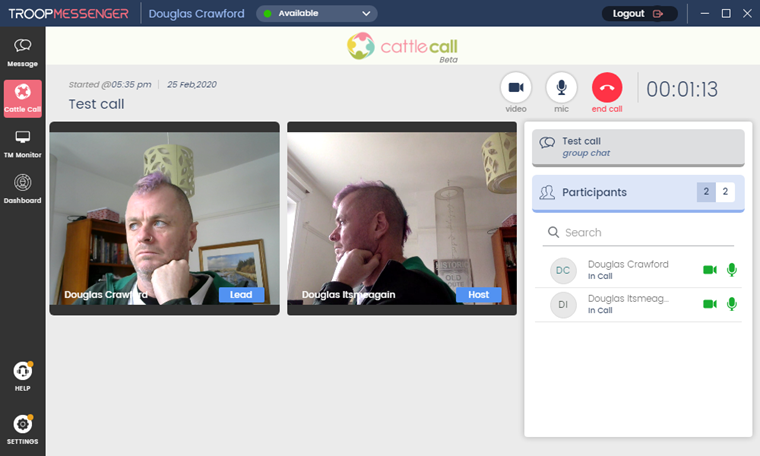 This feature is still in beta, but already seems to work well. The only thing to note is that all participants must have a camera and microphone on their devices or they can't join the call.
Advanced message search and filtering
Searches of past chats can be made by person (or all persons) or date, and then further narrowed down by applying a range of filters, such as file type, location, read receipt, and suchlike.

Cross-platform
Stand-alone Troop Messenger apps are available for Windows, macOS, Linux (as a DEB file), Android, and iOS.
It is also possible to access the service in any browser via a web console that has an identical interface to the desktop apps. Unfortunately, we experienced some issues when using the web console.
In most browsers we tried (but strangely not Firefox running on Linux Mint) we had to refresh the web page in order to update the message panel (even for messages sent by ourselves from within the console). Notifications also failed to arrive, even when enabled in our browsers.
So until these issues are ironed out, we recommend using the stand-alone apps to access your Troop Messenger account.
"Orange Members"
Besides regular team members, you can invite associates and employees from other companies, and then assign them reduced permissions such as the ability to only chat with certain team members, preventing them from seeing team member profiles, creating groups, and more.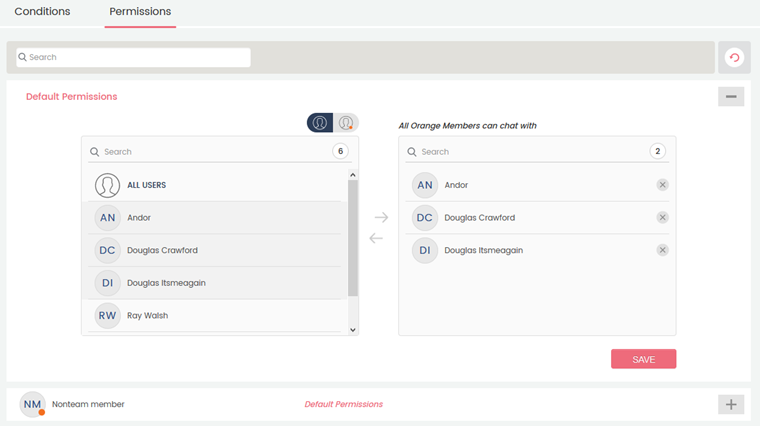 Privacy & Security
Jurisdiction
Troop Messenger is a product from Tvisha Systems PVT Ltd., which is based in India. "The place of jurisdiction shall be exclusively in Hyderabad."
Mass surveillance of the internet in India is extensive and pervasive. The Lawful Intercept And Monitoring Project (LIM), in particular, has been roundly criticized for violating "the government's own rules and notifications for ensuring 'privacy of communications'."
The Personal Data Protection Bill 2018, which as far as we can determine has yet to be passed into law, has alarmed activists with its requirements for technology companies to keep extensive logs, and for its formalization of already existing requirements to make this data readily accessible to the Indian government.
Is Troop Messenger open source?
No. Troop Messenger is closed source proprietary software, so there is no way to verify that it is doing (and only doing) what it says independently.
We should note that many popular competing products such as Slack, Microsoft Teams, and Flock are similarly closed source, although open-source alternatives such as Mattermost and Rocket. Chat are also out there.
Logs
Troop Messenger collects a great deal of metadata about its users, including:
an IP address, assigned to the computer which you use
the domain server through which you access our service
the type of computer you're using
the type of web browser you're using
the device id's and other details"
It also collects a lot of personal information, including your phone number when you first sign up for the service. This is required, but is not used for verification.
Technical security
Data is secured using HTTPS during transit and encrypted server-side with AES-256 at rest. Troop Messenger declined to provide further details when asked.
Since data is encrypted by Tvisha server-side (as opposed to being end-to-end encrypted client-side by the customer), Tvisha can decrypt it in order to comply with legal requirements.
Self hosting
Troop messenger promotes itself heavily as a privacy-friendly messenger option suitable for organizations such armed forces, governments, NGO's, educational facilities, and suchlike.
The basis for such claims, which require a level of privacy not found with its hosted Premium and Enterprise accounts, is that it is possible to self-host Troop Messenger on your own servers.
This heavily mitigates against most of the privacy issues which affect Troop Messenger's hosted plans. You can host the server anywhere you please and remain in complete control of your own data.
This is great, but the software remains closed source and Troop Messenger personnel are involved in the setup process, during which licence key is issued for the required number of team members. This can be renewed each year.
Staff privacy
In addition to privacy and security concerns from outside your organization, it is worth discussing the privacy staff members enjoy from their own administrators when using this service.
By default, administrators do not have access to personal chats between team members. They can, however, request such "TM Monitor" access from Tvisha, which will be granted if proof is provided that the requester has suitable authority.

As far as we can tell, team members are not alerted when TM Monitor access is enabled. Fortunately, though, the Burnout feature (discussed above, and only available to Enterprise users) allows team members to chat in private, even when TM Monitoring is enabled.
The Burnout feature can be disabled by administrators, but doing this should provide users with sufficient warning that their chats are not private.
Customer support
A useful selection of FAQs, how-tos, and video guides are available on the Troop Messenger website. If you need additional assistance, then 24/7 live chat support is available. We found responses were quick, friendly, and generally helpful (although support declined to discuss if any authentication methods are used to ensure the integrity of stored data).
Ease of Use
Signing up for a 30-day free trial is as easy as providing a name, company name, email address, phone number, and creating a password. You can then sign into the web interface or download or sign into the apps.
Management functions
Teams are managed through the web interface Dashboard. Admins can invite new team members and assign them roles within your organization, departments, labels, and suchlike. You can also download a CSV template for completion in Excel, which you can then upload for easy bulk team management.

Newly invited team members receive a regular (plaintext) email containing a password generated by Troop Messenger.
This is the only form of verification needed to sign into their account, so team managers should be strict about requiring team members to change their passwords to something more secure when they first join the service.
The Dashboard also allows Admins to view reports, handle billing, and perform a variety of other management functions.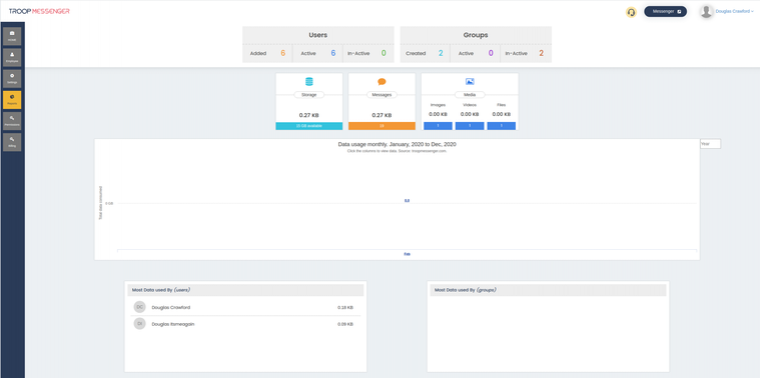 Desktop Messenger clients (and the web Messenger)
The Troop Messenger clients for Windows, macOS, and Linux all provide stand-alone access to the Messenger web interface, all of which are basically identical in use.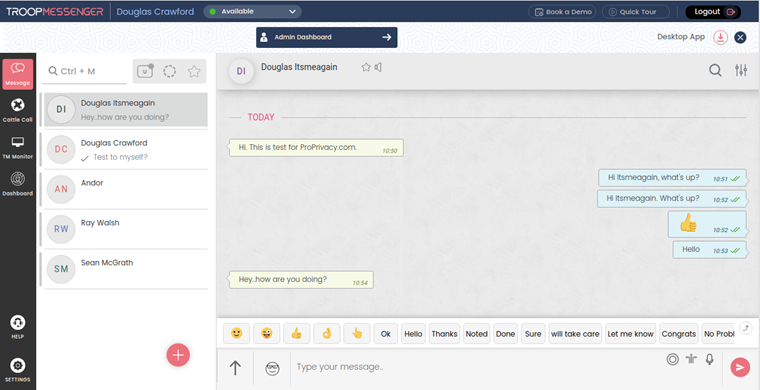 As already discussed, you can do simple text messaging, complete with emoticons, canned responses, file and document sharing, ad-hoc group creation, audio and video chats, and more.
This is all very intuitive, and it works smoothly in the apps, although (as we have also already discussed) we did encounter some problems when using the web interface inside a browser window.
The mobile apps
The Android and iOS apps are all but identical, and basically just modify the web Messenger interface to a phone-screen friendly format. It is worth noting that no tablet optimization is available, so the iPad app is just a bigger version of the iPhone app.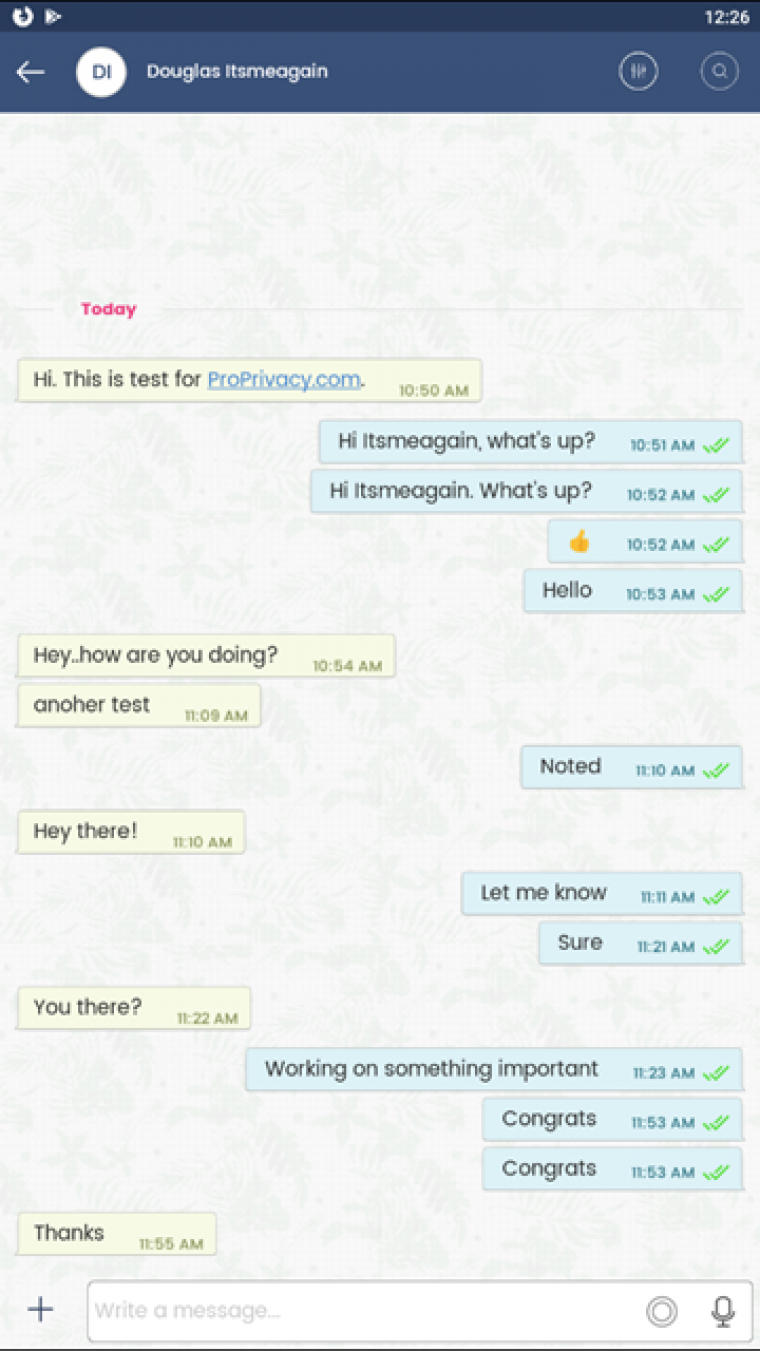 The apps are installed through the relevant stores and work well.
Final thoughts
Troop Messenger is a very fully featured team messenger and group collaboration tool that (web Messenger glitches aside) works very well. Here at ProPrivacy, we use Slack for this purpose, but Troop Messenger impresses us with a larger feature-set and lower price-point than Slack.
If privacy is a major concern for your organization then Troop Messenger's hosted plans are not very suitable thanks to a combination of the amount of metadata collected, India's surveillance laws, and the fact that end-to-end encryption is not used. Similar, however, can be said for all Troop Messenger's main commercial rivals (including Slack).
What makes Troop Messenger interesting from a privacy perspective is the ability to host the service on your own servers. This solution should make Troop Messenger a truly private platform, although the fact that the code is closed source and Troop Messenger helps in the setup process does mean a certain level of trust in the service is still required.
0 User Reviews
Leave a Review
Thanks for your review!