Since it began trading more than two decades ago, Whitepages – a US-based people-search company – has amassed the contact details and other personal data of more than 250 million US citizens – more than 75% of the population.
Anyone can use it to find out another person's address and landline number – all they need to do is enter that person's name. For a fee, they can also find out who that person's neighbors are and who they're related to, as well as their mobile number, financial details, and marriage status. If you'd rather such information wasn't publicly available, don't worry – we can tell you how to quickly opt out of Whitepages.
Why opt out of Whitepages?
Whitepages scrapes personal data from social media platforms, consumer information lists, data brokers, state licensing agencies, and voter registration records.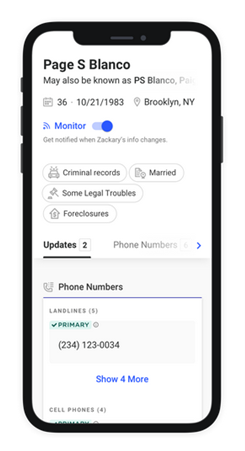 When consolidated, this information paints a picture of who you are, who you were, and where to find you. This is invaluable to anyone who wants to find out whether you'd be a suitable tenant, employee, or even romantic partner.

More worryingly, the information can be used by those with more sinister motives. Stalkers or anyone engaged in other forms of harassment can find out everything they need to pinpoint your whereabouts.
While, for the most part, your information won't be used for criminal activity, the fact remains that you likely never consented for it to be used in this way. If privacy is important to you – and you don't like the idea of the company's owners profiting from the sale of your personal data – we recommend opting out of Whitepages.
How to opt out of Whitepages
Since 2020, users have been more easily able to remove their information from Whitepages. Follow these steps to get started:
Go to Whitepages.com and enter your name. Click "Search"
Ignore the first instance of the relevant record – this leads to purchase options. Instead, scroll down until you see your record again, but this time with "View Details" in the bottom-right corner. Click the "View Details" button
Copy the URL of your listing page
Visit https://www.whitepages.com/suppression-requests
Copy and paste the URL of your profile into the empty field and click "Next"
Check that the displayed record is your own. If it is, click "Remove Me"
Select a reason for wanting your data removed from the drop-down menu and click "Next"
Enter a mobile phone number into the empty field. Whitepages will use this to verify your identity. Click the check-box below that, then click "Call now to verify"
Answer your phone and – when prompted by the automated caller – enter the code that's displayed on your screen
This completes the process, and your listing should be removed within the week. Check back after seven days to ensure that your listing has been removed. If it hasn't, submit a ticket to the Whitepages customer support team by clicking the blue "Request Help" button
How to stop your data from being sold
Unfortunately, it's not just Whitepages that has made a business out of selling what should be private information. Data brokers buy and sell your personal data every day. They trade with each other, and with advertisers, retailers, and people-search sites.
Worryingly, the industry shows no signs of slowing – quite the opposite in fact. Transparency Market Research estimates that the data brokers market will reach US$ 462.4 billion by 2031. Many find this alarming – and rightly so. But what can you do about it?
One option is to try and contact individual data brokers and ask them to remove your data. While this does work, it's a time-consuming process. There are hundreds of data brokers and some may require additional prodding before actioning removal requests.
A better option – if you can afford it – is to use a dedicated data removal service. There are several options available, but we'd recommend the following:
Incogni - The best option for removing your data from people-search sites. Contacts more than 130 data brokers with requests, and checks back to ensure removal. Great value for money and available to US, UK, EU, Swiss, and Canadian residents.
Privacy Bee - Removes yours and your family's data from people-search sites like Whitepages, as well as a range of data brokers and mass marketers.
DeleteMe - Contacts more than 30 data brokers with removal requests. Provides a detailed monthly progress report. The service is available to residents in nine countries.
The best services to opt out of people-search sites
Now, let's consider each of these in a little more detail.
1. Incogni
Editor's Choice | September 2023

Incogni takes care of the tedious work of contacting individual data brokers with data removal requests, and then subsequently chasing them up. It's a great value service that's easy for anyone to use.
Free option

Yes

Pricing

1 month: $12.99/mth
12 months: $6.49/mth

50% OFF

Pros

Affordable subscriptions
No long-term contract
Contacts data brokers in UK, US, EU, Switzerland and Canada
Easy-to-use service
Owned by Surfshark – a trustworthy company

Cons

Duration of in-progress requests not clear
Incogni is a service provided by the people behind Surfshark – one of the consistently best VPNs. Like Surfshark, Incogni is reasonably priced without skimping on features.

Getting started is easy – just tell Incogni which information you want removed, then give it permission to work on your behalf by signing an authorization form. Incogni will then start contacting data brokers with removal requests for the specified information.

The service selects which particular data brokers are most likely to have your data and targets those with the highest probability. These can include financial information brokers, marketing brokers, people-search brokers, recruitment data brokers, risk mitigation brokers, and health information data brokers.

The Incogni website has an online dashboard where you can keep track of the service's progress. It tells you how many requests have been sent, how many are in progress, and how many have been completed. You can see specifics about the individual data brokers – such as the data they trade in – in the "Detailed View" tab.

A 12-month subscription costs $5.79 a month, or you can pay on a month-by month basis, which costs $11.49 a month. Incogni is available to residents of the US, UK, EU, Switzerland, and Canada.
2. Privacy Bee

Privacy Bee is a US-only data removal service that contacts up to 200 data brokers and keeps your details off shared marketing lists. Subscriptions allow the inclusion of family members, who can specify their own privacy preferences.
Free option

Yes

Pros

Mass opt-out of marketing lists
Contacts more than 200 data brokers
Browser extension for online privacy
Data breach monitoring

Cons

Limited to US residents
Relatively expensive
Privacy Bee initiates requests to remove your personal information from the databases of up to 200 data brokers. The service also monitors the dark web for data leaks, offers users an anti-tracking browser extension, and maintains users' ongoing exclusion from all major marketing shared lists.

Subscribers can add family members to their plan, who subsequently get their own login, with options to tailor their own personal privacy requests. This goes some way to justifying the annual subscription price of $167 – which equates to approximately $16.42 a month.

Privacy Bee allows users to set custom privacy choices for any company, specifying which are to be trusted and which should immediately delete any data. The latter is contacted with removal requests.

Users need to specify which personal data they want removed, and also sign a form authorizing Privacy Bee to act on their behalf. Once this is done, Privacy Bee says that it processes an average of two to three data-deletion and opt-out requests per day for each user.

Contacted companies should respond within 45 days, and Privacy Bee will encourage them with timely reminders of the applicable privacy legislation. The service is currently only available to US residents.

DeleteMe is a US-based data removal service that's also available in eight other countries. It provides monthly reports with lots of detail regarding its progress. Subscription plans are available for one, two and four people.
Free option

Yes

Pros

Re-checks data removal every two months
Monthly privacy report
Custom removal requests available

Cons

Not the largest bank of data brokers
Delete Me is a well-respected data-removal service that provides users with regular, detailed reports regarding their data.

After signing up, users need to specify all the names, addresses, and phone numbers that they want removed. Once approved, subscribers can initially expect to receive a DeleteMe report after seven days, and then every month.

Amongst other things, this report details the number of listings reviewed, the number of listings removed, and the number of data brokers identified with records of users' personal data.

Subscribers can also see which specific data brokers have removed their data, and which removals are currently in progress. When a removal has been successful, DeleteMe checks back again after 60 days to ensure that user data hasn't reappeared.

There are a number of subscriptions available, which get more expensive if extra people are included in them.

A one-person, one-year subscription costs $129, which is approximately $19.08 a month. A one-person, two-year subscription is $209, which works out at $17.42. A two-person plan costs $229 for one year and $349 for two years, while a four-person plan costs $329 for one year and $499 for two years.

DeleteMe is available in the US, Australia, Canada, France, Germany, the Republic of Ireland, The Netherlands, Singapore, and the UK.
How to opt out of Whitepages – FAQs
Image credits: Chris Sansbury and OpenClipart-Vectors on Pixabay