Mozilla, the company behind the popular Firefox browser, has announced that it has entered into a deal with ProtonVPN. The business agreement which is due to start tomorrow, October 24, will serve ProtonVPN adverts to consumers living in the US who use the latest "Quantum" version of the browser (Firefox 62).
According to the blog post by Mozilla, a "random" group of American users will be served the advert - which will appear in the top right corner of their Firefox window. According to the firm, for the time being, the advert is just an "experiment."
In its blog post on the subject, Mozilla says that it is "starting the process of exploring new, additional sources of revenue that align with our mission." That mission is two-fold - to bolster its revenue streams and create stability within the company - while also promoting products and tools that promote better online health.
Firefox users that decide to take Mozilla and Proton up on the promotion, will be able to sign up for a monthly account of ProtonVPN at a cost of $10 per month. Unlike it is being misreported elsewhere - this is not more expensive. Although it is possible to get ProtonVPN on a yearly basis at a cost of $8 per month, the monthly ProtonVPN Plus subscription has always cost $10 dollars.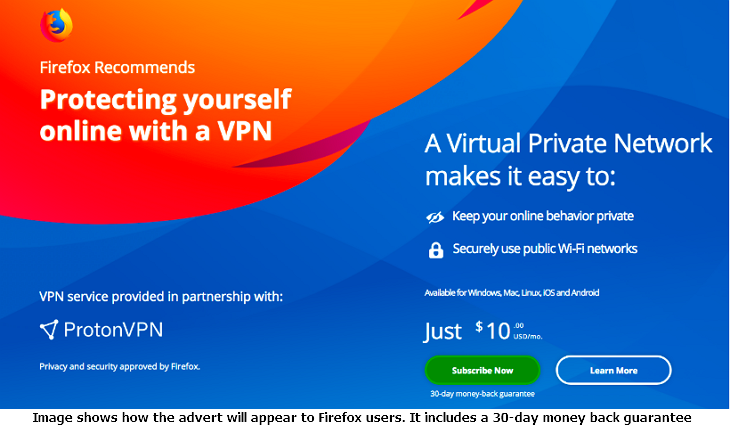 Cutting out the middleman
This experimental negotiation between ProtonVPN and Mozilla is definitely interesting. At the moment the vast majority of VPN users rely on websites like ProPrivacy.com to learn information about VPNs. There are literally hundreds of VPNs on the market, and the quality and prices of those services varies wildly. This makes choosing a VPN quite difficult, especially for people entering the market.
Due to a barrage of news over the past few years (including the now infamous Facebook Cambridge Analytica scandal), people in the US are quickly waking up to the fact that their data is being harvested - not only by social media services - but also other tech giants like Google and Microsoft; as well as by telecoms companies such as Verizon and AT&T.
In April of 2017, the Trump administration passed laws that permit ISPs to retain user's web browsing habits and sell them to third parties. That means a VPN is the only way to stop ISPs from legally collecting and disseminating web browsing habits about US citizens to third parties. Unfortunately, despite an uptick in people purchasing VPN subscriptions in North America since the law was changed - 47% of citizens still remain oblivious to the existence of VPNs.
In fact, although stats reveal that 95% of US citizens are either "somewhat concerned" or "very concerned" about how companies use their data - only 17% actively use a VPN. That proves there is still a lot of work to be done in the US to raise awareness of the importance of VPNs.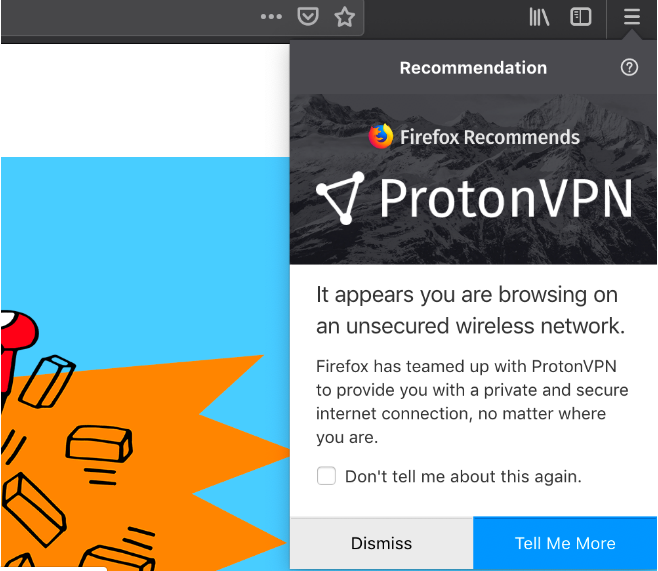 A clever campaign
With 83% of US internet users still failing to protect their privacy with a VPN, Mozilla and ProtonVPN have decided to pounce on Firefox' influence. In the US around 80% of the population (260 million people) use the internet. This means a staggering 216 million people still don't have a VPN.
In the US, approximately 5% of internet users browse the internet using Firefox. That means Mozilla has the opportunity to advertise VPNs to around 10 million citizens. And, if Mozilla decided to roll this out worldwide, it could educate approximately 170 million internet users about the benefits of VPNs.
Admittedly, here at ProPrivacy.com, we would prefer for US consumers to be given a bit more choice. It is true that ProtonVPN is a reputable firm that comes with provenance; having been founded by the makers of Proton Mail. With that in mind, Mozilla has chosen well (though I can think of VPNs that are better for privacy - and many cheaper options too).
Despite this, we generally applaud Mozilla's efforts to educate the US public about the importance of VPNs. Our only criticism is that we would prefer for Mozilla to also disclose to its users that ProtonVPN offers a free version of the VPN that they can use if they are hard up for cash.
After all, when people's privacy is at stake money shouldn't be an obstacle. And, while there is a lot of money to be made advertising the paid version of ProtonVPN, people always deserve to be informed about the fact that there are free VPN options available on the market.
Edited on 24/10/2018 to add: It has now come to light that Mozilla will be serving the experimental advert to consumers under various circumstances: When they visit streaming websites, when they connect to "an unsecured wifi network with a captive portal" (such as in a hotel lobby), or when they visit any one of 65 VPN provider's domains. The fact that Firefox users will be served the ProtonVPN advert when they visit competing VPN domains, reinforces the reality that Mozilla's primary concern is to sell ProtonVPN (rather than to educate people about VPN security). Anybody served the Mozilla advert is (again) advised to shop around before settling on ProtonVPN.