Experts have raised privacy concerns after Indian authorities announced proposals to roll our facial recognition cameras designed to track women's facial expressions for signs of harassment.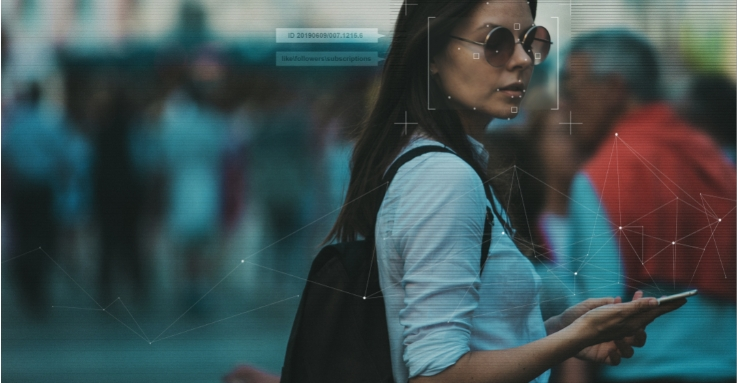 The police will introduce the overreaching surveillance program in the north Indian city of Lucknow, Uttar Pradesh. That city has been singled out by police as a hotspot for physical harassment and rape, with huge numbers of crimes being reported each year.
Across the Indian continent, the authorities receive reports of a rape every 15 minutes, and the police have now singled out 200 locations in Lucknow that they believe would benefit from constant real-time facial recognition scans.
However, digital rights groups like the Internet Freedom Foundation (IFF), consider introducing cameras to monitor women's facial expressions a massive overreach.
Harmful to women's rights
Experts have warned that the surveillance tactic will almost certainly lead to intrusive policing and privacy violations - without sufficient proof it can tackle the problems of violence, rape, and harassment towards women.
Activists fear that this is part of a snowball effect resulting in ever-expanding surveillance throughout India - where cameras have already been deployed in public spaces such as airports, railway stations, and cafes.
According to the police, that far-reaching surveillance nexus is necessary to tackle crime in a nation that is vastly under policed. However, that they must scan women to improve security is an extremely controversial and irreconcilable use of facial recognition.
Speaking to Reuters, Anushka Jain an associate counsel at IFF said, "the whole idea that cameras are going to monitor women's expressions to see if they are in distress is absurd."
"What is the expression of someone in distress - is it fear, is it anger? I could be talking to my mother on the phone and get angry and make a face - will that trigger an alert and will they send a policeman?" she added.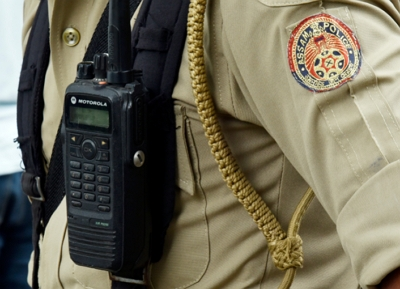 Severe social consequences
The idea that police will accost women simply because they make the wrong expression is massively troubling because it could lead to potentially serious social ramifications.
It is not hard to imagine, for example, a woman walking down the street with her husband while arguing with her mother on the phone (as suggested by Jain).
If the police were sent to intercept that couple, it is easy to appreciate how the embarrassment and stigma caused by the invasion of privacy could cause a chain reaction.
Subsequently, rather than protecting women, these types of instances could lead to unconscionable social ramifications where women continually consider their public actions and facial expressions for fear of attracting scrutiny.
The possibility that this technology will cause women to be more, rather than less uncomfortable when moving around in public spaces, is something that has not been adequately addressed by the Indian authorities.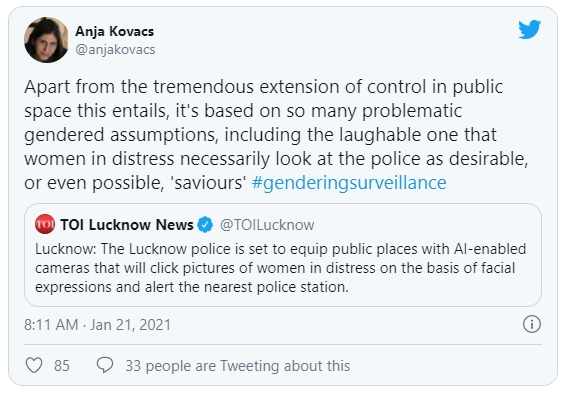 More police not surveillance
Most activists agree that a more appropriate way to improve women's security in India would be to increase police patrol numbers in dangerous and affected areas. Unfortunately, activists like Roop Rekha Verma – herself a resident of Lucknow – are unconvinced of the police's true motivations.
Talking to Reuters, Verma complained about the police force, which she says frequently fails to take action – and even turn women away – when they attempt to register a harassment complaint. "And they want us to believe they will take action watching our facial expressions?" she said.
Ultimately, the concept that women must have their faces and emotions tracked for their own protection is an excessive and dangerous precedent that stands to affect women's privacy rights negatively, throughout India, if the government expands the program.
Raman Jit Singh Chima, Senior International Counsel at Access Now, told Newsweek that there is no evidence that activists familiar with harassment and violence towards women in India are in favor of such tools. He also warns that "there exists a high likelihood that they would be used to further surveil women."
With this in mind, the dangers posed to women must be used to pressure the Indian government into passing privacy regulations that restrict the police's use of facial recognition. According to Chima, failure to pass such laws will cause the use of technologies that "directly infringe protected fundamental rights in India."