In an attempt to combat illegal torrenting and pirating of copyrighted content, a group of copyright-holding film companies are calling for VPN providers to log user data and disconnect pirates in a lawsuit targeting several VPN companies, including Surfshark and ExpressVPN.
This isn't the first time that VPN companies have been sued in relation to torrenting, piracy and copyright infringements, but that doesn't mean it's a common occurrence. Unfortunately, as illegal streaming and torrenting increases, so too does the money lost by copyright holders – resulting in mounting pressure on VPN companies to restrict the use of their services for privacy.
The lawsuit claims that the "defendants advertise their VPN services for the purpose of engaging in movie piracy", and argues that providers have the ability to monitor and restrict user access to such services, but willfully ignore the use case.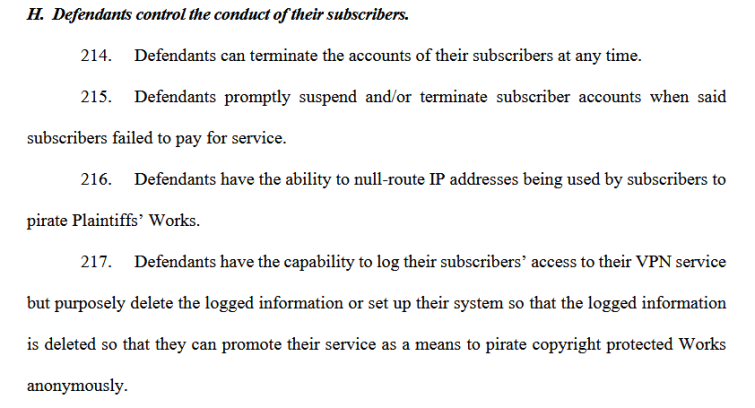 Further to this, the plaintiffs have argued that court should force the defending companies to log users' access and should suspend subscribers that repeatedly use their services for illegal torrenting. This is a dangerous suggestion that fails to consider the primary use of VPNs – privacy. The core purpose of a VPN is to secure data-in-transit and protect it from prying eyes. If this order comes to pass, and providers are themselves forced to do the prying, a VPN's purpose will be undone completely.

It's no secret that a portion of users take advantage of a VPN's encryption to "protect" themselves whilst engaging in illicit activity. However, we must not ignore the whistleblowers, journalists and activists who utilize these services to protect their lives from oppressive regimes, hyper-censorship, and immoral organizations. Forcing VPN providers to log user activity is a slippery slope to stripping that lifesaving barrier from those who need it most – and with invasive surveillance organizations such as the Five Eyes, and the NSA, this is a deeply real and troubling possibility.
At the time of writing, the defending companies are yet to make a statement, and we expect they are gearing up for a lengthy and significant legal battle. While this may, on the surface, appear to be in the defense of content creators and copyright holders, it stands to be grossly misused, misinterpreted, and mishandled. If the trial results unfavorably, VPN users could very well find these services redundant – incapable of providing the privacy and security that was once promised.
We'll be keeping a close eye on how this story unfolds.