How Can I Watch Champions League Online?
There are a couple of ways you can watch Champions League games online. All of the streaming services mentioned here involve some sort of subscription, so make sure you check your local TV listings to see if the games are being shown for free. UEFA has a full list of local broadcasters for the 2017/2018 Champions League.
With Fox owning rights to Champions League games in the US, FoxSoccerMatchPass is the best way to watch Champions League football online. The $19.99 a month price tag might be a bit high, but keep in mind that this will cover all 145 Champions League games, as well as all Bundesliga and Europa League games.
FoxSoccerMatchPass also comes with a seven-day free trial, allowing you to stream a number of games for free! You'll need to sign up using credit card details, but simply cancel your subscription before the seven days are up to avoid getting charged the $19.99.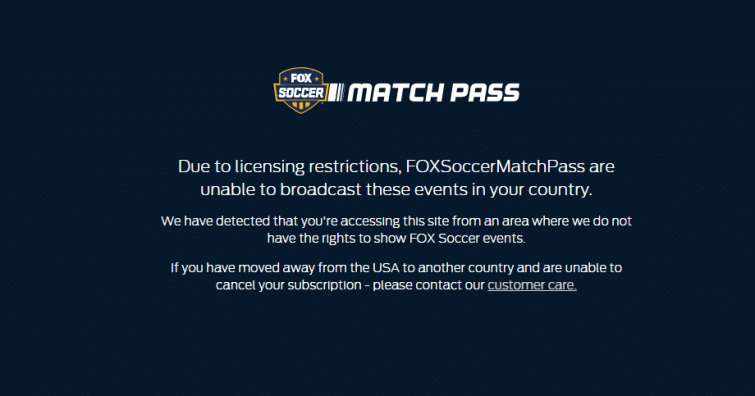 The one catch with FoxSoccerMatchPass is that the service is restricted to US residents. Thankfully, those traveling outside of the US can use a VPN to watch FoxSoccerMatchPass.
Sling TV is a popular cord-cutting service that gives access to Fox Sports 1 and Fox Sports 2. With the Fox Sports channels broadcasting all Champions League games, Sling TV is another excellent way to ensure you don't miss any of the big matches.
There's a seven-day free trial available that will let you stream the games for free. Sling TV also enjoys awesome compatibility with a number of devices and platforms, including Roku, Xbox One, Chromecast, Android, and iOS.
Unfortunately, Sling TV suffers from the same geo-restrictions as FoxSoccerMatchPass, with the service only available to US residents. Keep reading to see how you can unblock Sling TV from outside the US!


BT Sport has the broadcasting rights for the Champions League in the UK. BT will be showing Liverpool vs. Spartak Moscow live on Wednesday 6 December. Unfortunately, watching BT Sport online does require a UK cable subscription, which is obviously a pretty big issue for non-UK residents.
If you have a BT Sport subscription and are traveling overseas, you can tune in to watch the games by following the step-by-step instructions below.
Use a VPN to Watch Champions League Football
Unblocking any of the streaming services below requires an active Virtual Private Network (VPN) connection to the US or UK (depending on your streaming method). You can read more about VPNs in this handy beginner's guide. Read my step-by-step instructions on how to use a VPN to unblock these streaming services!
Select one of the Champions League streaming services I've listed above.
If the streaming service isn't available in your location, sign up to a VPN. My top recommendation for streaming UCL games is ExpressVPN .
Download and install the VPN software on your internet-connected device.
Connect to a VPN server in a country where streaming is allowed (the US for FoxSoccerMatchPass and Sling TV, or the UK for BT Sport).
Once connected, go to the streaming service you've selected and sign up. Once that's done, you're all set to start streaming UCL games!
Note: stay connected to the VPN while streaming to avoid any playback issues. You can disconnect from the VPN when you're done streaming!
IMAGE CREDIT: UEFA Champions League