Plenty of people living outside of India want to be able to access geo-restricted content. The answer, of course, is to get an Indian IP address using a VPN service. By getting an IP address in India restriction notices magically disappear, and people are able to access content designated 'for India only'. Whether it's people in neighboring counties - or Indian speakers living in distant lands - the reasons to want an Indian IP address are numerous! Even non-Indian-speakers around the world desire India IP addresses to unblock Star Sports - a popular Indian sports channel. VPNs allow Internet users to securely 'tunnel through' to India at will. In doing so their IP address is altered, which makes them appear to be in India.
Furthermore, VPN software encrypts all user data as it passes from their devices to company servers. The result is that ISPs, governments, landlords or employers can't tell what VPN subscribers are doing online. That means high levels of privacy and anonymity while surfing the web. With a VPN, any website you visit also receives strongly encrypted data from the VPN server. As a result, even the website you are visiting has no idea who or where you are.
In our step by step guide, we will walk you through all the steps for unblocking geo-restricted websites in India. With a VPN service, you can easily spoof your IP address into India.
Getting an Indian IP address is super easy!
Get a subscription with one of our recommended VPNs for India. For getting an Indian IP we would suggest ExpressVPN. However, to give you some choice in the matter we have reviewed five awesome services in total. All of them are excellent for getting an IP address in India, so the choice is up to you.
Download and install the VPN software from your chosen provider's website.
Connect to a VPN server situated in India.
Navigate to the Indian website that you wish to use.
Relax and delight in unrestricted access to as many websites in India as you like, thanks to your VPN's Indian IP address.
Get an IP for India: Side by Side Comparison
Get a Indian IP Address
Subscribe to a service and Download the VPN Software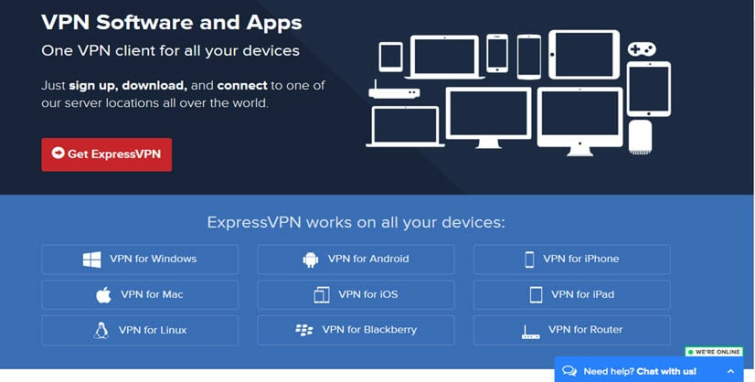 Once you have browsed our recommended Indian VPN services for getting an Indian IP address, the next step is to decide which one you prefer and click through to their website. Having navigated to the website, you will need to subscribe to the service and then download the VPN software.
All of the VPNs we have suggested have software for all the popular platforms. In addition with ExpressVPN, for example, you are permitted to install it on three distinct devices. As such, you will be able to use the VPN service on your tablet, phone, PC or laptop. If you choose to pay for your VPN every month it does cost more than if you pay yearly. So if you can afford it (and think it likely that you will use your VPN throughout the year) it is much better to pay for a whole year at a time.
Downloading the software is quick and easy, all you need to do is be careful that you download the correct version for your platform.
Ensure that you have chosen OpenVPN
We highly recommend the OpenVPN encryption protocol. OpenVPN is a recognized industry standard VPN encryption protocol that will keep you secure and private as you spoof your IP address to India. As Streaming some geo-blocked content is in breach of copyright (which is why it is geo-restricted) you need to be very careful. With OpenVPN, however, even if you choose to view copyrighted material you will be secure.
A polite reminder
While it is true that many people use VPNs to overcome restriction notices we must stress that we can't specifically condone breaking the law. If you choose to access copyrighted material in India or elsewhere, you do so at your own risk.
The good news is that with OpenVPN selected you Internet data will be highly secure and as anonymous as is possible - allowing you to do what you want on the Internet in a highly secure manner.
Connect to one of the VPN servers in India
Have you subscribed, downloaded the software, and selected the OpenVPN protocol? Then it is time to connect your VPN to India servers.
ExpressVPN has more than one Indian VPN server for you to choose from. This is ideal because it gives you a choice of India IP addresses. As such, if one is a little sluggish for some reason you can always connect to another one on the list. To connect simply choose the Indian server which is higher up in the list (this one has the smallest 'ping' which means it is the fastest one currently available) and click connect.
Once a connection has been successfully established you are done - you now have an IP address in India!
For more information visit our India VPN page.
Go to any Indian Website you like!
As soon as your VPN is installed, you can go and visit restricted websites anywhere that your VPN has a server. ExpressVPN, for example, has servers in 78 countries. that means that not only can you 'spoof' your location to Indian IP addresses, but to any one of those 78 locations. The same is true of all the other VPNs on our list, which also have plenty of servers dotted around the globe.
All of the VPNs we have placed in this guide not only provide world-class security, privacy and anonymity but have fantastic servers in India and around the world. Perfect for getting an IP address in India - or anywhere else you fancy. The result is that you will be able to visit any Indian (or other) websites you want.
Simply connect to a server in the country that you want to visit, and the enter the web address you want to visit into your navigation bar. Your VPN will give you the appearance of being in that country, IP address and all.
Considerations for getting an IP address in India
There are a number of things that must be considered by people who want to get an IP address in India. There are over 800 VPN services out there to choose from, and here at ProPrivacy.com we understand that choosing can seem a bit daunting. On top of that, the vast majority of those VPNs are slow, offer poor security options and run their VPN services in a way that puts users at risk.
If data isn't handled in a professional manner, encryption isn't top-notch and VPN servers aren't of the highest quality, then you will be paying for a service which is putting you at risk. Some VPNs even have poor privacy policies that allow them to sell your data to third parties - this is a hugely risky practice that puts you at severe risk!
For that reason, when selecting the VPN services for this guide we took into account all the most important aspects that you need to be aware of for getting an India IP address.
It's all taken care of!
Connection speeds. Some VPNs have terrible slow VPN servers. Slow servers are good for very little and certainly won't allow you to watch HD streaming video without annoying lag and buffering. Our recommended VPNs all have tried and tested networks with outstanding VPN servers that provide excellent connection speeds for India.
Security. All of the VPNs we have selected use top of the range encryption protocols. They all offer a choice of protocols and provide OpenVPN our favorite protocol here at ProPrivacy.com.
Privacy policies. All of the VPNs we have put in this guide are well subscribed and trusted VPNs. They all have excellent privacy policies and care strongly about protecting their users. None keep the vital usage logs that could, in theory, be used to later reveal what websites you visited. With strong privacy policies and a trusted and reliable track record, you know these VPNs have been tried and tested time and time again and will protect your digital footprint as you spoof over to one of their Indian IP addresses.
VPN into India - Conclusion
In this guide, we have detailed all the steps necessary for getting an Indian IP address. Although for getting an Indian IP address we recommend ExpressVPN, the other VPNs that we have featured also all have what you need to get an IP address in India. All the VPNs are secure, offer great encryption, have strong privacy policies and have a proven track record for providing their subscribers with a world class service. So go ahead and choose your VPN for an Indian IP address with confidence safe in the knowledge that you simply can't go wrong.
Get an Indian IP address summary