Think of how many files you've collected over the years: your photos, playlists, work documents and more – and think of how devastating it'd be to lose them. Luckily, cloud services exist to eliminate that risk and provide a safe online space where you can back up all your most important digital treasures.
Deciding on a provider isn't always easy, however, so we've hand-picked 5 of the best cloud backup services that are compatible with Linux. Keep scrolling, and check them out!
Best 5 cloud storage for Linux – at a glance
Don't worry if you're in a rush – you can see our top Linux picks in the list below, though you'll want to check out our in-depth reviews a little later in the article for all of the details. Each cloud service we've selected is incredibly reliable, boasts industry-standard security, and is beginner-friendly.
IDrive - The best cloud backup for Linux. It offers a fantastic free account plan where you won't need to hand over your credit card details.
ElephantDrive - A great value Linux service for frequent collaborators. Offers snappy automatic syncing and password protected file sharing.
pCloud - A well-known and well-regarded provider that works seamlessly with Dropbox, Google Drive, and Facebook.
CloudBerry - A solid all-rounder that packs strong AES 256-bit encryption, SSL protocols, and can even create USB keys.
MEGA - Balances impressive encryption with smart sharing features, so you can collaborate securely, wherever you go (and with whichever device!)
There are a lot of cloud storage services on the market right now, and shopping around for the best provider can be an arduous task – and not only because plenty of services just aren't compatible with Linux. So, in order to claim a spot in our top 5, a cloud backup has to pack the following features:
Linux compatibility
Outstanding encryption
Intuitive backup features
Smart sharing tools
Good value for money
Best Linux cloud storage | In-depth analysis
We recommend the following cloud backup services for anyone using Linux.
1. IDrive
Editor's Choice | November 2023

iDrive is the best cloud backup for Linux users. It impresses us with 5TB of storage and easy syncing from all your devices – Linux included.
Pricing

Personal - 5TB: $1.65/mth

75% OFF

Personal - 2TB: $4.34/mth
12 month: $17.38/mth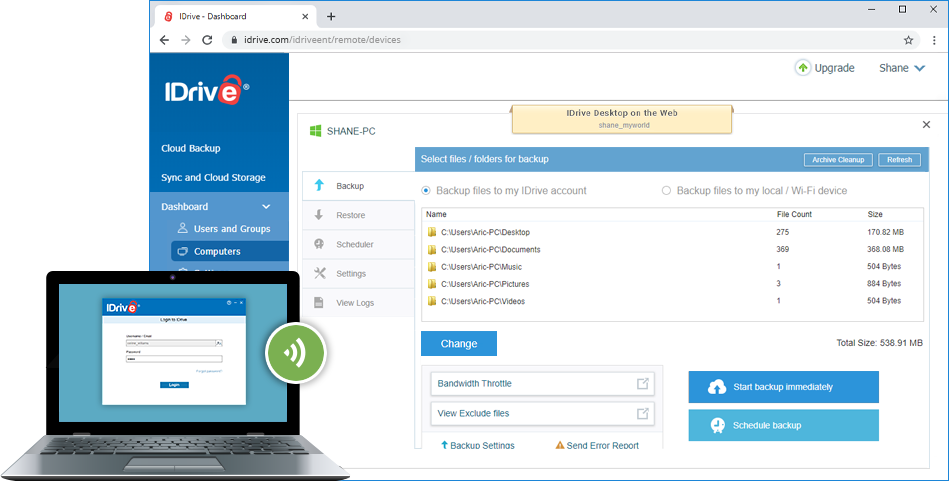 iDrive is great if you're a Linux user looking for a compatible cloud storage service – offering customizable and scriptable solutions. Once you've configured the iDrive scripts on your device, all you'll need to do then is sign in via the provider's web client and start securing your files.

A one-year subscription to iDrive's personal package will cost you $59.62, though you'll have access to 5 TB of storage space and be able to connect as many computers as you like to your account. Alternatively, if you'd rather try before you buy, a free 5 GB plan is available to all users.
Smart backup solutions
iDrive allows you to back up files from just about any PC, Mac, iPhone, or Android device, and you'll also be able to secure the contents of your external hard drives. Each time you connect a device to your iDrive account, you'll see that a unique folder is created, which helps prevent data overlap and keeps things organized.

As well as offering block-level file copying (which only replaces the modified parts of your files), iDrive's backup won't delete any data until you manually delete it yourself or run an 'Archive Cleanup', which will match your device's data to your account. I also like that iDrive makes it easy to view videos directly from your account via the web, whether it's an MP4, FLV, or WebM file.
Seriously secure
I'm glad to see that iDrive makes good use of 256-bit AES encryption as well as user-defined keys that don't get stored anywhere on the iDrive servers. It's also possible to use locally stored private encryption keys, but doing so will prevent you from using IDrive's sharing features – and you'll need to be careful not to lose the key, seeing as it can't be recovered if you do. iDrive also offers sector and file-level backup, which comes in handy if you run afoul of ransomware, and two-factor authentication.

Unfortunately, iDrive is based in the United States, which isn't great news when it comes to privacy, seeing as it's also home to the NSA.
Simple and effective
If you're new to cloud storage, iDrive's dashboard makes the whole process incredibly easy, and gives users a central hub wherein they can manage their account, check the status of the most recent backup, and schedule software updates. Plus, if you download iDrive via the App Store or Google Play Store, you can easily backup your photos and videos, as well as your calendar events.

If you do run into trouble, or just need some help, you can reach out to the iDrive customer service team on the phone (from 6AM to 11:30PM, PST), or get in touch via email or 24/7 live chat.

ElephantDrive doesn't skimp on security, boasting full end-to-end encryption and GDPR compliance. Fully compatible with Linux and your other devices.
Pricing

/month: $10/mth
/month: $20/mth
ElephantDrive is compatible with 32-bit and 64-bit Debian, as well as 64-bit RedHat, Linux distros, and interested users can check out the service without paying a penny! A free 2 GB account lets you put the provider through its paces, and if you do decide to subscribe, the first 30 days of your plan are free of charge, and you'll be able to upgrade or downgrade, or even cancel entirely, at any time.

A standard home plan costs a modest $10 per month, and comes with 1,000 GB of storage, though you can pay an additional $10 for 1,000 GB extra, up to a limit of 15,000 GB. The ElephantDrive home plan also supports 10 devices, 3 sub-accounts, and a 10 GB file size limit.
Comprehensive file protection
ElephantDrive is fully compatible with Linux devices, though you'll also be able to back up files from any Windows, Mac, iOS or Android device. Sharing files from mobile phones is particularly easy with ElephantDrive, seeing as users are able to back up and upload files directly, and access them immediately. I like ElephantDrive's Everywhere folder, which keeps all your data synced automatically across all connected devices – so you can start editing a file at home and continue right where you left off when you arrive at work or when you're on the commute.

The provider's collaboration tools are excellent, too. You'll be able to see any changes that your friends or colleagues make to files immediately, as they'll sync automatically to your devices. If you want to share a specific file with your peers, you can do so with a simple URL link that can even be password protected.
Complete end-to-end encryption
The fact that ElephantDrive offers end-to-end encryption is a huge plus in our books – not all cloud storage services are as secure. Furthermore, the provider protects data using AES 256-bit encryption, and files are protected before they leave your device and during transit thanks to a 128-bit SSL secured channel.

It's particularly encouraging to see how seriously ElephantDrive takes the physical security of its servers. All the provider's machines are housed in a temperature-controlled facility and only accessible to authorized personnel – it's a real need-to-know system. Plus, Elephant drive is fully compliant with GDPR and HIPAA, and conducts regular (albeit internal) audits of its practices.
Prepared for the worst
If you've ever accidentally deleted a file that you wanted to keep, or lost data thanks to a theft or freak accident, you'll know how heart-breaking it is to lose that information. Thankfully, ElephantDrive's Archive allows users to store copies of deleted files and go back in time to find older versions of them, too. You can search through these previous versions by time and date, and restore data in a blink – which is especially useful if you happen to get tangled up in any ransomware demands, seeing as you can simply revert your files back to an unaffected version.

Like some of the other providers in our top 5, ElephantDrive also creates an Everywhere folder for its users. Anything you put in this folder will be synced across to all your connected devices so that you can access the most recent version, whether you're at home using your PC or on the go with your mobile phone.

pCloud's client-side encryption has never been cracked, and the service evens offers 2FA and TLS protection.
Pricing

Premium 500 GB: $4.16/mth

17% OFF

Premium 2 TB: $8.33/mth

17% OFF

Lifetime Premium 500 GB: $199/mth

66% OFF

Lifetime Premium 2 TB: $399/mth

65% OFF

Lifetime Custom Plan 10 GB: $1190/mth

81% OFF
pCloud is a stellar storage solution that you can try for free! By signing up for an account, you'll be able to nab 10 GB of free storage and start a 14-day free trial, which should be plenty of time to play around with the provider's myriad features.

For a yearly payment of $51.48, pCloud users get 500 GB of storage as well as 500 GB shared link traffic, all bundled together with a 10-day money-back guarantee.
Battle tested encryption
In line with industry standards, pCloud makes use of AES 256-bit encryption, TLS/SSL channel protection, and 4096-bit RSA for private user keys. Client-side encryption means that all your files are locked on your device and never leave, so you're covered in the event that your laptop gets stolen. pCloud's policy of zero-knowledge privacy (and the fact that encryption keys aren't stored on the provider's servers) also means that it can't take a peek at your data – and neither can any internet service providers or authorities.

pCloud is so confident in its encryption that it actually invited hackers from around the globe to try and crack it. I always enjoy checking out the results of this challenge – after six months, nobody was able to crack the service's security! Two-factor authentication is a nice bonus, as is full GDPR compliance and super-secure European data centers.
A safe home for your content
Prospective pCloud users will be glad to learn that the service does support block-level syncing, which only uploads the modified portions of your files in order to speed up the process. You also won't need to worry about accidentally deleting important data. pCloud keeps hold of trash and previous versions for up to 30 days.

Actually uploading your files to pCloud is a cinch, too. You can easily backup your camera roll, even automatically, and enjoy instant syncing and access to all of your mobile device's files via the pCloud web platform. pCloud also boasts a built-in video player and audio player, so you can create your own playlists and enjoy your media wherever you are.
Support when and where you need it
pCloud works hand-in-hand with numerous other backup services, including Dropbox, Google Drive, OneDrive, and Facebook, meaning you can centralize your storage without having to log in and out of various accounts. Generally, I find pCloud pretty simple to use, but if you need help with any of the provider's features, you can call or email the customer service team for advice – which is available in English, French, German, Spanish, and Turkish!
4. CloudBerry

Cloudberry ticks all the boxes for Linux users, offering smart scheduling and end-to-end encryption that'll keep your digital treasures secure.
Pricing

Desktop Edition: $49.99/mth
Windows Server Edition: $119.99/mth
Cloudberry is a superb option if you've got multiple devices you need to back up (whether they're running on Linux or not) – and not only because the provider offers support for up to 5 devices. Cloudberry is compatible with Ubuntu, Red Hat, Fedora, and Debian distros, amongst others, and comes with a command-line interface and web UI.

You can get your hands on a Cloudberry Personal Edition perpetual license for a one-time payment of $29.99. This subscription comes with 5 TB of storage and plenty of flexible backup options. Plus, you can try Cloudberry without spending a dime thanks to a 15-day free trial.
Better backup
In order to save space on your local drive, Cloudberry' will only back up the new or modified portions of your files, and you can rest assured that your data travels from your device to cloud storage full-encrypted at the source, target and in transit. And, as you'd expect from a premium storage solutions, Cloudberry allows you to access and restore previous versions of your files.

I especially like how easy Cloudberry makes the scheduling process. You can schedule backups of files and folders, and set them to run on a certain date or recur as and when you need them to. It's even possible to run pre and post execution scripts and receive email notifications regarding the status of your backup. Users also have the option of imaging their entire machine, seeing as Cloudberry can create a USB key that can be used to restore files if a device's internal storage is corrupted or stolen.
Layered protection
Cloudberry gets special a commendation for implementing end-to-end encryption. Files are kept secure with 256-bit encryption, too, and any data that you send to the cloud is further encrypted by SSL protocols whilst in transit. This is top-notch security that ensures that your data isn't vulnerable at any point in the journey between your device and the cloud.

With Cloudberry, users also have granular control over their data and who can view it – nobody wants to be snooped on, after all, especially if they're sharing a laptop or PC. Finally, it's well worth noting that Cloudberry works in tandem with other storage encryption options, including Amazon AWS S3.
Seamless support
If you're in a pickle, or need to troubleshoot an issue, you can get in touch with the Cloudberry customer service team via email or phone. I'd like to see the service offer a live chat option too, eventually, for round-the-clock assistance. With that said, collaborators and professionals will certainly enjoy the fact that Cloudberry is compatible with G Suite and Microsoft Office 365 – meaning all your hard work will always have a secure spot in the cloud.
5. MEGA

MEGA is one of the most well-known names on our list, and is compatible with a variety of Linux distros – Ubuntu and Debian included.
Pricing

2TB: $8.33/mth

16% OFF

400GB: $4.16/mth

16% OFF

Free: $0/mth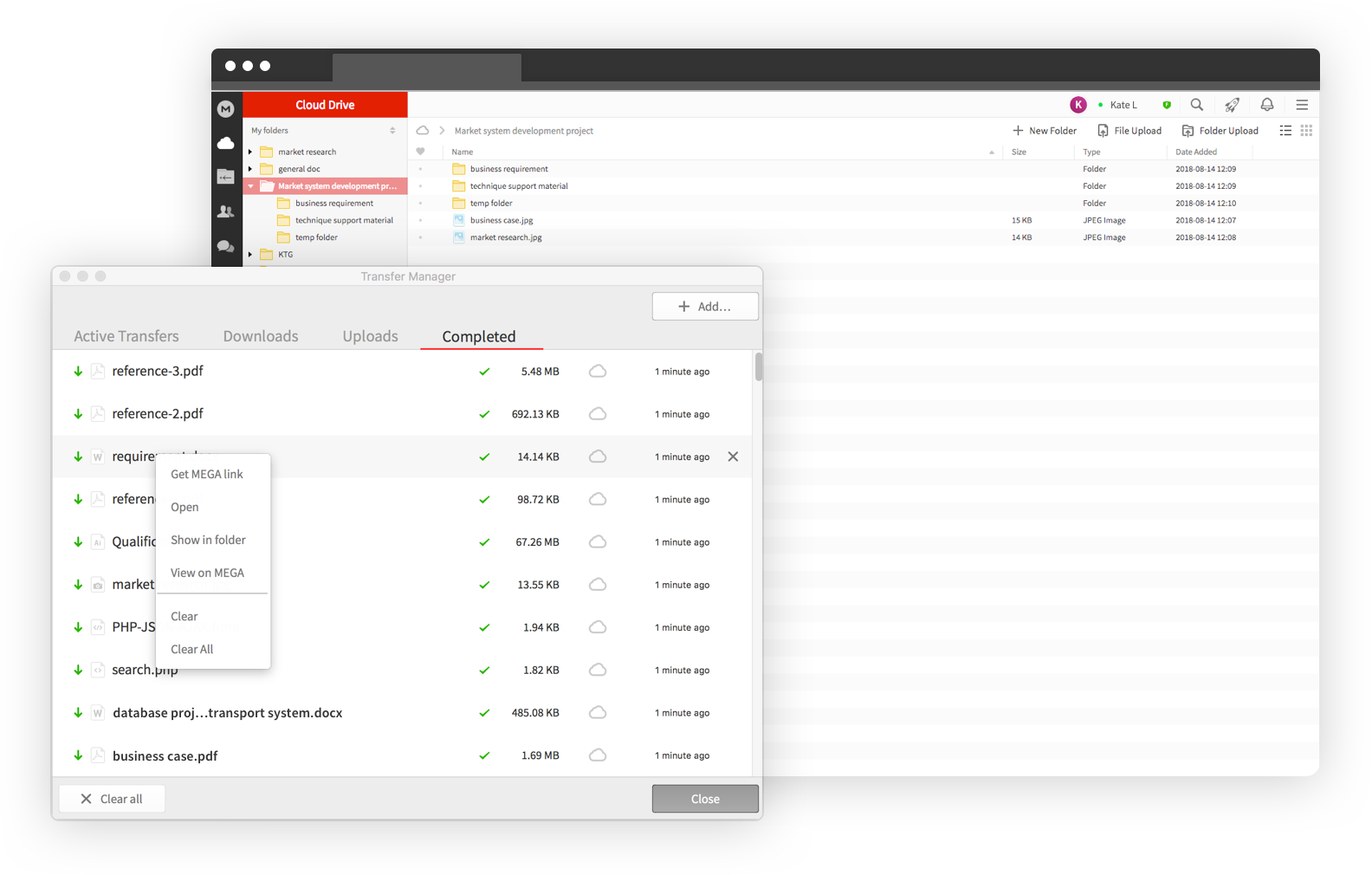 MEGA, a New Zealand based cloud storage service, is another premier option for Linux users, and is compatible with the Ubuntu, Red Hat, Fedora, and Debian distros. Hopefully, that means you'll have no problem finding a version of the service that works for your devices.

$4.99 per month will bag you 400 GB of storage and a 1 TB transfer limit, and you can claim an extra 20 GB of free storage by creating a MEGA account. Currently, MEGA is offering customers 2 free months if you purchase a one-year Pro plan, which isn't a bad deal at all for those looking to commit to a longer subscription!
Super secure sharing
MEGA is the collaborator's dream; it's incredibly easy to share files between friends and colleagues, and your peers can even download MEGA files without the need to create an account themselves. I like that you can password protect any links you share, and even set that password to expire, and revoke access to your files at any point..

One particularly cool MEGA feature is the end-to-end encrypted chat, which allows users to make audio and video calls, swap messages, and share files. Adding contacts is as easy as scanning a QR code, and it's actually a great way to transfer large and/or sensitive files directly, and with total security. As a bonus, MEGA lets you stream your files from the cloud to the player of your choice!
Top-notch encryption
MEGA prides itself on the fact that it boasts user-controlled end-to-end encryption, which means that you have the final (and only) say in who can access your data. You can manage your encryption keys directly from your web browser, too, which is a nice touch. As always, be sure to remember your password, as it'll also be your root encryption key, and it can't be recovered if you forget or lose it (although if you still have your Recovery Key, MEGA can help you out by resetting your password). Plus, all your files are encrypted in transit and at rest!

For an added layer of security, MEGA allows users to opt-in for two-factor authentication, which can help prevent hackers gaining access to your account, and it's great to see that MEGA's apps are Public Source.
Multi-platform solutions
In addition to Linux distros, MEGA is fully compatible with Windows and Mac devices, and can sync data between platforms with a few clicks. Additionally, the MEGA mobile apps allow you to take your backups wherever you go, and you can even access files that weren't originally uploaded from your phone – though MEGA does, of course, make uploading your camera roll a breeze.

Finally, if you're targeted by a ransomware attack, MEGA's file versioning makes it possible to revert the affected files back to a point in time before the infection. File versioning also comes in handy for correcting other mistakes; mis-click deletions included!
Why use cloud storage?
You might think that you just don't need to invest in cloud storage. The truth is, however, that mistakes and disasters can happen at any moment – and your files can be permanently lost in an instant.
A damaged device, a stolen phone, or even a ransomware attack; whatever the threat, it can lead to undue amounts of heartbreak. Programs can be re-installed, but photographs and important personal documents can't.
So, that's why we recommend cloud backups here at ProPrivacy. When you save your files to the cloud, they're tucked away in a secure online location, which means that even if your laptop is stolen, you'll be able to re-download all your important, original files to a new device safely and securely. You won't have lost anything!
Of course, some people use USB drives to back up their files... but they're not a comprehensive solution. USB drives are easy to lose and easy to damage, and if you have a large quantity of files to secure, they're often not up to the task. Additionally, data restoration services can be massively expensive depending on how much data you're trying to restore, and there's no guarantee that it'll even work!
Cloud storage solutions are simple and effective. Backup files your original device to the cloud, see any updates you make on connected devices in real time, and rest assured that if the worst should happen, your digital memories aren't lost forever.
The 3-2-1 rule
Whilst cloud storage solutions are well worth checking out, you shouldn't count on them alone as your sole means of digital backup. It's unlikely to happen, but if disaster strikes your provider's servers, your files will be unattainable if you've only backed them up to the cloud and nowhere else!
That's where the 3-2-1 rule comes in. Basically, we suggest using three methods to back up your data – on your primary device (like your laptop or phone), an external hard drive or network-attached storage (NAS) device, and finally a cloud backup service, like one of the providers in this article. It might seem like overkill, but this rule ensures your data is always covered by optimal security practises... and always attainable!
Final thoughts
Accidents happen and disasters strike; but you can easily protect your files and important documents by backing them up to the cloud. Just in case you need a reminder, here's another look at our top five cloud backup services for Linux:
IDrive - The best cloud backup for Linux. It offers a fantastic free account plan where you won't need to hand over your credit card details.
ElephantDrive - A great value Linux service for frequent collaborators. Offers snappy automatic syncing and password protected file sharing.
pCloud - A well-known and well-regarded provider that works seamlessly with Dropbox, Google Drive, and Facebook.
CloudBerry - A solid all-rounder that packs strong AES 256-bit encryption, SSL protocols, and can even create USB keys.
MEGA - Balances impressive encryption with smart sharing features, so you can collaborate securely, wherever you go (and with whichever device!)