Pricing & Plans
VPN Land has three main packages. Of these the annual package is sensibly priced and in the middle of the price spectrum but their other services are considerably very expensive especially their Premium account. They also offer two different routers running DD-WRT and VPN on them for sale which are reasonably priced. If you read their ToS especially point 26 you will be able to claim $10 worth of credit.
| | |
| --- | --- |
| | |
| VPN Land Pricing | VPN Land Router Pricing |
Features
VPN Land runs 107 servers but luckily these are based in 4 primary countries Canada, US, UK and NL of which all but America allow torrenting. This is great news as it allows you to access a lot of geolocation content.
Security & Privacy
At the moment VPN Land only provide L2TP, PPTP and SSTP encryption but they say that OpenVPN is in the process. For these they provide 128,168 and 256bit encryption respectively. Unfortunately being based in Canada and looking through their ToS and PP they keep a lot of details on file including some basic connection logs which they keep for 5 days - not to mention they openly state that they will co-operate with authorities if required which is a bit of a disappointment.
The website
The VPN Land website is nice and clearly laid out with all important information a click away. On top of this it is easy to browse to find your relevant information and they have a knowledge base for customers which helps you troubleshoot any major issues you may have.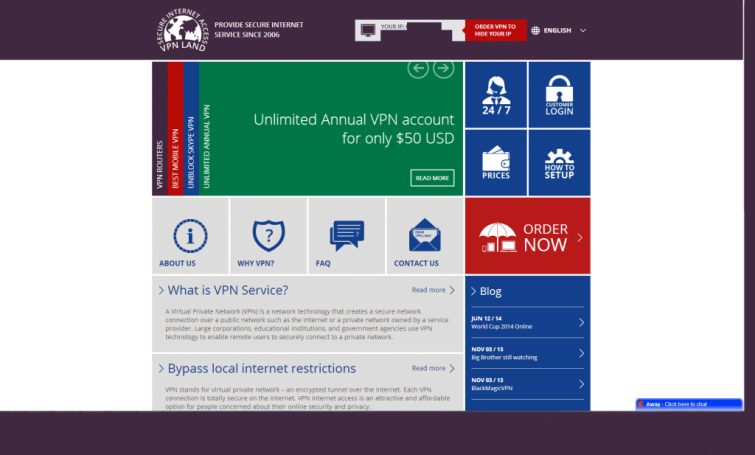 Support
VPN Land has a large range of support types including phone and Skype. Though they claim they have 24/7/365 support we have found that there are plenty of times when their support service is marked as 'Away' and you do not actually receive a reply until later on in the day. When they do reply the technical knowledge they provide is OK.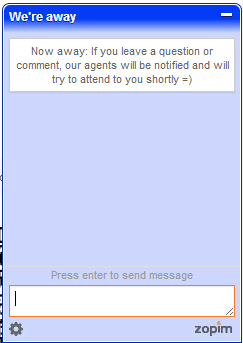 The Process
Signing Up
Registering for an account is fairly straightforward, however, they require a lot of information to be input which as we discussed in "Security & Privacy" they do not handle as well as they possibly could. After this it is a simple affair of selecting your payment type and processing it. Unfortunately unlike with other providers you do not get your account straight away (up to 12 hours) as they take time to ensure that there is no fraudulent activity which has pros and cons.
The Windows VPN client
Unlike most providers VPN Land doesn't have a single software instead they have separate ones for their L2TP and their SSTP connections - slightly annoying if you ask us. Also there is no individual task bar icon (though visible under network settings) to quickly observe the status and details of your connection, not to mention it is branded under their other brand - Blacklogic. There is nothing extra included in the software and we noticed that in fact all it does is set up the built in VPN connection tool which is not an issue but as mentioned it doesn't give anything extra (this is backed up by the fact that their software is just an altered version of the Microsoft Connection Manager).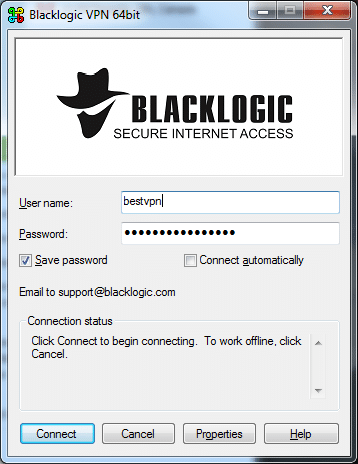 Performance (Speed, DNS and IP Test)
We gave VPN Land our usual test that we carry out for VPN providers. The speed test results, as shown in the table below, weren't spectacular. Their DNS leak tests weren't too promising either as we had 5 servers, a US based hosting site, show up no matter which location we were connected to but after reviewing their software we came to the conclusion that this was due to the DNS they are using. We also noticed that on their website when we were connected to their UK servers via SSTP it said that we were in Canada, upon closer inspection we found that this is because the server was actually in Canada but they are using some sort of IP location spoofing.
| | | |
| --- | --- | --- |
| | | |
| No VPN Speed | L2TP Connection speed | SSTP Connection speed. |

VPN Land IP Issue
Other Platforms
VPN Land displays on their website that they are proud to support multiple platforms, however the instructions for Blackberry, Linux and DD-WRT are clearly missing. We gave the L2TP service a test on our Android phone connected to their UK servers and the results were similar to those on the computer.
| | |
| --- | --- |
| | |
| No VPN on Android | VPN Land L2TP connection on Android |
Conclusion
Overall we can't find a lot of positive things to say about VPN Land apart from having a fairly cheap price and OK speeds but there is nothing extraordinary to make them stand out from the crowd.
We liked
We weren't so sure about
Software
Their customer service
We hated
Their contradictory statements
0 User Reviews
Leave a Review
Thanks for your review!