Alternative Choices for You
Features
UnoTelly is Canadian firm best known for its Smart DNS service. The VPN service is an extra that UnoTelly has designed to bolster its main service. Last year, the VPN provided primarily Point-to-Point Tunneling Protocol (PPTP), which is highly insecure. However, it now also offers OpenVPN, which is a lot more secure.
Servers are located in just six countries: the US, the UK, the Netherlands, Canada, Germany, and Switzerland. This is pretty limited, considering the cost of the service. Peer-to-peer (P2P) is explicitly forbidden on the US server and is not recommended on any of the other servers, based on the advice of the VPN.
If you want a VPN more suited to torrenting, we recommend checking out our best VPN for torrent guide.
UnoTelly does not provide custom VPN software. This means that users must use third party OpenVPN software to connect to its servers. The advantage of this is that the OpenVPN software is very good and nowadays comes with DNS leak protection.
Unfortunately, this means that there is no kill switch, stealth mode, and other important features that pro VPN services offer. This is disappointing, especially considering the cost of this VPN.
UnoVPN permits simultaneous connections from as many devices as necessary. In addition, it permits any number of source IPs to connect to as many servers as you like. This is an insanely generous stipulation, especially considering that it only allows you one IP on the Smart DNS service.
The Smart DNS service gives access to over 300 channels for TV streaming. This is done by giving access to more than 30 high-speed DNS servers. As such, the Smart DNS service is specifically marketed for unblocking, whereas the VPN is supposed to be used for privacy.
Speed and Performance
Connection speeds were probably the biggest disappointment of all about this service. I tested them on OpenVPN using a 50 Mbps fiber connection. I tested the UK, Netherlands, and US servers.
As you can see, the VPN really struggled. It would probably be a little bit laggy for streaming in HD. Having said that, you would probably get away with streaming in anything but the very highest levels of HD. Still, this was not a superb performance.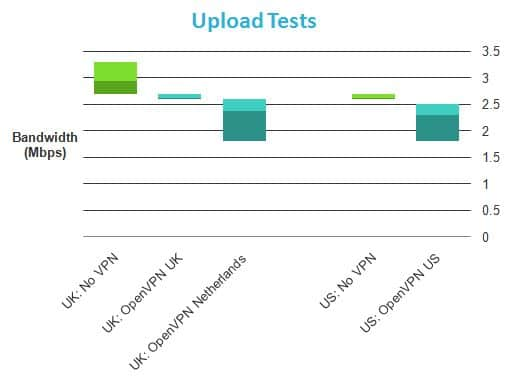 I used ipleak.net to check that the VPN was working as it should. I'm happy to report that I discovered no IP leaks or DNS leaks. In addition, I didn't discover any Web Real-Time Communication (WebRTC) leaks on my system. All clear here, which is one of the few good things about the service.
Test Your VPN for IP Leaks
Since reviewing this VPN service, we have created our own VPN leak testing tool. It is easy to use and 100% reliable.
Pricing and Plans
UnoTelly only provides the UnoVPN as part of its Gold subscription. UnoVPN is available on four plans, ranging from $7.95/month to $4.93/month. The plans are payable monthly, quarterly, half yearly or annually - with discounts awarded for committing for a longer period of time.
The cost of the VPN is about average when compared to other services. However, it's a bit pricey for the level of service it provides. Users can pay via Visa, Mastercard or PayPal. There's a three-day free trial available as well as a seven-day, no-quibbles, money-back guarantee.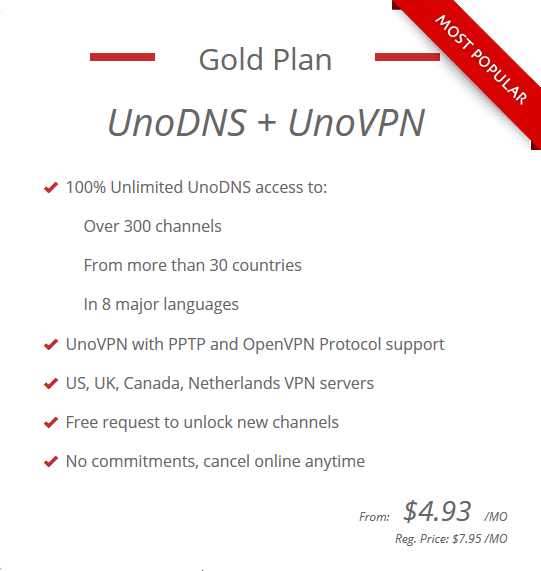 You can trial UnoVPN for free duethanks to its 14-day money-back guarantee. In addition, you receive a referral fee for every friend that you convince to join up (of $4.95).
Privacy and Security
Encryption on UnoVPN is provided with either PPTP encryption (128-bit MPPE) or OpenVPN. PPTP is not secure, so we recommend you use OpenVPN.
UnoVPN implements OpenVPN with 128-bit Blowfish (the default cipher built into OpenVPN). This is generally considered secure provided its known weaknesses are avoided. I asked UnoVPN three times for full details of its OpenVPN implementation, but it didn't give me what I asked for. As such, all we know is what's on the website:
Data: BF-CBC with 128-bit key
Auth: TLS with 1024-bit key
Unfortunately, 1024-bit authentication is no longer considered secure. At ProPrivacy.com we look for a minimum of 2048. Thus we don't consider UnoVPN to be a secure VPN for privacy.
According to its privacy policy, UnoVPN keeps connection logs. Fortunately, these are only minimal logs, such as the time of connecting to/disconnecting from the service. In addition, the firm logs how much bandwidth you use (presumably to check if P2P downloading is happening).
This information is linked to your account details rather than your IP address. This isn't ideal. If the Canadian authorities approach UnoTelly with a warrant, it would have to hand over its subscribers' IP addresses. This would allow for a time correlation attack, which could discover which websites you visited.
UnoTelly states that it logs nothing "except in accordance to the local laws of the host country of the server." In other words, it may collect usage logs IF the country of the server that you connect to has mandatory data retention laws. This makes the privacy provided by UnoVPN a slightly touchy point.
Even the DNS service appears to keep logs about its users:
"When using our DNS servers, your IP address and any DNS requests made out from devices setup with UnoDNS servers are collected. This information is solely used to authenticate you on our servers and to direct you to the appropriate links."
If you require strong privacy, UnoTelly is far from ideal. There are much better privacy policies out there for a similar price, so why settle for this?
Ease of Use
UnoTelly's website primarily focuses on its Smart DNS service. It is a clear website that explains how to access geo-restricted streaming content from all over the world. Having subscribed, you get access to a useful dashboard area. You also get a guided tour of what's available. This is an excellent addition that allows you to quickly see what you can do with the DNS service.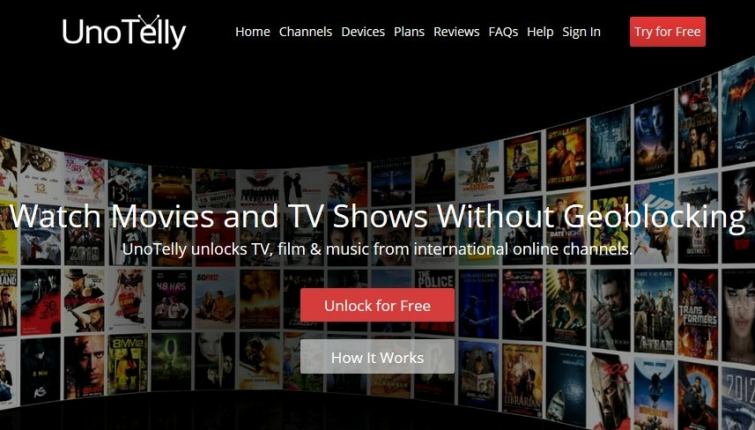 Sadly, UnoVPN doesn't get a look-in during that tour. You have to use the knowledge base if you want information about using the VPN.
No technical details about the VPN service (like encryption implementation details) are available on the website. This shows a real lack of transparency and is a massive drawback, which is a shame.
The UnoTelly website also has a blog. However, once again it concentrates on unblocking using the UnoDNS service, with very little info about the VPN.
The website has lots of useful videos for getting UnoDNS working on many different devices. As such, if streaming guides are what you need, UnoTelly has you covered.
Support
Registered users get access to 24/7 live chat support. This is a useful addition to the knowledge base and certainly makes up for the lack of information about the VPN on the website.
I found the team's response time to be excellent. I never had to wait much longer than a minute or two to talk to a customer service rep. In addition, 'level 1' support tickets were answered pretty quickly.
The only time I had to wait longer was when I asked for details about encryption. Even then I didn't have to wait more than a few hours. I found the customer service reps to be helpful and polite.
The knowledge base isn't bad, but it's not the best I've encountered either. The search function works well, but the main page is a cluttered list of categories and questions. Sadly, this makes browsing the categories nigh on impossible. That means searching is necessary - you're unlikely to simply hazard upon the information you need.
Also slightly annoying is the fact that you have to re-enter your email address in order to open a support ticket (even when clicking through from the main dashboard area). I found the experience to be cumbersome and rattling.
The Process
Signing Up
Registering for UnoTelly requires just a first name, email address, and password. This instantly gets you access to a three-day free trial of UnoDNS. Confirm your email address to get another five days of free UnoDNS access. This period can be extended by a month using "UnoCredits" for referring friends.
What's more, it's possible to get a free trial of UnoVPN. To get this, you follow a link in the knowledge base that adds a "UnoVPN 3-day trial" item to your shopping cart.
This free item must then be "paid" for. If paying with a credit card, this requires you to enter your card details, even though you actually get charged nothing. If you pay for the free trial with PayPal, you don't have to do anything (you don't even have to log in to PayPal).
I subscribed to a month of UnoVPN in order to test the service and to make sure that it honors its 14-day money-back guarantee. I paid with PayPal, but frustratingly still had to give a billing address. Sadly, there was no option for paying in Bitcoins.
The Windows Client
Sadly, UnoVPN doesn't run on bespoke VPN software. This is fairly poor. However, connecting to any VPN via the third party OpenVPN software is usually a very good experience nowadays. OpenVPN is easy to use and free to download. In addition, the latest version comes with DNS leak protection, which makes it safe to use.
UnoTelly provides support for connecting via TunnelBlick (primarily for Mac users) and regular OpenVPN (.ovpn). For this reason, you have to make sure you download the correct files for the client you're using. You can do this by looking at the file endings (.ovpn or .tblk).
Personally, I don't mind using third party OpenVPN software (especially because I have a lot of experience doing so). However, considering the cost of the pro service, this is definitely not a positive aspect of the service. In addition, I suffered unusual setup problems with logging onto UnoVPN servers using OpenVPN. I had to get the firm to change my login credentials to fix the issue. This added extra frustration to an already lacking service.
Other Platforms
Due to the fact that UnoVPN by UnoTelly doesn't have custom clients, all subscribers on all platforms have to use the third party OpenVPN software to connect to the VPN. Because of this, there's nothing else to report in this part of the review. Some good news comes in the form of UnoTelly's knowledge base, which does include setup instructions for various platforms. These include OS X (via Tunnelblick for OpenVPN), Android and iOS (via OpenVPN Connect for OpenVPN).
Other/Free Services
UnoTelly is perhaps most famous for its Smart DNS service. This is how the firm prefers to grant people access to geo-restricted content. For a more in-depth review of the smart DNS service, please look here.
Final Thoughts
UnoVPN by UnoTelly is specifically marketed as a privacy and security service. It is a bolt-on feature for the company's main Smart DNS service. The Smart DNS service is what consumers are supposed to use for unblocking website content and streaming geo-restricted TV. The VPN, on the other hand, should only be used for the purpose of securing web browsing data with encryption.
Despite being very clear about that, UnoVPN is a service that lacks the robust encryption required to make it a secure VPN. For this reason, UnoVPN by UnoTelly completely fails to do the one task that it sets out to achieve. It is a slow, clunky VPN service that suffers from glitches, slow connection speeds, and badly implemented encryption standards.
If you want a Smart DNS service, then UnoTelly might well be the ticket. However, if you're looking for an all-round privacy and unblocking solution, please look elsewhere for a reliable, value for money, premium VPN provider. There are plenty out there to choose from.
0 User Reviews
Leave a Review
Thanks for your review!