Alternative Choices for You
Features
Founded in mid-2012, ProxyServer is subject to US laws and under said jurisdiction, including the ever-intrusive NSA. They currently run 36 servers in 23 countries (with the difference being made up by 13 US servers), with superb geographic coverage for most of the globe. Servers in Hong Kong, Australia and Iceland, as well as Europe and Israel cast a wide net. Future updates will likely include Africa and South America.
Filesharing and torrenting are a-ok, for the time being. Check the network server page periodically as future updates may well restrict file-sharing to certain servers for traffic considerations.
Speed and Performance
Speeds were tested on a 30 Mbps connection and were above average, to superlative, on the whole. Connecting to any particular server, besides those tested was hassle free and nearly instantaneous (same with disconnecting, for that matter).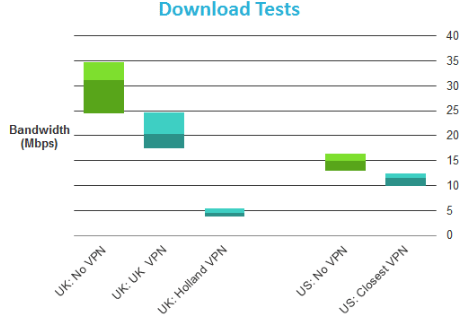 Unfortunately, the ProxyServer client was found lacking regarding the WebRTC bug (which you can quickly fix here), though many providers have yet to account for this form of DNS leakage. On the other hand, it was splendid to see neither a simple DNS nor IPv6 leakage, the latter of which most competitors have yet to account for – congratulations are in due order, on that front. We recommend you chek for IPv6 leakage periodically (here), and DNS leaks including the WebRTC bug (here).
Pricing and Plans
You may only choose one VPN package at the moment, as ProxyServer currently offers the Premium VPN package for $7.99 per month. Simultaneous connections are allowed on two devices at a time, though you may install ProxyServer on as many devices as you wish. Best of all, there's a 30-day money back guarantee to try before committing to anything long-term.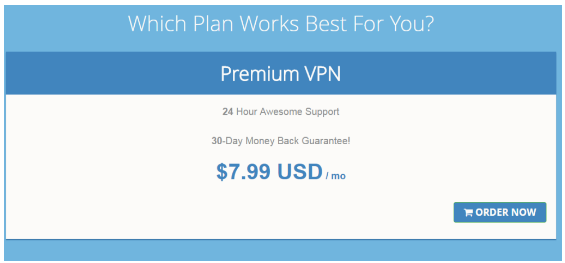 A nifty 'deal' in effect concerns bug reporting. If you come across a bug that isn't accounted for in their common bugs portion of the FAQ section, you'll receive one month free of charge! Not a bad deal at all (also, of this writing, the only provider offering such a mutually beneficial deal).
Privacy and Security
ProxyServer only offer connection via the OpenVPN protocol, but seeing as how it's the most secure encryption standard, that's more than adequate. Encryption is handled using a 128-bit key which isn't on the same max security plane as a 256-bit key though, again, no foul.
L2TP is planned for future updates, if you are geared up towards performance over security, for gaming or streaming needs, perhaps. No word yet on other protocols.
The Terms of Service and Privacy Policy are both standard enough fare, with the typical liability disclaimers you would find in any iteration of either. Displeasingly, keep in mind is that ProxyServer do collect both usage and connection logs, which would be ideally abolished moving forward. Despite purportedly being to improve service quality and monitor for bugs, logless policies are something we at ProPrivacy staunchly support, and would love to see implemented across the industry. That said, it appears as though ProxyServer don't attach any personal identifiers to data they collect, so the trust call is yours to make.
"In addition, we may collect the following information: times when connected to our service, choice of server location, and the total amount of data transferred per day. We store this to be able to deliver the best possible network experience to you. We analyze this information generically and keep the data secure."
Ease of Use
The ProxyServer website delivers on functionality, while not barnstorming through design – it's effective without extra panache. The top banner on the homepage lays the services section, support, and client areas prominently, so there's no hunting involved. Users subscribed to the service can enter into the client area to view billing and account status information.
One small issue rears up when you've clicked on any of the top menus from the homepage through to the 'second level' of the site. Clicking on any one of the services, support, or billing drop-down menus renders the actual menu under the home heading, and clicking can be a bit wonky. Not a major issue, navigation-wise, it will likely be fixed by the time your eyes come across this review.
That being said, overall navigation is far from problematic, with downloads, subscriber links and support no more than a tap away. There isn't a blog yet, though the announcements section looks a decent bet to eventually morph to include some industry news and offers, besides the service PSAs. ProxyServer run accounts on Twitter, Facebook, and Google+. All three have the same posts, with service announcements and links to informative infosec articles.
Support
Support can be faulted for lacking a 24/7 Livechat system, but what is present is quite thorough. A quick and useful setup guide is available to get going with the bespoke ProxyServer Pro VPN client on Windows (remember, ProxyServer VPN is Windows only at the moment).
The Knowledgebase is informative without overwhelming. However, a user forum would definitely be of value, and is something all VPN providers should offer to encourage transparency and help manage feedback without losing potentially beneficial questions for a large number of users to one-on-one support feeds.
Response times to Support tickets weren't more than an hour, and the responses were immediately useful. It shows when the folks on the other end are interested in providing wholehearted customer service as opposed to treating you as a faceless wallet.
The Process
Signing Up
Unfortunately, signing up to the ProxyServer free trial Premium VPN Plan (the only one they currently offer) involves your name (you may use a fake), email, credit card information, home address and phone number – though you may choose to falsify the last two, in addition to your name – just keep in mind that in the subsequent payment screen, you'll have to re-enter valid information for billing purposes. In short, this process appears somewhat redundant and isn't in line with privacy-geared industry standards. It would be excellent to see the overall procedure streamlined – with less invasive options like Bitcoin added to the transaction mix.
Once paid, it's a few steps till VPN enabled browsing. Either check your inbox and follow the directions. Or, head over to the downloads section, navigate to the Windows client, download and install (took about three minutes, but I did check a text message which may have tacked on 30 seconds to a minute till noticing completion).
The ProxyServer Windows VPN client
Some VPN clients err on the flamboyant side, and some are so functional as to come off a bit clunky, though neither is the case with ProxyServer. The client is Spartan yet stylish in equal measure and feels intuitive to click through. There's even a handy support link built-in.
The server list comes to the fore in a drop-down menu, and there's a handy country graphic with the flag of your real IP, and the flag of the VPN server you're connected to. The connect/disconnect button is plainly visible and quite responsive. A compliment is also in order for the metallic-transistor background theme as a nice touch – it's just plain cool. The overall Windows client experience was definitely a pleasant one, with future updates (discussed towards the end) only set to improve it further.
Other Platforms
ProxyServer are in the process of rolling out updates for iOS and Android devices, respectively. For now, there's only the bespoke Windows VPN Pro client, or hands-on OpenVPN configurations. A killswitch, DNS leak protector toggle, and possibly stealth servers would be excellent additions to the forthcoming apps with mobile operation, and on-the-go WiFi switching in mind. These functions would be apropos on the existing Windows client, for that matter.
Final Thoughts
ProxyServer are somewhat lacking in bespoke software, but what they have is executed well, seemingly in a class case of incremental yet steady quality, rather than rapid yet haphazard quantity. Though the registration and logging policies are somewhat unpalatable, a month free trial offer, low subscription price, and excellent speeds might position ProxyServer as the right VPN for you. Hit the jump button below to give them a go.
0 User Reviews
Leave a Review
Thanks for your review!