Alternative Choices for You
As we shall see in this Privatoria Review, this Czech-based VPN provider offers a low-cost service with a number of interesting bells and whistles thrown in for free. It also has a rather cool Android app.
Features
| | | |
| --- | --- | --- |
| | ExpressVPN | NordVPN |
| Android | | |
| iOS | | |
| Windows | | |
| macOS | | |
| Linux | | |
Privatoria offers servers in 20 locations worldwide. More unusual locations include servers in Russia, Brazil and India.
Features include:
You may connect up to five devices at once while using the service
In addition to VPN, Privatoria offers Tor through VPN without the need for the Tor Browser
A Web Proxy Tor
"Anonymous Proxy"
"Anonymous Email"
An Android app
Disappointingly, torrenting is specifically prohibited. Privatoria claims to keep no logs, however, so how (and if) this is enforceable in practice remains an open question.
VPN Plus Tor
This feature allows Tor through VPN.
Your computer -> VPN -> Tor -> internet
Please see Using VPN and Tor together for a full discussion on the implications of this. With Privatoria it is achieved by transparently routing your connection from a specially configured VPN server to the Tor network.
It should be noted, however, that Tor through VPN can also be achieved simply by using the Tor Browser while connected to a VPN. This is much more secure than using a transparent proxy of the kind offered by Privatoria because:
Tor encryption is performed end-to-end from your desktop to the Tor servers. With transparent proxies it is possible that your VPN provider (e.g. Privatoria) could intercept traffic before it is encrypted by the Tor servers.
The Tor Browser has been hardened against various threats in a way that your usual browser almost certainly has not been.
Basically, you are much better off using the Tor Browser while connected to a VPN.
Web Proxy Tor
This is similar to "VPN Plus Tor," except using an HTTP proxy.
Anonymous Email
Privatoria offers its own email server (POP3/IMAP). Incoming and outgoing emails are encrypted by an HTTPS connection.
By default they are also stored on Privatoria's server using AES-256 encryption. This encryption is performed by Privatoria. This will stop the emails being accessed by hackers and so forth, but Privatoria can access them and hand them over to law enforcement, should it be legally required to do so.
The good news, however, is that Privatoria email supports end-to-end PGP encryption. This is very secure (although header metadata is still visible) and should ensure that no-one except the sender and intended recipients can read the emails (or open attachments).
Setting up PGP is always a slightly involved process, but Privatoria has made it as painless as possible. It has, in fact, added an excellent PGP encryption manual to its control panel. This is great, but as always with PGP, both sender and recipient must use PGP for it to work.
"Anonymous Proxy"
The first thing to note is that this proxy service is not, in fact, "anonymous." It is an HTTPS-encrypted HTTP proxy, with server locations in 15 countries.
As with a VPN, a proxy will hide your real IP address from any websites that you visit. The HTTPS connection will also ensure that your ISP cannot see what you get up to on the internet. Whoever runs the proxy server (in this case Privatoria), however, can see what you get up to on the internet. So using the proxy is hardly "anonymous."
A Privatoria proxy browser plugin is now available for Chrome and Opera. When using it, I detected no DNS leaks, although WebRTC did reveal my real IP address. US Netflix blocked me, but I was able to use the plugin to watch BBC iPlayer.
Please see Proxies vs. VPN – What's the difference? for a full discussion of proxies. Most VPN users will have little need for a proxy, but this feature may be useful for some. Privatoria is apparently planning to support SOCKS proxies in the future as well.
Speed and Performance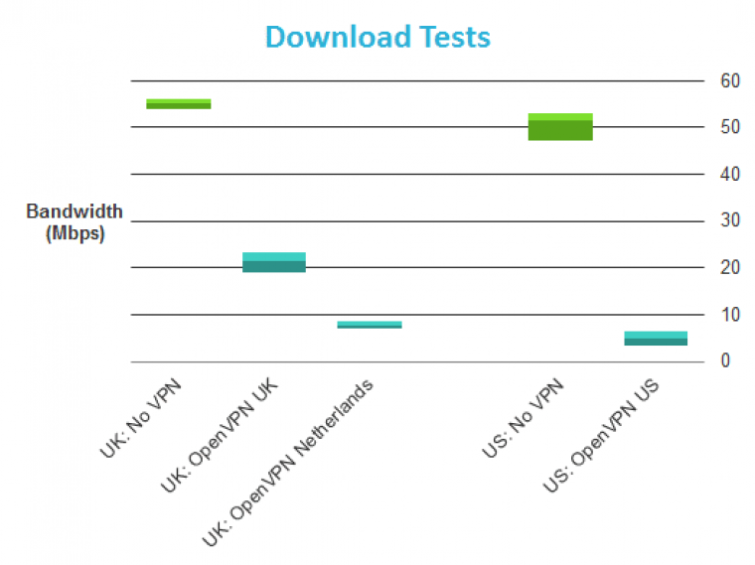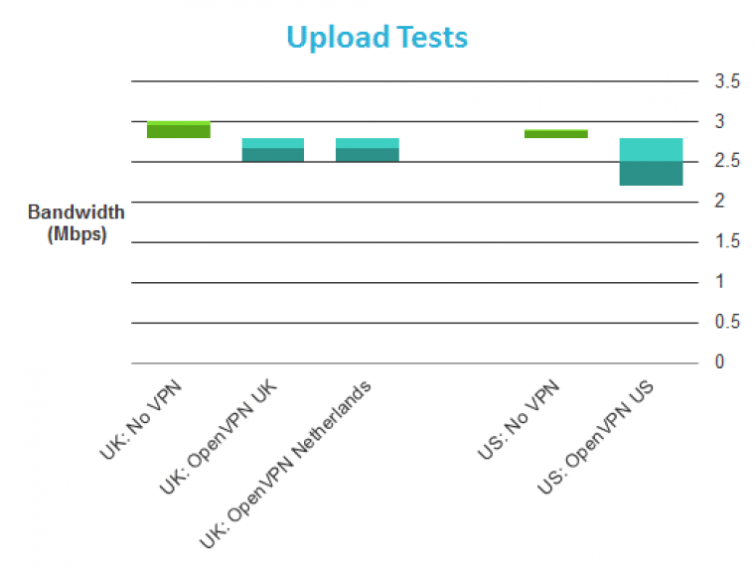 All tests were performed using my UK 50 Mbps/3 Mbps fiber connection.
The graphs show the highest, lowest and average speeds for each server and location. See our full speed test explanation for more detail.
These download speeds are frankly terrible!
Yay! No IP leaks! WebRTC leaks must be blocked server-side. Note that my ISP (Virgin Media UK) does not support IPv6, so I cannot test for IPv6 leaks. According to the official OpenVPN changelog, however, IPv6 leaks have been fixed.
US Netflix refused to play when connected to a US Privatoria VPN server, but BBC iPlayer did when connected to a UK VPN server.
| | | |
| --- | --- | --- |
| | ExpressVPN | NordVPN |
| Netflix | | |
| iPlayer | | |
| Amazon Prime | | |
| Hulu | | |
| Disney+ | | |
Price
Unlike most VPN services, Privatoria requires a minimum buy-in of three months. Given that a three-month plan costs a very pocket-friendly $12.99 ($4.33 per month), however, this is unlikely to worry most.
Prices drop to a ludicrously low $2.74 per month if an annual plan is purchased.
If signing up for at least three months at a time does worry you, then a one-hour, completely free trial is available. No payment details are required for this.
In addition, an unlimited seven-day free trial should be more than enough to decide if the service is right for you. Payment details are required for this, but you will only be charged if you do not cancel within seven days.
You can also request a refund within 30 days if you experience technical difficulties that Privatoria's customer support team cannot resolve.
Ease of Use
Signing Up
To sign up you are asked for just a username and an email address. You are provided with a password, but are encouraged to pick a new one of your own. This a secure setup, and it also means that the email address you supply during start-up need not be valid (even temporarily). This is great!
When you first sign up, you do not need to provide any payment for the first hour. This may not be long, but it should be enough to check that the service works for you. As noted earlier, you can extend the free trial to seven days once you have provided payment details.
The Privatoria Windows VPN client
Or rather, the lack of one. Setup guides are provided for configuring L2TP/IPSec via the VPN client built into Windows, and for configuring OpenVPN via the official OpenVPN client.
Now, this initially concerned me. The official OpenVPN client has always been a good piece of software in many ways, but it did not provide any form of IPv4 or IPv6 DNS leak protection. This has changed since OpenVPN version 2.3.9, however.
Slightly annoyingly, each .ovpn config file is downloaded under the name "openvpn" and has to be manually renamed in order to be useful.
Of course, the official OpenVPN client has none of the fancy bells and whistles found in many dedicated apps (the most important of which is a kill switch). It is also slightly harder to set up than most custom clients. But it does the job, and it does it well.
Platforms
L2TP/IPsec setup guides are provided for Windows, Mac OSX, Android and iOS devices. OpenVPN setup guides are provided for Windows and Linux (command line).
OpenVPN configuration files are provided for Windows and Mac OSX/Linux, and there is no reason these cannot be used on any system that can run an OpenVPN client.
As well as the manuals in the members area of the website, the blog contains additional setup guides. For example, on how to set up OpenVPN in Mac OSX using the Viscocity client.
The Android App
Although it has no custom desktop client, Privatoria does have an Android app. In addition to acting as a VPN client, the app includes a secure chat client and an email client for its Anonymous Email service (see below).
The Privatoria Android App is totally free for users, though it is necessary to create an additional account in order to use it.
Nit-picks aside, the Android app is pretty good. It looks smart, it works well, and I detected no DNS or WebRTC leaks while using it.
Customer Service
| | | |
| --- | --- | --- |
| | ExpressVPN | NordVPN |
| Money-back guarantee | | |
| 24-hour support | | |
| Live chat | | |
| Money-back guarantee length | 30 | 30 |
| Free trial | | |
Live chat support is available during Central European office hours. My questions were answered quickly, and staff were friendly and eager to help. The in-depth technical knowledge of front-line staff did seem a little thin, but difficult questions were referred to the technical team and were usually answered within minutes.
Outside of Czech office hours, a ticketed email system is in place. A reply is guaranteed within 48 hours.
Privacy and Security
| | | |
| --- | --- | --- |
| | ExpressVPN | NordVPN |
| Money-back guarantee | | |
| 24-hour support | | |
| Live chat | | |
| Money-back guarantee length | 30 | 30 |
| Free trial | | |
Privatoria supports the L2TP and OpenVPN VPN protocols. As always, I recommend using OpenVPN where possible. OpenVPN encryption uses the AES-128 cipher with an RSA-4096 handshake and HMAC SHA-1 data authentication.
AES-256 is more commonly used these days, but AES-128 remains secure to the best of anyone's knowledge. It does, in fact, have a stronger key schedule than AES-256, which some experts argue makes it more secure.
No Diffie-Hellman keys are specified in the OpenVPN configuration file, but Privatoria's support assures me that Perfect Forward Secrecy is supported. HMAC SHA-1 auth is fine, and Privatoria tells me that it plans to transition to HMAC SHA-256 "soon." An RSA-4096 handshake is excellent.
For an overview of OpenVPN encryption and the terms used, please see here.
The OpenVPN encryption suite is very good. On the privacy front, Privatoria also does well:
"Privatoria.net does not keep user activity logs. This includes browsing, download history and any other traffic logs."
Privatoria is based in the Czech Republic. According to OpenDemocracy,
"The Czech state doesn't have the capacities to develop a mass scale internet surveillance programme – but resorts to more 'old school' surveillance methods."
With no mandatory data retention laws, no special ties to the NSA or GCHQ, and no large-scale state surveillance of its own, the Czech Republic is a good place to base a privacy-orientated VPN service. Privatoria accepts payment using Bitcoins, which can also improve privacy.
| | | |
| --- | --- | --- |
| | ExpressVPN | NordVPN |
| PPTP | | |
| L2TP/IPSec | | |
| SSTP | | |
| IKEv2 | | |
| OpenVPN | | |
| WireGuard | | |
| Catapult Hydra | | |
| Shadowsocks | | |
Final Thoughts
I liked
No logs at all
Great OpenVPN encryption suite
No IP leaks
Cheap
Five simultaneous connections
Good trial offers
Nifty Android app
Great support
Email service supports PGP
Nifty proxy browser plugins
Accepts Bitcoins
I wasn't so sure about
VPN with Tor is more secure using the Tor Bowser while connected to a VPN
I hated
Terrible download speeds
P2P prohibited
There is much to recommend Privatoria. Most importantly, it keeps no logs at all and is ridiculously cheap. Although it does not offer a custom desktop app, the official OpenVPN client works very well, and I encountered no IP leaks (at least in Windows).
OpenVPN encryption is great, and the Android app is also pretty funky.
The extra free services are nice, and may be useful to some. In all cases, however, there are better services doing the same thing out there (or in the case of Tor, it is better to simply use the Tor Browser while connected to a VPN).
The huge fly in the ointment, though, is the download speed test results, which are absolutely terrible. To the point, indeed, of making this VPN service all but unusable…
0 User Reviews
Leave a Review
Thanks for your review!