NordVPN is a world-renowned VPN provider, used by hundreds of thousands of people worldwide. The service is reliable and trustworthy, and it can be used to gain outstanding levels of privacy and freedom online.
In this article, we will take a closer look at NordVPN's refund guarantee, to check whether it has any discrepancies or exceptions. And we will explain how you can avail of the guarantee to get your money back if you don't want to continue with your subscription.
What is NordVPN's money-back guarantee?
As with other premium VPNs, NordVPN wants consumers to be able to trial its VPN service – so they can get a taste of what it has to offer. For this reason, NordVPN's money-back guarantee allows any new subscriber to ask for their money back within the first 30 days after purchasing a subscription. That 30-day refund is available with any of its subscription plans: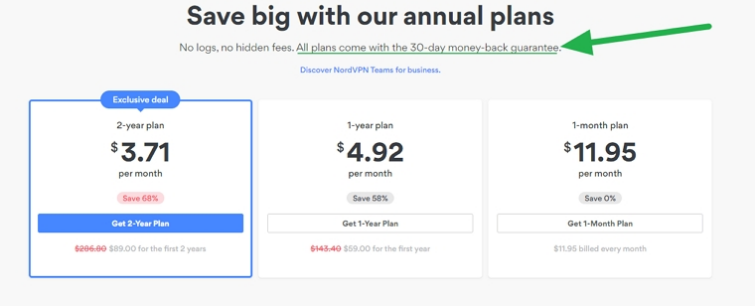 As you can see, whether you pay for a 1-month, 1-year, or 2-year plan, you are eligible for the money-back guarantee. This is what NordVPN had to tell us about its refund policy:
At NordVPN we like people to be able to trial our VPN, and we are more than happy to let people try the VPN on an unlimited basis for 30 days. We pride ourselves on giving a full refund, and we never prevent people from seeking it.
Are there any exceptions?
No. Some VPNs have stipulations that you must meet to qualify for the money-back guarantee. Those VPNs place limits on the amount of data that you can consume before getting your money back. If you use the VPN too much – and consume too much data – you can no longer ask for your money back.
Other VPNs only provide a 30-day money-back guarantee on plans that are longer than six months. Thus, the 30-day refund is not available if you buy a one-month plan.
With NordVPN, there are no exceptions, which means that you can use the VPN as much as you like – and still get a refund within the first 30 days. This is even true if you purchase a one-month subscription.
How to get a refund with NordVPN
Getting a refund with NordVPN is extremely easy. All you need to do is head over to the NordVPN website and contact its customer support team. You can do this either via email (ticket system) or live chat support.
Once you make your request for a refund, you will lose access to the VPN service and you will get your money back within three to five working days (though this can depend on your bank and may take up to 10 days).

How to cancel a recurring payment with NordVPN
If you are coming to the end of a subscription period, you will be charged automatically for the next billing period if you do not cancel your subscription. All NordVPN subscriptions roll over and are recurring unless you cancel them.
If you want to cancel your subscription, simply follow the steps below:
Login to the NordVPN website using your credentials'
Navigate to your Nord Account and open the 'Billing' section.
Check the subscription information and choose the option to turn off automatic renewal.

Remember that if you purchased your account via Apple App Store or Google Play, you will need to cancel your subscription via those platforms. Nord has guides for doing this, so be sure to contact their 24/7 live chat support for help if you have any trouble.
To find out more about this superb VPN provider, check out their full review here. Alternatively, click the button below to navigate to the VPNs website to try the VPN risk-free for 30-days!
Try NordVPN risk-free for 30-days!
Want to try the best VPN in the industry?
If you weren't happy with the service you got from Nord, why not try the best VPN provider in the industry? ExpressVPN regularly raises the bar in the VPN industry, and is a superb alternative to NordVPN. Both services boast stylish, easy-to-use apps that are available for desktop and mobile devices, as well as routers, and speeds perfect for data-intensive tasks. Simply take your pick of the ExpressVPN servers in 94 countries to get started.
We're consistently impressed by ExpressVPN's reliability, too. The service doesn't take chances with user security, implementing AES 256-bit encryption alongside an automatically enabled kill-switch (called Network Lock). Plus, ExpressVPN's zero-logs policy means you won't have to worry about your activity or connection logs falling into the wrong hands.
What's more, all ExpressVPN subscriptions come with a 30-day money-back guarantee, meaning you can put the service to the test in your own time! Unlike a free trial, a money-back guarantee lets you experience all the VPN's features, so it's a great way to determine whether it's the service for you. And if for any reason you're not impressed, just reach out to the ExpressVPN customer service team via live chat or email, and you'll get your refund ASAP.
So, whilst you'll initially have to pay for the subscription, you'll be able to cancel and get your money back at any point within 30 days – no quibble, no questions.

ExpressVPN
Discount Coupon
Get 49%
off now
Comes with an additional 3 months