It's never easy settling on a particular VPN provider – even when you've whittled the choices down to two. To make the final decision, we like to systematically compare them side-by-side. The Surfshark vs PrivateVPN debate is an interesting one, as it lets us explore the question of whether bigger – in this case Surfshark – really does mean better.
Surfshark vs PrivateVPN – Which service should you choose?
Surfshark is the better option for most people – particularly if you're happy to sign up for a longer-term subscription. It has a vastly larger server network, better access to streaming services, and more features overall.

That said, PrivateVPN has a lot to offer. Although it's much smaller than Surfshark, it managed faster connection speeds in our tests. It's also much cheaper for contracts lasting between one and 12 months, and is able to offer remote control support if you need help with setup and troubleshooting.
Pricing
PrivateVPN is the better value of the two providers. Its one-month and 12-month contracts both cost roughly half as much as the equivalent Surfshark contracts.
| | | | | |
| --- | --- | --- | --- | --- |
| | 1 month | 3 months | 12 months | 24 months |
| Surfshark | $12.95 | n/a | $3.99/ then $12.95 | $2.05/ then $4.98 |
| PrivateVPN | $3.30/ then $6 | $6 | $2/ then $6 | n/a |
Annual Surfshark subscriptions cost $3.99 a month for the first 12 months, then $12.95 a month thereafter. PrivateVPN is far cheaper, costing $2 a month for the first three years, after which it costs $6 per month. PrivateVPN also offers a three-month term for $6 a month.
If you'd like to try a shorter subscription, both providers offer rolling one-month contracts. PrivateVPN costs $3.30 per month for the first three months, after which it goes up to $9.90 per month. By contrast, Surfshark costs $12.95 from the outset.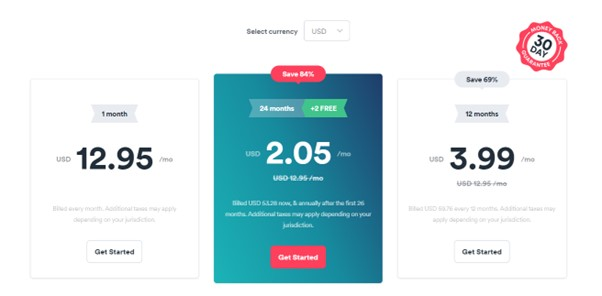 The best overall deal for Surfshark is its 24-month plan, which costs $2.05 for the first 26 months, then $4.98 per month thereafter. This package also includes the Surfshark antivirus package, making it even better value.
Winner: Draw
Performance & speed
PrivateVPN is faster than Surfshark in both its maximum speeds and its average download speeds. We check these speeds regularly using a rigoroustesting methodology to ensure that they're up-to-date.
| No Value | Surfshark | PrivateVPN |
| --- | --- | --- |
| Speed | 273.2 Mbps | 663 Mbps |
| ProPrivacy.com SpeedTest (average) | 41.0 Mbps | 55.5 Mbps |
That said, Surfshark is also notably fast. Indeed, both providers are in the top tier of VPN providers in terms of speed. This means that they're both generally able to provide buffer-less streaming in HD and 4K, and lag-free gaming.
If you have a fast internet connection, we'd recommend using PrivateVPN as it'll be more able to match the required base speeds.
Winner: PrivateVPN
Which has better features?
As the larger of the two providers, it's perhaps not surprising that Sufshark has more features to offer. The most important of these being that it has more servers and allows more simultaneous device connections.
| No Value | Surfshark | PrivateVPN |
| --- | --- | --- |
| Simultaneous connections | 1000 | 10 |
| Total servers | 3200 | 200 |
| Number of countries | 100 countries | 63 countries |
| Split-tunneling | | |
| Kill-switch | | |
| Obfuscation (stealth) | | |
| Self-hosted DNS | | |
| Tor-over-VPN? | | |
Surfshark has around 3,000 more servers in its network than Private VPN, and a presence in approximately 40 more countries. This gives users vastly more region-specific connection options and makes it easier to avoid congested servers.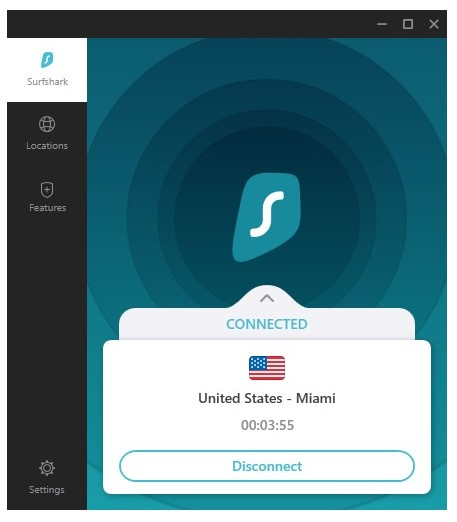 Surfshark also allows unlimited simultaneous device connections. This makes it a great option for those in large households. By contrast, PrivateVPN permits 10 device connections – though it's worth noting that this is still better than most providers.
If you have devices on your home network that aren't compatible with VPNs, you can protect them by installing Surfshark onto some routers. This is also an option with PrivateVPN, though the process is more complicated.
Both Surfshark and PrivateVPN offer obfuscated servers. These make it possible for users to get online in countries where internet use is restricted, by making deep packet inspection more difficult.
More usefully for most people, both providers also offer kill-switches in their apps. These stop the flow of internet traffic if the VPN connection drops out.
Both Sufshark and PrivateVPN have static IP addresses available – though PrivateVPN prefers to call them dynamic dedicated IPs. These enable users to connect to particular servers and always receive the same IP address. This is a useful feature for anyone who needs to connect to another device while the VPN is running.
Surfshark has servers with static IP addresses in Germany, Japan, the Netherlands, the UK, and the US; while PrivateVPN has them in Sweden, Norway, Germany, the Netherlands, Switzerland, the UK, France, and the US. The difference between static IP addresses and dedicated IP addresses is that the former is shared, while the latter is assigned to a particular user. No VPN that we know of provides dedicated IP addresses for free.
While this about sums up PrivateVPN's features, the Surfshark list extends a little further.
Its split-tunneling feature enables users to specify which apps connect via the VPN and which connect normally. We like that you can also specify particular websites and IP addresses that you want to bypass the VPN.
For additional security, Surfshark subscribers can choose to connect via two VPN servers – though this does slow down the connection a little. If you want to test your speed at any point, Surfshark apps also come with a built-in speed tester. This makes it easier to hone your connection.
Finally, all Surfshark apps have a CleanWeb feature that can block ads, trackers, malware, and phishing attacks.
Winner: Surfshark
Which streaming services can they access?
VPNs are particularly useful if you'd like to access geo-restricted streaming services. Surfshark and Private VPN are both great options in this regard as they can provide access to services that the majority of other providers struggle with.
| No Value | Surfshark | PrivateVPN |
| --- | --- | --- |
| Netflix | | |
| iPlayer | | |
| Amazon Prime | | |
| Hulu | | |
| Disney+ | | |
Netflix, in particular, usually proves problematic for VPNs, which isn't the case for either Surfshark or PrivateVPN. The table below shows just some of the many libraries they work with.
| No Value | Surfshark | PrivateVPN |
| --- | --- | --- |
| USA | | |
| UK | | |
| Canada | | |
| Japan | | |
| France | | |
| Germany | | |
If you'd like to access geo-restricted content using a device that isn't compatible with a VPN, Surfshark offers a smart DNS service. This feature changes the local DNS addresses of your Smart TV or games console to those of Surfshark's DNS servers. Note, however, that smart DNS doesn't encrypt internet traffic like a VPN – it's sole purpose is in spoofing the connected device's location.
Winner: Surfshark
Torrenting
Both Surfshark and PrivateVPN have dedicated servers for torrenting. Surfshark uses servers in Canada and the Netherlands, while PrivateVPN recommends using those in its home country of Sweden.
Both providers offer unlimited bandwidth and kill-switches to prevent in-progress downloads from being exposed to your ISP if the VPN fails.
Surfshark also has a split-tunneling feature, which is ideal for always protecting your torrent client. For its part, PrivateVPN offers torrenters a port forwarding service. This enables you to connect to more peers in a torrent swarm and get your file more quickly.
Winner: Draw
Setup & usability
Like most quality providers, both Surfshark and PrivateVPN apps are easy to download, install, and get started with.
However, Surfshark has apps available for a wider range of platforms, such as Amazon Fire TV and Apple TV – though PrivateVPN does have a dedicated Kodi app. Surfshark also has browser extensions available for Firefox, Chrome, and Edge.
| No Value | Surfshark | PrivateVPN |
| --- | --- | --- |
| Android | | |
| iOS | | |
| Windows | | |
| macOS | | |
| Linux | | |
| Routers supported | | |
Compared with PrivateVPN, the Surfshark GUI is a little slicker and more intuitive to use. The list of servers is displayed on app launch and you can choose to connect to the fastest or select one from the available 100+ countries manually. If you like a particular server you can add it to a favorites list. The auto-connect feature lets you configure your own connection settings, which is a nice touch.
PrivateVPN works similarly, though the available server options are far fewer. Its apps are consistent, uncluttered, and pleasing to use for novices and experts alike. You can get connected in seconds or quickly access advanced settings such as choosing an encryption level, checking log files, or reinstalling network drivers.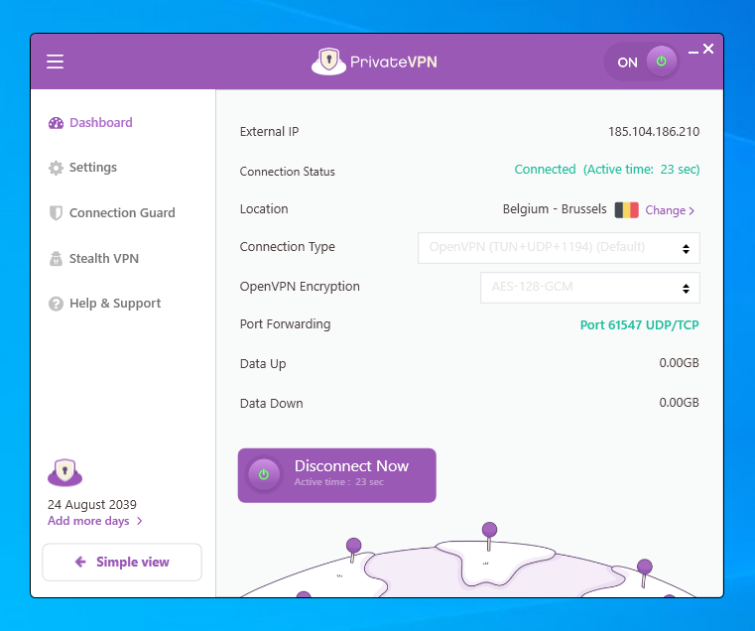 Both providers use toggle switches to enable or disable the majority of their features. This helps ensure that neither app seems intimidating or discourages idle exploration.
Winner: Surfshark
Security
Both Surfshark and PrivateVPN use 256-bit encryption, together with SHA256 authentication and 2,048-bit RSA keys. This is the industry standard and considered to be highly secure and essentially uncrackable.
Surfshark also allows subscribers to use ChaCha encryption, which is sometimes a better option for devices running Android.
Somewhat unusually, PrivateVPN lets you switch to 128-bit encryption. This is less secure, but offers faster connection speeds. Also relatively unusually, PrivateVPN acts as its own server host and ISP – thus reducing the opportunity for bad actors to interfere with transmitted data.
| No Value | Surfshark | PrivateVPN |
| --- | --- | --- |
| PPTP | | |
| L2TP/IPSec | | |
| SSTP | | |
| IKEv2 | | |
| OpenVPN | | |
| WireGuard | | |
| Shadowsocks | | |
| Independently audited? | | |
Surfshark has increased its own security by making its entire server network diskless. Individual servers now run on volatile memory (RAM) and can be managed remotely, making it easier to ensure that they're all running the most-up-to-date software and security configurations.
Because no data is permanently stored on individual servers, they are essentially useless to anyone seizing them and attempting to extract information.
In 2021, the Surfshark server network was independently audited for the second time by German cybersecurity firm, Cure53.
Both providers allow subscribers to choose from numerous connection protocols, though Surfshark has more options. In particular, it uses the lightweight – and fast – WireGuard protocol by default in most of its apps. By contrast, PrivateVPN only supports WireGuard on up to three servers.
Surfshark users can also make use of the Shadowsocks protocol. This is a lightweight SOCKS5 proxy that can help bypass internet censorship in countries like China. To ensure connection-wide security, you should connect to Shadowsocks via a Surfshark VPN server.
Apps from both Surfshark and PrivateVPN were free from IP, DNS, and WebRTC leaks when tested.
Winner: Surfshark
Privacy
A VPN that can't protect your data is basically worthless, so we're pleased to see that both providers take privacy seriously.
Both allow you to sign up with just an email address and pay for your subscription with cryptocurrency. For extra privacy you could use a burner email i.e. a disposable account set up in a different name.
Neither provider has a logging policy, thus ensuring your session information is safe from prying eyes. It's worth noting, however, that Surfshark does temporarily record your session ID, the VPN server you're connected to, and a connection timestamp – all of which are deleted after 15 minutes.
Winner: Draw
Customer support
Customer support is key to building trust in a product. Happily, both providers seem willing and able to help, and can be contacted via a variety of avenues.
Both offer live chat, though Surfshark – being the larger provider – is able to do this 24/7. By comparison, PrivateVPN's live chat does seem to go offline for a few hours per day. It's worth noting that both providers outsource their live chat, so privacy-conscious users may prefer making contact via email.
Surfshark and PrivateVPN both have comprehensive sections for FAQs, getting-started guides, and troubleshooting. They also have dedicated YouTube channels filled with instructional videos. If you're really stuck, PrivateVPN offers remote control support via live chat.
Both providers offer 30-day money-back guarantees, enabling you to try them out without risking anything financially.
Winner: Surfshark
Conclusion
In some cases, bigger really is better: and this is one of them. It's hard not to be impressed by Surfshark's global reach of servers, its ability to access streaming services and the overall sleekness and functionality of its product. Indeed, rather than try to compete with all this, one of the biggest names in the VPN industry – Nord Security – merged with Surfshark in 2022.
Nevertheless, if all you want is the best VPN for the lowest price, then PrivateVPN is a solid choice. Its monthly and yearly subscription costs are difficult to beat, and it combines top-notch security with fast connection speeds. We also like its willingness to provide remote support to struggling customers.
Overall winner: Surfshark
Image credit: Jason Dent on Unsplash