Pricing
EaseUS Data Recovery Wizard Professional is currently on Version 14.2. It is available in three different subscription plans. Each plan offers the same level of service – for a different length of time. This makes choosing which plan you want nice and easy because you don't need to worry about choosing between various different features across a minefield of divergent plans.
Get EaseUS Data Recovery Wizard
As you can see in the image above, you can purchase the data recovery software either for a month on a recurring contract, for a single year (also with a recurring contract), or for a lifetime.
In our opinion, the monthly cost of a subscription is pretty expensive. That said, if you are in need of recovering something important after suffering a virus or a problem with a hard drive, using this tool for a single month to recover that data may well be a suitable option. Thus, you may be happy to pay the $69.95 fee.
Don't get caught out!
Just remember to cancel your subscription before the month ends, or you will end up being charged for another month at a substantial cost. (If you do accidentally pay for two months you will literally have forked out just $10 less than it costs to use the software for the rest of your life; which is obviously a very bad situation to end up in!)
The yearly and lifetime plans are much more reasonable, and while we would usually warn against purchasing a lifetime subscription to anything (the company could stop developing its product or could cease offering its service) – it is worth noting that EaseUS has been going for 17 years, meaning that this company is well established and generally appears likely to stick around.
Cross compatibility?
Any consumers in need of recovery for both Windows and Mac must bear in mind that each version of the data recovery Wizard is a completely separate product. Thus, you will have to purchase them separately to use them cross-platform.
This adds considerable cost and, in our opinion, it would be nice if a lifetime membership provided access to both. Admittedly, the vast majority of consumers will likely only need to recover on one platform or the other. That said, it would be a superb selling point if the company released a combined subscription for both at a slightly reduced cost from the $300 total you currently need to pay for lifetime access to both.
Those wondering if it is possible to purchase data recovery for Android or iOS are sadly out of luck. EaseUS Data Recovery Wizard is available only for Windows and macOS, which means that Linux users are also out of luck.
EaseUS Data Recovery Wizard Technician
For those who want to be able to use the recovery software on more than one computer, there is a business plan available. This is perfect for any business that wants to be able to purchase a license that covers all of the machines. The service costs $299 for one year, $399 for two years, or $499 for a lifetime subscription.

Software updates included in price
For those who decide to make use of the sizeable discount that comes with "Lifetime" subscription, it is worth noting that all subscriptions come with free software upgrades during the time period purchased.
This means that a lifetime user will get updated versions of the data recovery software as and when they are released. What's more, a company representative told me that the software is actively under development and is usually updated two to three times a year to ensure it is working optimally to recover data.

Money-back guarantee? Free Trial!
Finally, it is worth noting that anybody who decides to get a subscription is protected with a 30-day money-back guarantee. That said, it is important to pay attention to the refund policy. It clearly states that anybody who successfully uses the application is no longer entitled to a refund.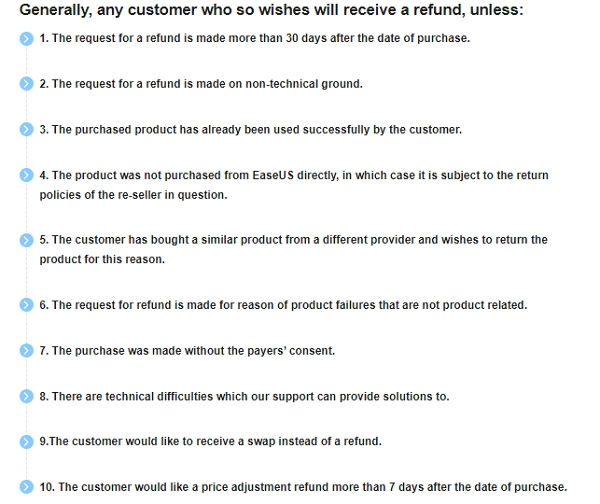 For this reason, anybody interested in trialing the service should stick to the free trial instead. This allows you to recover 500 MB worth of data to test the service and "verify the recovery quality" of the product. This is a useful option, that does allow you to trial the service (contact the live chat to find out how to gain access to the free trial that lets you recover data rather than just preview it).
Payments
Paying for EaseUS Data Recovery Wizard is extremely easy thanks to its various payment options. You can opt to pay via a credit or debit card (including Amex, Visa, Mastercard, and Discovery). In addition, the firm accepts PayPal, Trustly, and Union Pay. However, there is currently no option to pay via cryptocurrencies.
Get EaseUS Data Recovery Wizard
Features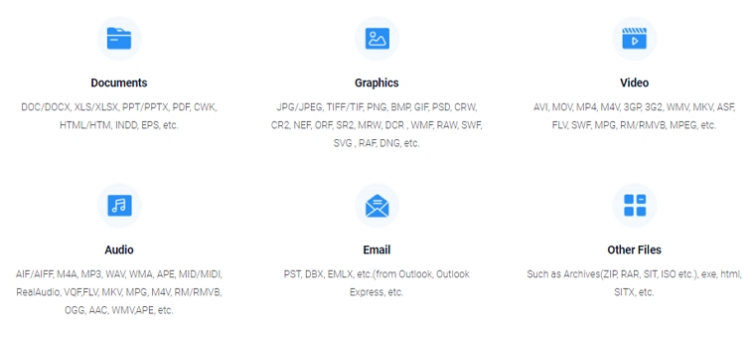 Apps for Windows and Mac
Preview files before recovering them
Quick or Advanced scan options
Recover accidentally deleted files
Recover from formatted drives
Recover files affected by a virus or malware infection
Recover drives that have gone RAW
Recover files lost due to human error, power failure, system crash, OS re-installation/upgrade, hard drive crash, and software crashes
Repair damaged or corrupted image files (with preview to check them once they have been repaired)
Repair and recover damaged video files taken by cameras (MP4 and MOV videos)
Works with all drive types (HDD, SSD, SD Card, Memory Card, Flash Drive, USB Drive, and Pen Drive)
Remote assistance via TeamViewer
Free trial (preview only)
Free version (available via the live chat support) can recover 500 MB of files initially. (You get another 1.5 GB files after you share the software on Facebook, Twitter or Google+)
As you can see in the image above, EaseUS can help you to recover a huge amount of different file types!
Setup
Getting a subscription with EaseUS Data Recovery Wizard is extremely easy. All you need to do is head over to its website and choose whether you want the version for Windows or Mac.

Having picked, all you need to do is choose to either start the free trial or pay for the subscription period you prefer. We recommend that you take advantage of the free trial for two reasons.
Firstly, it's good to test the application and see how it works – and the trial version allows you to preview files. This lets you see lost files and preview them to ensure it is worth your time purchasing the software to actually recover them.
That said, during our tests, some of the files that were discovered could not be previewed, and those files that could not be previewed would ultimately not recover properly. So this is something worth bearing in mind before you pay up. If you discover files that can be previewed, you are probably safe to go ahead from my experience of testing the application (more on this later).
Secondly, paying subscribers are sent a license activation code after they pay, and you must enter this code into the application that you have already installed – which makes things a lot easier if you have already installed it to test it with the free trial.
Subscribing
When you do come to pay for a subscription, you will be asked for your email address, name, and payment information.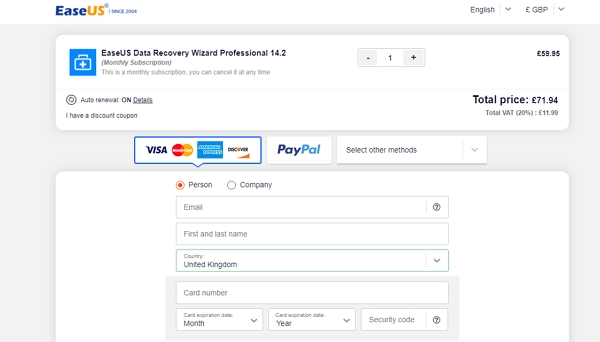 It is worth noting that the service asks users to confirm that they are over the age of 16 to purchase the data recovery software. And you must agree to the Terms and Conditions.
Once payment has been successfully received, you will get an email with the license activation code. Enter this into the application to unlock the full version and begin using the software.
Finally, you will notice that when you install the software, the name of the publisher is CHENGDU YIWO Tech Development Co. Ltd. This may strike you as strange when installing an application by a company called EaseUS. However, this is the correct publisher and despite the name, this is a product developed by a company registered in Chengdu, Sichuan, China.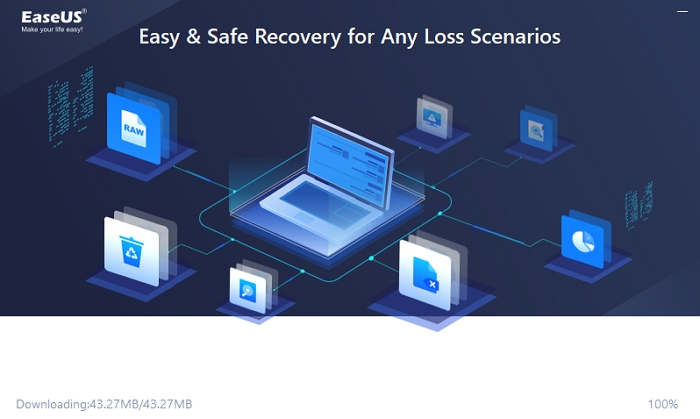 Ease of Use
With your subscription payment made and the activation code received – you are ready to enter it into the application. To do so, simply launch the app and click on activate in the top right.
On the dashboard, you can see your various hard drives. Here you can begin searching for and recovering files that have been deleted from your machine. I tasked the software to recover from a purposefully formatted 2 TB hard drive.
To do so, I selected the hard drive and clicked on "Scan".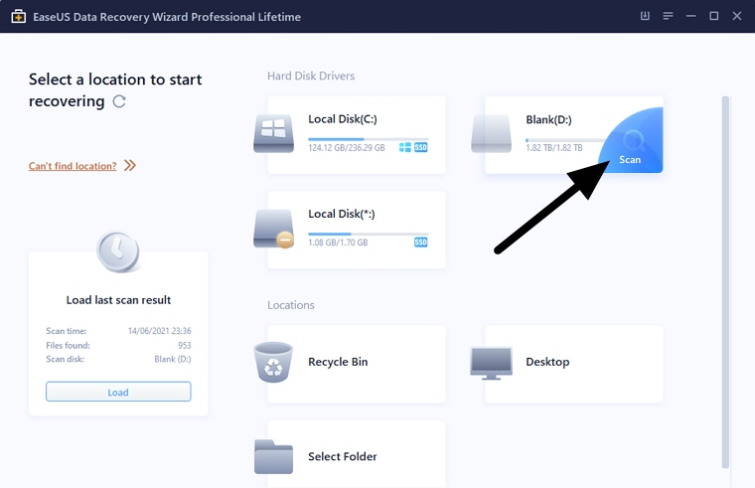 Following an initial "quick scan" in which the software found 30 GB of data, the data recovery wizard continued searching for additional "lost" data. The search took an extraordinarily long time (5 hours) which is a testament to how thorough and deep this software goes when attempting to recover data.
Eventually, the data recovery wizard had managed to locate a whopping 2.11 TB of data. It discovered over a million files on the formatted NTFS drive. I chose to recover some of the music found on the old hard drive and was able to recover the mp3s without issues. I was also able to recover some old images from a Canon camera.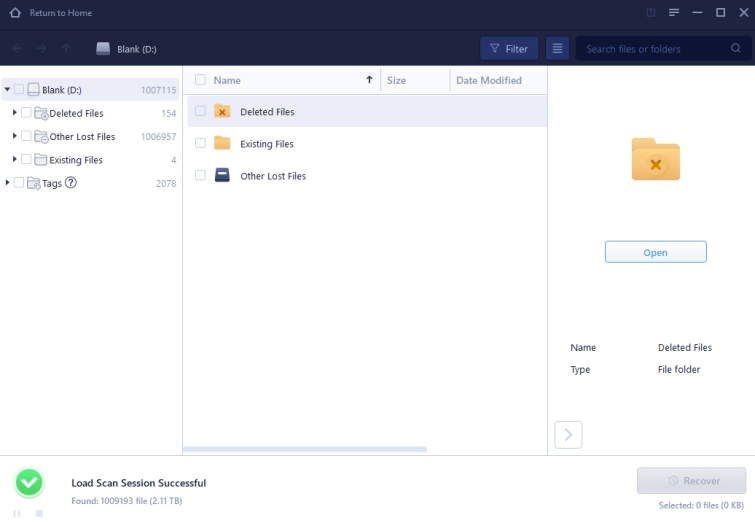 Overall, I found the entire process to be extremely straightforward. All the files were sorted into easily searchable folders and sub-folders. This allowed me to find all the data, program files, videos, etc, exactly where they had been originally.
However, it is worth noting that not all files could be previewed or recovered. I found word documents, PowerPoint documents, and several other things on the hard drive that would not preview. And, when I attempted to recover those word documents they would not open because they were corrupt (presumably because formatting had scrubbed them well enough to not be actually useable when recovered).
Thus, it is worth noting that while this program can and will discover data on your hard drive – it is not foolproof, and may not be able to recover everything. This is (I suppose) to be expected, and the program can ultimately only work with what it manages to find.
Next, I decided to format the hard drive using DiskWipe utility. This is a program specially designed to completely format and also cleanly wipe a drive so that no data is recoverable. This is the only way to properly prepare a hard drive for sale, as it is the only way to ensure that a program like EaseUS can no longer recover any data.
After deleting all of the data on the drive properly using the "British HMG IS5 (3 passes)" option in DiskWipe, I once again ran the data recovery wizard. As expected, the program was only able to find files used by DiskWipe to clean up the hard drive: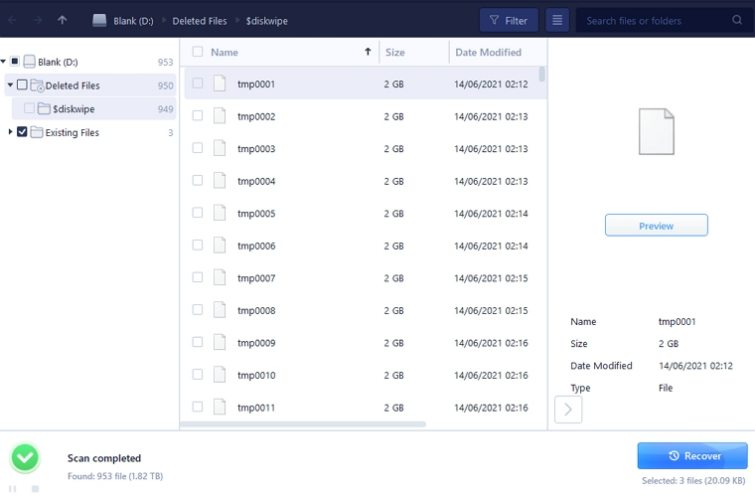 The results of my tests reveal that EaseUS can recover data from a normally formatted hard drive, but will fail to recover data if a drive has been purposefully wiped using a properly equipped program for completely cleaning drives (by purposefully destroying the data on the drive).
As previously mentioned, however, even on a regularly formatted drive, some of the data that is found during the scan may be partial or corrupt and thus you may not necessarily be able to open those documents or files when you recover them.
Overall, I found EaseUS Data Recovery Wizard is definitely useful for anybody who accidentally deletes a file and needs to recover it, or for somebody who is attempting to access lost files that they know used to be present on a hard drive (that they have not used a program like DiskWipe to clear).
Unfortunately, I was not in a position to test the recovery wizard against a drive that had been infected with a virus or malware. So I cannot comment on its efficacy in this department. However, there is no doubt that the software is worth testing under these circumstances because I was surprised by how thorough the software was in searching and finding old files on my hard drives.
When using EaseUS Data Recovery Wizard, the option is there to easily search the recovered data using the menu on the left-hand side. With that done, you can choose another drive to recover the data onto (or even recover to the same drive). And in my experience, the application worked well.
Not only that, but this program makes it extremely easy to recover data, which makes it suitable for any beginner who wants to recover their own data without needing the help of a professional.
Finally, it is worth noting that you can only use the data recovery wizard on one machine at a time. However, if you do pay for a lifetime (or year) license and you do need to transfer it to another machine (perhaps because yours is broken for example) then you can do so according to the firm:
Due to single license limitation, the software could only be used on one computer at the same time. If you want to use it on another computer, you should contact us to reset your license first. Then, you can reinstall the program with your same license code.
Get EaseUS Data Recovery Wizard
Customer support
When it comes to customer support, EaseUS goes the extra mile. This makes the service suitable for anybody that does not consider themselves particularly techy and is looking for a file recovery solution.
Live chat support is available on its website 24/7, and while this is primarily designed to help people to ask sales questions about the various EaseUS products and services, I found the agent to be extremely helpful and to be able to answer everything you might want to know before taking the dive and purchasing. What's more, the reviews on Trustpilot relating to the support agents are extremely complimentary.
For those who need tech help, the service can provide remote access support using TeamViewer. This allows the agent to control your computer on your behalf remotely to help you with recovering files – if you experience any difficulties using the software. This remote support service is available from 9 am to 11 am and 1 pm to 5 pm, Monday to Friday. (UTC+8 time zone).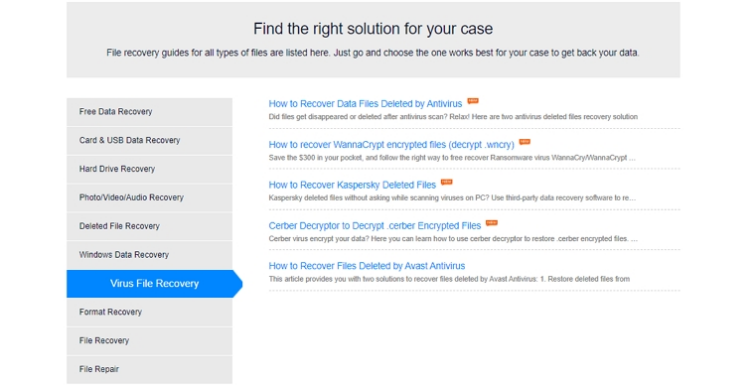 In addition to this superb support, the service has a number of user guides on its website that explain how to use the service to recover files. These are fully illustrated and cover a large number of different recovery circumstances. Overall, I found this resource to be extremely good and will allow most people to find everything they require to perform data recovery without the need for any remote assistance.
Privacy
EaseUS Data Recovery Wizard is an application developed by the Chinese company CHENGDU YIWO Tech Development Co. This is a Chinese company based in Chengdu, Sichuan, China. It is worth noting that as a Chinese company, the firm must provide any of the information it holds about its users over to the authorities if asked to do so (to comply with China's National Security law).
Despite this, the level of information that the company accumulates appears to be low and generally non-invasive. In addition, the reputation of the company and its products appears to be good – with no history of vulnerabilities or data privacy concerns.
The software works locally on your PC, and you should not need to worry about any of your data being processed on cloud servers. This should limit the potential privacy and security implications involved in using the service.
Unfortunately, it is a completely closed-source platform, so you have to take the company at its word when it says that it never processes any of your data (we have no reason to doubt it, but it is always worth mentioning this caveat when it comes to closed-source platforms).
We checked the privacy policy, to see if anything stands out as concerning. The policy explains how any personal data (such as your first and last name, address, e-mail address, and telephone number) is handled by the company. None of this seems unusual and is done solely for the purposes of providing the user the services they ask for.
The policy also explains that the company collects "general statistical information" regarding people's use of the website and its applications. According to the company, these usage statistics are collected and processed in an aggregated manner only. This is a privacy-preserving practice that ensures the data it holds provides it with information without affecting the privacy of individual users.
Generally speaking, we found the policy to be standard fare, and we found nothing in it that concerned us with regard to using the software or online services. That said, the company does admit to using cookies to serve ads. These will lead to some level of tracking as you use its services and those of the third-party partners it works with elsewhere on the internet.
Other than that, the company will not collect any personal information, so you do not need to worry about the company having access to any of the files you recover using the software (though it is closed-source, so, as mentioned, you do have to trust the company to do the things it promises).
Finally, it is worth noting that EaseUS data recovery wizard works perfectly well offline. Thus, if you wish to use it without sending any aggregated usage behavior statistics to the firm, you could choose to do so by installing and using it – and then removing the software – all while offline.
Conclusion
EaseUS Data Recovery Wizard is a highly effective and useful tool for analyzing the contents of a hard drive, and for recovering any data that is still contained therein. During my tests, I found the software to be extremely thorough, and it was able to discover huge amounts of data on a previously formatted NTFS hard drive.
The program is useful for anybody working in the data recovery profession, or for anybody who is buying and selling old computers and laptops and wants to be able to check that hard drives have been properly scrubbed before selling those devices on (to ensure privacy for previous users).
Admittedly, the software was not able to recover all the files that it found during a scan. However, it was able to recover some files from the formatted drive effectively. This makes it an extremely useful tool for anybody who is trying to recover accidentally deleted files from a hard drive they are currently using; as those files should be easily recoverable when compared to files from a formatted drive.
Overall, we found EaseUS Data Recovery Wizard to be extremely easy to use. Perhaps the only word of caution is that testing this program with the free trial may lead to disappointment if when you later recover a file it won't actually open. During my tests, I found that this is possible because some of the files that were discovered could not be previewed, and would not open after I had recovered them.
Presumably, this is because those files were only partial, incomplete, or corrupt, and had not been recovered to the extent where they would actually open. Thus, it is worth noting that if you can't preview a file when you test the software for free, you may not ultimately be able to recover that file if you do purchase a subscription. This is something worth bearing in mind, and even their live chat agent told me that:
You can preview the file first. If it could not be previewed, it means the file was damaged and you do not need to purchase the full version.
With that caveat out of the way, my overall impression of this data recovery software was that it was extremely effective. There is no doubt that EaseUS data recovery wizard is effective at what it does, and it is our conclusion that any file that can be recovered will be recovered by this software.
Get EaseUS Data Recovery Wizard
0 User Reviews
Leave a Review
Thanks for your review!