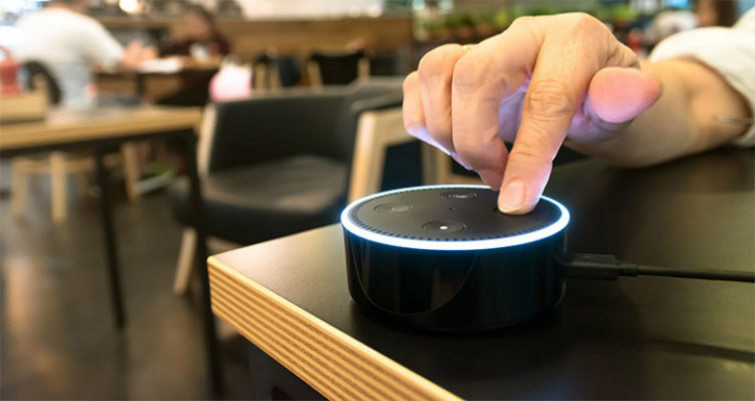 A New Hampshire judge has handed down an order for Amazon to turn over recordings from an Echo device which could potentially hold crucial evidence in the double murder case of the State of New Hampshire v. Timothy Verrill.
Sometime between January 27th and January 29th, 2017, prosecutors allege that Verrill stabbed two women to death at a home in Farmington, New Hampshire. Christine Sullivan and Jenna Pellegrini were found a few days later under a tarp in the backyard of the property with the murder weapon buried near their bodies. Verrill was charged with two counts of first-degree murder and has pleaded not guilty in the slayings. He currently sits in jail awaiting his trial set to commence in the spring of next year.
Key to the State's case against Verrill could very well be the audio content contained on Amazon's servers from an Echo device located in the kitchen of the home where the murders presumably took place. Amazon's Echo devices are equipped with the voice-activated Alexa digital personal assistant, which listens for certain trigger words and then begins recording audio. These audio recordings are then stored on Amazon's servers until they are manually deleted by the user. Prosecutors in the case are hoping that the Echo device in question was listening and recording what was going on in the house in the immediate time period before, during, and after the murders; and that those recordings will hold key evidence to solidify their case against Mr. Verrill.
Justified or not?
According to the judge's order, the State is demanding that Amazon hand over data from the Echo device recorded from January 27th through January 29th, 2017. The order justifies the request via the following statement:

"The court finds there is probable cause to believe the server(s) and/or records maintained for or by Amazon.com contain recordings made by the Echo smart speaker from the period of January 27, 2017 to January 29, 2017, and that those servers contain information identifying any cellular devices that were linked to that smart speaker during that time period, and that such information contains evidence of crimes committed against Ms. Sullivan, including the attack and possible removal of the body from the kitchen, in the time period of January 27, 2017 to January 29, 2017."
Should these Echo recordings located on Amazon's servers contain the incriminating evidence the State suspects they do, it could prove to be the essential piece of evidence that allows prosecutors to secure a conviction in the case.
Though this potential piece of audio recorded evidence can certainly be beneficial in ultimately serving justice in this heinous incident, it brings into question the inherent privacy concerns associated with the wealth of personal data we provide large corporations through such voice-activated services in the perpetual quest for comfort and convenience. Amazon's Echo speakers are without a doubt immensely helpful in a wide variety of situations. Using only your voice, you can command Alexa through your Echo speaker to give you the weather forecast, check on your bank account, play your favorite music, order you a pizza, or even tell you a joke. While this can absolutely be convenient and at times amusing, it is important to note that these devices are always listening and gathering all kinds of personal data from the user.
We're not listening... honest
That said, even though Echo speakers may constantly be listening as long as the microphone is turned on, according to Amazon's Alexa FAQ's, "Echo devices are designed to detect only your chosen wake word (Alexa, Amazon, Computer or Echo). The device detects the wake word by identifying acoustic patterns that match the wake word. No audio is stored or sent to the cloud unless the device detects the wake word (or Alexa is activated by pressing a button)."
This is reassuring information for Echo users, indicating that they have full control over what is and what is not recorded and stored on Amazon's servers. Echo users also have the option to go through their voice recording history and permanently delete any recording. This, however, may prove to be troublesome for prosecutors in this case as they will be banking on the existence of recordings that may not necessarily be available or existent.
Perhaps encouraging to prosecutors, on the other hand, is that there have been reports of other instances of Alexa-enabled devices recording more than what their users expect them to record. Sometimes, Echo devices can misinterpret a "wake word" or other command and begin recording even when the user does not intend to record. Any such inadvertent recording on the Echo device at the center of this case could be advantageous for the prosecution. Therefore, even if no recordings were deliberately initiated on the device in question, there's still a chance that the device may have captured other bits of audio which may prove useful for the State's case.
This point however also reveals the troubling reality that these devices are not completely fool-proof and are not without their faults. The privacy concerns with these types of smart devices are very real. Despite Amazon's reassurances about protecting the privacy of their customers, we really can't be 100% certain regarding the entire breadth of personal data they collect and what they record through their smart speaker devices.
An Amazon spokesperson revealed in a statement to the Associated Press that they would not release the recordings "without a valid and binding legal demand properly served." Whether Amazon will fight the judge's order or agree to release the recordings remains to be seen.