Pricing
The license process for Yojimbo 4 are shown below.

The upgrade cost is for owners of the previous version of Yojimbo to upgrade to Yojimbo 4. The price is the same for Individual, Family or Educational licenses (which are no longer available).
A 30-day free demo is available which does not require any personal details at all. This is fully featured and fully functional, except that syncing data across multiple Macs is not supported.
The iPad app costs $2.99 in the App Store. Syncing between Macs requires a $2.99/month subscription fee, with the first month free.
Payment is via card, PayPal, or Amazon Pay.
Features
Drag and drop almost anything to save an organize
Powerful tagging features for easy search and organization
Client-side encryption
Sync across Macs (requires a subscription)
iPad app (additional purchase)
Applescript support
Applescript support
Many of Yojimbo's limitations, as described in this review, can be overcome through its support for Applescripts, of which there are many user-generated examples on the internet. Scripts exist, for example, to send all emails from Mail to Yojimbo, and for syncing Yojimbo using Dropbox.
Privacy and security
Jurisdiction
Yojimbo is developed by Bare Bones, a US-based company. After Ed Snowden's mass-spying revelations the US cannot be considered a good jurisdiction for a tech company to be based when it comes to privacy
This shouldn't matter, though, as Yojimbo is stand-alone software, not a service. Bare Bones should have no access to your data. The only note of caution is that Yojimbo is closed source software, so there is no way to know for certain what it's doing.
More concerning is Wasabi World Wide Heavy Industries. Yojimbo uses the third party Wasabi Sync service in order to sync data between Macs, and as we discuss below, it is technically possible for Wasabi to intercept Yojimbo users' unencrypted data.
Unfortunately, we have been unable to discover any information regarding Wasabi World Wide Heavy Industries.
Technical security
By default, data stored in Yojimbo never leaves your Mac. Files are not encrypted by default, but other than a Bookmark or Serial Number with a single click using AES-256 encryption. Which is very secure. The password is encrypted by default.
Data synced to other Macs using Wasabi Sync is secured using HTTPS. This should protect it against outside interference but does not shield it from Wasabi World Wide Heavy Industries. Data that has been encrypted in the app using AES-256, however, will remain securely encrypted throughout the syncing process.
Data is synced to iPads locally via WiFi only, so there are no third-party services to worry about. Only a very local attack could target such a transfer, which is protected by your router's security protocol (probably WPA2). And, of course, encrypted data remains encrypted during the syncing process.
Customer support
Support is rather bare-bones (pun intended!). A basic FAQ and release notes are available on the website, or you can contact Bare Bones about most issues via email or contact form. A US phone number is also available for purchasing and account support.
But Yojimbo is very easy to use and includes good help files, so it's unlikely you will need any additional support.
Ease of Use
Yojimbo is a macOS application with a companion iPad app (which requires the macOS application to work). An iPhone app may or may not appear at some point.
The website makes it very clear that no other platform will ever be supported. It is possible, however, to export data in web page format (HTML), which can be read in any browser using Yojimbo's sidekick feature.
The Yojimbo macOS app
When you first run Yojimbo, an introductory video does a good job of showing you what the app does and how to use it. A text file in the library also helpfully summarizes what you can do with Yojimbo.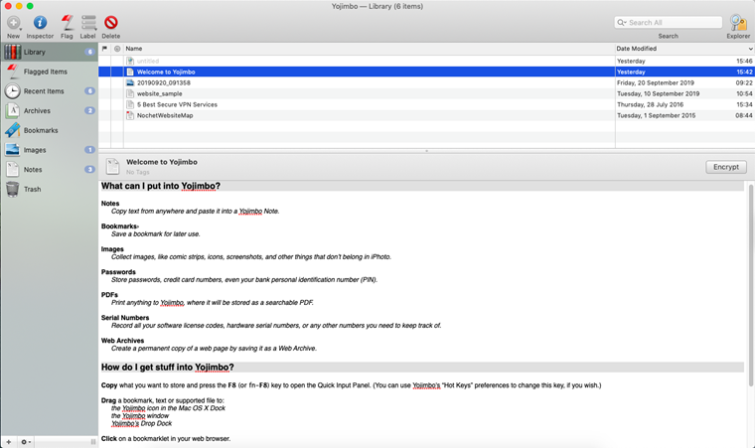 Yojimbo accepts many common file formats, including PDFs and most image formats. But not ePub files or most Microsoft Office file formats, although Word files can be imported as simplified Rich Text (.rtf) documents. If a file type is not supported then you can't add it to Yojimbo.
You can also save bookmarks, permanent copies of entire web pages, and serial numbers (such as software license numbers). In many cases, items can be added to Yojimbo simply by dragging them to the special Yojimbo Drop Dock which slides out from the edge of the screen.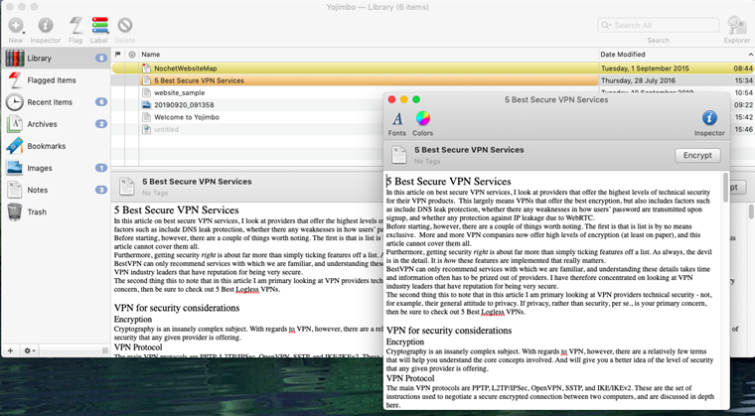 Saved items can be flagged, tagged, and color-coded for easy recognition and search using the built-in Tag Explorer feature. You can create "tag collections" for access from the sidebar in the main window, or you can allow Yojimbo to create "smart collections" based on the tags you assign to items.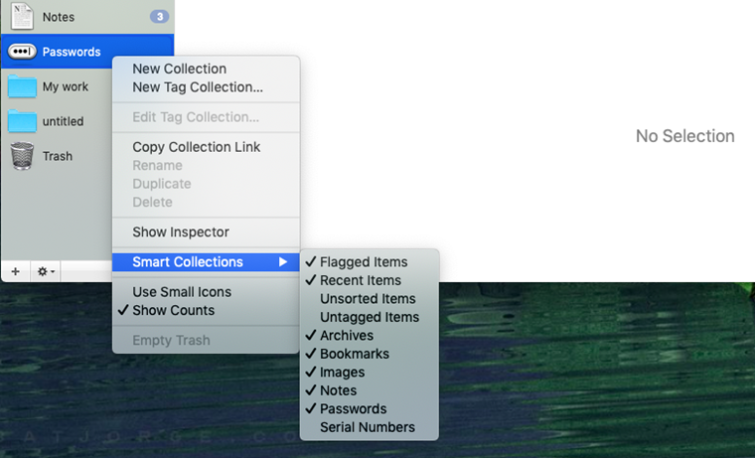 Clicking on a file shows it in the Preview panel while double-clicking it opens a Preview window.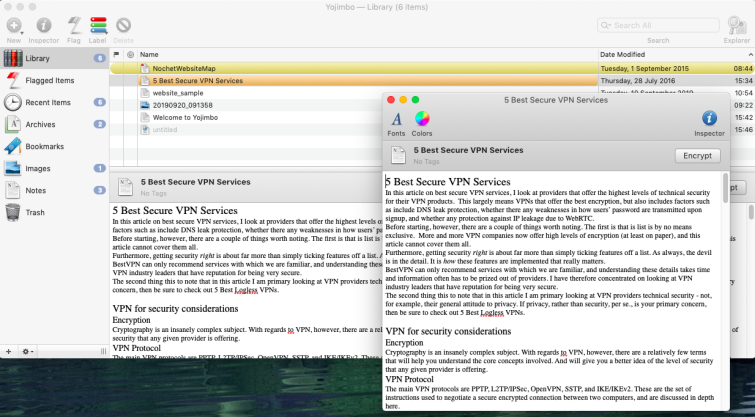 You can encrypt almost any item simply by hitting the Encrypt button. To decrypt it you need to enter your Yojimbo password.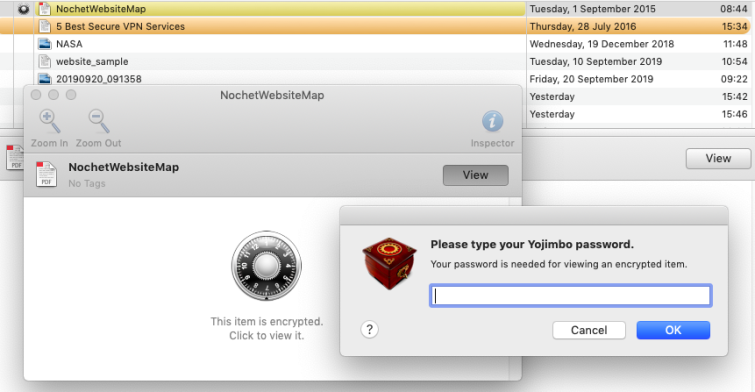 You can create new passwords and add tags to them. Passwords are automatically encrypted, but there is no import passwords function and no browser auto-fill functionality.
You can export content from Yojimbo as HTML pages, which can be viewed on any device with a browser. You do have to sync the HTML content to your devices yourself, though (for example by USB cable or cloud syncing service). This is where user-generated Applescripts shine.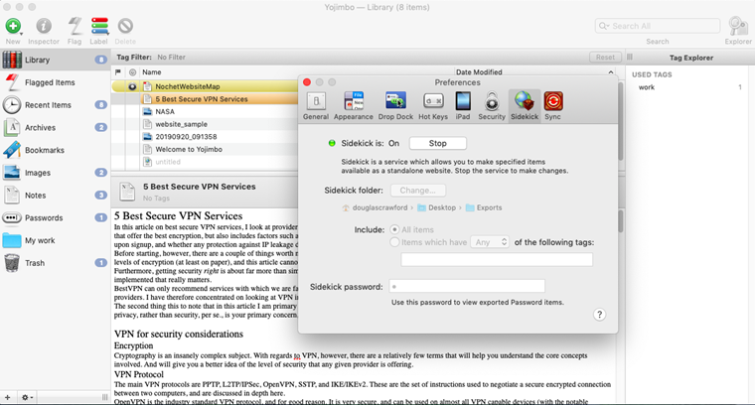 The Yojimbo for iPad
The companion iPad app pairs with Yojimbo for macOS over WiFi, syncing all items to your iPad where you can search and display them. You cannot edit or create items on the iPad app, however.
Yojimbo for iPad costs a rather pricey $2.99 from the App Store, which annoyingly translates to £2.99 for us Brits.
In order to Sync content, Yojimbo but be running on your Mac, and both your Mac and iPad need to be on the same WiFi network. The process is otherwise very quick and easy.
Once synced you can view most of your data, although other than sharing images to your iPad Photos library there isn't much you can do with it.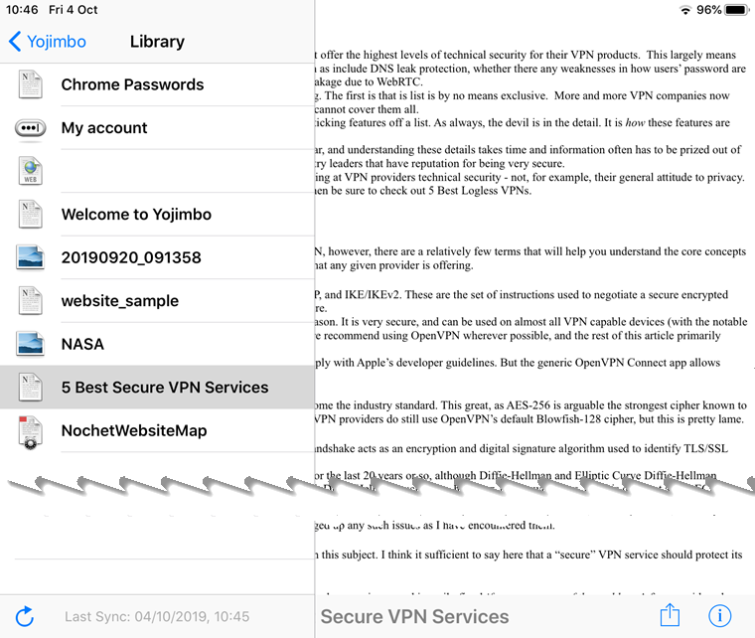 Regular encrypted files can be decrypted with your password, but we were surprised to find that, despite the App Store description which Yojimbo for iPad keeps "all your passwords and receipts safely at hand," there is no way to decrypt your saved passwords. Which isn't ideal.
Final thoughts
Yojimbo is a useful native macOS app for collecting and organizing your digital life. On your Mac. You can sync with other Macs over the internet easily enough (for a price), but its lack of any but the most basic (official) cross-platform support will be a major hindrance for many users.
As a password manager (which, in fairness, it does not bill itself as), Yojimbo falls well behind any dedicated password manager solutions we know of. It will store our passwords securely on your Mac, but that's all. There is no auto-fill functionality and, of course, no cross-platform syncing across devices. Even worse, you can't access your passwords via the iPad app!
This brings us to the fact that the iPad app is not very good. It allows you to access Yojimbo content from your Mac (except passwords), but not much else. The fact that it only syncs locally over WiFi is also a pain. We are not surprised that it only scores 2.3/5 in the App Store.
0 User Reviews
Leave a Review
Thanks for your review!