Do you think you've successfully erased your personal data by formatting your hard drive, SSD, or USB stick?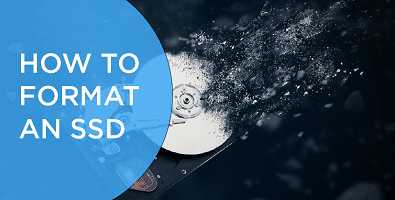 Sadly, this is a common misconception.
The reality is that unless you follow the steps in this How to Format SSD guide, anybody with the right skills can restore deleted data from your old drives.
Many people assume that formatting an SSD drive is enough. However, erased data is still recoverable. This can pose a risk if your old computer ends up in someone else's possession. An expert or cybercriminal can recover vast amounts of data from it easily.
How to Format SSD Securely
As you'll see later on, recovering data from an SDD is extremely easy.
In fact, it's so easy that not ensuring all data is adequately deleted from old drives is pretty silly.
Thankfully, there are ways to correctly format SSD drives so that the data is completely scrubbed. From now on, we highly recommend that you take these steps.
HDD Software Eraser
The cheapest and easiest way to wipe a drive completely is with a professional software eraser. Darik's Boot And Nuke (DBAN) software is free and is a hassle-free way to format an SSD. To use it, just connect the desired hard drive to a PC and run the software.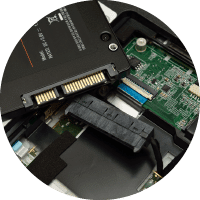 However, please be aware that the software does take a very long time. In addition, it doesn't work on defective disks.
To use the software, create a wipe CD or DVD. Now insert the drive you want to wipe into a PC, and run the software. Be very careful not to accidentally wipe a drive containing data that you require, because you will not be able to get it back afterward.
I recommend using a spare PC - or at least disconnecting all the hard drives that you do need - to be on the safe side. It is okay to do this because you will be booting up from the Boot And Nuke disc you made, not the internal drive.
Please read the Boot and Nuke documentation thoroughly. If you make a mistake and delete the wrong disc, the data will be gone forever.
SSD Specific Formatting Tools
A Solid State Drive (SSD) can be securely formatted by using the manufacturer utilities. The best way to find these utilities is to search the website of your SSD manufacturer. Here are links to some of the most popular manufacturers:
Samsung Magician Software
Corsair SSD Toolbox
Those utilities will walk you through the process, and they are pretty self-explanatory.
HD / SSD Destruction
For anyone who is having trouble finding a utility to delete their SSD drive, "shredding it" with a hammer and a six-inch nail is perfect. This method works with regular hard drives too.
Merely hammer nails right through the drive in a number of places. It is best if you do this outside into a block of wood. Four evenly spaced nails right through the drive should be enough to destroy it. Sadly this will also destroy any resale value.
Restoring a Hard Drive or SSD
Software can be used to recover both 'permanently deleted' files (SHIFT + DELETE on Windows) and fully formatted drives.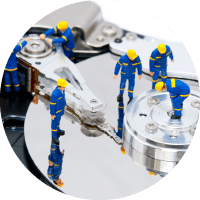 Furthermore, If your hard drives have been damaged or affected by a virus, file recovery software can be a blessing. However, cybercriminals also use this kind of software to recuperate old data from hard drives. This can give them a window into your life and allow them to cause all sorts of trouble.
Credit card theft, account theft, data theft, intellectual property theft: the list of possible crimes attainable by restoring old hard drives is disturbing. For this reason, it's vital that you take the time to properly remove old data from drives before throwing, selling, or giving them away.
Here is a full list of some of the problems that can occur if a drive is not correctly formatted:
Identity theft
Employment-related fraud
Phone or utility fraud
Bank fraud
Government benefits fraud
Tax fraud
Loan fraud
Credit card fraud
Hacking
The Recovery Process
There are many different types of professional recovery software on the market. Once you - or a hacker - have got one of these programs, recovering files is easy.
To recover files, you put the hard drive into a working computer as a secondary drive. Once you've installed it, and the computer is showing it in explorer, you're ready to recover data from it. Run the data recovery Wizard and select the location (hard drive) with permanently deleted files that need recovering. Now click Scan.
Recovery software usually has the option to Quick Scan or Deep Scan to find all lost files.
Once the software begins to find old files, you can preview and select them. If something is of interest, click Recover to save that data into a folder on the PC or to an external storage device. Once you restore the data to the hard drive, it is completely accessible.
Conclusion
In this article, we have described everything you need to know about securely formatting hard drives. The process is easy, so you really have no reason not to protect yourself by following these procedures in the future. It is well worth it!