In this ARCTIC Accelero Hybrid III review and guide, I'll show you how to assemble it with the AMD Radeon RX480, have a look at some benchmark results and evaluate whether it's worth getting one if you're looking at enthusiast all-in-one water cooling options.
PROS
Great company with great products
Custom GPU cooling voids warranty
Visually unattractive
VRM heatsinks not the best designed
CONS
About ARCTIC
ARCTIC (originally Arctic Cooling) is a Swiss company that has been around since 2001 and providing enthusiast cooling solutions for individuals around the world. I won't be carrying out a full in-depth review of them, as there are plenty of companies more qualified for this, such as Linus Tech Tips and JayzTwoCents. However, the company has been kind enough to provide us with four Accelero Hybrid III – 140mm editions to use with our Ethereum Mining Rig. The Accelero Hybrid III is an AIO GPU water cooling solution, which allows you to get all of the benefits of water cooling, without the hassle of reservoirs, and possibilities of dripping.
Since, I've had a Freezer i30 running in my home PC for over three years now, with great performance, and no degradation, I had high hopes for the Accelero Hybrid III. I am glad to say that it didn't disappoint.
Pricing
The Accelero Hybrid III clocks in at $99. Compared to other cooling solutions on the market this is the same ballpark as other offerings, and water blocks as well. Of course, with water blocks, you need to have a whole cooling circuit ready, whereas, with this, it's pretty much plug and play.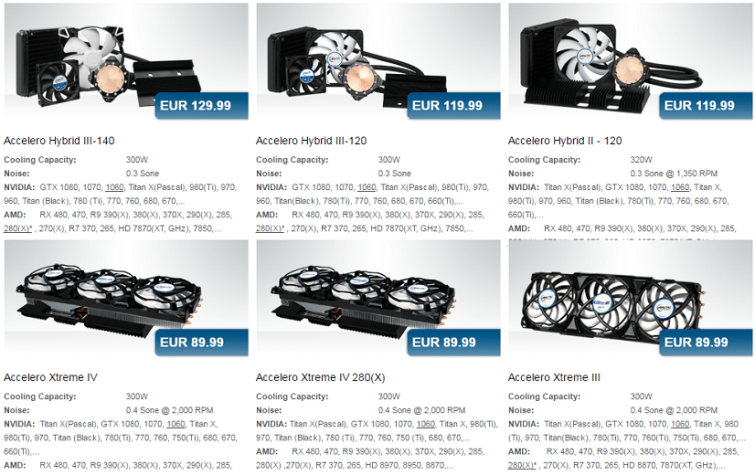 ARCTIC also sells a number of other water cooling solutions as well as air coolers with improved performance compared to the stock versions.
Video Installation
Have a look at the video below to see how easy it is to assemble the Accelero Hybrid III.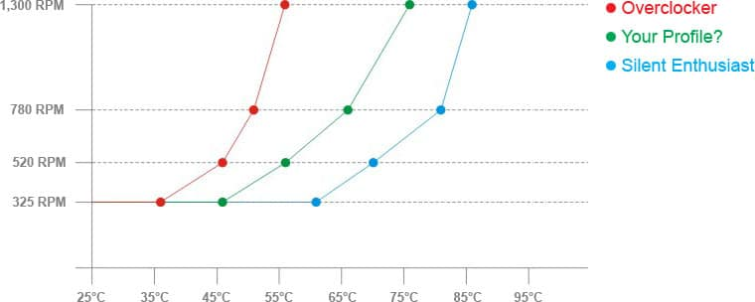 ARCTIC claims considerably cooler temperates (going as low as 42-46C), as well as significantly quieter operation. During this review, I've had the pleasure of experiencing that both of these claims are not only true, but the cooler has considerably succeeded my expectations as well! Check out the video above, to see all of these for yourself.
Support
On the whole, the support provided by the ARCTIC team was fantastic. Unfortunately, the biggest let-down was that they don't provide graphics card generic instructions. While this wasn't an issue for me, for those using an AIO cooler for the first time, this could be problematic. Luckily, there are plenty of tutorials on YouTube aimed right at this.
Installation and Testing
Overall, I found the process of assembling the Accelero Hybrid with the RX 480 a very simple task, which took me roughly 30 minutes (excluding the 60-minute drying time for the thermal glue).
You start off with disassembling the stock cooling solution. On the RX480 this goes as follows. Six small screws for the plastic cover. Four screws for the GPU cooling block. 11 back screws and two front screws for the heat sink and fan. Once you're down to the PCB only, you will need to clean the main GPU chip with a paper towel.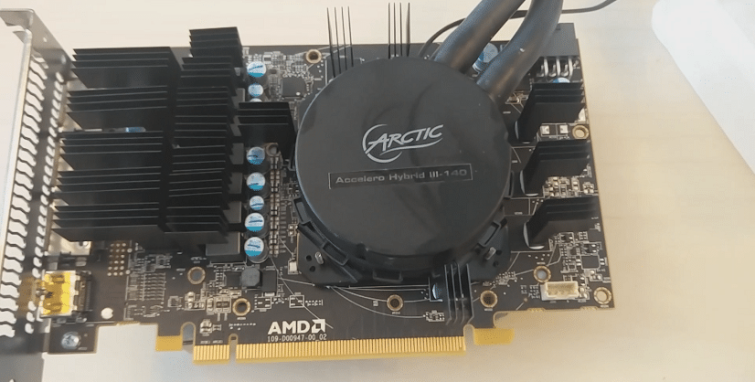 With the disassembly complete, you can start the assembly of the AIO water cooling. First, line up the PCB, with the water cooling block and the custom back heatsink that is provided. Now apply a small dollop of the thermal compound/ paste to the GPU. Line up the block, PCB, and heatsink and screw them together using the screws, springs and washers provided. Make sure you tighten each screw a few turns at a time, going round in a clockwise direction. You need to do this so that the thermal compound is evenly distributed and that the block and heatsink sit appropriately. Once assembled, gently try and move the cooling block around to ensure it fits snugly.
Now you will need to add the VRM heatsinks. Unfortunately, for the RX480 they provide the generic set. To figure out where the heatsinks need to go, you can look at where the heat pads are on the original heatsink. Find out where you will place each heatsink and create yourself a diagram (mental or on paper). Apply each heatsink with a tiny amount of thermal glue, make sure that it stays in position and you're not bridging any electrical components with the heatsink. Once the thermal paste is dry, you can add the VRM heatsink cooling fan.
Connect up the fans, and now you can insert the GPU into your system.
Performance
I tested the performance of the ARCTIC Accelero Hybrid III using a few different benchmarks and our custom 'test' – Ethereum mining. For the benchmarks I used: PassMark and 3D Mark. Stock performance was 74C and 81C respectively, while with the AIO system it was only 38C and 40C.
However, the most reliable test is the Ethereum Mining. Ethereum Mining requires your GPU to run at 100%, 24/7. I didn't run a stress test as that would look more at the performance of the GPU rather than the cooling. Of course, you can use the better cooling performance to achieve better GPU performance.

The results show that the Accelero Hybrid provides a superior cooling solution by far. Unfortunately, I do not have any water cooling solutions to compare it to but judging from the results; I'd recommend it to everyone. Even with the fan speed set at 10%, the temperature didn't go above 45C! Furthermore, the system ran considerably quieter as well. Unless your PC is locked in a cupboard, you'd never want to run it at such high speeds as it's quite deafening.
Other Products
Alongside GPU cooling (both Air and Water), ARCTIC also sells CPU, and memory cooling solutions and accessories to help you. They also sell monitor mounts, headphones, and a few other items. If you'd like to have a look at any of these, then head over to the ARCTIC website.
ARCTIC Conclusion
Overall, the Accelero Hybrid III by ARCTIC is a great solution is you wish to achieve better and quieter cooling on your GPU. Whether it be the AMD Radeon RX 480, like for me, or another supported GPU. However, I wouldn't recommend it if you're planning on using AIO on more than components as it can get fiddly and the custom VRM heatsinks are a huge offput personally. In that case, you're probably better off using a custom water cooling system. But in conclusion, for one or two GPUs the Accelero Hybrid III is fantastic, and ARCTIC also has plenty of other AIO cooling systems with presumably comparable performance.