In this ARCTIC Accelero Hybrid III review and guide, I'll show you how to assemble it with the AMD Radeon RX480, have a look at some benchmark results and evaluate whether it's worth getting one if you're looking at enthusiast all-in-one water cooling options.
PROS
Great company with great products
Custom GPU cooling voids warranty
Visually unattractive
VRM heatsinks not the best designed
CONS
About ARCTIC
ARCTIC (originally Arctic Cooling) is a Swiss company that has been around since 2001 and providing enthusiast cooling solutions for individuals around the world. I won't be carrying out a full in-depth review of them, as there are plenty of companies more qualified for this, such as Linus Tech Tips and JayzTwoCents. However, the company has been kind enough to provide us with four Accelero Hybrid III – 140mm editions to use with our Ethereum Mining Rig. The Accelero Hybrid III is an AIO GPU water cooling solution, which allows you to get all of the benefits of water cooling, without the hassle of reservoirs, and possibilities of dripping.
Since, I've had a Freezer i30 running in my home PC for over three years now, with great performance, and no degradation, I had high hopes for the Accelero Hybrid III. I am glad to say that it didn't disappoint.
Pricing
The Accelero Hybrid III clocks in at $99. Compared to other cooling solutions on the market this is the same ballpark as other offerings, and water blocks as well. Of course, with water blocks, you need to have a whole cooling circuit ready, whereas, with this, it's pretty much plug and play.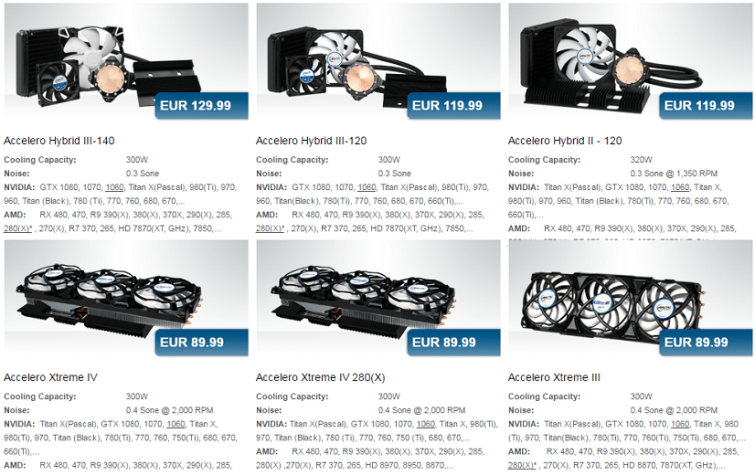 ARCTIC also sells a number of other water cooling solutions as well as air coolers with improved performance compared to the stock versions.
Video Installation
Have a look at the video below to see how easy it is to assemble the Accelero Hybrid III.