Overview
Perfect Web Browser is a comparatively little-known web browser/ad-blocker app developed in 2010 by a small US-based app development firm called AppSimply.
Perfect Web Browser is an iOS-only application, meaning that it is only available for Apple's mobile devices and won't work on your desktop computer or Android mobile device. If you have an iPhone, iPad, or iPod touch running iOS 11 or later, you'll be able to download and use Perfect Web Browser on your device.
The website is a bit stark and plain (to put it lightly), quite short on information, and customer support is basically non-existent, so we can't even really conjecture if there are plans in the pipeline for the future rollout of the app on other platforms. For now, though, let's presume that won't be the case and go forward with the assumption that it will remain an iOS-only application.
Despite all that, Perfect Web Browser is a mighty little app that is jam-packed with tons of awesome features and incredible levels of customizability that really impressed us during our tests. Web browsing is butter-smooth and lightning-fast, and the adblocker functionality is top-notch. Perfect Web Browser is an all-around fantastic application for upgrading your web browsing experience and keeping annoying ads and pesky trackers safely at bay.
The full premium package comes with a premium price tag, however, so read on to see what we thought of the entire product and see if it's worth upgrading to the Pro package.
Features
As we've already mentioned, Perfect Web Browser is chock-full of all kinds of bells and whistles that really make for a supercharged browsing experience. The only catch is that you'll need to upgrade to the Pro version to access this app's full potential (including its ad-blocker functionality).
Let's take a look at some of the many features offered by Perfect Web Browser:
Ad-blocking functionality
Block trackers and analytics
Custom blocking filters and whitelisting
Three levels of private browsing (Normal, Auto-Erase, and Auto-Erase +)
Passcode lock
Tab firewall
Password manager compatibility
Sync with Google Drive and Dropbox
Gesture navigation functionality
TV-out functionality
Desktop browser emulation
Customizable themes and colors
Dark mode
Convenient one-handed usability on iPhone
Share pages with other devices via QR code
Auto-zoom functionality
Performance & Usability
The browser itself is easy to use and the performance is indeed blazing-fast as advertised. We found that flicking through tabs and firing up websites was incredibly smooth and seamless – a solid browsing experience on the whole.
The adblocking functionality worked well, meaning we hardly even noticed it was there. We experienced only a few minor interruptions from sites requesting to disable it and it never seemed to break any of the sites we visited as some other adblockers tend to do from time to time. Enabling the Adblock feature and blocking trackers and analytics is a simple affair – as easy as flipping the toggle switch to the 'On' position. We were also impressed by how easy the app makes the process of adding custom filters that can be toggled on and off as needed.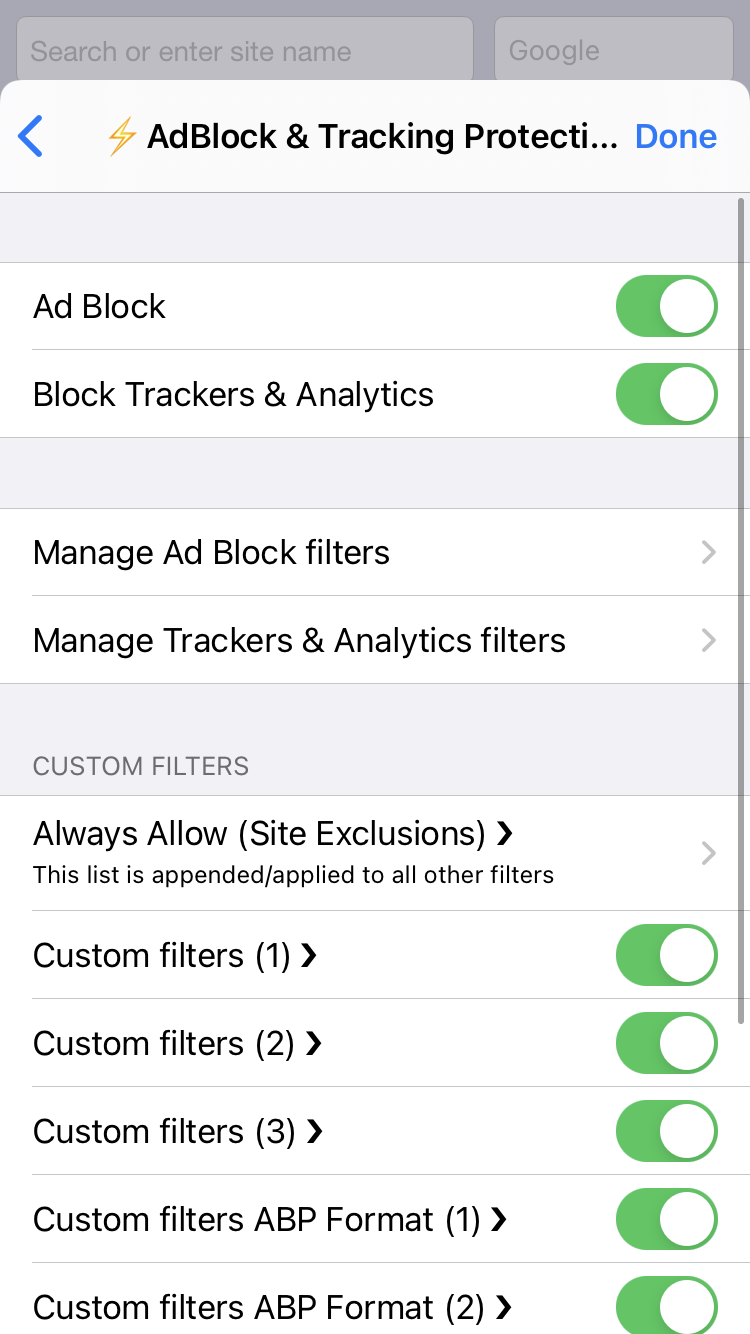 Other privacy controls like clearing your web history, cookies, and cache, activating a tab firewall for a particular site, and enabling a passcode lock to access the app were also relatively simple to achieve.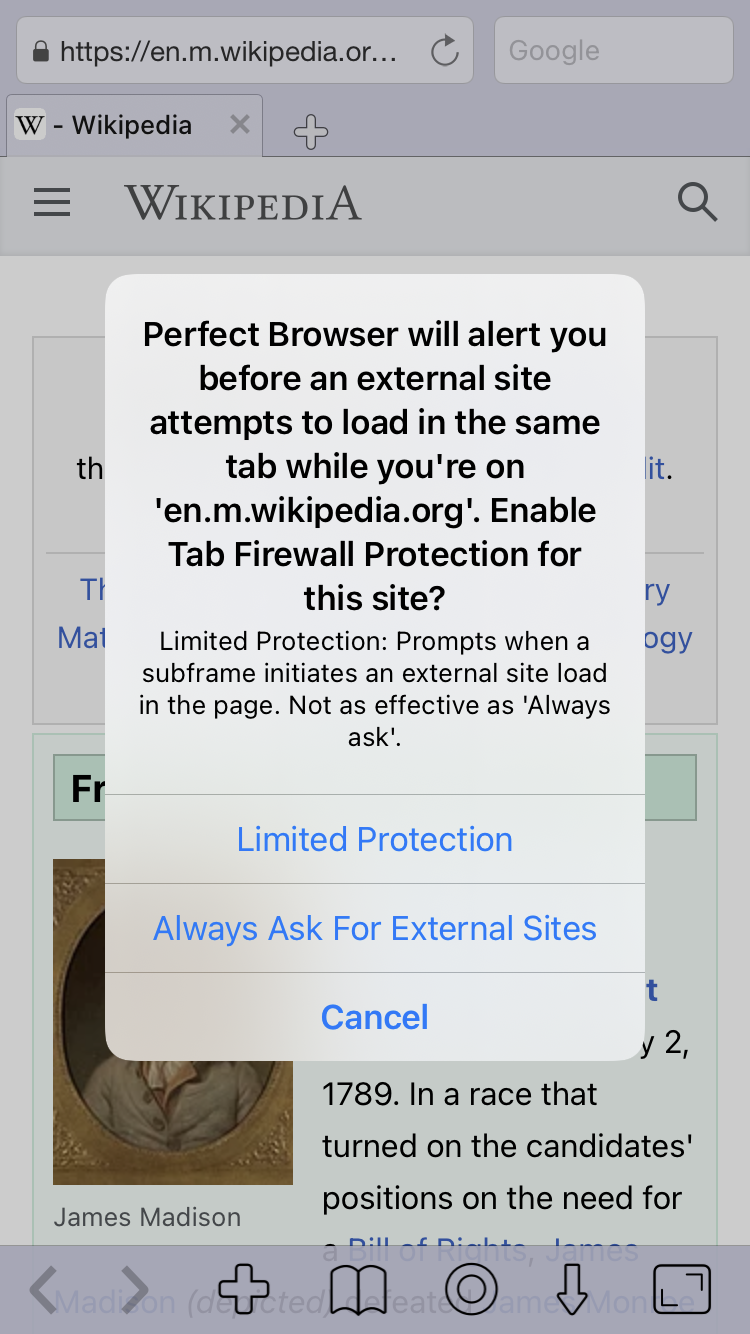 We also found the gesture functionality to be intuitive and responsive. It's a great feature that can be tremendously useful in making your browsing experience all the more convenient and efficient. Once we got used to using the gestures, we were able to whiz and dart around the web with ease.
Applying and customizing browser themes was also easy to accomplish, and we thought it to be a neat extra feature that allows users to tailor the look and feel of the app to their personal preferences.
All that said, the app is quite a bit rough around the edges overall, and the user experience isn't exactly what we'd categorize as being sleek or polished. Case in point, the 'Settings/Options' area of the app is a jumbled mess that is not particularly pleasant to navigate. For example, enabling private browsing (which happens to be one of the most important features of the app) is not at all as straightforward as we would have hoped it to be.
Users theoretically should be able to enable private browsing mode from three different areas within the app's Options menu. In practice, however, we were only able to toggle private browsing on and off from the main Options menu, and not from the Settings menu or the 'Privacy Controls' menu.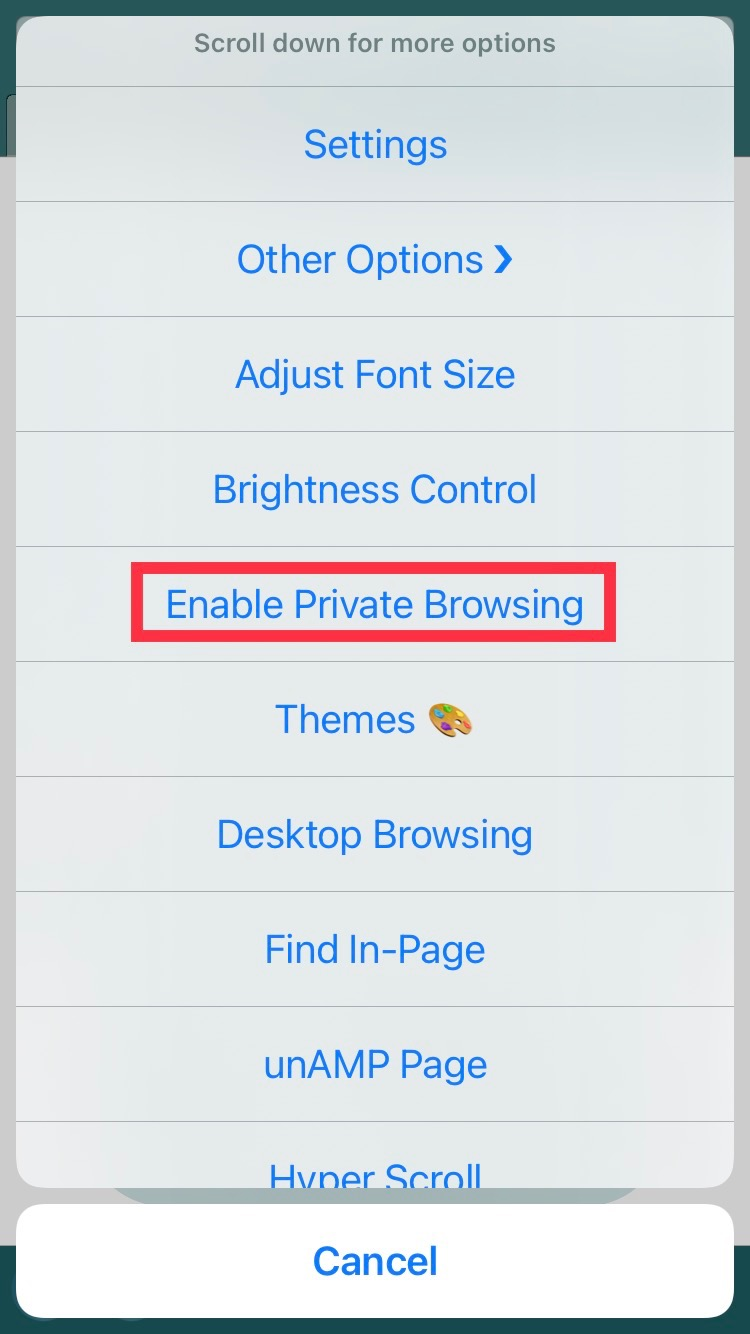 When we attempted to enable private browsing from those two menu options, the toggle button wouldn't remain in the 'On' position and instead always reverted to the 'Off' position. This is most likely a bug that will hopefully be addressed in a future update, but we found it incredibly irritating nonetheless.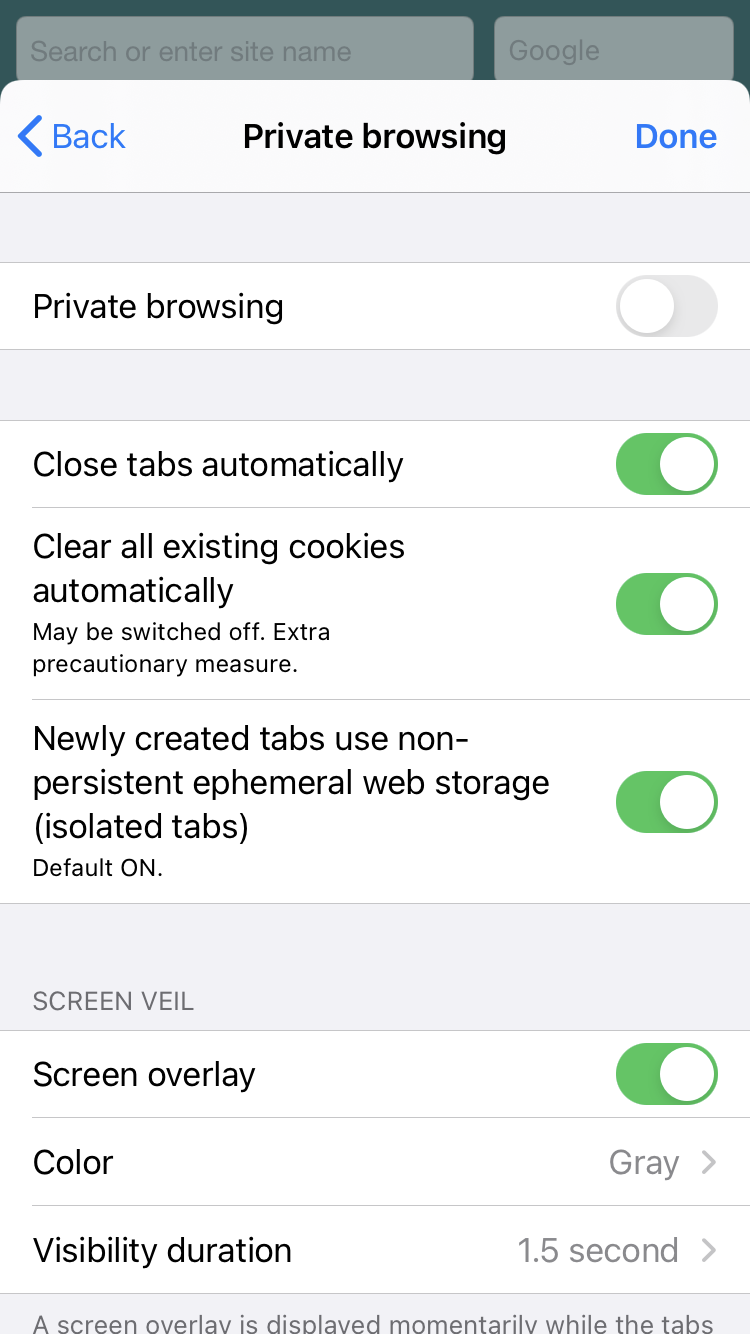 Once we were able to activate the private browsing mode, we were impressed with the three different levels of private browsing offered. We liked the fact that users are able to set the functionality to the level of privacy that best suits their personal needs. Users can choose between standard private browsing, private browsing with 'Auto-Erase' where tabs are closed automatically when the user leaves the app or locks the device, or private browsing with 'Auto-Erase +' where tabs are closed automatically when the user leaves the app or locks the device, swipes to the edges of the screen, or any iOS alert appears.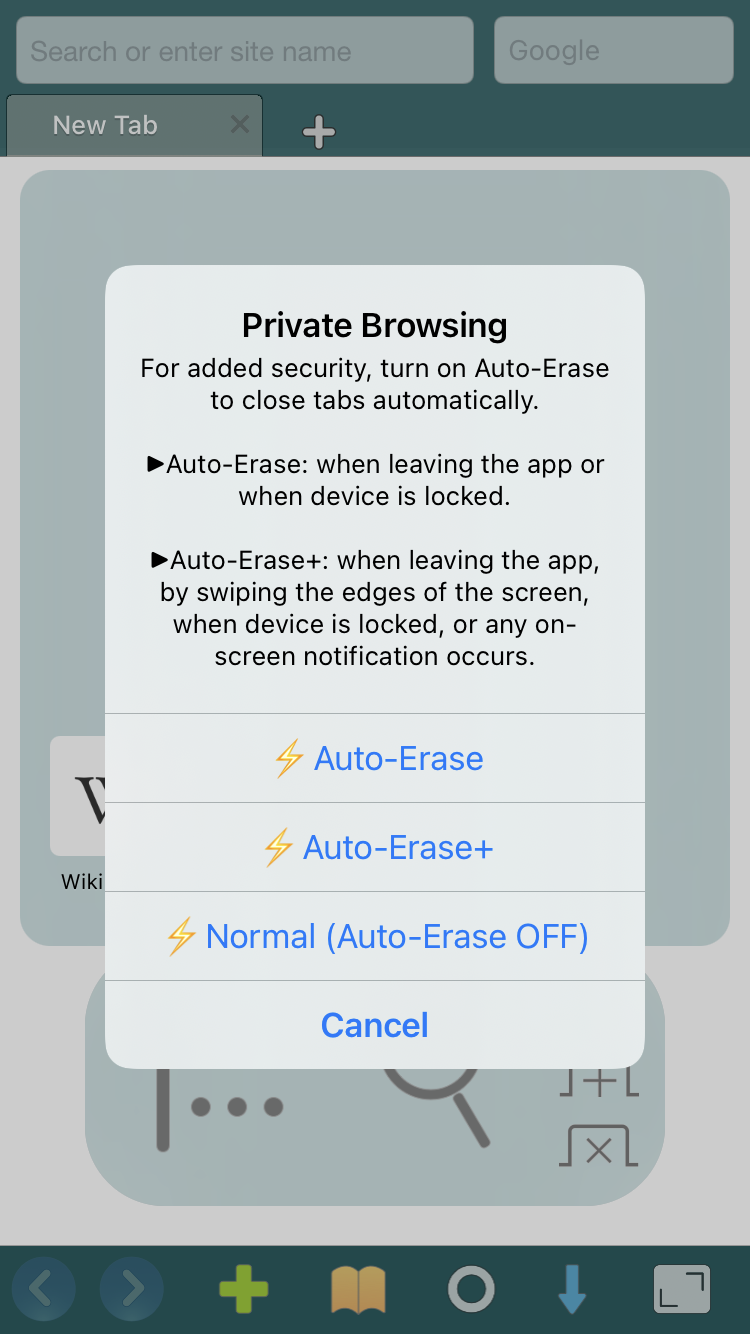 There are so many settings, options, and customization features available in the app, that it must have been difficult for the developers to organize everything in a straightforward manner that is easy for users to navigate. From the main Options menu, you're presented with a 'Settings' option, 'Other Options' option, along with a handful of other options.
From the 'Other Options' menu, you'll get a list of a few other seemingly random options that don't particularly have much in relation with one another. From the 'Settings' option, you'll be able to adjust and customize a massive list of other settings. And you'll be given the option to tap on 'More' in the top-left corner of the Settings menu, an option which inexplicably only sends you to the bottom of the Settings menu. On top of that, sometimes, when we wanted to cancel out of a certain settings option, the app crashed, leaving us with a blank grey screen. We had to step out of the app completely and restart it in order to get it working again.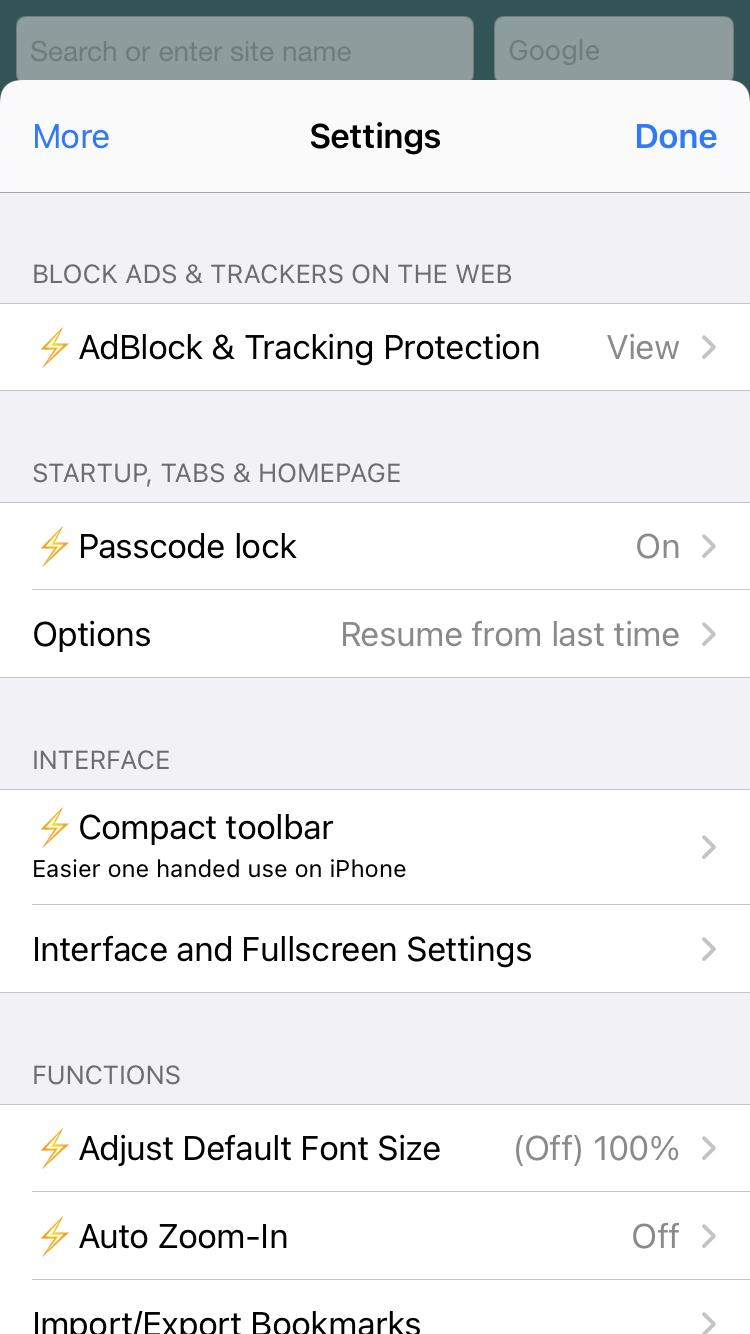 In any case, the way the Settings and Options menus are "organized" makes it incredibly difficult to remember where each individual setting is located. So we felt that we wasted a lot of time searching around for the settings we wanted to access, and that really took a lot away from our enjoyment in using the app. It's evident that the UI (or the Perfect Web Browser website for that matter) wasn't developed by anyone particularly gifted in UI design or in creating a user-friendly experience.
Once you get past the little quirks and bugs, and once you find your way around the jungle that is the Options/Settings area, though, it is a great little app that performs well overall and offers excellent features to enhance and secure your web browsing activities on your iOS device.
Free version vs. Pro version
The one (major) caveat here is that you'll only get access to the full lineup of features that Perfect Web Browser offers is to pony up the 10 bucks for the 'Pro' version of the app. With the free version, you're only getting a small fraction of the functionality that you'd get from the Pro version.
Perhaps most significantly, the Adblocker functionality is only available with the Pro version. So if you're looking for a free ad-blocker, then you're out of luck Perfect Web Browser. You'll need to upgrade to the Pro version if you want to take advantage of the app's ad-blocking and tracker blocking functionality.
Other features that are only available on the Pro version include passcode lock, auto zoom-in, Google Drive and Dropbox compatibility, theme customization, tab firewall, upgraded browser engine, 'Hyper Scroll' functionality for easy one-handed scrolling, QR code sharing to share pages with other devices, and password manager support.
This approach makes sense from the company's point of view because it wants to give users a taste of the app on its free tier and restrict its most popular functions to Pro accounts in hopes of enticing free users to upgrade. This so-called "freemium" approach is quite common in the app-world, but it can be frustrating for you as the user and leaves you trying to figure out if the added bells and whistles are worth spending any money on.
Is the Perfect Web Browser Pro upgrade worth it?
Ehhh….
No, not really. Not when we take everything into consideration.
Sure, Perfect Web Browser is an app that is overflowing with features that can be incredibly useful for many people; it's fast, it's highly-customizable, and it offers excellent privacy options, but it's still (even after ten years in business) a bit too unrefined and buggy to justify the $10 premium price tag.
The fact that it's limited to only iOS devices even further dampens any enthusiasm for recommending an upgrade to Pro. The average iOS user likely only has one iPhone and maybe one iPad, meaning that at best, you'll probably only be using this app on two devices, but most likely on just one. Ten whole dollars for an unpolished app that you can't use on any desktop computer, laptop, or mobile device other than an iOS device? That sure is asking a lot.
On top of all that, looking at the version history for the app in the App Store, we can see that recent updates have been alarmingly few and far between. The reason for this could be due to the small size of the company behind the app and limited resources in maintaining the app. But considering that the company has only one other app in its portfolio (a primitive-looking game called 'Counterspin' in which you tap your fingers on the screen to balance a "cart" on a wheel), it's curious why there have been no recent updates to Perfect Web Browser, especially when multiple significant issues are present.
Equally concerning is the utter lack of customer support. You can access a contact email address from the 'Help' section in the app, but good luck ever getting a response – we're still waiting patiently for ours. If you have any issues with the app, you'll need to either rely on your own abilities to resolve the issue yourself or consult the disorganized and information-deficient 'Quick Start Guide' or 'Settings Guide'. For such a premium price, we'd expect a level of service that reflects that premium price tag. Sadly, that's not the case with Perfect Web Browser and yet another reason why we feel that the Pro upgrade is not worth the unreasonably high price.
But if you're an iOS user who can get past the funky, labyrinthine nature of the various Options menus, the fact that it's only available for iOS mobile devices, and the app's periodic bugginess and sporadic updates, you may find value in the $10 Pro upgrade. Perfect Web Browser Pro has the potential to be a tremendously useful tool that can help elevate your browsing experience while protecting your privacy and shielding you from ads and trackers. The app definitely does what it says on the tin (and is generally pretty good at what it does), so if you don't mind a few bumps in the road and don't concern yourself too much with UX design or cross-platform compatibility, then we say go for it and part with your ten dollars. Just don't say we didn't warn you.
Final Thoughts
We really, really wanted to love the Perfect Web Browser app. It's an app that has a ton of potential and generally does what it's supposed to do once you get the hang of it, but it, unfortunately, does fall short of reaching its full potential. The clunky user experience, bugs, occasional crashes, lack of cross-platform compatibility, and the confusing options menus had us scratching our heads and wondering how an app development company can rationalize charging customers such a premium for the 'Pro' version of an app that's simply not there yet.
Perhaps if the app was more polished and user-friendly and perhaps if users had the option to use it on other devices besides only iOS devices, we'd be more inclined to recommend it. Sadly, as it stands right now, the free version of the app is essentially a stripped-down web browser with little additional useful functionality. And if you want access to any of the app's useful features, you'll need to somehow justify paying a premium price for a product that simply doesn't deliver an equal level of value for your what you're paying.
0 User Reviews
Leave a Review
Thanks for your review!