Alternative Choices for You
Features
WASEL Pro is based in Egypt and is subject to Egyptian laws, while its parent company iSpire Holding U.A. operates out of the Netherlands. They provide ten OpenVPN and ten L2TP servers across eight countries, with servers in India and Singapore as well as Europe and the USA.
Customers are allowed two connections to the VPN at once, but not to the same server/protocol. According to the terms and conditions, filesharing/P2P is permitted without restriction.
Speed and Performance
Performance-wise, we found WASEL Pro's service to be pretty variable and definitely tending towards the slow side. We had dips as low as 1.4Mbps on the UK server, which is getting to the point where smoothly streaming normal-definition content could be threatened, but for general browsing we had no issues. Performance generally hovered around 7Mbps, which is enough for streaming HD content, and a colleague did manage to get speeds as high as 22Mbps using the SSH option on the client.
| | | |
| --- | --- | --- |
| | | |
| No VPN, UK speed test. | UK OpenVPN, UK speed test. | US OpenVPN, US speed test. |
WASEL Pro use their own DNS servers, but it'd be nice to see them implement DNS leak protection in their Windows client.
Pricing and Plans
WASEL Pro customers are offered a single service plan with reductions in the monthly price for purchasing longer subscriptions at once. Despite differences in wording on the website, all plans offer the same service. Paying month-by-month works out at $9.99, whereas buying a whole year upfront puts the monthly cost at $7.50. As we'll see below, this is on the higher side for the service offered.
A free trial of the full service is offered on the WASEL Pro website, though for several weeks around the time of writing the trial was unavailable and support wasn't sure when it would be reinstated. Instead, a seven-day money-back guarantee was being offered to new users wishing to try out the service. Payment can be made using a variety of services including credit cards, PayPal and bank transfer.
Privacy and Security
As indicated above, WASEL Pro offers a choice of OpenVPN or L2TP connections to their servers, both making use of 256-bit data stream encryption. L2TP authentication uses a public PSK. Unfortunately, support didn't provide us with a complete answer when we asked about authentication over OpenVPN, but they did mention that the protocol used for encryption is the older default BlowFish standard.
The company claims their VPN is completely logless, recording neither user activities nor their connection metadata.
Ease of Use
WASEL Pro's website is a little different from the standard VPN website template that most providers use. First impressions are, unfortunately, of clutter and confusion. There are lots of icons floating around and the English fonts used are neither the most legible nor the most attractive. There's an unhelpful separation between the FAQ, support and contact areas of the site which we'll discuss further below, and the instant chat inset which pops up on the English version of the site offers an introduction in Arabic script. We were also disappointed with the lack of information about the technical aspects of the VPN, such as encryption types and strengths.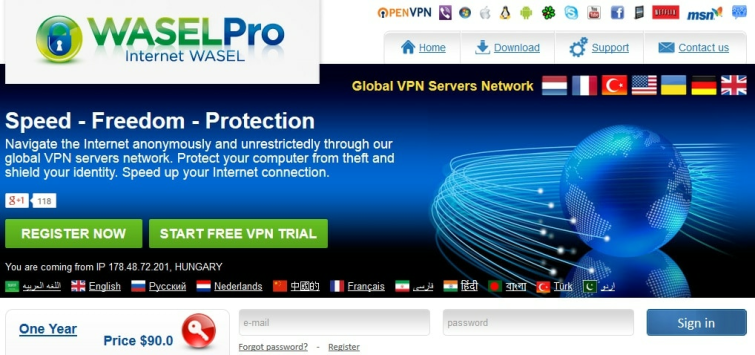 It is, however, easy to find the client download link and get started with the WASEL Pro service. There's also a news section available which details service updates and improvements, though it's a shame there was nothing about the temporary withdrawal of the free trial on the news page (or mentions of when it might return).
Support
Help for troubled or inquisitive users is available from WASEL Pro via email, live web chat or through visiting the knowledge base. Confusingly, the site's help resources are split between two links at the top right of the page and one further down the left-hand side. The FAQ, which includes some very useful information, is segregated from the rest of the support area and unfortunately has some rather out-of-date information in it.
The main knowledge base, although again featuring some very useful information, is difficult to navigate by comparison. Email support is available through copying and pasting the email address found under the 'contact' link, or by filling in a form under "Click here to leave a feedback".
We found email response times variable: a simple question about servers, logs and torrent policy was answered within a couple of hours, but our question about encryption protocols waited far longer for a sadly incomplete reply.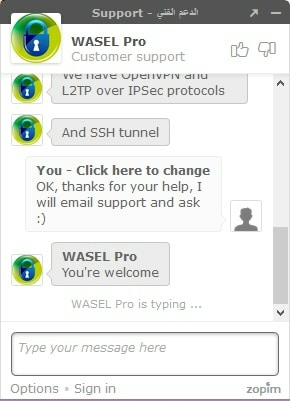 The live chat service on the website, meanwhile, has never made us wait for more than a few seconds for an operative, but the quality of response here has also been variable. It was refreshing, if not terribly helpful, for one operative to flat out state they had no idea about what the answer to our question might be. Other questions have met with more success, and though many of the answers we received were pre-packaged and copy-pasted, this is fine if it answers the question and does ensure a very fast response.
The Process
Signing Up
Registering for WASEL Pro is fairly painless, but does, unfortunately, require entry of a full name, country and address as well as the usual email address and password. The form even asks for a phone number, and although it's not mandatory there's nothing to indicate this until clicking the 'register now' button. It is possible to falsify all of this information, but we'd prefer it not be requested at all.
Following registration, an activation link is sent to the given email address and users can then log in to the account portal on the website to set up their payment plan and method.
The Windows VPN client
WASEL Pro's Windows VPN client is functional and easy to use, if not especially pretty. There are options to both run the client on startup and automatically establish a VPN connection, which is great, as well as to reconnect if the VPN connection drops for any reason. It connects quickly and displays useful information while connected, and there's the option to connect via SSH as well.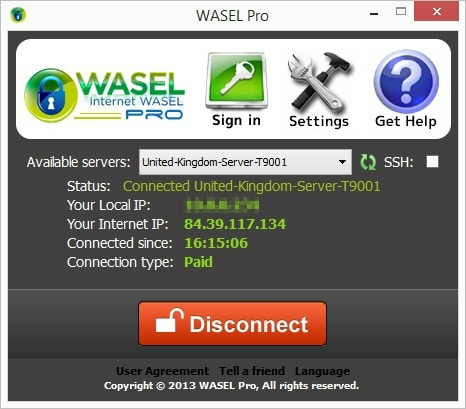 We did, unfortunately, have a few issues with the client as well. When the VPN couldn't establish a connection it gave us no option to give up or retry, forcing us to exit the client and restart it. Once when the connection had apparently dropped after a long session connected to the VPN, the client became completely unresponsive and had to be killed using task manager, while our Internet connection had to be reset. And on the less serious side, it can also be a bit hard to figure out how to get back to the connection dialogue after investigating the options area. It'd be nice to see little details like this ironed out.
Other Platforms
As well as their Windows client, WASEL Pro has clients for Mac, iOS and Android, plus there's a setup guide for L2TP on Linux. All the clients/apps use OpenVPN as standard.
Android app
On Google's Play store there are two versions of the WASEL app, one of which is branded iWASEL and the other WASEL Pro. If you're using the WASEL Pro website, then it's the latter you need to download as accounts are separate between the two sites. The client itself works fine, with a similar aesthetic and functionality to its Windows cousin, and browsing speeds while connected were good.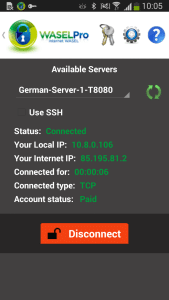 There is an option to run the client automatically on system startup, but sadly there's no option to start the VPN connection automatically.
Final Thoughts
There's plenty of room for WASEL Pro to polish up and improve, both in their core service and in the support they offer customers. Given the price point, we'd definitely like to see an improvement in speeds and less unnecessary user data requested for registration. Presently, though, they provide a functional VPN service with strong encryption and decent clients for most major platforms, and the no-logs policy is commendable.
0 User Reviews
Leave a Review
Thanks for your review!