Alternative Choices for You
Features
VikingVPN is available for the following devices: Windows PC, Mac, Android, iOS, and/or Ubuntu Linux. Additionally, you can use VikingVPN with DD-WRT and Tomato Routers. Unfortunately, the Windows version of VikingVPN is somewhat lacking in functionality but is still efficient overall.
As for server options, VikingVPN offers clustered servers. The available server locations – with recently added options – are as follows: US Chicago, US Los Angeles, US Dallas, US New York City, US Seattle, US Miami, Amsterdam Netherlands, and Bucharest Romania.
You will automatically be placed on a server with the best raw bandwidth at the time of your connection. Furthermore, VikingVPN only uses bare-metal servers. This means that virtual servers and virtual machines are a no-go, giving you "100% of the resources".
Moving forward, VikingVPN is well known for their high speeds. Every server is given its own 1 Gbps connection. Finally, VikingVPN offers fully optimized OpenVPN settings with constant performance updates. This is why we continue to experience some of the best speeds while using VikingVPN.
Speed and Performance
It's important to test your VPN for speed and leaks. As you can see by the download tests below, VikingVPN is a bit of a mixed bag. The European servers performed pretty well, and would likely permit HD streaming. However, the New York server was on the slow side, with speeds of only a few megabytes per second.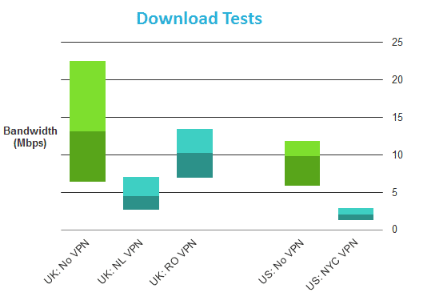 Thankfully, no IP, DNS, or WebRTC leaks were discovered during my testing either. That means the VPN performs well in terms of privacy.
Price and Plans
VikingVPN offers three different subscription options. The pricing is based on the subscription period you wish to purchase (one month, six months, 12 months). The prices are as follows:
$14.95/mo when paying monthly
$11.95/mo or $71.70 when paying every six months
$9.99/mo or $119.88 when paying annually
While VikingVPN is somewhat costly, they are true to their word in offering high speeds and unlimited usage. You can connect up to five devices simultaneously with one account. As an added bonus, VikingVPN also donates $1 from every subscription plan to the Electronic Frontier Foundation.
Furthermore, VikingVPN also offers Bitcoin and Dash as payment options (as well as major credit card companies). While VikingVPN doesn't offer a free trial, they do offer a money-back guarantee if your speed or connection isn't optimal.
Privacy and Security
VikingVPN offers some of the best security when it comes to virtual private networks. With super secure AES 256 CBC bit encryption and a 4096 bit RSA encrypted handshake, VikingVPN's tunnel is impossible to penetrate, intercept, modify, or even observe.
In addition, VikingVPN also provides you with the usual anonymous IP address while regularly creating false traffic to strengthen your online security even more. Even more, VikingVPN recently added their advanced 2048 bit HMAC Firewall to prevent unknown connections.
This extra layer of security, combined with VikingVPN's no logs policy, only further proves that VikingVPN is a great VPN choice if you're looking for privacy and security.
VikingVPN's Warrant Canary
As VikingVPN is based in the US, they are forced to comply with US jurisdiction. This means if VikingVPN is subject to legal action that contains a gag order, we will be notified via their warrant canary.
Legally, VikingVPN cannot talk about any actions taken. In fact, they can't admit that the program or legal action even exists. Fortunately, this is where the warrant canary comes in. If VikingVPN is ever compromised, the color of the logo on their homepage will change in a "very obvious way".
Moreover, it's useful to know that VikingVPN does log server data for maintenance purposes only. As for P2P, it isn't advertised openly but it isn't against VikingVPN's policy either. In other words: proceed with caution.
Ease of Use
The website for VikingVPN is extremely user-friendly with information and links available right off the homepage. Furthermore, VikingVPN is very transparent in what they offer. This includes a blog that actively provides tips and news involving the cybersecurity world.
An additional thing that VikingVPN provides on their homepage is a link to customer reviews. I particularly like this, as it lets you see how other users feel about the services before spending the money on them yourself.
VikingVPN & Customer Support
To start, VikingVPN offers a FAQ with very useful information about their services and other topics. This is convenient, as the one thing VikingVPN does not offer is live chat support. Instead, they offer ticket based support. VikingVPN can take up to 24 hours to give an answer to your question.
That being said, their customer support team is still extremely helpful and only restricts live chat in order to provide customers with the best support possible. In addition, their website also offers detailed setup guides for the different platforms that their service is available on. Finally, VikingVPN also has a Google+ account that are actively updated with news, updates, and other relevant information.
VikingVPN for Windows
Registering for VikingVPN was fast and painless, taking approximately 2 minutes. Installation took a bit longer, around 3-5 minutes. The process itself required minimal details: username, password, and payment information.
Using VikingVPN Windows Client
Using VikingVPN is extremely simple. It's as easy as choosing one of the stacked servers listed and selecting the connect button. Connecting to a VikingVPN server is simple and fast, as is disconnecting – just select the disconnect button!
This user-friendly VPN service is definitely up there on my list of recommended VPNs - especially when it comes to speed and overall performance. At ProPrivacy.com, we want you to find a VPN that fits you best. If you want a reliable and secure VPN that allows you to browse, download, and stream – sometimes simultaneously – look no further! VikingVPN is a great match.
VikingVPN Platform Availability
While the custom VikingVPN client is only available for Windows, you can still achieve the same outcome by following one of VikingVPN's provided setup guides for other devices. This is merely installing OpenVPN onto your device and setting it up with VikingVPN. Hopefully, VikingVPN will consider adding additional clients for other platforms in the future.
Final Thoughts
VikingVPN is low on server locations and heavy on pricing, but despite those negatives, they are still a great choice for a VPN service. The security and speeds offered by VikingVPN are excellent and only continue to grow as the years press on.
If an efficient VPN service is what you're looking for, look no further! VikingVPN is exactly what you need. If you decide to take a chance on VikingVPN, share your experience in the comment section below!
0 User Reviews
Leave a Review
Thanks for your review!