Alternative Choices for You
Pricing and Plans
UK Proxy Server has VPN packages for 10 different countries. The 4 packages within each of these countries are identical and it doesn't matter which one you select as you will have access to all 10 countries anyway. This further adds to the other confusions that we discuss under the website.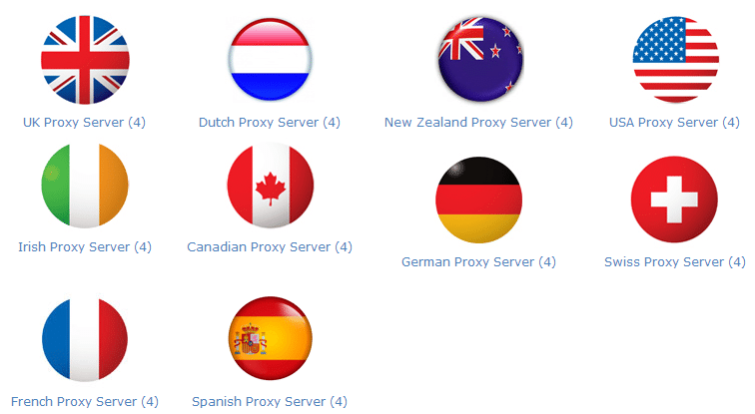 UK Proxy Server has 2 different packages that offer exactly the same except one has a limited bandwidth of 30Gb while the other is completely unlimited. The pricing for these are shown below, for the unlimited package this is $16.57/month going to a cheaper $13.82/month if you sign up for a whole year. This is definitely on the more expensive scale of the spectrum but you do get a reasonable service for your money.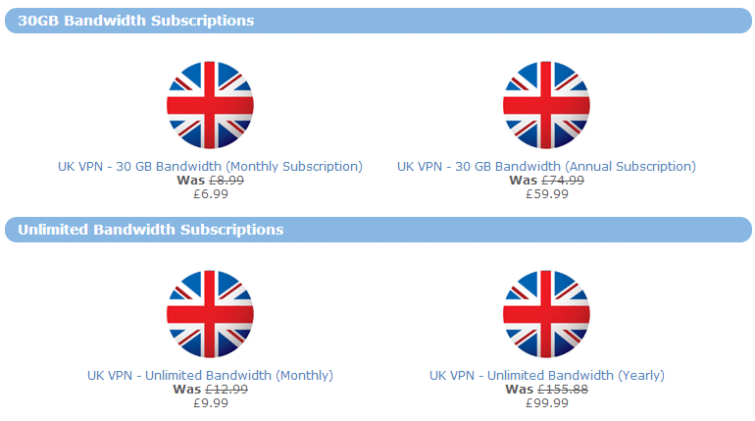 They also retail a Belkin N600 DD-WRT VPN Router with a PTPP connection (L2TP on request - and highly recommended) which means all the devices in your household can use the VPN connection. The pricing for these is very reasonable and if you aren't concerned about it not using OpenVPN then it is recommended.
Features
UK Proxy Server have recently updated their technologies and servers and are now running on Tier 2 servers across 10 countries which help provide great connection speeds. As mentioned they minimally support OpenVPN but this runs on their legacy servers so do no expect great speeds from it.
The 10 countries are ideally places for streaming and watching online TV. They allow P2P on their UK, Spanish, Irish, German and Dutch servers with of course the latter being the recommended one to use. On top of this, beside the VPN service, they provide a Proxy service so if you only wish to stream through your web browser and do not wish to limit other traffic, then this is more than possible. On top of this they also allow 2 simultaneous connections to be used.
Security and Privacy
As expected UK Proxy Server use 128bit encryption for their PPTP protocol but use 256bit for both their L2TP and OpenVPN connections, which is good to see as it is line with the standard. Along side this they use shared dynamic IP address which helps decrease attacks as well as improve anonymity at the same time.
Since UK Proxy Server isn't targeted at those who have absolute 100% privacy in mind, they do carry out some logging and also share some information with outside parties.
The website
The worst feature of UK Proxy Server is undoubtedly the website. It is confusing and hard to navigate with any information you may require hard to find. Further to this the set-up guides are not very well done and they are not really extensive for different devices and the set-ups for OpenVPN are basically non-existent.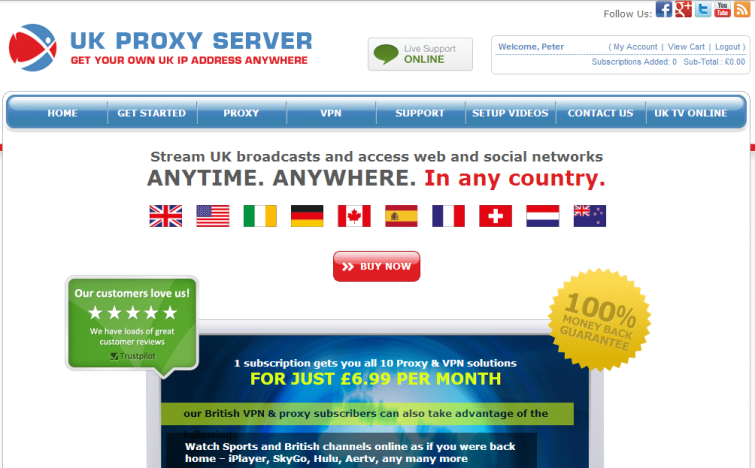 Similarly to the website the Customer Area is slightly confusing but it does allow you to make the usual changes and gives you plenty of control over your account.
Support
Surprisingly but luckily, and contrary to their website, the support is actually really great. They have a lot of different support types: remote, chat, knowledge base and ticket. Though the chat support isn't 24/7, it is live 9am-11pm (UK time) 365 days. All the support types are great and you get very good response that help you solve the problem. They also have a knowledge base but as previously mentioned this is hard to navigate and not very useful.
The Process
Signing Up
Signing up is a straight forward process and luckily you do not need to provide any extensive details until you actually need to purchase a product. When purchasing they do not have an anonymous payment scheme unfortunately but do accept all major payment types.
The Windows VPN client
The Windows VPN client only allows for the setting up of PPTP and L2TP connection of which we would recommend only using L2TP as PPTP is considered highly insecure. We gave it a test and it a nice simple software which makes it really easy to switch countries but it doesn't have any extra features or functionality.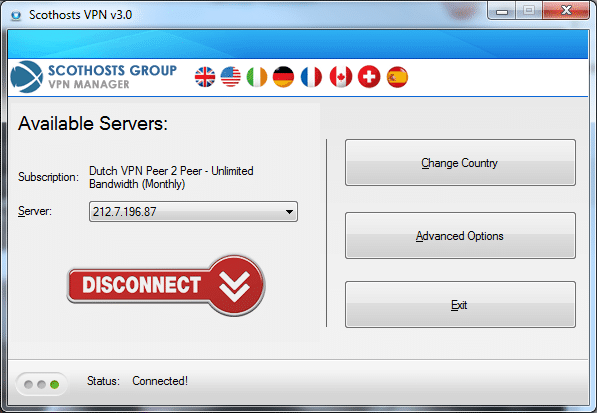 Performance (Speed, DNS and IP Test)
We tested the speeds using L2TP on the software as well as using OpenVPN with the OpenVPN Client. The results are in the table the L2TP speed is fantastic. Since the OpenVPN runs on their legacy servers the speeds are very slow - though still usable. The IP and DNS Leak tests all came back absolutely fine and we had no problems with it at all.
| | | |
| --- | --- | --- |
| | | |
| Pure Speed | L2TP Speed | OpenVPN Speed |
Other Platforms
UK Proxy Service also has clients for Mac, iOS and Linux. Since you can download the .ovpn config files it is possible to set up an OpenVPN connection on most devices which allows so but they do not include any guides for this. They do however provide guides for L2TP and PPTP but where possible we recommend sticking with OpenVPN. We gave the L2TP connection a test on our Android phone (using the built in VPN) and found the results to be just below those that we achieved on the computer.
Other/ Free Services
As mentioned UK Proxy Server, unsurprisingly, offers proxy solutions too. We gave this a test on Google Chrome and IE and it also worked fantastically with minimal speed loss.
Conclusion
We liked
Fantastic Customer Support
Great Speeds
We weren't so sure about
Pricing
OpenVPN support
Some outdated documentation
We hated
Bad/confusing website
Confusing branding
UK Proxy Server has a clear target audience in mind and they deliver on this. It's fast speeds and one of the best customer support systems they are undoubtedly well positioned at providing customers with what they need even if they have no technical know-how. The pricing is on the slightly higher end but with the generous money back, free trial and support you have plenty of chances to determine if this provider is the one for you.
0 User Reviews
Leave a Review
Thanks for your review!