Note: We've recently launched an entire website about SmartDNS. Please check that for more detailed information about SmartDNS services.
Pricing and Plans
Smart DNS Proxy, similarly to 90% of the VPN and SmartDNS providers out there, has one set plan with discounts that increase depending on how long you sign up. The 24-month plan which comes in at only $2.08/month is an extremely cheap option that rivals some of the cheapest VPNs on the market. This truly is a great price for a SmartDNS and VPN combination service.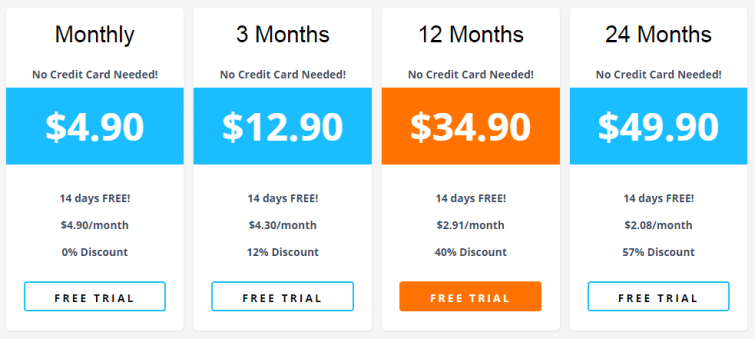 Smart DNS Proxy also provides a fantastic 14-day free trial that doesn't require you to enter any sensitive/payment information. Annual subscriptions also come with a 30-day money-back guarantee, so that you can test the service risk-free. The only thing to be careful of is that once an annual subscription expires it will change to a recurring monthly plan.
Features
Smart DNS Proxy is a brand of Global Stealth Inc which is based in the Seychelles in order to protect its customers. Global Stealth Inc is part of Cakinberk Telekom who previously ran BoxPN and also owns GetFlix - meaning they have plenty of experience in running VPN and DNS networks.
Smart DNS Proxy provides you with unblocking of many popular websites, including Facebook, Twitter, Vevo, and YouTube. Alongside this they provide access to 133 Video and Music streaming services in 32 countries - including, of course, Netflix, Hulu, and BBC iPlayer.
To be able to achieve all this great unlocking they have 400 servers around the world with 4 DNS IPs which are the load balancers. The servers also help with redundancy and to maintain the reliability of speeds and availability of the service
You are able to use the SmartDNS with any number of devices, as long as you have the same IP address (connected to the same network) but if you want to use it at multiple locations at the same time you will have to purchase another account.
Unlike the SmartDNS service, the VPN service is not locked to your IP address, meaning that you can use it to connect on public WiFi or anywhere else that you choose. The VPN can be used on up to 5 devices simultaneously, and torrenting is permitted for those who want to download via P2P.
Security and Privacy
The Smart DNS service does not provide any encryption, so you will need to use the full VPN to gain privacy from your ISP and the websites that you visit.
Both the Privacy Policy and Terms of Use are well laid out and give great clarity about the operations of the company. In it the firm clearly highlights the information they collect and why. One ting worth bearing in mind is that the firm does collect your IP address when you join in order to lock the Smart DNS service to this residence.
In order to track you, it must always check your IP address when you connect. These connection logs could allow the authorities to mount a time-correlation attack on the service, which would destroy your privacy. While this is an extremely targetted attack that would only be carried out by the authorities during the course of investigating a crime, depending on your threat model it may be enough to put you off the service.
It is also interesting that its law firm is based in Canada and that is where any disputes will be resolved. This implies that despite being registered to the Seychelles on paper, it is actually run out of Canada. Again, this may put some people off the service due to Canada's invasive surveillance laws.
Encryption
Smart DNS Proxy's VPN service provides access to a number of different encryption protocols; PPTP, L2TP/IPSec, SSTP, IKEv2, and OpenVPN. Both Mac and iOS provide access to IKEv2 and L2TP/IPSec natively, which means that you will need to use a third-party client to connect via OpenVPN.
Both Windows and Android provide access to OpenVPN encryption from within the custom clients and users can select between UDP and TCP. Users can also opt to change to TCP over port 443 in order to conceal VPN use as regular HTTPS traffic.
These encryption options are strong, and the availability of the .ovpn files means that anybody can connect to its servers using OpenVPN if they wish. OpenVPN is implemented with standard default settings, which means that it is fit for privacy and security purposes but is not as secure as other VPNs on the market. Those settings are:
Data channel: Blowfish-128 with HMAC SHA1 hash auth
Control channel: Blowfish-128 with RSA-2048 handshake and HMAC SHA1 hash auth. No perfect forward secrecy.
The website
The Smart DNS Proxy website is really well designed - not only is it easy to navigate but it is also easy to find lots of useful information about the service. They also keep their social networks up to date with useful info about the service as well as streaming and TV series related news.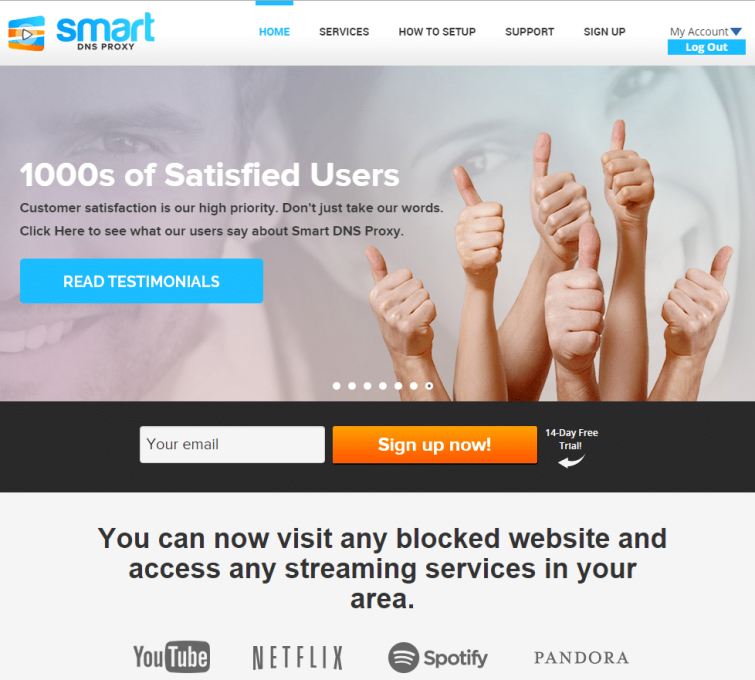 A Blog section lets you read articles gathered from al around the web, and useful guides allow you to set up the Smart DNS or VPN service on a number for devices.
Support
Smart DNS Proxy has 2 types of support: live chat and ticket/email.
The live chat is very quick to reply and very helpful, however, they are less knowledgeable about the technical aspects of the company and are mainly there for general questions. The ticket support fills in this gap, by having a multi-tier support system, and is just as helpful and supportive.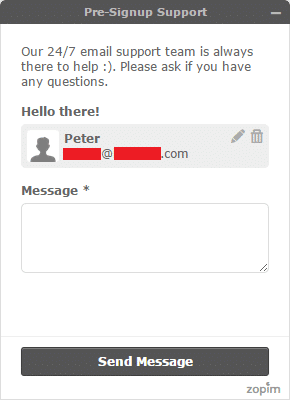 The Process
Signing Up
Signing up to Smart DNS Proxy requires your Full name, email address, and a password. For the 14-day free trial, you do not need to enter any payment information but thereafter you will need to. Bitcoin is not accepted so you will need to pay either via Paypal or a debit or credit card.
The Windows VPN client
Unlike some other SmartDNS providers, Smart DNS Proxy doesn't have it's own DNS spoofing client. This is good because it means your computer doesn't get clogged up with unnecessary software, but bad because if your IP changes (the frequency of which depends on your ISP) you need to visit their website. In order to solve the latter problem they have a webpage you can bookmark which will update your IP automatically.
A great feature of Smart DNS Proxy, that we haven't seen elsewhere is that once you connect to your chosen server you can watch any streaming services without having to change any settings. As mentioned they have a number of servers around the world in order to help provide you the best speeds.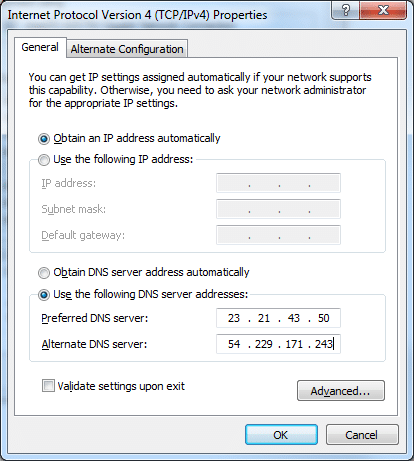 Where the VPN service is concerned a custom Windows client is available, and, despite what it says on its website, it is not in beta anymore.
The client allows users to easily switch between encryption protocols and to connect to servers in 37 countries. In addition, the app comes with a killswitch in order to stop you leaking any data to your ISP should the VPN connection drop out accidentally. DNS leak protection is included by default and users can connect via TCP over port 443 to conceal VPN use as HTTPS and to bypass ISP firewalls designed to block VPNs.
Other platforms
Smart DNS Proxy has apps for macOS, iOS, and Android. The Android client provides full access to OpenVPN encryption and allows people to switch protocols and ports. Mac and iOS users will need to use a third-party OpenVPN client (TunnelBlick or OpenVPN Connect) in order to via OpenVPN. The native Apple clients only provide l2TP and IKEv2.
Performance (Speed, DNS and IP Test)
When using the Smart DNS feature, the service does not provide any privacy. Thus we saw our own IP address when we tested for leaks using ipleak.net. However, we were very pleased with the DNS leak test, as unlike some other providers the only result was the DNS address given to us by the service.
Since there is no encryption on the Smart DNS service, it was no surprise that there was virtually no speed drop in the system and this remained consistent no matter what device or streaming service we were using.
| | |
| --- | --- |
| | |
| Native Speed | SmartDNS Speed |
Where VPN speeds are concerned, consumers do tend to complain that the service is on the slow side. For this reason, if you want a VPN that can provide lightning-fast connection speeds we would tend to recommend looking elsewhere. There are much faster VPNs on the market for a similar cost.
Smart DNS for all devices
The big advantage of SmartDNS over a VPN is that it is able to support a larger range of devices due to do it's every day common use. Smart DNS Proxy fully utilizes this fact and therefore has set up guides for a large range of devices including routers, computers, set-top boxes, games consoles, and even Smart TVs.
We gave it a test on both our SmartTV and Router, both of which were easy to set up, and as expected it caused absolutely no issues and we didn't notice a difference in internet speed or streaming quality.
Conclusion
Overall Smart DNS Proxy is probably the best SmartDNS company that we have tested thanks to its low prices, ease of use and great support. While some people may be put off by its lack of software/apps with regards to SmartDNS (especially the way they have implemented it) we think this is great.
What's more, the addition of a full VPN service included within the same cost of a subscription is a massive boon to this service that makes it perfect for anybody in need of a VPN for gaining privacy and security while on public WiFi. While the firm's possible base in Canada may put some people off, the reality is that this VPN will probably provide adequate privacy for most people.
However, the connection logs it stores next to IP addresses might put some people off depending on their threat model. Overall we can recommend this service to anybody wanting to unblock a lot of content from across the 37 countries where it has servers.
Perhaps the only drawback from this service is the slow connection speeds reported on the VPN. However, if unblocking content cheaply via Smart DNS is your main necessity, and you will probably only use the VPN to gain security on public WiFi, this service is well worth considering.
0 User Reviews
Leave a Review
Thanks for your review!