Alternative Choices for You
Features
SecureVPN doesn't have many servers to choose from yet. Options are limited to the US, Netherlands, Luxembourg, Russia, or Singapore. This sadly means you can't pretend to be in places like Australia, Britain, South America, and most others. Considering the price this is poor. The company is registered in the US under the Texan legal jurisdiction, but oddly has some connection to 'Californi(a)' as shown reproduced from the Terms of Service and Privacy Policy which you should certainly take a look at. Being from the US is far from ideal because of Warrants and gag orders.
It isn't immediately clear if SecureVPN has dedicated or shared IPs, thought torrenting is allowed despite what's written below for legal purposes. That said, logging concerns remain to an extent - which we'll discuss further below. Click the link to visit SecureVPN. For more information about torrenting, see our best VPN for torrent sites guide.
Speeds and Performance
I ran into some complications when trying to run speed tests using testmy.net. Firstly, speeds were inadequate for running a test. In fact, the only successful test I ran showed speed in Kilobytes, while the remainder crashed the page due to timing out. In effect, this means that SecureVPN's speed isn't enough to browse more than the simplest web pages.
More troubling still was this: I tried running speed tests on all five available servers (US, NL, LX, SA, RU) only to find out the VPN exit node was always found in Texas, so the only working VPN server is in the US. This means that anyone thinking they are connected anywhere else might be in for a rude surprise. I'd hope to see this serious matter addressed as soon as possible.
That being said, there were luckily no DNS leaks detected - which is good. Nevertheless, in light of the above, it's always good practice to run periodic tests and make sure everything is in working order as it should be. You may use ipleak.net to check DNS leaks and the WebRTC Bug, while test-ipv6.com looks for IPv6 leaks. We also ran tests with our own leak testing tool, combining bits and pieces of the other two tests for added peace of mind.
Price and Plans
SecureVPN offers two pricing tiers as part of a freemium model. The Free plan does not allow for P2P usage and has a 1GB data transfer per month. It also only permits one device to be connected to the VPN service at any given time. If you opt for the Premium account straight away - or after a trial period - you'll have no P2P restrictions, unlimited data access, and up to 5 device connections. this means you can cover all your devices, or share with the family for $7.99 per month or $49.99 for a year's commitment.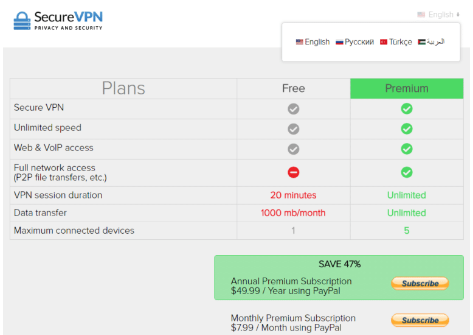 The pricing certainly isn't the most economical, but it is in line with most higher end VPNs (with that definition somewhat dependent on your individual preferences).
Privacy and Security
"We may collect and disclose personal information, including your usage data, to governmental authorities or agencies, including law enforcement agencies, at their request or pursuant to a court order, subpoena or other legal process, if there is a good faith belief that such collection or disclosure is required by law."
The quote above, coupled with the fact that SecureVPN logs your internal and external IP addresses, makes torrenting seem like a no go with this VPN. SecureVPN says it would only disclose information according to a court directive, which is worrying because it is in the US. Unfortunately, the encryption suite doesn't exactly boost confidence. The default in both mobile and desktop apps is 3DES-EDE3-CBC 192 bit. It's not s stretch to label the outdated DES encryption a vulnerability. When spliced with Diffie-Hellman keys, it's a bit better, subsequently diminished with 192-bit keys leaving a lowest common denominator taste in the security palate. Basically, this VPN isn't very secure. Again, for the money you pay - this is a fail.
Ease of Use
SecureVPN's websites is a minimalist affair, with links to the client area, support, and service benefits clearly denoted in the top panel of the homepage. Just below, there's a link to "get started" or "download the SecureVPN Windows Client."
The bottom portion of the homepage has further links to the PP and TOS, as well as the FAQ section, and Social media outlets. SecureVPN's website also features a blog covering security and privacy industry news, as well as service updates, and VPN tips, as part of a well-rounded website.
SecureVPN Support
Supports is limited to ticket-based queries at the moment. In addition, responses can take up to several days, which isnt great. However, the answers I received were polite and informative.
Signing Up to SecureVPN
Registering for SecureVPN requires your name, a working email address, and credit card information. Following that you simply download the app relevant to you and then follow the installation instructions. The entire process took roughly ten minutes.
SecureVPN Windows VPN client
In line with other service aspects, the Secure VPN Windows client isn't that expansive. You may choose which server to connect to from the drop-down menu pictured below. Tap the Connect/Disconnect button to link to a server.
Connecting to any particular server didn't seem to pose any problems. There aren't any additional useful (and often industry-standard) features such as a killswitch in case you connection drops, or an auto-boot option to connect to SecureVPN the moment you power on your computer. That said, the SecureVPN client is ok, though it would definitely benefit from some updating as we'll explore next in the Performance section below. Again, this is a rather slim client considering what you pay.
SecureVPN: Other Platforms
SecureVPN has dedicated apps for Mac OSX, iOS, Tablets, and Android OS, in addition to the Windows platform that we covered earlier.
SecureVPN for Android
The SecureVPN Android client doesn't differ much from the desktop version. Oddly it seemed to connect to the correct servers, unlike the Windows version. I'm still unsure what the problem was with the Windows client. Hopefully, it will be addressed soon.
Final Thoughts
SecureVPN dispenses with the frills found in many other providers, but that seemingly comes at the expense of the robust encryption you'd expect from a top-of-the-range VPN provider. By the same token, the minimalist appeal may be just the thing for some users' purchasing model criteria, or for those looking for unblocking. This VPN did not work well on Windows, but on Android it was Okay. However, why pay so much for something so bad?
0 User Reviews
Leave a Review
Thanks for your review!